Street food is the jaan of Delhi and all true Delhiites will agree with us when we say that in this city, that's teeming with various street food vendors, shawarma roll places can be quite a task to find. But worry not for we've handpicked a few joints and pinned down a list of some of the best places to give into your shawarma hankerings!
1. Al Bake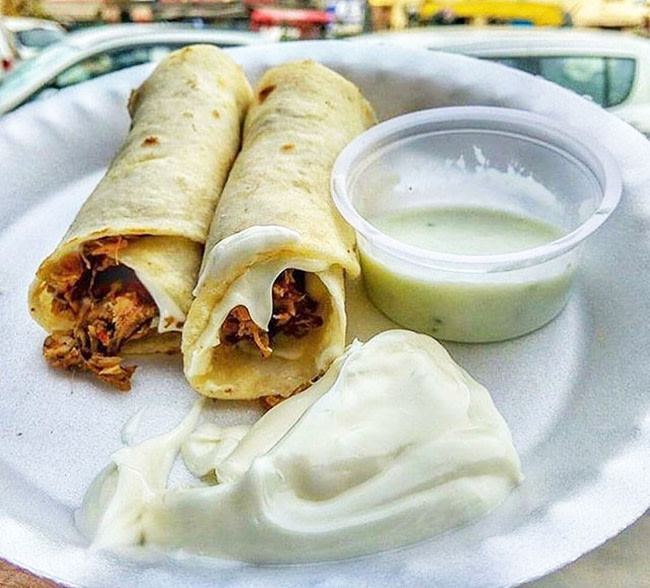 Picture Credits: food_therapy98
The hero, the legend of all the shawarmas in town is undoubtedly Al Bake, with uncountable childhood memories spent here. This place conquers hearts with their fresh and juicy Chicken Tikka Rolls and Shawarma Rolls which are served in a jiffy and are absolutely topnotch. Don't believe us? Then be your own judge and go try it for yourselves!
Where | Al Bake - New Friends Colony, Noida, Nehru Place & Other Outlets
Price | Rs 120
Call Them | +91 11 4167 2588 & +91 9958 708 997
Check Out Their FB Page | https://www.facebook.com/AlBake/
2. The Shawarma Junction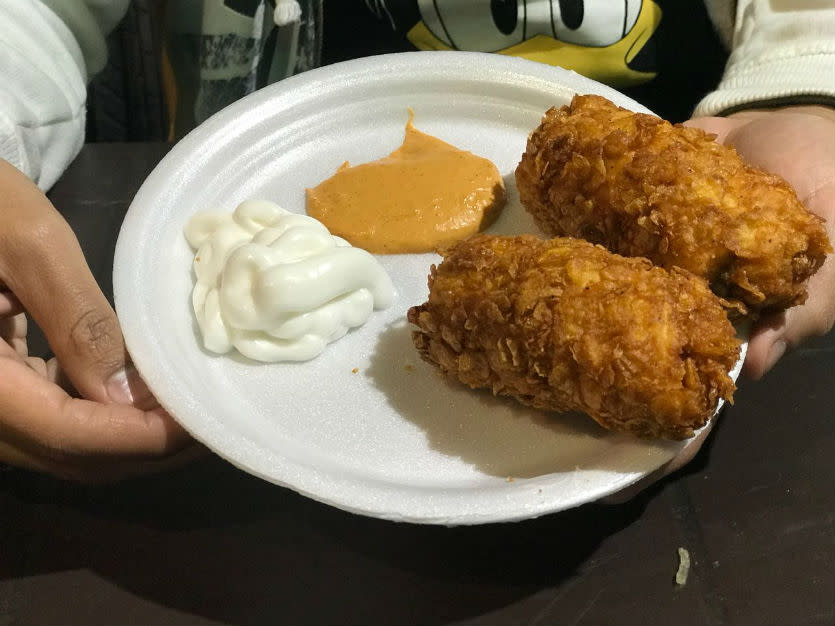 Located near Tilak Nagar Metro Station, The Shawarma Junction is a little joint that is famous for dishing out some really yummy and crispy dishes. You've gotta try out their Tandoori Chicken Shawarma and their special Kurkure Paneer Shawarma that'll leave you asking for more. So, drop by this place and hog on all their yummy delicacies!
Where | The Shawarma Junction - 22/1, Jail Road, Prem Nagar, Janakpuri
Price | Rs 50 Onwards
Call Them | +91 9899 269 626
Check Out Their FB Page | https://www.facebook.com/sahnirinku/
Try More Yummies At This Place | From Kurkure Shawarma To Momos, Here're 4 Kurkure Dishes To Try @ The Shawarma Junction
3. Tiny Stall In Mukherjee Nagar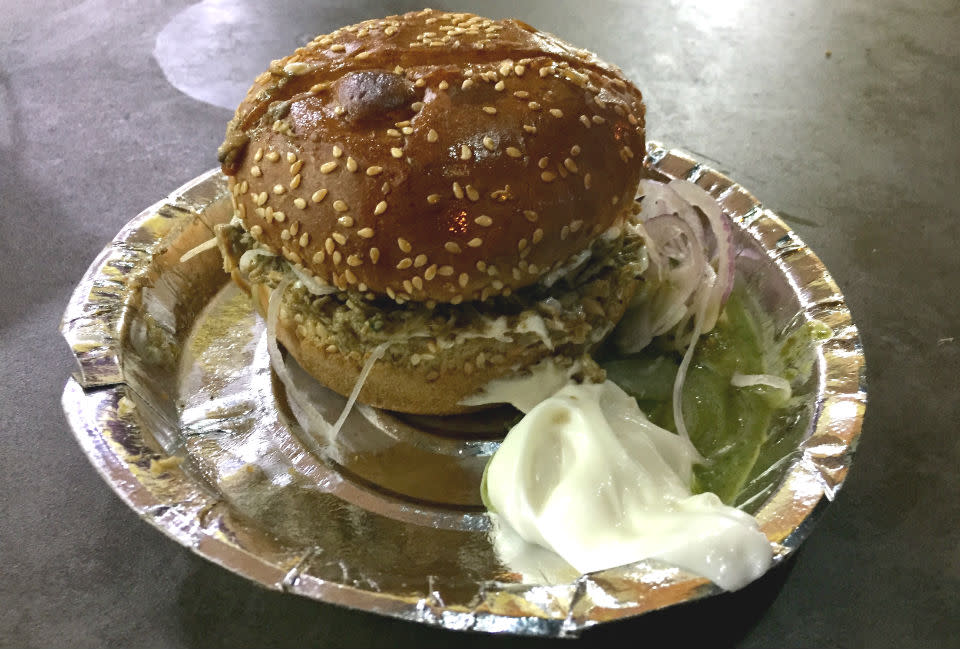 If you love to experiment with your shawarmas then you have to check out this tiny stall beside Panj Tara in Mukherjee Nagar! Why? Well because this place does Chicken Shawarma Burgers and they're all things ah-mazing! Served with lots of mayo, mint chutney and onions, this burger is a must have. While you're here, don't forget to try out their Chicken Shawarma because it too is yummilicious!
Where | Beside Panj Tara, Mukherjee Nagar
Price | Rs 50 Onwards
Hog On Yummies From Here | This Little Stall In Mukherjee Nagar Serves Juicy Chicken Shawarma Burgers For 60 Bucks!
4. Balle Balle Shawarma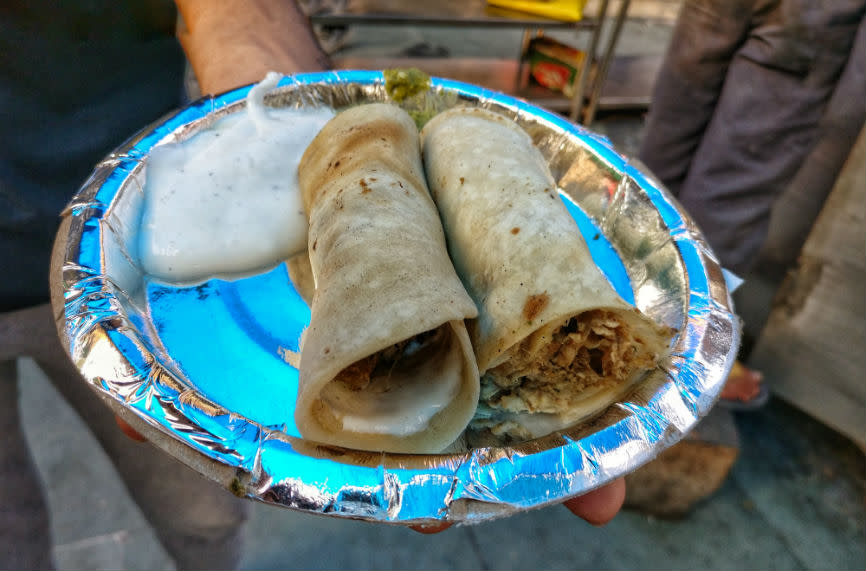 All the Noida wasis, this hidden gem in the famous Brahmaputra Market is just where you need to scamper over to after a long, tiring day at work. Balle Balle Shawarma whips up some really mouth-watering Chicken Shawarmas for just 60 bucks and our bhukkad souls couldn't be any happier. So, the next time you crave some juicy and meaty shawarmas, head here without a second thought!
Where | Balle Balle Shawarma - 865, Brahmaputra Market, Sector 29, Noida
Price | Rs 60
Timings | 11 AM - 11 PM
Call Them | +91 7838 308 011
5. Spice Aangan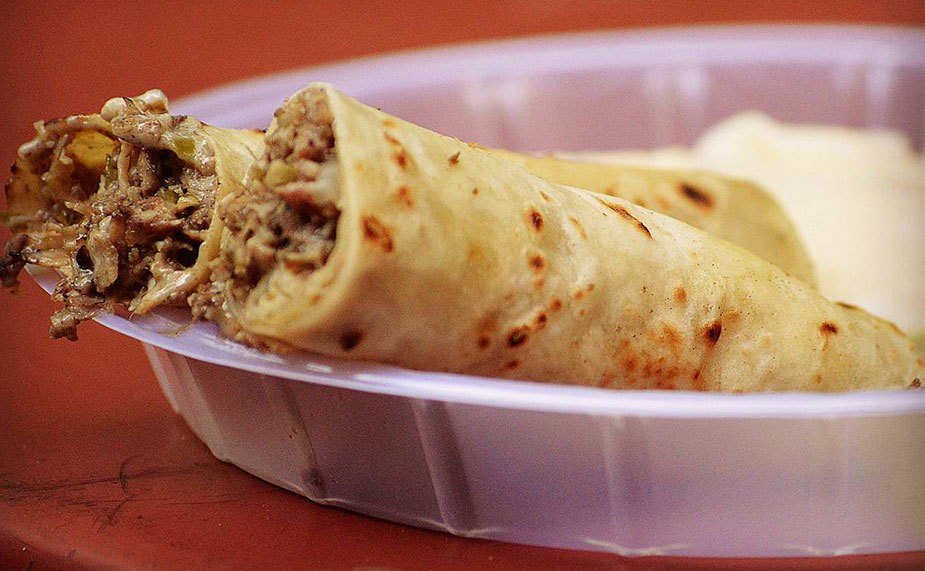 Picture Credits: missbrokeandhungry
This place is just where you need to be for the perf combo of cheap and yummy. Nestled near the hub of eateries and clubs in SDA is an open restaurant called Spice Aangan. With an array of dishes, mostly non-veg, this place is one of the most beloved joints for all shawarma lovers. This Indianised version of shawarma, served with mayo and milky green chutney, makes it all the more delicious. Have one and we guarantee you won't leave the place without having another plate!
Where | Spice Aangan - C-21/2, Opposite IIT Main Gate, SDA Market, SDA
Price | Rs 55 Onwards
Call Them | +91 9811 927 448
6. Kukkad Rolls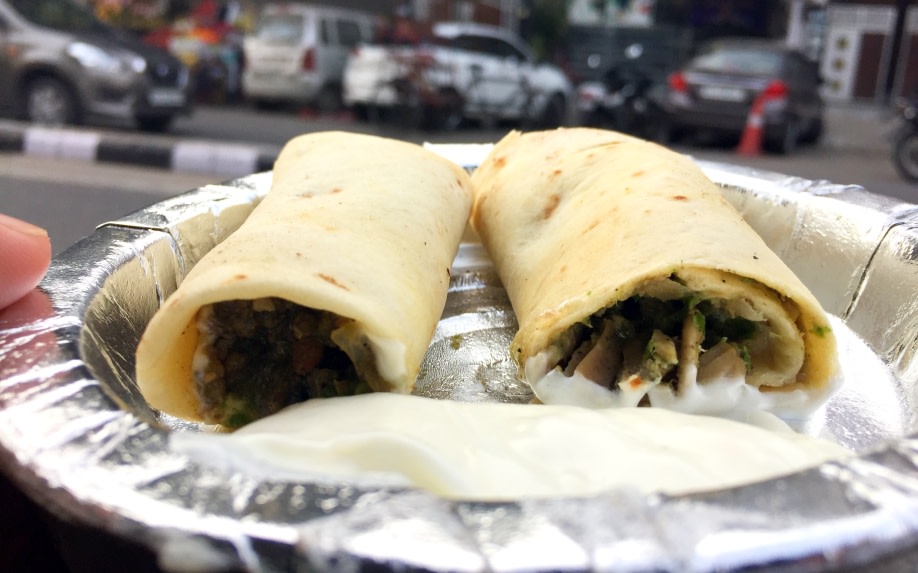 Famous for their scrummy chicken dishes, Kukkad Rolls also whips out some really amazing shawarmas. For instance, their Mint Shawarma is just out of the world! Loaded with mint sauce, these shawarmas are a perfect evening snack. So, after all your coaching and college classes, drop by this place and order up this deliciousness, you'd thank us later!
Where | Kukkad Rolls - 76, A6 Market, Jwala Heri, Opposite OBC Bank, Paschim Vihar
Price | Rs 60
Call Them | +91 9953 991 990 & +91 9582 134 796
Devour Other Dishes At This Awesome Place | Kukkad Rolls In Paschim Vihar Does Mint Shawarma, Chicken Biryani & More Starting At Just Rs 60!
7. Shawarma Wala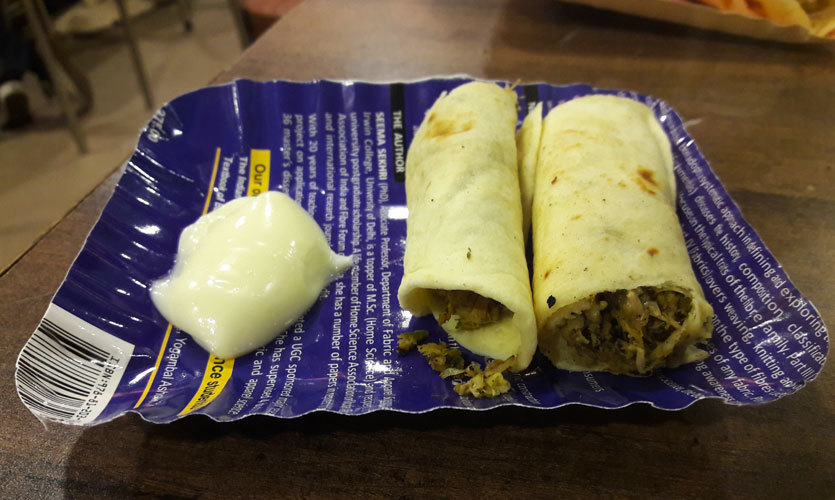 Shawarma Wala is one of the most famous hangout spots for all the students in North Campus. We mean, what could possibly satisfy your hunger after a long and boring lecture? Simple - a yummy and loaded Chicken Shawarma, that's what. The shawarmas here are served with mint chutney & mayo and are extremely pocket friendly. So, scamper over to this place for a quick post-class bite!
Where | Shawarma Wala - Kamla Nagar, Tilak Nagar, Gurgaon & Other Outlets
Price | Rs 40 Onwards
Call Them | +91 8585 943 366
Check Out Their FB Page | https://www.facebook.com/Shawarma-Wala
8. Tummy Section
Tummy Section has been winning hearts all over, with their creamy and scrummy dishes but their shawarmas are a personal fave! These guys have everything from Paneer Shawarma to Chicken Shawarma Sandwich to a freaking Tandoori Chicken Shawarma Pizza, basically you'd be spoilt for choice here. So, get all your homies together and drop by this place for some delectable delight!
Where | Tummy Section - 23/1, Shop No. 2A, Jail Road, Prem Nagar, Janakpuri
Price | Rs 60 Onwards
Call Them | +91 9871 071 097
Check Out Their FB Page | https://www.facebook.com/thetummysection/
Gorge On Tasty Snacks Here | 5 Things Like Creamy Chicken Momos, Crunchy Kebabs & More We Had @ The Tummy Section
So, where are you heading today?