Delhi
5 Things Like Creamy Chicken Momos, Crunchy Kebabs & More We Had @ The Tummy Section
The Tummy Section at Jail Road is one of the most awarded food joints in Janakpuri that serves delicious Chinese and Lebanese food. Having an extremely prominent presence online, this place is known for its shawarmas across Delhi. The small food corner is located at a walking distance from the exit of gate number 4 of Tilak Nagar Metro Station and comes off as a take-away place with almost nonexistent accommodation for customers. We decided to try some food items from their menu and here's what we had for our lunch.
1. Crunchy Chicken Kebab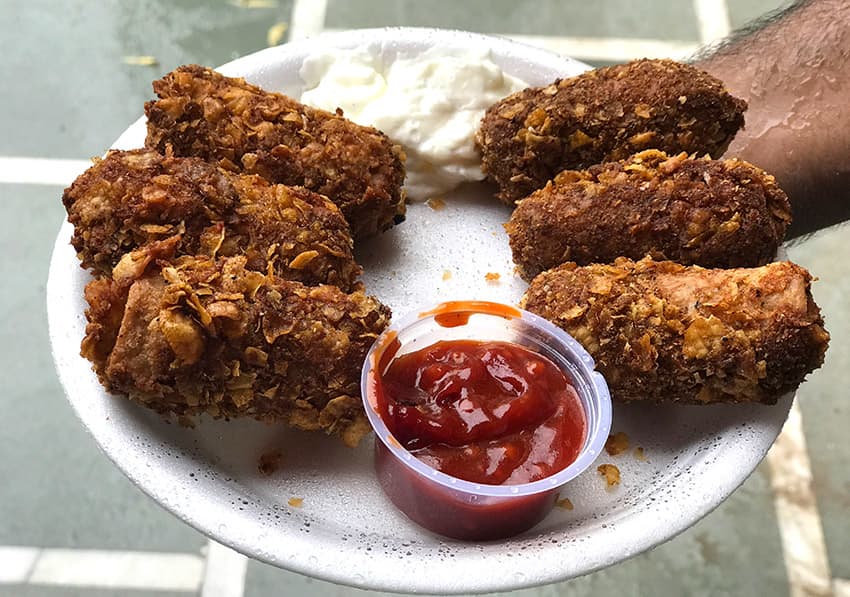 Served with tomato chutney and mayonnaise, the dish was sent straight from the heavens of food to our plates! The sweet and tangy chutney uplifted the taste of the crunchy kebabs while the classic mayonnaise provided a creamy addition to it. The outside was extremely crispy and the inside which we bit into, was a moist and succulent meaty kebab that didn't lose a score in taste. With a spicy crust, the inside was kept rather neutral to balance the flavour. Have these and you'll thank us later!
Price | Rs 116
2. Creamy Honey Chilli Potato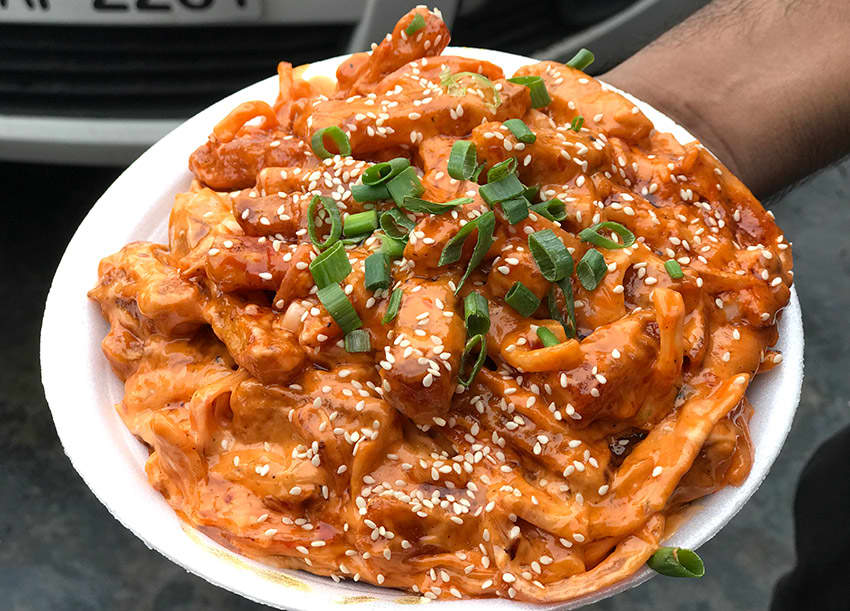 This dish twists your go-to item with mayonnaise & traditional sweet and spicy sauce coating on the regular fried potato sticks. Along with thick and delicious slices of our fave tuber, this heap of flavour had hidden pieces of crunchy capsicum and onion which were cooked to the perfect crunch. Served with sesame seeds and green onions on the top, this pile of sauces and potatoes and veggies was nothing short of a delightful treat to the content of our hearts!
Price | Rs 147
3. Chicken Shawarma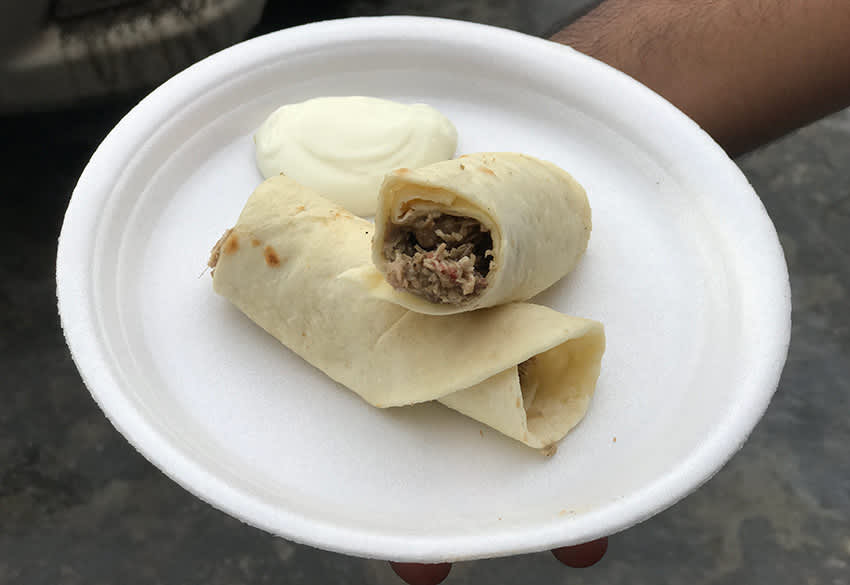 The star of the show, the chewy rolls filled with succulent shredded chicken, were presented with mayonnaise on the side. The roll was cotton soft between our teeth and almost dissolved in our mouths. The filling of these delicate shawarmas made our day! The meat was juicy and very tender. We gobbled down the appetizing roll and thanked the lord for blessing us with this Levantine!
Price | Rs 63
4. Creamy Chicken Momos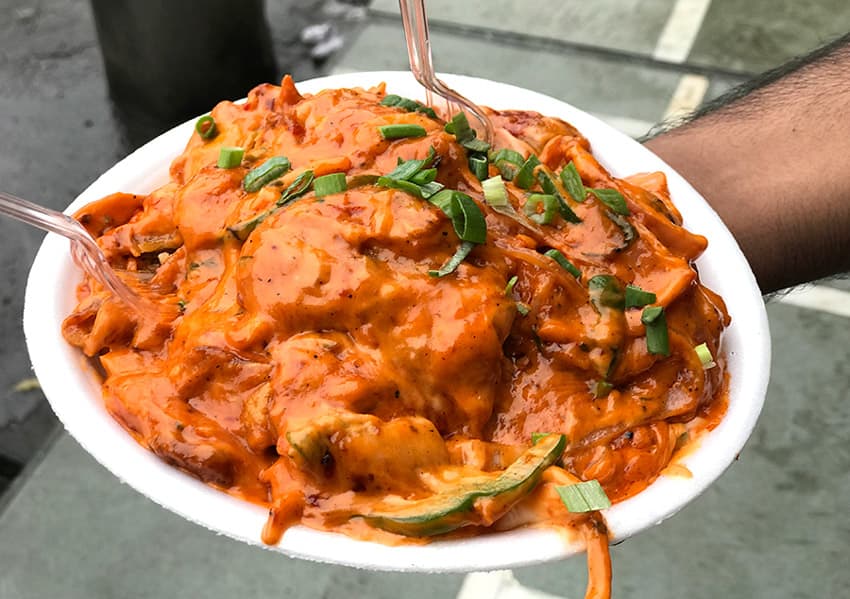 If the kingdom of momos had a king, this dish would be it! A mountain of chewy dumplings covered in a creamy blanket of mayonnaise and salsa sauce mixed together, this dish was overwhelming to say the least. The enormous mound of deliciousness came with bits of stir fried capsicum and sliced onions, along with the crunchy garnish of scallions. The momos were coated with the smooth and velvety sauce thoroughly. The filling inside was flavourful on its own. In the first bite itself, we could make out that the crumbs of filling were loaded with flavour and juices from the meaty granules. Try having these WITHOUT licking your fingers, we challenge you!
Price | Rs 147
5. Crunchy Chicken Kebab Burger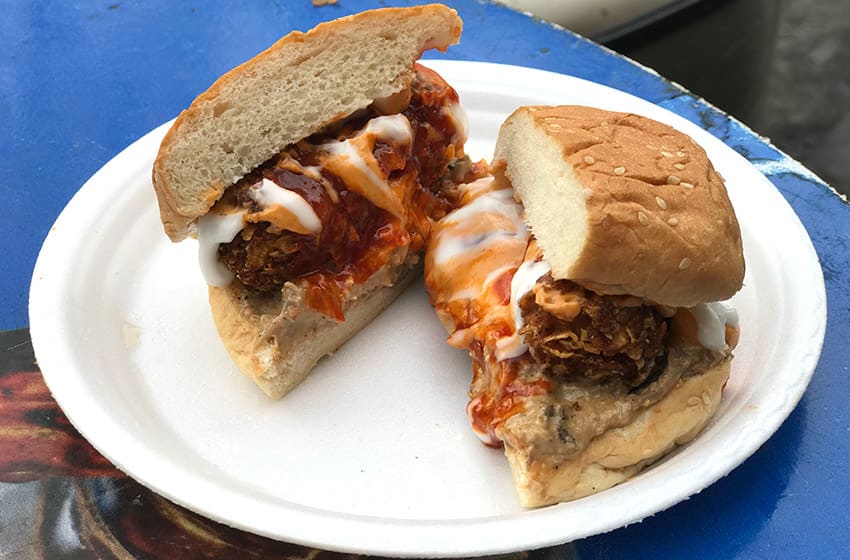 You don't know true pleasure if you haven't tasted this burger, that oozes the fragrance of drool! With tomato chutney and mayonnaise flowing like a river between the kebab and the spread of diced chicken and spices, this burger had a whole variety of different zests. The kebabs were deep fried and had a crispy crumbs coating the outside and an inviting roll of meat on the inside. Burger buns were cooked to perfection and well put together, making this piece of art of various colourful ingredients our recommendation from their menu!
Price | Rs 89
All items here were prepared fresh and the meat had imbibed all the flavours for us to relish. They even offer pizzas and fast food options, apart from their famous Lebanese menu! This place is the perfect hangout spot for you and your friends this monsoon. So, why don't you grab your foodie pals and drop by?
Where | The Tummy Section - 202, Shaheed Bhagat Singh Marg, Prem Nagar, Janakpuri
When | 1 - 11:30 PM
Call Them | +91 9871 071 097 & +91 9871 071 036
Check Out Their FB Page | https://www.facebook.com/thetummysection/