Delhi
7 Awesome Things That You Can Do Besides Being Huddled In Your Razai During Dilli Ki Sardi
Disclaimer: Bearing in mind the current health crisis befalling the city and the world at large, we're tweaking our content policy and recommendations. Stay positive, keep hygiene levels up and don't fall prey to panic and misinformation.
Winters can be harsh and this time the temperature doesn't seem to be going up anytime soon. With fresh snowfall in the hills, Delhi also starts shivering and if you can relate to this, then welcome to the club! For us, winters = time in the blankies and razais but now, more than ever, we need to step out and go explore the city, 'cause TBH, the weather will only get worse when summers show up. So, to motivate ourselves and you guys as well, we came up with a few things that you can do this winter except sitting at home, bundled up in your razais. Take a look and head over.
1. Row, Row, Row Your Boat At India Gate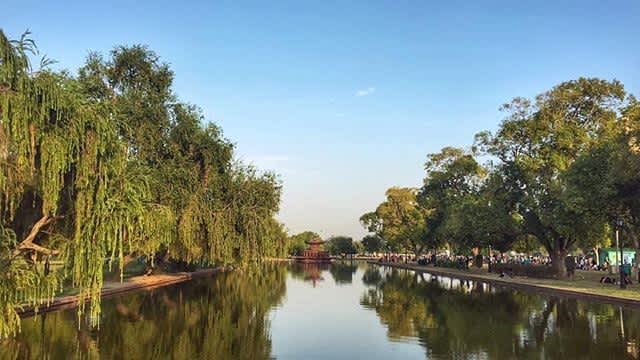 Picture Credits: aishwaryadixit_29
If there's one thing that Delhiites can't do without, it is a trip down India Gate. Whether it's night time for some ice cream or the day, India Gate is unmissable. And during the winters, when the weather is playing nice, why not go for a boating ride over here?! Take along your fam or plan a date with your bae, and get rowing for some sweet memories.
Where | India Gate Boating Point, Rajpath
Timings | 2 - 9 PM
2. Hog On A Plate Of Chole Bhature From Monika Cafe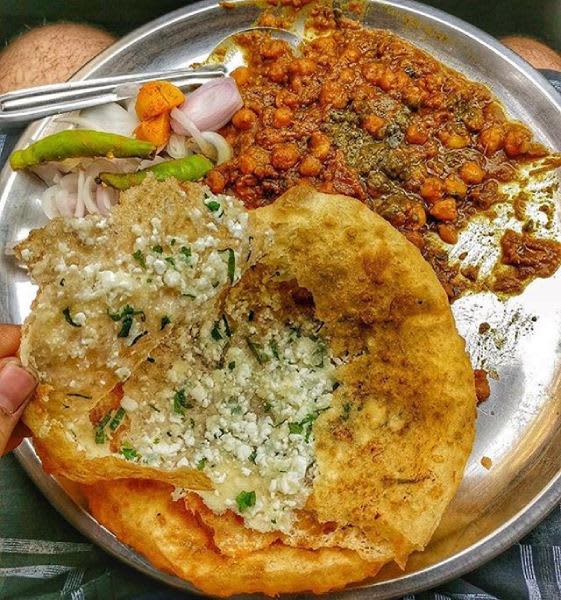 Picture Credits: thedilettante_nomad
Monika Cafe is known for whipping up the fluffiest bhaturas that'll get any lazy bum out of their beds. Stuffed with paneer and served along with spicy chole, this plate is a must-have during Delhi winters. Get yourself these pipin' hot Chole Bhature on a cold day and they'll defo warm the cockles of your heart.
Where | Monika Cafe - GG-1/142 A, PVR Road, Vikaspuri
Timings | 8:30 AM - 5 PM (Closed On Wednesdays)
Call Them | +91 11 2854 2906
Meal For Two | Rs 150 
3. Go On A Dilli Darshan On Yulu Bikes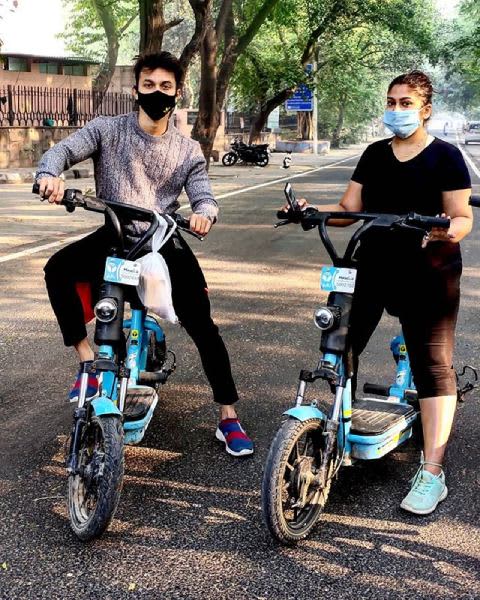 Picture Credits: jack_jggu
Yulu bikes are all the rage these days and why shouldn't they be?! From being environment-friendly to being easy on the pockets, these bikes will take you from A to Z in a jiffy. All you need to do is download the Yulu app and locate the closest vehicle, or lookout for a Yulu zone. These bikes will be your saving grace this winter season. Hop on one of these and go for some much-needed Dilli Darshan and soak in some winter sun too.
Price | Rs 60 (Per Hour)
4. Bask In The Sun At Lodhi Garden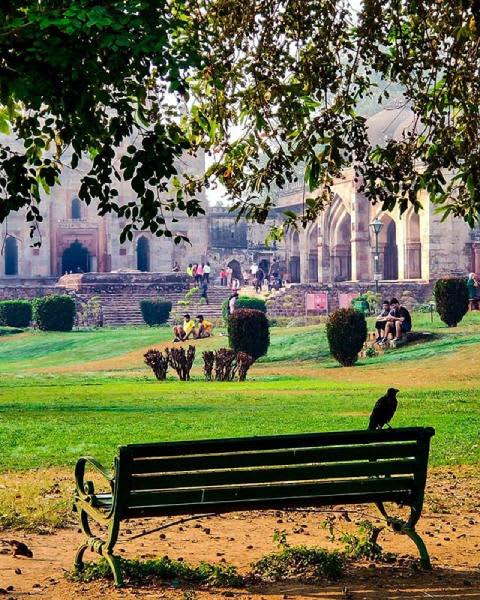 Picture Credits: lodigardens
Lodhi Garden is one of the most sought-after places for some peace and tranquillity. The ducks going about their business near the fountain, birding chirping near the tomb, the place is oozing with serenity. And since the sun is out, spreading warmth and joy, why not pack a picnic basket, or just bask in the sun over here at Lodhi Garden?!
Where | Lodhi Garden -  Lodhi Rd, Lodhi Gardens, Lodhi Estate
5. Spend Some Time At The Pretty Lanes Of Champa Gali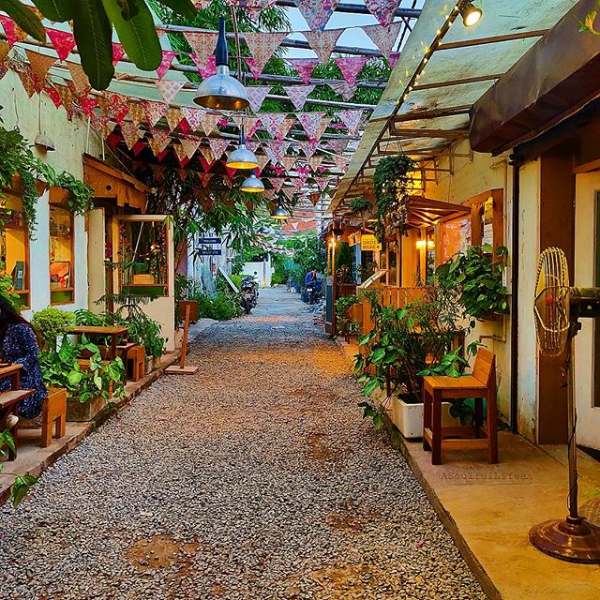 Picture Credits: a.soulful.lifee
Champa Gali is undoubtedly one of the prettiest places in Delhi, which is Insta-famous for all the right reasons. From twinkling fairy lights to pipin' hot coffee, this place has it all and with TONS of colourful murals, one can spend an entire day here. Bring out your cameras and head over to get snappin'.
Where | Champa Gali - Khasra 258, Lane Number 3, Westend Marg, Saidulajab
6. Have A Soul-Satisfying Plate Of Daulat Ki Chaat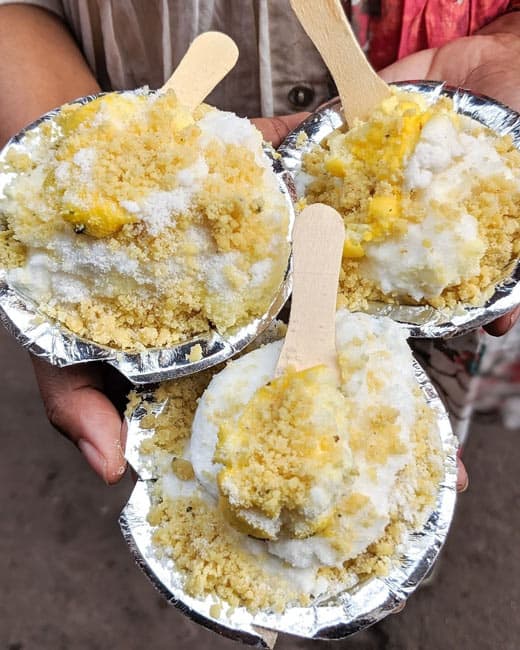 Picture Credits: things2doindelhi
Delhi winters are incomplete without some Daulat Ki Chaat. This white, fluffy dessert can be found in Chandni Chowk only during the winters and if you haven't already tried this, then you absolutely must. Get out of your bed and step into the busy lanes of Old Delhi and you're defo gonna have some really good time making your way through the hustle-bustle.
Where | Multiple Street Vendors In Chandni Chowk
Price | Rs 50 Onwards
7. Go For A Photo Walk At Lodhi Art District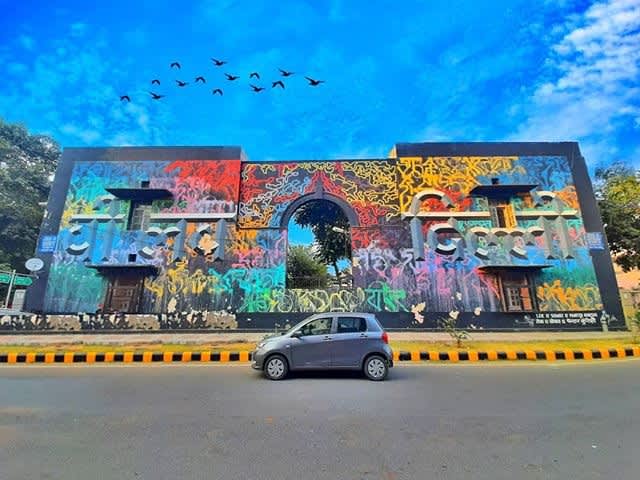 Picture Credits: justshoot_it_
This is probably the brightest of roads in the entire city with each space impeccably decked up in murals. A project by St+Art, Lodhi Art District is a must-visit and winters are the perfect time to do so. You'll find murals depicting everyday life, art on Indian mythology, social causes, and more. This is the perfect spot for photographers and if you're one of them or just wanna immerse in some art, then get out of your razai and head over ASAP!
Where | Lodhi Art District - 261, Block 15, Lodhi Colony
Timings | 24 Hours
Do drop in your suggestions for more cool things to do in Delhi. We'd love to hear from you guys!