Delhi
13 Best Places In Saadi Dilli To Find Garma Garam Pakoras During These Chilly Winters
Pakoras are constantly romanticized and happily paired with Delhi's chilly winters and rains *drooling at the very mention*. There are wide varieties of pakoras available throughout the city from bread pakoras, mix pakoras, fish pakoras to chicken pakora and of course, paneer pakoras. We list only the best places to gobble up amazing pakoras - here's the guide!
1. Paramjeet Fish Pakodewala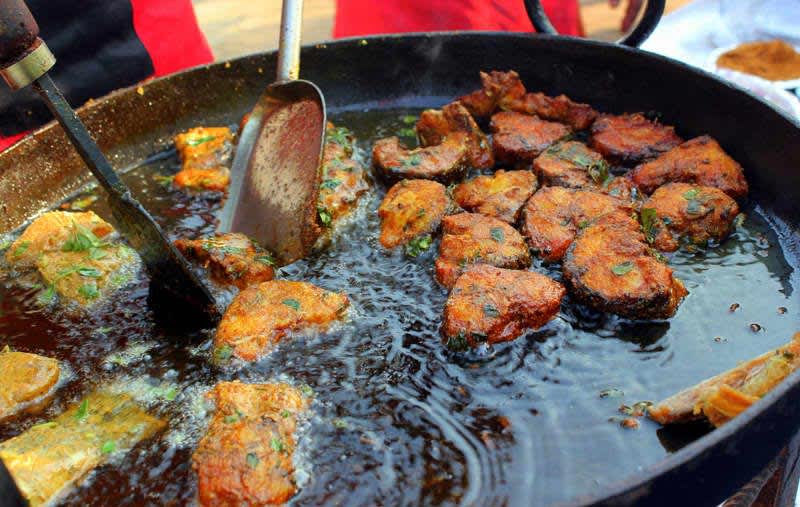 The regular customers swear by the Fish Pakoras that are offered here! The fresh fish is diced into chunks and dipped in a cumin-flavoured besan batter and then deep-fried till they're golden brown. After draining the pakoras of excess oil, a special masala is then sprinkled on them, some lime juice is squeezed and then they're topped with onion rings and mint-coriander chutney. Sounds heavenly, doesn't it?
Where | Paramjeet Fish Pakodewala - WZ1, Opposite Metro Station, Basai Darapur Road, Moti Nagar
Timings | 5 - 10:30 PM
Meal For Two | Rs 700
2. Khandani Pakodewala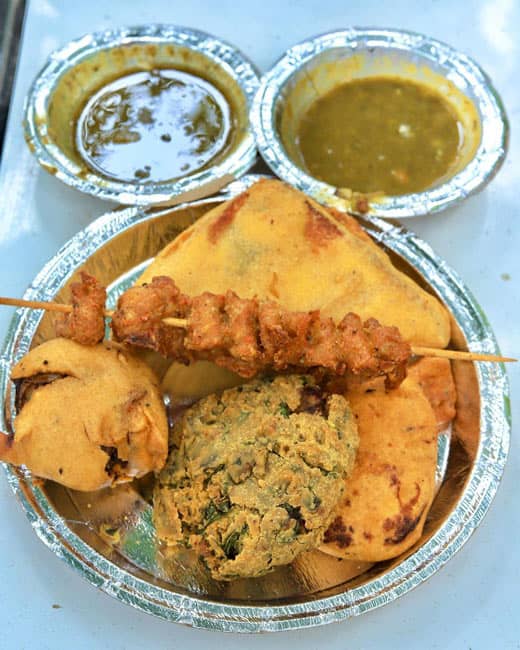 Picture Credits: hazzelchoudhry
This shop has been around since the 1960s and has many loyal customers who keep coming back for more. They fry fresh pakoras all day long because every batch is sold out almost instantaneously! You can choose from a wide variety including Lotus Root, Spinach, Potato, Green Chilli, Cauliflower, Eggplant, Onion, Paneer and Bread Pakora, coupled with a tangy green chutney. It's a super cheap and filling snack peeps - come on over!
Where | Khandani Pakodewala - Ring Road, Sarojini Nagar, Near Bhikaji Cama Flyover
Timings |  10 AM - 9 PM
Meal For Two | 300
3. New Vishal Corner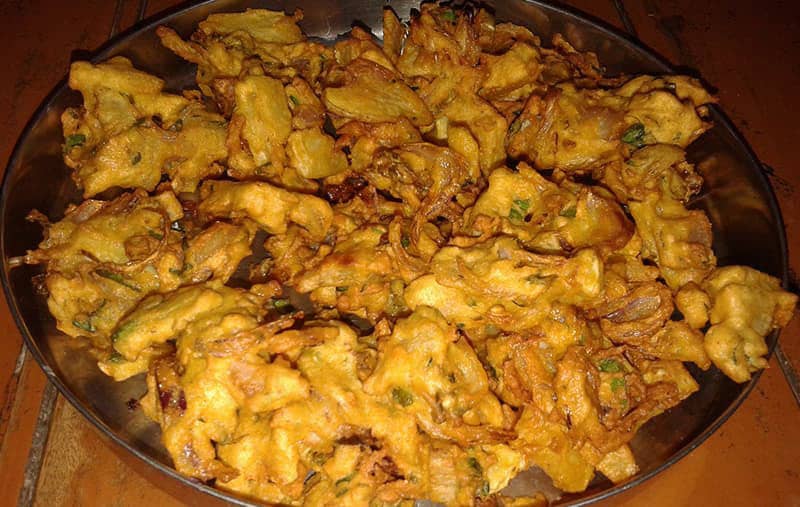 As if we needed yet another to reason to visit Nehru Place, this small street-side outlet is known for its amazing street food - such as Aloo Poori, Bedmi Poori, Chole Bhature as well as Bread Pakoras and Paneer Pakoras. Take a break from your shopping spree and retreat to this shop tucked away in the main Vishal building. Drop by for a piping hot plateful of these scrummy golden delights!
Where | New Vishal Corner - G 4, Vishal Building 95, Nehru Place
Timings | 9 AM - 9:30 PM
Meal For Two | Rs 250
4. Kakkar's Pakora Stall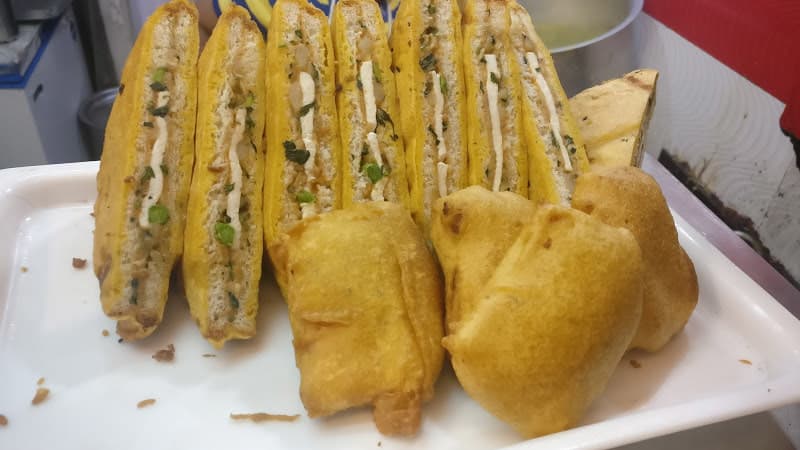 Picture Credits: Ashutosh Narang
If you are just going around shopping in Karol Bagh and happen to pass by this small wayside joint; the aroma of freshly fried pakoras will fill you up with elation! One of the oldest shops in the area, Kakkar's Pakora Stall is quite a legend! The crunchy Spinach Pakora and the sweet Onion Pakoras are the hot-sellers here. Enjoy a plate of delicious pakoras for as low as Rs 20!
Where | Kakkar's Pakora Stall - Bank Street, Near P.C Jewellers, Karol Bagh
Timings | 10 AM - 8 PM 
Meal For Two | Rs 100
5. Pakode Ki Dukaan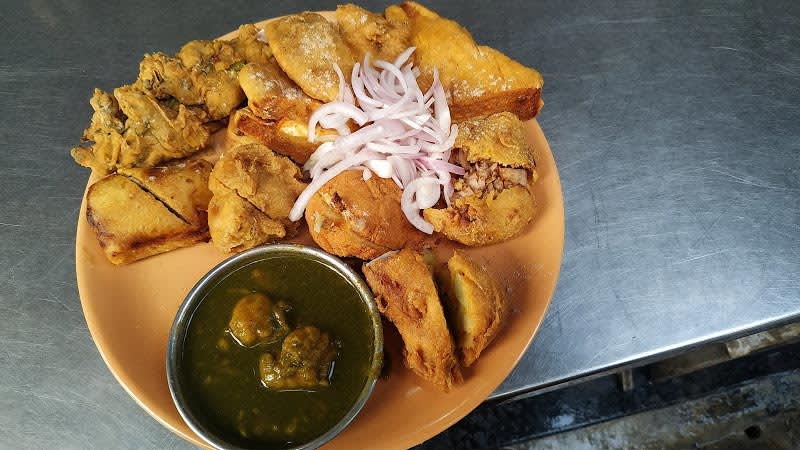 Picture Credits: Vipul
Tucked away in the bustling, crowded and peppy streets of Karol Bagh is the next trippy place for pakoras - simply called Pakode Ki Dukaan! Now Pakode Ki Dukaan is an unpretentious foodie gem that we've got for you - just come on over, get your pakoras packed and eat them in your car (no seating here fellas!). Come gorge on their Paneer, Aloo, Gobi and Mixed pakoras. BTW, their chutney is to die for!
Where | Pakode Ki Dukaan - 120-121, Netaji Subhash Market, Ajmal Khan Road, Karol Bagh
Timings | 9 AM - 9:30 PM 
Meal For Two | Rs 400
6. Ghaseeta Pehalwan Pakodewala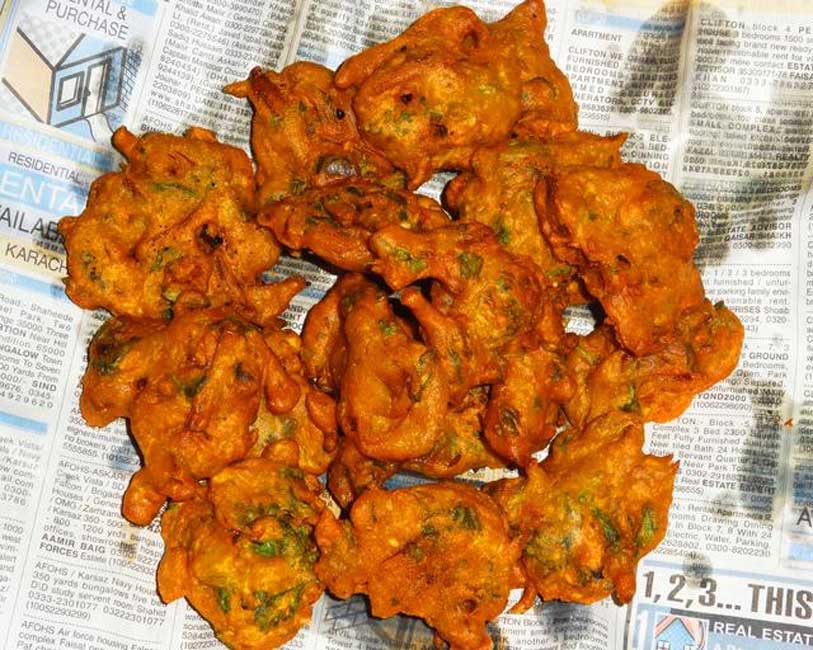 Chandni Chowk is your one-stop destination for enjoying the best of Delhi's street food. With numerous hawkers, street vendors and shops selling Chaats, Golgappas, Samosas and of course, pakoras! Ghaseeta Pehalwan is a popular joint falling under this category that serves amazing fritters like Moong Dal Ke Pakode and CC's famous Kalmi Vada. Situated near the Parathe Wali Gali, this joint is an unmissable Dilli attraction.
Where | Ghaseeta Pehalwan Pakodewala - Junction Of Gali Parathe Wali, Nai Sarak and Kinari Bazaar
Meal For Two | Rs 100
7. Ganesh Restaurant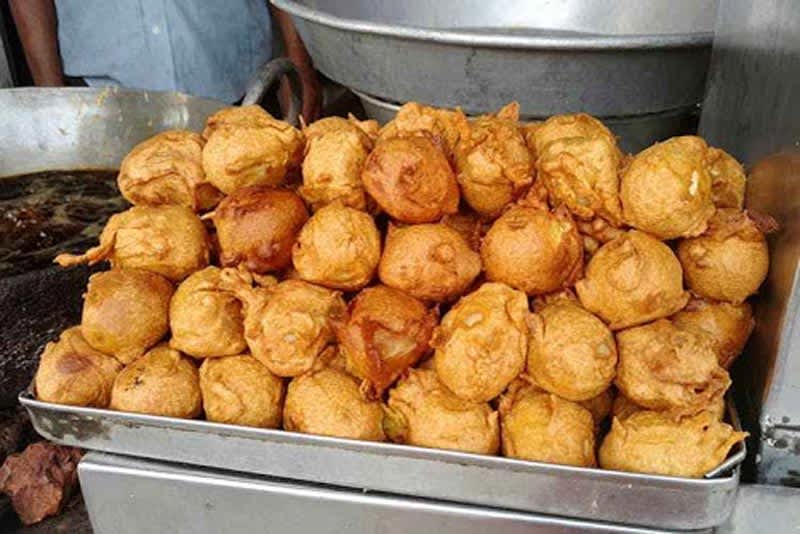 Picture Credits: H S
Deviating from the trend of dishing out veggie-filled fritters in winters, this eatery in Karol Bagh is famous for their scrumptious Fish and Egg Pakoras. The non-veg enthusiasts in town can hop on over to Ganesh Restaurant to try out dishes from their wide range of Tikkas as well! This popular eatery in Karol Bagh is a must-visit for all Delhiites who enjoy a warm and soothing meal in Dilli Ki Sardi.
Where | Ganesh Restaurant - 2298, Gurudwara Road Chowk, Karol Bagh
Timings | 2 - 11 PM
Meal For Two | Rs 400
8. Gopal Sweets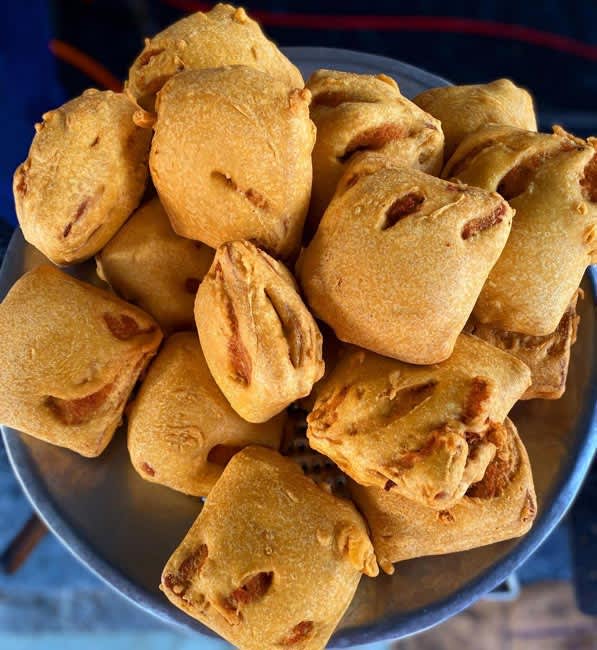 Picture Credits: /foodienation.india/
Gopal Sweets is a quintessential sweet and confectionery outlet that boasts a multi-cuisine menu with a desi twist. This place has been Kamla Nagar's pride for ages and is known for its magnificent Bread Pakoras! You should get your hands on this archetypal Dilliwala snack with a side of chutney and some chai to wash it down. You can even check out their dessert menu featuring dishes like Rasmalai, Rajbhog and more!
Where | Gopal Sweets - A 43, Kamla Nagar
Timings | 12 Noon - 11 PM
Meall For Two | Rs 350
9.  Sitaram Pakodewala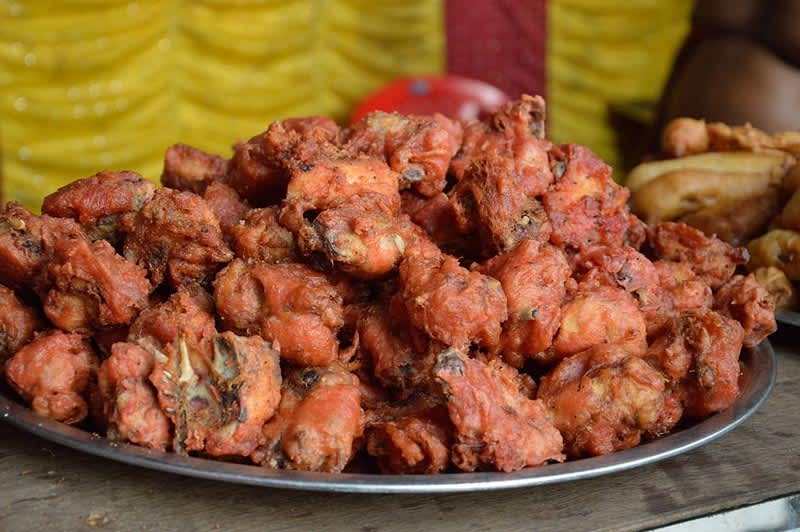 This Is A Representative Image
We all need a place in town dedicated to snacking, and Sitaram Pakodewale is one such place! They offer a wide variety of good old desi delights like Bedmi Poori, Chhole Bhatoore, Rajma Chawal and of course a mixed bag of Pakoras at your disposal. 
Where | Sitaram Pakodewala - E-177, Krishna Market, Lajpat Nagar 1
Timings | 9 AM - 9:30 PM
Meal For Two | Rs 200
10. Jaipur Namkeen Bhandar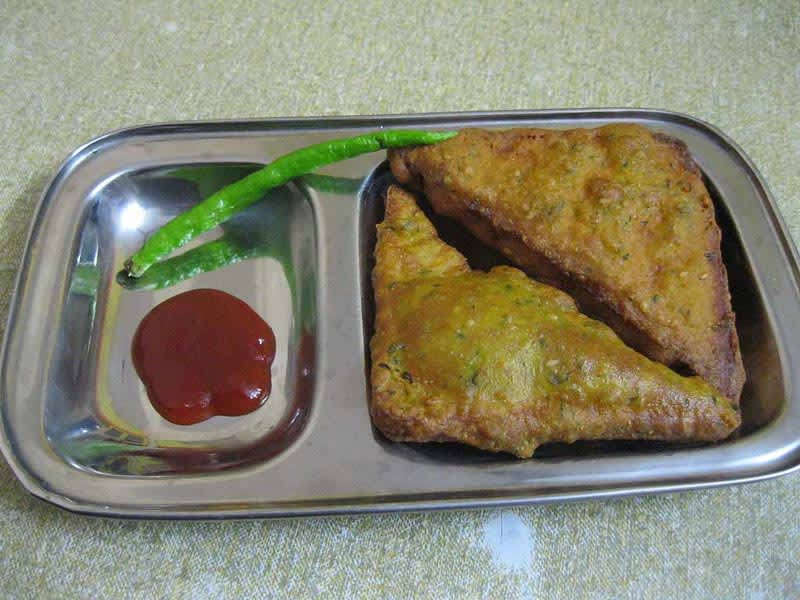 This Is A Representative Image
This place is known for its jumbo-sized and delectable bread-pakoras. A quintessential street outlet of old Delhi, Jaipur Namkeen Bhandar is one such place to satiate all your snacking needs with their Pakoras and Kachoris, served with chutney and subzi that too at dirt cheap prices so head over there asap!
Where | Jaipur Namkeen Bhandar - Delhi Gate, Netaji Subhash Marg, Chatta Lal Miya, Chandni Mahal, Old Delhi
Meal For Two | Rs 100 
11. Bindra Pakode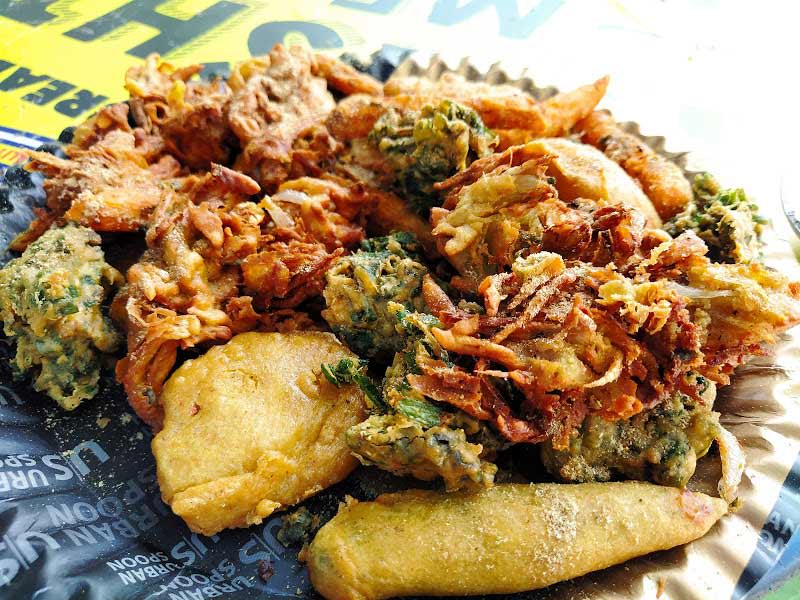 Picture Credits: addaa
Bindra Pakode has been dishing out yummy fritters for the winterlovingg Delhiites since 1989 and has kept up the good work ever since. From classics like Aloo, Palak and Mirch to offbeat stuff like Kamal Kakdi and Soya Chaap pakoras, every dish that they have to offer hit it out of the park with ease! A plateful of warm fritters with chutney on a pleasant winter afternoon is enough to make you content for the day. 
Where | Bindra Pakode - A1, DDA Market, Hari Nagar, Near Guru Tegh Bahadur Institute Of Technology, Subhash Nagar
Timings | 10 AM - 7 PM
Meal For Two | Rs 150
12. Chache De Pakode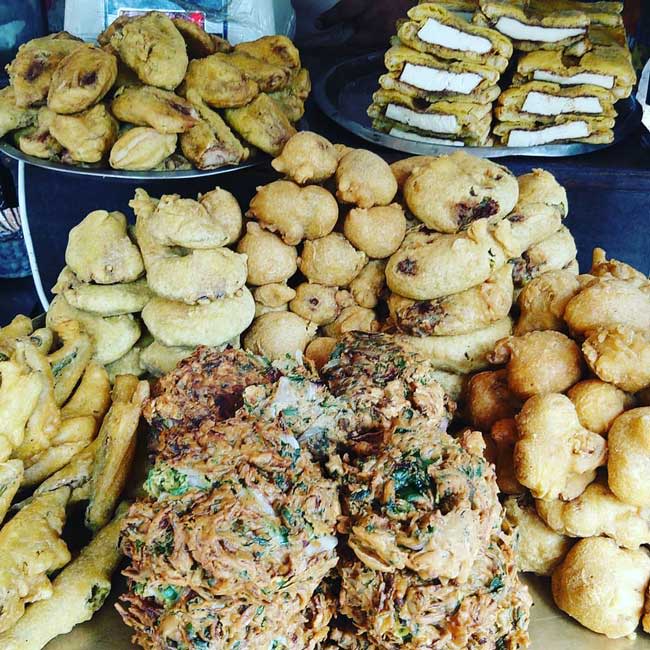 Picture Credits: saptarishisankalp
This shop in Kalkaji has been around for a long time and gives off a charming rustic vibe that adds on to your snacking experience. Chache De Pakode is a perfect spot for you to enjoy a light conversation with your pals over a generous amount Chai and Pakode. The unbelievable prices and the exquisite flavours will make you wanna come back for more!
Where | Chache De Pakode - 38/999, Block L 1, DDA Flats, Kalkaji
Timings | 7 AM - 7 PM
Meal For Two | Rs 100
13.  Monga Snacks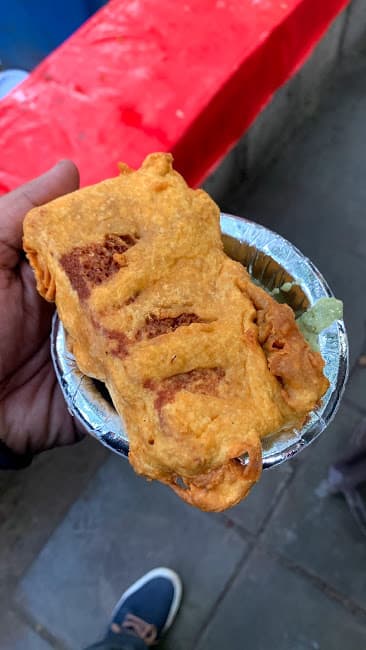 Picture Credits: Kitchen Geddi
A saving grace for office-goers and students from around CP and Barakhamba, Monga Snacks acts as their regular gastronomic respite quite often. A simple and uncomplicated menu that delivers quality flavour is what Monga Snacks is all about. Don't forget to hog on their delish AF bread pakoras and samosas with tea for a quick evening snack. 
Where | Monga Snacks - Shop 25, Barakhamba Lane, Connaught Place
Timings | 8:30 AM - 9 PM
Meal For Two | Rs 250
Already wishing you could gorge on a plate full of crunchy, filling and hot pakoras right now? Grab your wallet and face masks and head over to these places ASAP!