Delhi
50 Things Every Local Needs To Do In Delhi That'll Make You Love The City Even More!
Let us tell you, Delhi is a city that's always buzzing with activities and legit always remains alive with the life spirit of warm and welcoming Dilli wallahs! Though there are a million things to do in a city like Delhi, we picked out these 50 cool things that will definitely make your stay in the metropolis worthwhile. With these, you'd wanna keep coming back for more and we're more than eager to help you discover Delhi with us. Give this a read and while you're at it, keep adding things to your bucket list if you haven't already!
1. Grab Dinner That'll Sweep You Off Your Feet With Fly Dining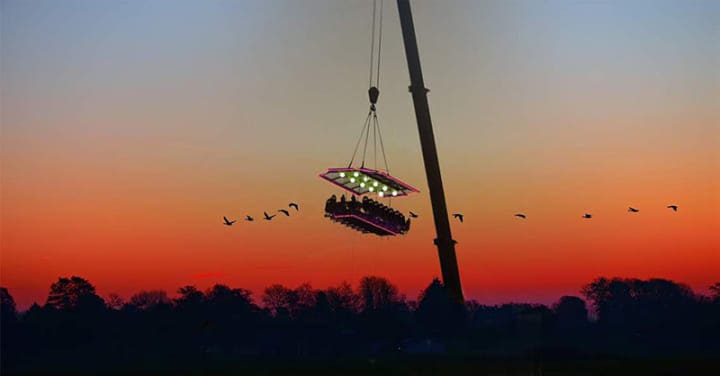 You can grab dinner at any restaurant, but that's pretty mundane. But you can make this an experiential one by taking the meal while you take in the panoramic view of the city life, all the while suspended in mid-air - nice!  
Where | Flydining Noida - Gardens Galleria, Noida
Meal For Two | Rs 5,000
Timings | 6 - 11:30 PM
Call Them | +91 8826 648 584
Book Your Session Online Here | https://www.flydining.com/new-booking/v0.1/ 
Check Out Their FB Page | https://www.facebook.com/flydiningnoida/
2. Explore The Streets Of Dilli On Yulu Bikes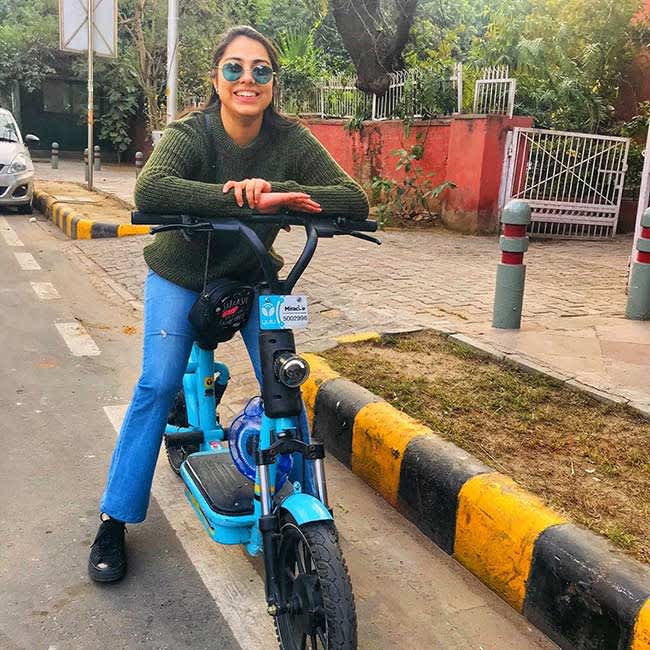 Picture Credits: manyawats
Yulu bikes launched in the city last year in collaboration with Delhi Metro and the tariff starts at a super pocket-friendly price of Rs 10 onwards for every 10 mins. You can explore places like CP, Khan Market, Lodhi Art District, Lodhi Garden and Jorbagh on fun bikes so install the app and pick up your ride and peddle on, fellas!
3. Drop By Champa Gali For It Has It All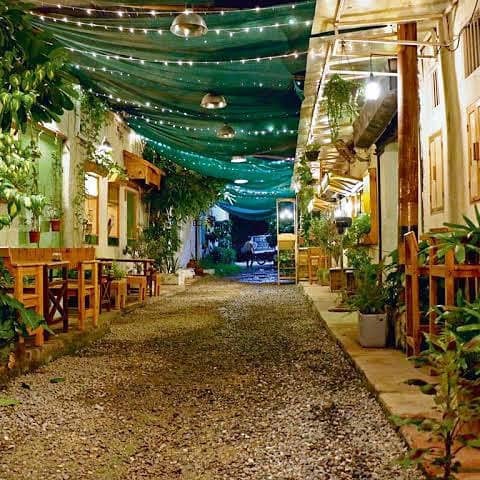 Picture Credits: gauravbanga500
The avant-garde and chic, all rub shoulders at Champa Gali. Art galleries, ethnic wear, designer clothing, gifts, fairy light lit alleyways, beautiful photo ops spots and wonderful meals at Insta-worthy cafes are there for the asking!
Where | Champa Gali - Shed 4, Khasra 258, Lane Number 3, Westend Marg, Behind Kuldeep House, Saidulajab, Saket
4.  Explore The Artsy Streets Of Lodhi Art District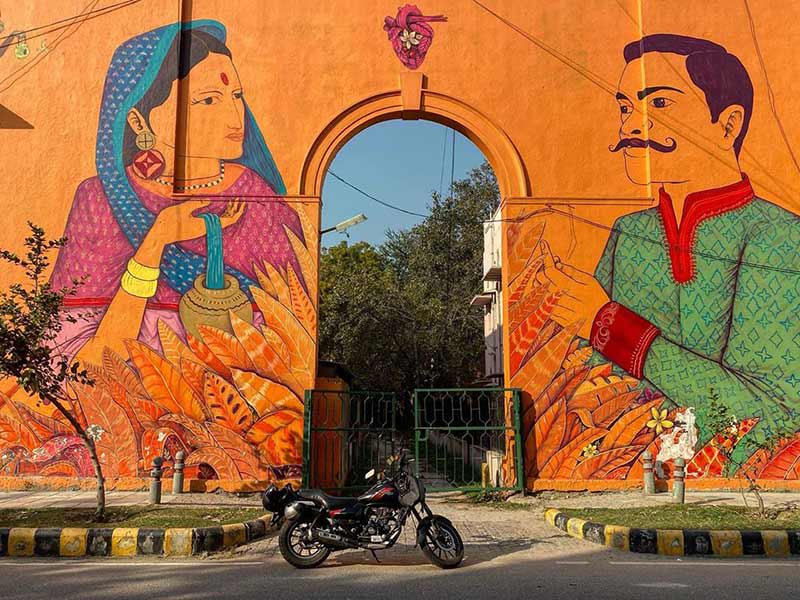 Picture Credits: art_umbrella24
The colourful lanes of Lodhi Art District are filled with pretty, vibrant wall murals that are a must-see when you're exploring the city. The gorgeous murals make for perf backdrop for all your Insta-worthy posts as well, so come over and check out this place yourself, folks!
Where | Lodhi Art District - 261, Block, 15, Block 15, Lodi Colony
5. Marvel At The Seven Wonders Of The World @ Waste To Wonder Theme Park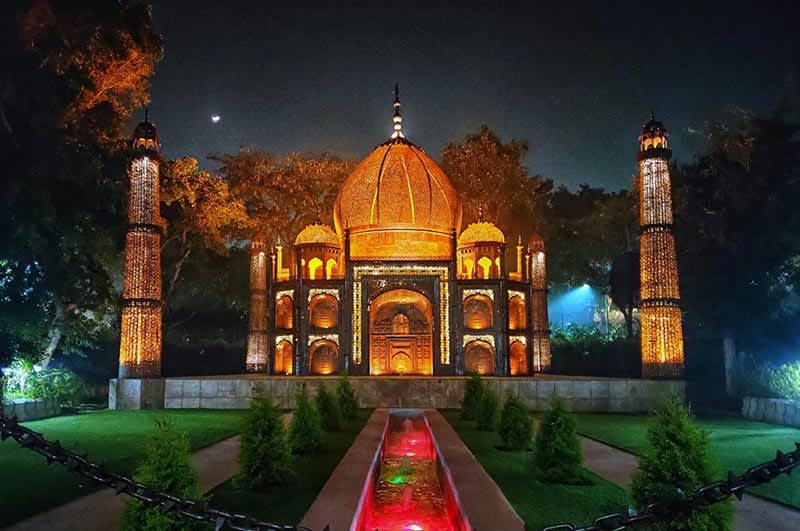 Picture Credits: saurabh.kr95
If a world tour has been on your mind but you just can't seem to get the funds and the time to plan it, fret not! The Waste To Wonder Park has brought all the Seven Wonders Of The World right here to the city. From The Eiffel Tower to The Leaning Tower Of Pisa you'll find all the wonders of the world that have been made out of waste and scrap materials.
Where | Waste To Wonder Theme Park - Near Nizamuddin MS, Sarai Kale Khan
Timings | 11 AM - 11 PM (Closed on Mondays)
Entry | Rs 50 (For Adults) & Rs 25 (For Kids Aged Between 3-12 Years)
6. Bungee Jumping @Backyard Sports Club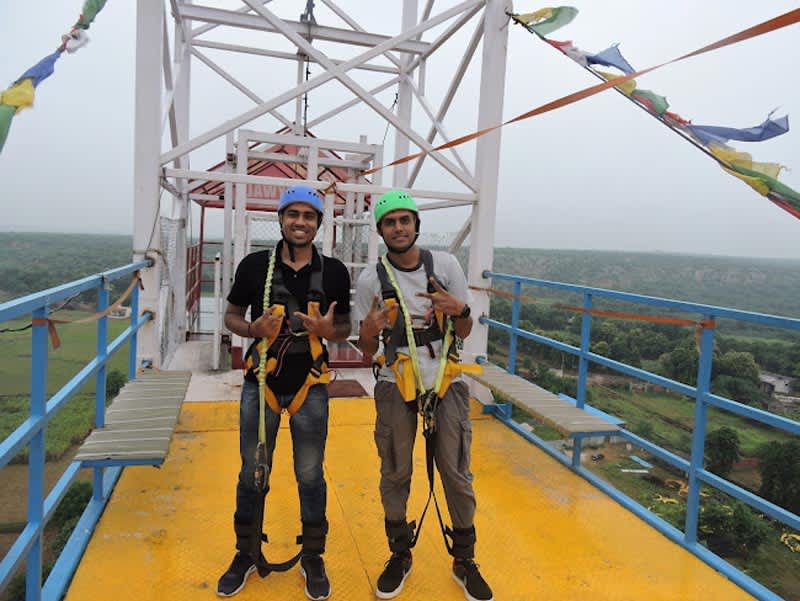 Picture Credits: Prashant Singh Mangat
Are you somebody who loves adventure and always is on the run to escape the city to get that kick? What if we told you, you can now experience bungee jumping here within Delhi? Sounds awesome right? So, peeps, gear up & strengthen your muscles for once in a lifetime experience of bungee jumping from the height of 180 ft, exclusively available at Backyard Sports Club in Gurugram. Get set for the adrenaline rush!
Where| Backyard Sports Club - Backyard sports club, near golf course ext road, sector 59
Timings| 6 AM - 12 Midnight
Entry | Rs 1,499 Onwards
Call Them| +91 8447 202 600
Here's Their Website| https://www.backyardsportsclub.in/
Check Out Their FB Page | https://m.facebook.com/backyardsportsclubindia/
7. Experience Purani Dilli Ka Zaika
Picture credits: india_eat_mania
Start off on a spicy note by digging into mouth-watering street food such as at  Natraj's Dahi Bhalle or delicious kachoris from Jung Bahadur in one of the many snacking lanes in Old Delhi. The kebabs and tikkas are simply delicious & worth trying! You won't get the same taste anywhere else.
8. Spend A Day At Akshardham Temple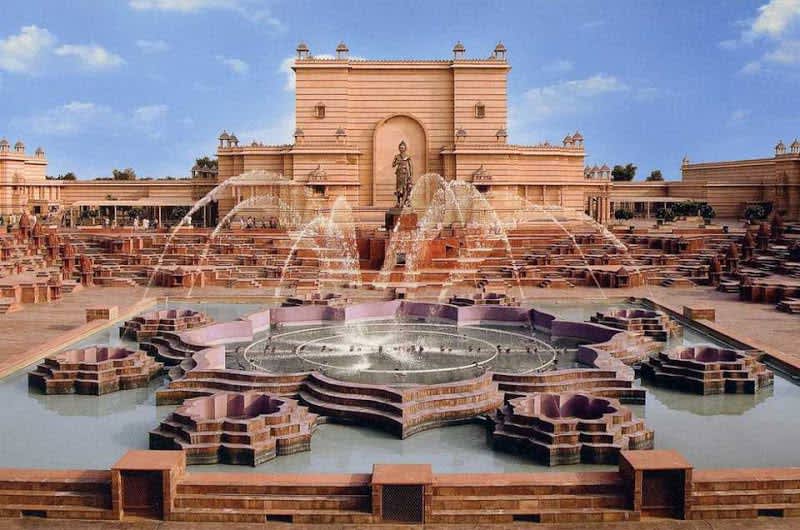 Picture Credits: Balbir Singh Raghuvanshi
Set aside an entire day to visit the largest Hindu temple in the world - Akshardham on the banks of the river Yamuna. Enlightening exhibitions, a water show that presents ancient stories through an interplay of various media, boat rides and thematic gardens, there is just so much that will keep you busy here!
Where | Akshardham Temple - Swaminarayan Akshardham, NH 24, Akshardham Setu
Entry | Free
Call Them | +91 11 4344 2344
Timings | 9:30 AM - 6:30 PM (Closed On Mondays)
Check Out Their FB Page | https://www.facebook.com/Akshardhammandir/
9. Bag Crazy Deals At Sarojini Nagar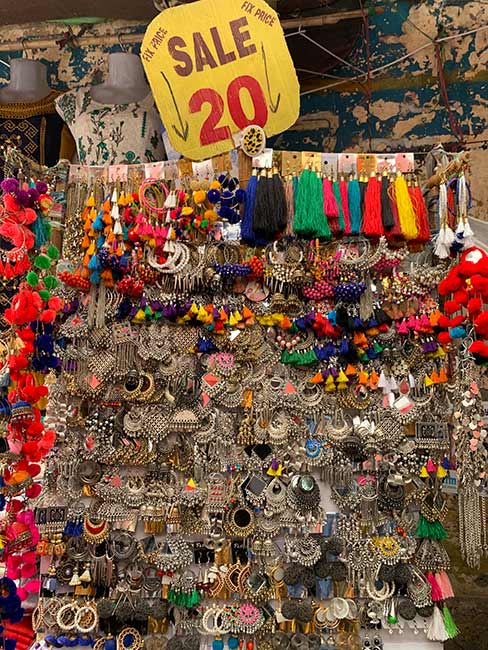 Want to buy a pair of jeans from Levi's, but not at exorbitant prices? Then head to Sarojini Nagar market for export surplus, seconds from factory outlets at a fraction of the retail prices while you keep up with all the latest fashion trends! That's not all folks, when in Sarojini, hog on yummy street food, buy pretty jhumkas and cute shoes. We promise you, you'll keep coming back!
10. Hoard Amazing Reads At Mahila Haat Sunday Book Market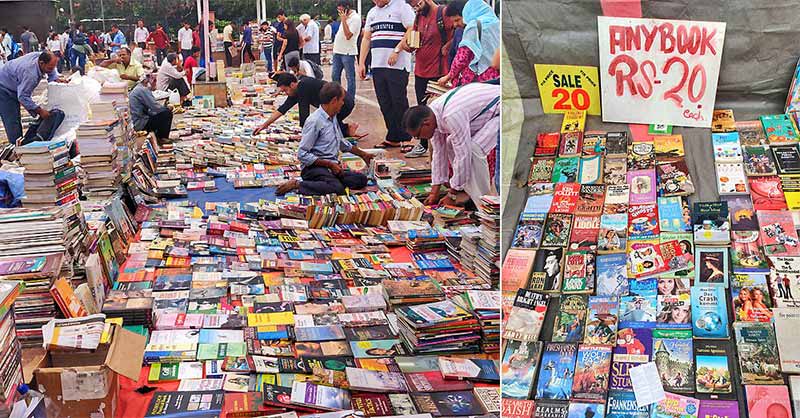 If you're a book lover, then you have to spend a Sunday rifling through the endless stacks of books at this market! Recently shifted from the iconic Daryaganj location, Mahila Haat Sunday Book Market offers the best titles at dirt cheap prices (literally!), it's a haven for bibliophiles. Stroll through the market and you will even find stationery and old coins on sale. The sheer variety and volume of books will leave you amazed.
Where | Mahila Haat - Kamla Devi Bhawan, 5, Pandit Deen Dayal Upadhyaya Marg
11. Go On The Iconic Lal Qiley Ki Sair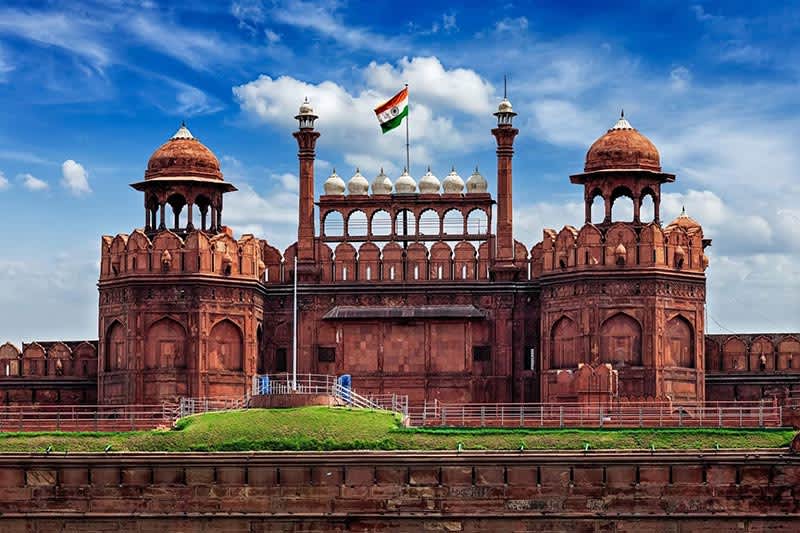 Picture Credits: Nipun Aggarwal
Delhi without the Red Fort is unimaginable, so a visit to this historic monument built by Shahjahan is defo in order. A UNESCO World Heritage site, the magnificent structure is sure to leave you in awe. Don't forget to take a walk through the smaller markets surrounding the fort! 
Where | Red Fort - Netaji Subhash Marg, Lal Qila, Chandni Chowk
Timings | 9:30 AM - 4:30 PM
Entry | Rs 35 Onwards
12. Relish Sufi Night Every Thursday At Hazrat Nizamuddin Dargah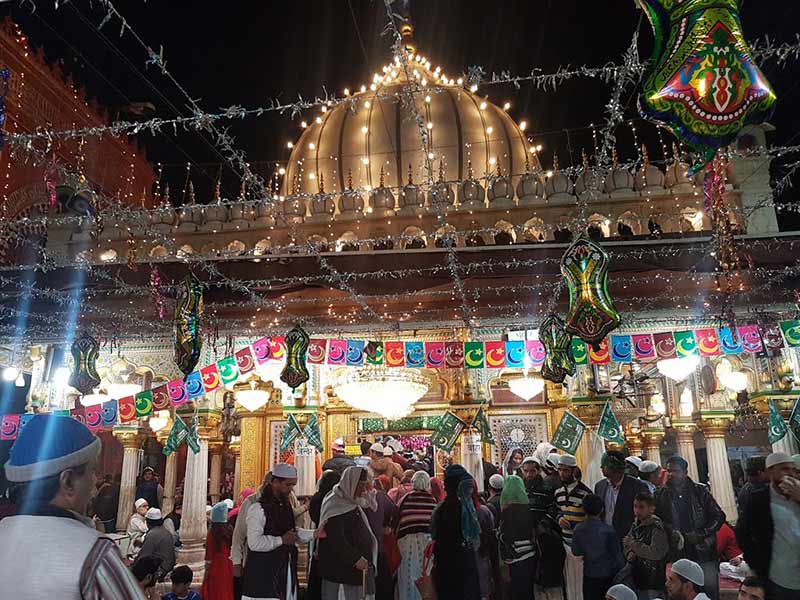 Picture Credits: shafiq uddin
Recreate moments from Rockstar and soak in the spirituality and connect with the cosmic during the hypnotic qawwali sessions on Thursdays. These musical retreats take place twice a day and are attended in large numbers. The devotional music here will bring you peace for some soul-searching.
Where | Hazrat Nizamuddin Dargah - Boali Gate Rd, Nizamuddin, Nizamuddin West
Timings | 5:30 AM - 10:30 PM
13. Relive History At Humayun's Tomb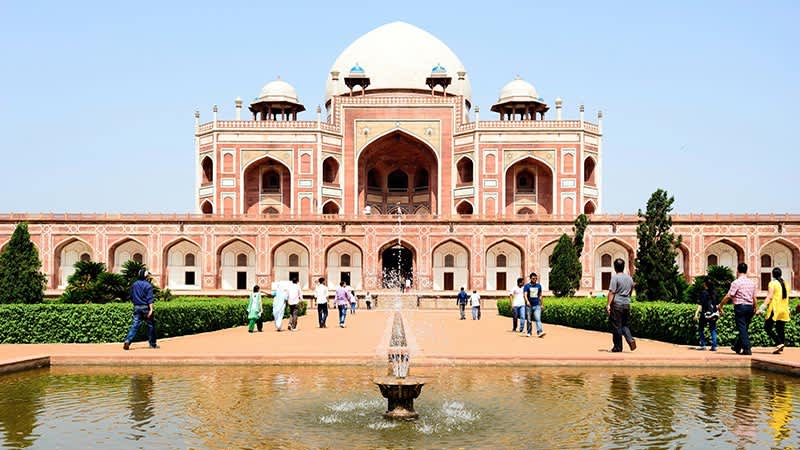 Picture Credits: www.trover.com
Be amazed by the marvellous Mughal architecture of Humayun's Tomb. Surviving centuries, the monument has witnessed a huge part of India's history, be it the Mughal dynasty or the Partition, when it was turned into a refugee camp. It was declared a UNESCO World Heritage Site in 1993 and is truly Delhi's pride and joy!
Where | Humayun's Tomb - Mathura Road Opposite, Hazrat Nizamuddin Aulia Dargah, Nizamuddin
Timings | 6 AM - 6 PM
Entry | Rs 30 Onwards
14. Feel The Spiritual Connect At Jama Masjid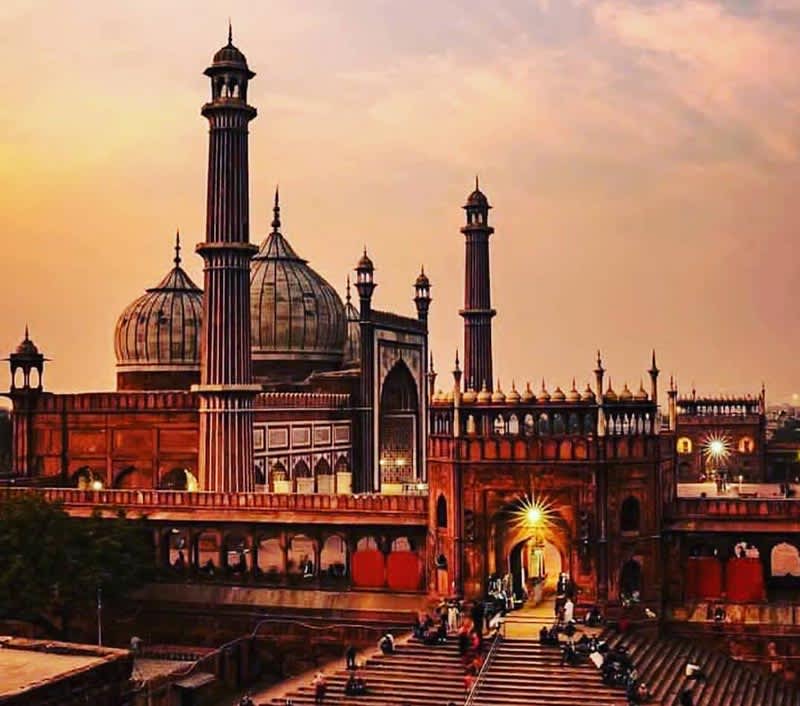 Picture Credits: shahzadft
The Masjid-I-Jahan-Numa, or Jama Masjid as it is popularly known, had to be on this checklist! The largest mosque in India, its serenity will rub off its spiritual fervour on all who come to pay homage here. Picturesque by itself, there are few better sights than the Masjid during Ramadan festivities. Come along to witness the glory!
Where | Jama Masjid - Jama Masjid Rd, Jama Masjid, Chandni Chowk
Timings | 7 AM - 12 Noon & 1:30 - 6:30 PM
15. Explore Museo Photography Museum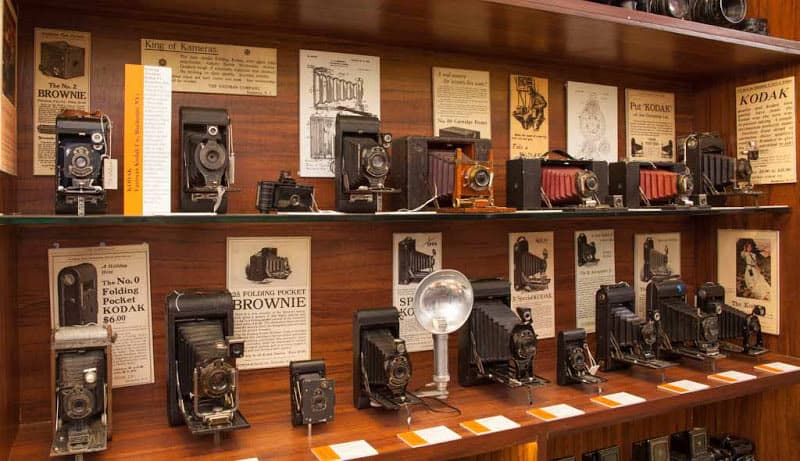 An obscure gem located in the heart of Gurgaon, not many are aware of this passionate and beautifully quirky museum run by Aditya Arya, a renowned Indian photographer known for collecting, curating and archiving rare collections of photographs. Giving you a chance to travel back in time and experience the evolution of the camera, the Vintage Camera Museum, established back in 2009, is an in-house treasure trove of analogue cameras showcased by Aditya himself. Famed as a collector of cameras for the past 35 years now, Aditya buys it from scrap dealers or flea markets, fixes it and keeps it in his nirvana! 
Where | Museo Camera Centre For The Photographic Arts - Shri Ganesh Mandir Marg, DLF Phase IV, Sector 28, Gurugram
Timings | 11 AM - 7 PM
Call Them | +91 9810 752 279
Entry | Rs 200
16. Witness The Majesty Of Qutub Minar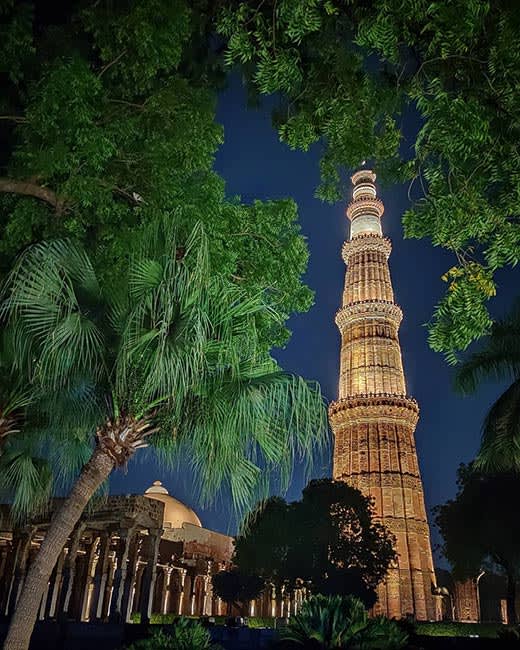 Picture Credits: yogesh.manhas
The tallest structure of the Middle Ages, Qutub Minar is a red sandstone and marble tower dating back to before the Mughal period and is an iconic symbol of Delhi - and thus, a must-visit. The minar is surrounded by many historically significant structures at the Qutub Complex, so gear up for a heritage overdose! Do you know, the Qutub Complex also has an Iron Pillar, which is famous for its rust-resistant materials used at the time of its construction, which means it has not acquired rust ever since it was constructed?
Where | Qutub Minar - Mehrauli
Timings | 7 AM - 5 PM
Entry | Rs 30 Onwards
17. Take In The Pristine Beauty Of The Lotus Temple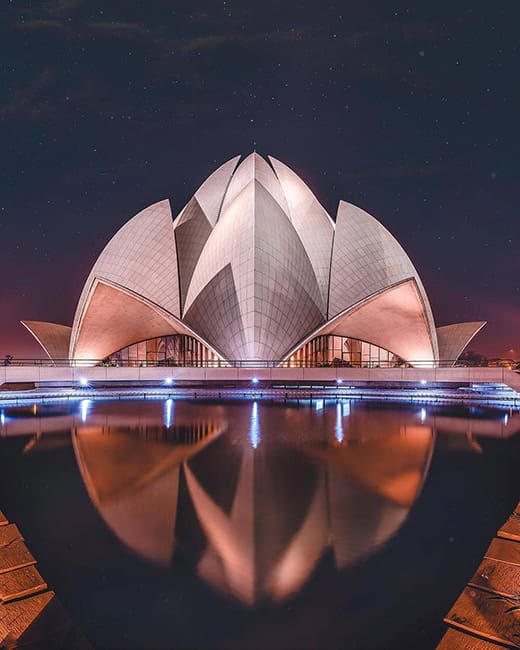 Picture Credits: fazil.insta
Want to know more about the Baha'i faith? The Lotus temple with its striking architecture is an oasis of peace and tranquillity. Welcoming people from all religions, it sends across a greater message of unity, togetherness and peace. Chant the name of your God but share blessings with all!
Where | Lotus Temple - Lotus Temple Rd, Bahapur, Shambhu Dayal Bagh, Kalkaji
Timings | 9 AM - 5 PM (Closed On Mondays)
Entry | Free
Here's Their Website | http://www.bahaihouseofworship.in/
18. Visit Delhi's Beautiful Gurudwaras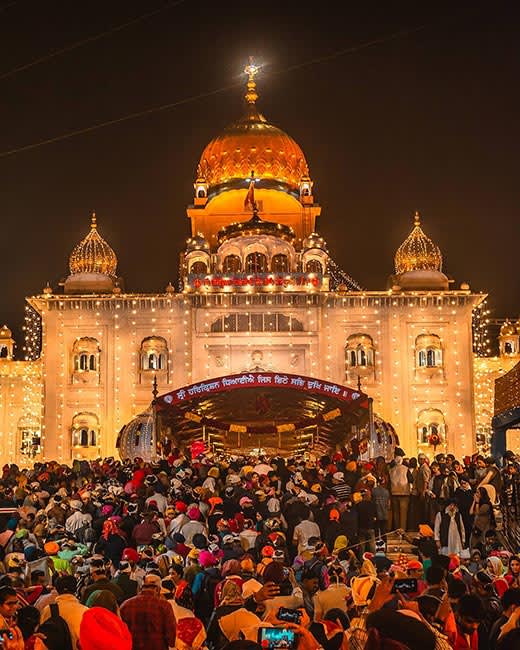 Picture Credits: mr.ashishsolanki
The Sikh faith is very prominently present in Delhi and is nowhere more visible than the Sis Ganj Sahib & Bangla Sahib Gurudwara, where heads bow in reverence. Although most areas have a gurudwara of their own, you must visit these landmarks and discover the true essence of the faith through its followers and of course, the kada parshad!
19. Explore The Old And Bold Purana Qila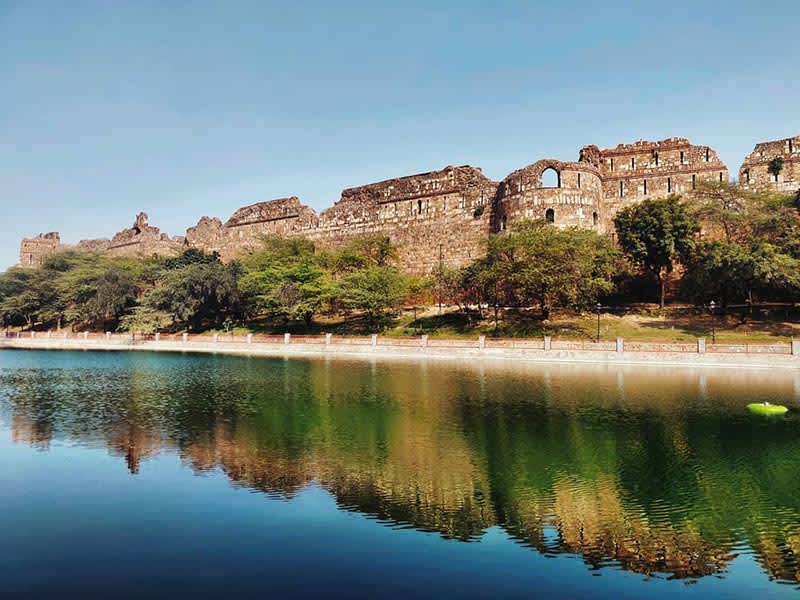 Picture Credits: akshatttttttt
Purana Qila (Old Fort) probably hides more history than it reveals under its crumbling walls. Some even say it was the spot where the victorious pandavas of Mahabharata ruled. Built during the time of Humayun and continued by Sher Shah Suri, it is another beautiful representation of Mughal architecture in Delhi.
Where | Old Fort - Mathura Rd, Near Delhi Zoo
Timings | 7 AM - 5 PM
Entry | Rs 20 Onwards
20. Hoard Bags, Jewellery & More At Janpath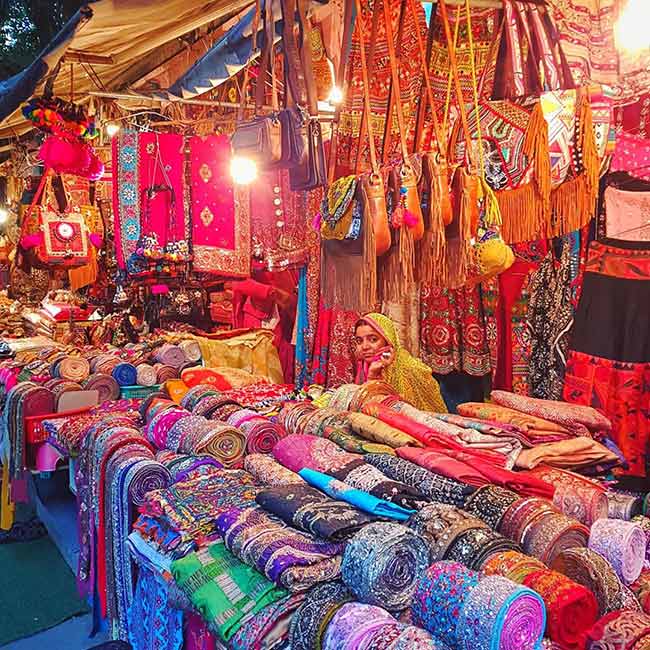 Picture Credits: mrs_travelbright
The lively atmosphere of Janpath and the nearby Tibetan Market with its flea markets and hard bargaining will lift your spirits. You can find trendy clothes, juttis and amazing accessories all in one place. One visit to this place and you'll know what the hype is all about!
21. Visit Delhi's Heart - Dilli Haat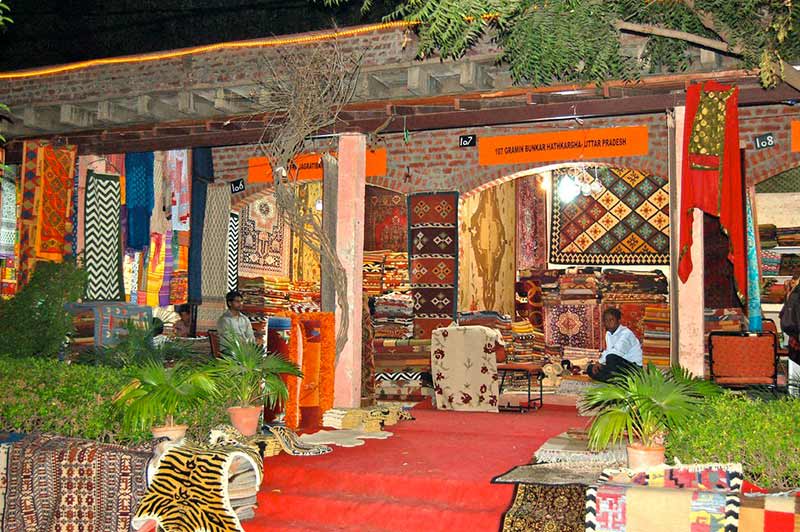 Want to view and sample all of India in just one place? Dilli Haat presents arts & crafts with exotic food from all the states of India. Open on all seven days, it attracts tourists and locals alike. Don't miss it for the love of art, food and culture that shouts India through and through!
Where | Dilli Haat - INA & Pitampura
Entry | Rs 20 Onwards
Timings | 10:30 AM - 10 PM
Here's Their Website | http://www.dillihaat.net.in/
Check Out Their FB Page | https://www.facebook.com/Dilli-Haat-INA-858726330958892/
22.  Stock Up On Gadgets At Nehru Place Market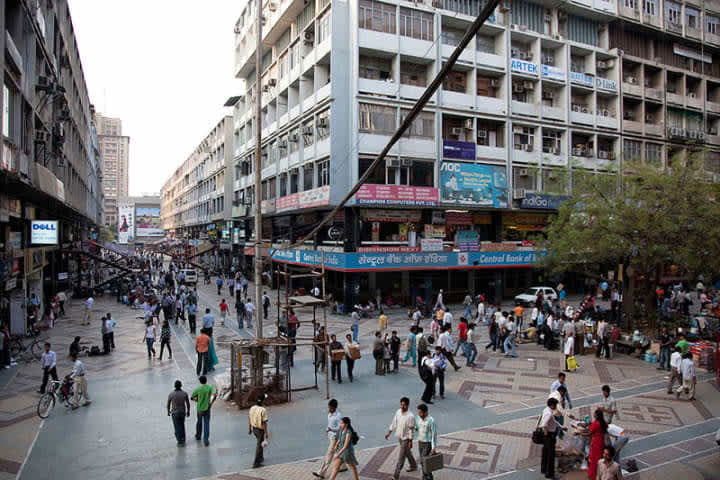 All the gadgets and computer-related hardware are available in perhaps the largest IT hub in Asia at the famous Nehru Place. A one-stop shop for all your gadget needs, this place has retail and wholesale outlets that deal in everything from electronics to hardware and everything in between. Don't miss out on the endless variety of mobile phone covers readily available!
Also, keep an eye out for the restaurants this place has to offer, Social, Sandoz, and Nehru Place has everything to devour! 
23. Come See Fifty Shades Of Gaffar Market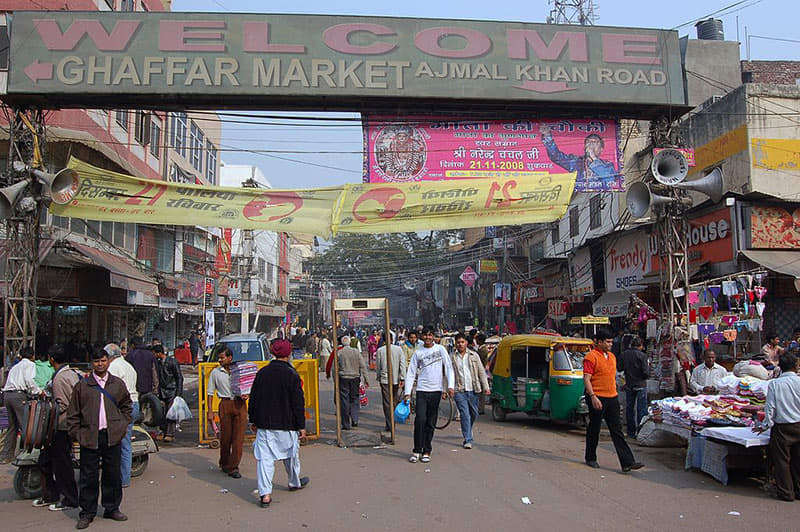 Well below market prices for iPhones, Galaxies and ultrabooks are available at this grey market called Gaffar Market hidden away in Karol Bagh. Commitment phobic, this market gives no warranty or guarantee for its products and yet has a huge customer base. Come join the madness here!
24. Take A Stroll Through ISKCON Temple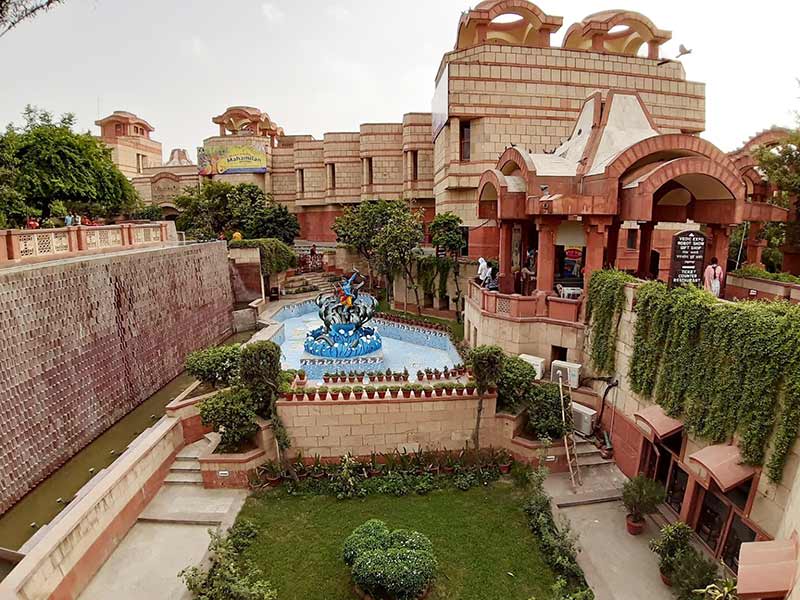 Picture Credits: RAHUL BANSAL
The festivities at the ISKCON temple during Janmashtami on Lord Krishna's birthday will fill you with joy and devotion that reverberates through your soul. Peek into the life force of Vaishnav life and Krishna bhakti in its many colours here. It'll be an experience you'll cherish! 
Where | ISKCON Temple - East Of Kailash, Rohini, Dwarka & Other Locations
Here's Their Website | https://www.iskcondelhi.com/
Check Out Their FB Page | https://www.facebook.com/iskcondelhi/
25. Unleash Your Adventurous Side At BoulderBox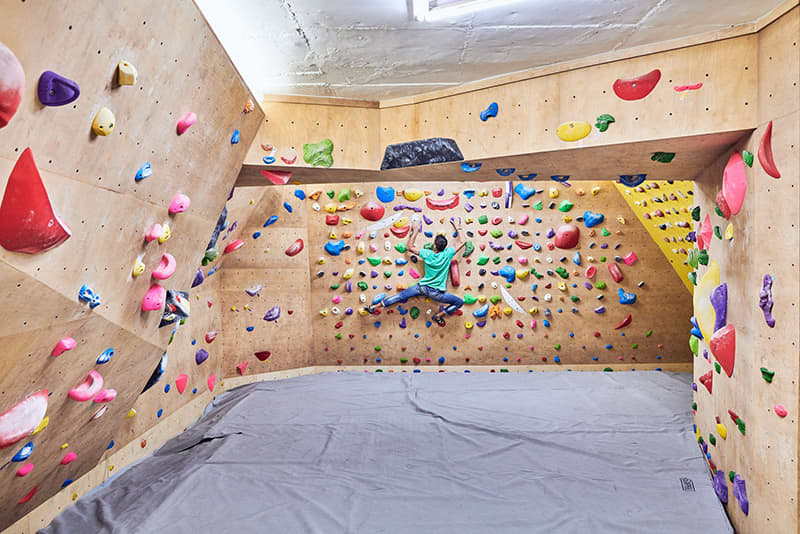 This indoor climbing centre in Vasant Kunj called BoulderBox will put an exciting twist to your boring old routines. WIth bouldering walls spread over two floors, you can actually climb the wall from one floor to another! It's a world-class indoor rock climbing facility with such beautiful aesthetics that you won't even realise that you're working out. They even have an exercise studio ideal for stretching and warm-up. They even plan to include callisthenics, pilates and yoga in future.
Where | BoulderBox - OCF, Sector-B, Pocket - 9, Vasant Kunj
Timings | 12 Noon - 10 PM (Weekday) & 10 AM - 10 PM (Weekends)
Price | Rs 700 Onwards
Apply For Membership Online Here | https://www.instamojo.com/boulderbox/ 
Here's Their Website | https://www.boulderbox.in/ 
Check Out Their FB Page | https://www.facebook.com/BoulderBox/ 
26. Devour Creamy Butter Chicken At Pandara Road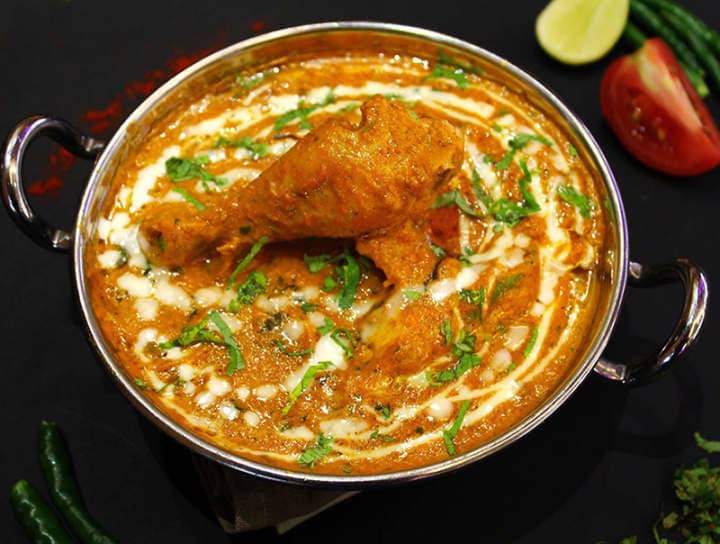 Visit Pandara Road to experience an Indian feast at midnight! Havemore and Gulati, in particular, are famous in the city as having the best butter chicken! There is an array of restaurants offering scrumptious North Indian and Chinese food. Always crowded, these restaurants will have you returning for more. Midnight munchies on the go in here, guys!
27. Pamper Yourself At A Luxe Spa At Trident, Gurgaon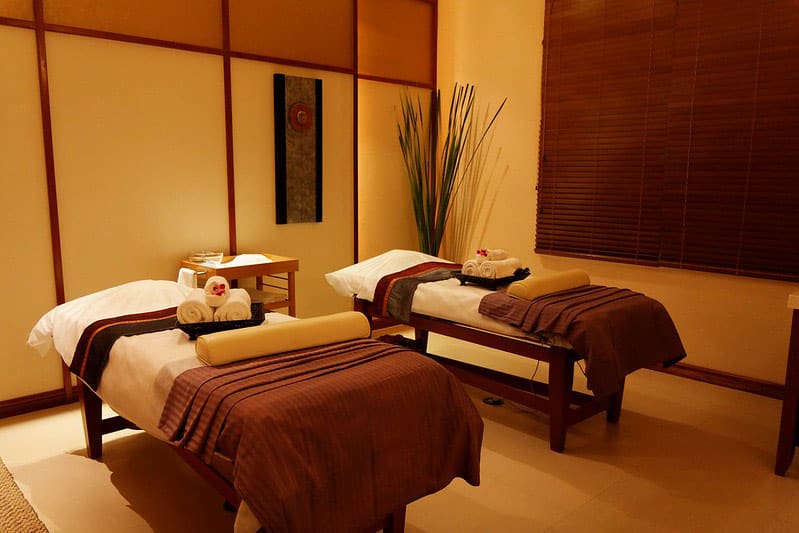 How about unwinding at one of the Ayurveda spas scattered through the city, especially those from Kerala to totally relax and detox after a tiring day of sightseeing and shopping?! Hell yeah! You can land up at Trident, Gurgaon or choose from a variety of spas and rejuvenate under magical hands working their magic!
Where | Trident Gurgaon - 443, Udyog Vihar Phase V, Phase V, Udyog Vihar, Sector 19, Gurugram
Timings | 11 AM- 8 PM
Call Them | +91 1242 450 505
Check Out Their FB Page | https://www.facebook.com/TridentGurgaon/
28. Enjoy Birdwatching For An Enriching Experience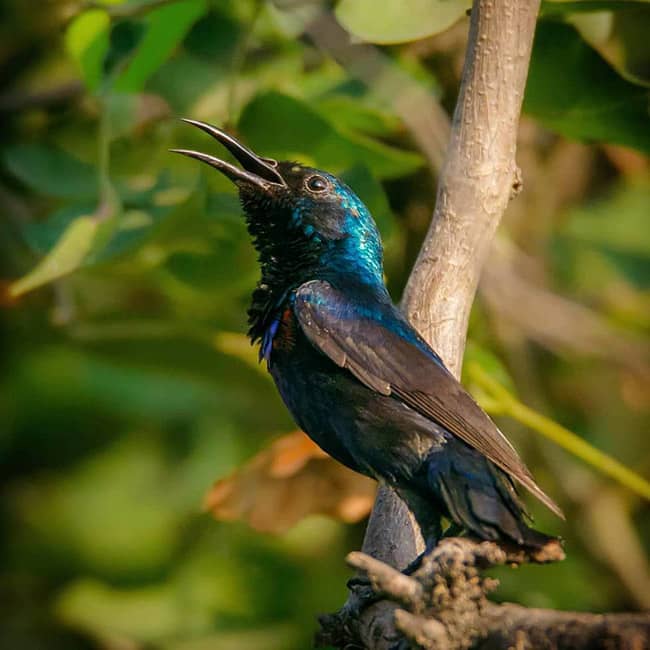 Picture Credits: anirudhdawarphotography
If you love birds, the birds' hospital inside the Lal Mandir of the Jain community in Chandni Chowk will tug at your heart. You can even nurse some injured birds there too. You can also visit the Sultanpur Bird Sanctuary and Okhla Bird Sanctuary, to have a nice time by yourself with nature! Delhi is home to a variety of birds, much to the delight of birdwatchers - so this is sure gonna be something! 
29. Go Mall Hopping On Weekends
Head to Select Citywalk for a Wednesday evening shopping fiesta at the flea market which is growing popular with every passing year. Otherwise, you can also visit the luxury designer mall - DLF Emporio for some designer masterpieces. You'll find the best of brands along with recurring regional exhibitions here.
30. Indulge In A Leisurely Picnic At Lodhi Garden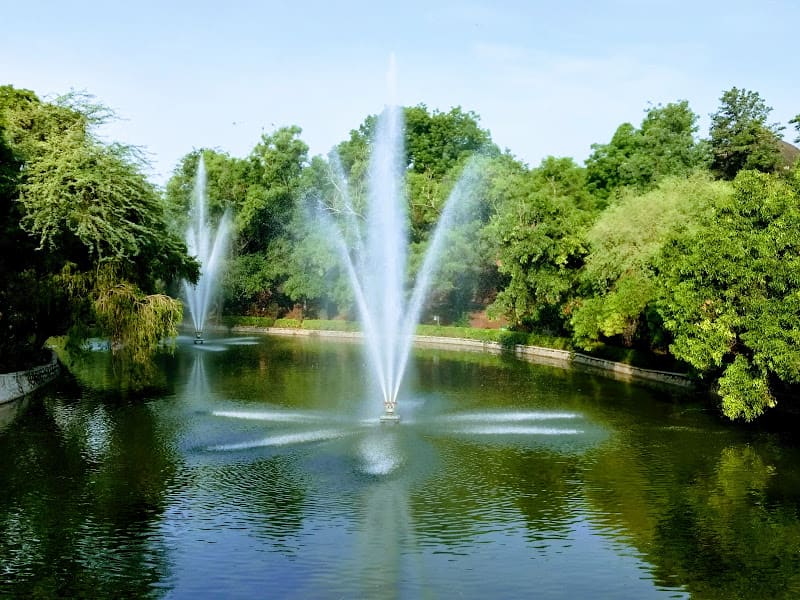 Plan an afternoon picnic at the picturesque Lodhi Garden. A favourite with locals, who can be found strolling, jogging or simply relaxing in nature's lap. Dotted with historical monuments, you must spend some time here on a cool summer evening!
Where | Lodhi Garden - Lodhi Road, Lodhi Gardens, Lodhi Estate
Timings | 6 AM - 8 PM
31. Live The Metro Life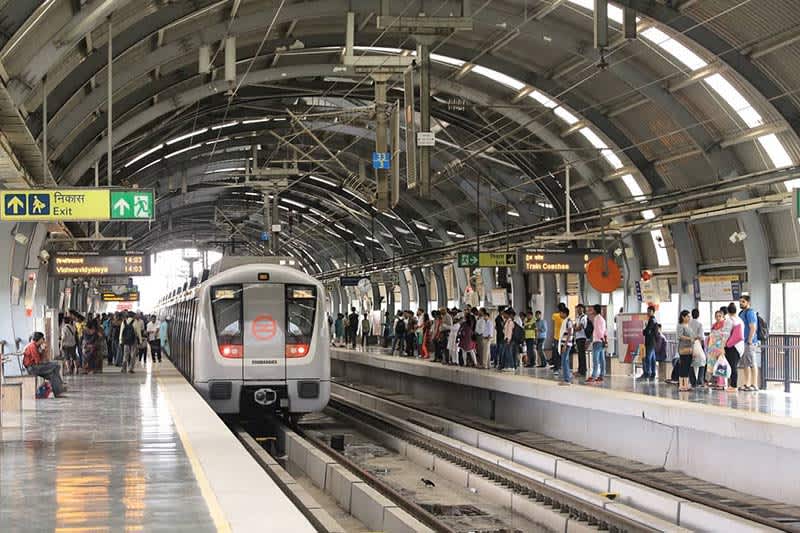 Picture Credits: officialdmrc
Hop onto a Metro anywhere around the city for an unplanned day and watch the city as it rolls by. The metro covers the city extensively and Delhiites CANNOT survive without it. Literally! So take a ride and spend the day like a true Delhiite. You'll be in for quite a ride, alright!
7 Places To Check Out Through Delhi Metro's Blue Line For A Budget Dilli Darshan
12 Places To Check Out On The Yellow Line For A Comprehensive & Budget Dilli Darshan!
32. Anyone Up For Some Haveli Tours?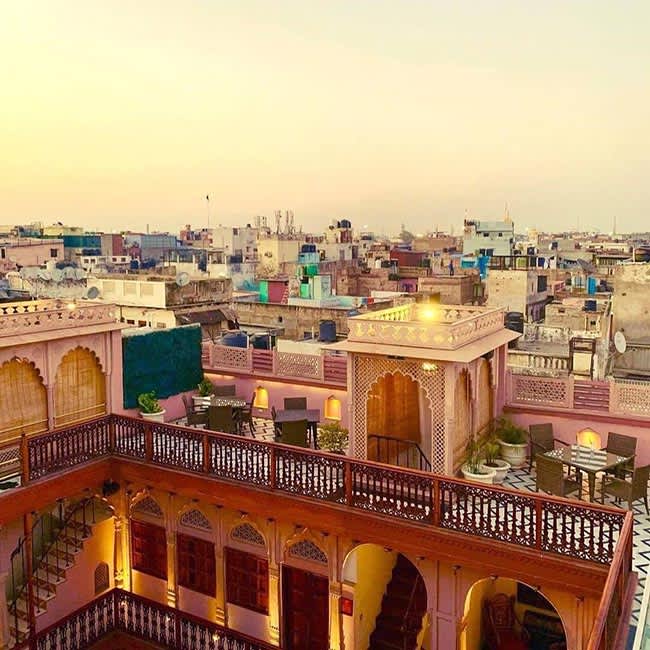 Picture Credits: havelidharampura
Hire a local guide to visit ancient heritage havelis (mansions) in the inner city to get a feel of eras long gone by. Haveli Mirza Galib, Haveli Dharampura and Chunnamal Haveli are some of havelis where you can dive into the city's rich history with the many tales these havelis bear.
These tours can be easily booked online through travel websites, making the job much easier for you. 
33.  Sip On Piping Hot Tea From Sudama Tea Stall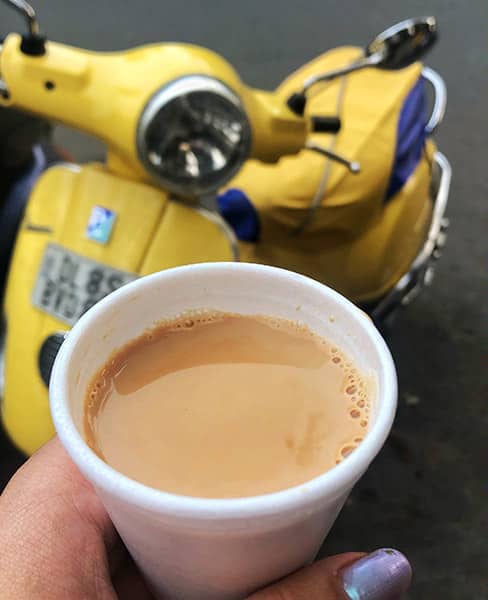 The kerbside chaiwalas or tea vendors can offer you one of the best teas - masala cutting chai and tandoori chai, brewed to perfection at unbelievable prices per steaming cup. Tapri wali chai is also another local favourite and you will always find these places flocked by chai-hungry crowds, Sudama Tea Stall is a fantastic example for it's been around for well over 20 years and is rightfully the fave hangout spot of all the students of North Campus!
Where | Sudama Tea Stall - Outside Ramjas College, Kamla Nagar
Timings | 9 AM - 7 PM
Meal For Two | Rs 50
Check Out Their FB Page | https://www.facebook.com/Sudama-Tea-Stall-1583992515158233/
34. Go On A Dilli Darshan Via HoHo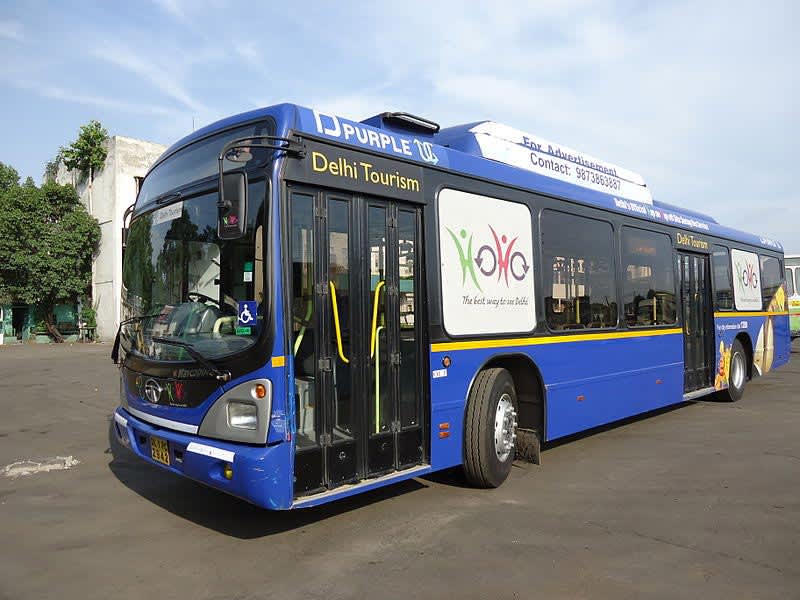 If you're looking to experience the various sights and sounds of Delhi all in a day's time, use the Hop On Hop Off tourist bus service. You can board and deboard at your convenience and discover Delhi throughout the day. So gear up for some Dilli darshan!
35. Enjoy An Afternoon Affair With Art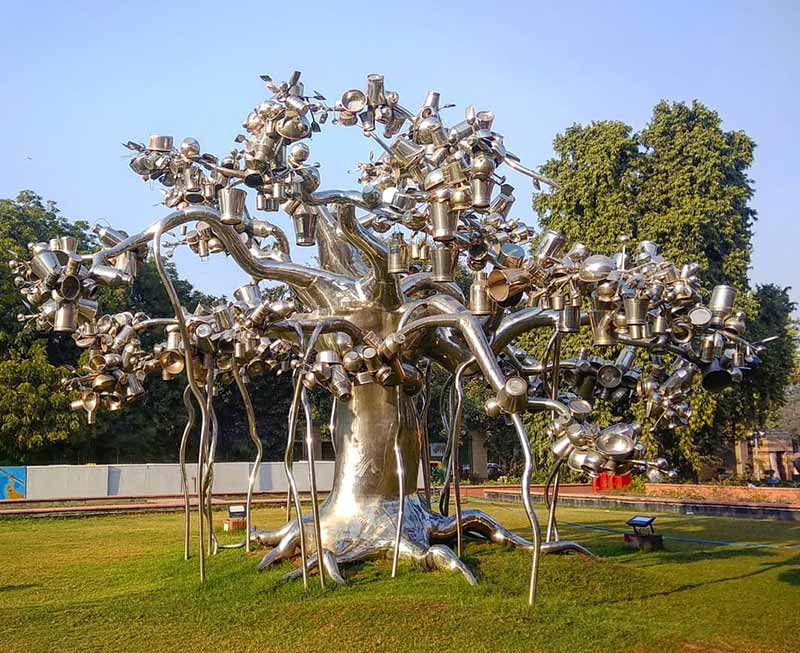 Picture Credits: imranpasha_
An afternoon spent at the National Gallery of Modern Art is a must. It will provide a glimpse into contemporary Indian art and if you plan ahead, you might be able to catch some cool exhibitions that are regularly held at the gallery.
Where | National Gallery of Modern Art - Shershah Road Near India Gate Jaipur House
Timings | 11 AM - 6 PM (Closed On Mondays)
Entry | Rs 20 Onwards
Here's Their Website | http://ngmaindia.gov.in/
36. Sample Delhi's Nightlife In The Heart Of The City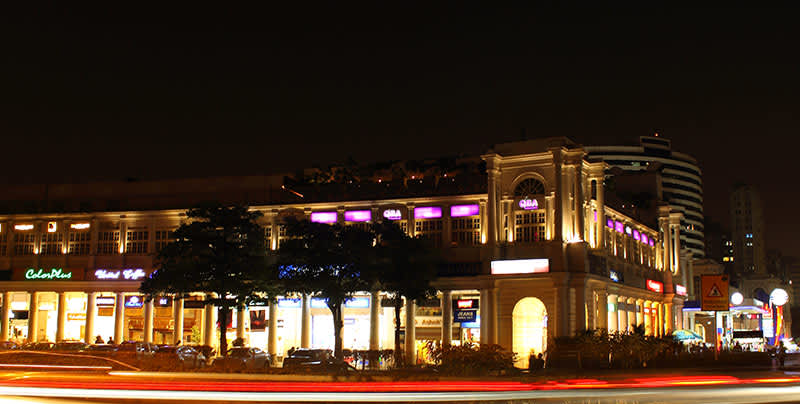 Centrally located, CP offers some of the best restaurants, cafes, shopping markets, bookstores and more. Connaught Place also has a thriving nightlife culture. Glitzy pubs and bars also organise special musical nights that can be enjoyed by one and all.
37. Visit Crafts Museum To Explore The Cultural Affluence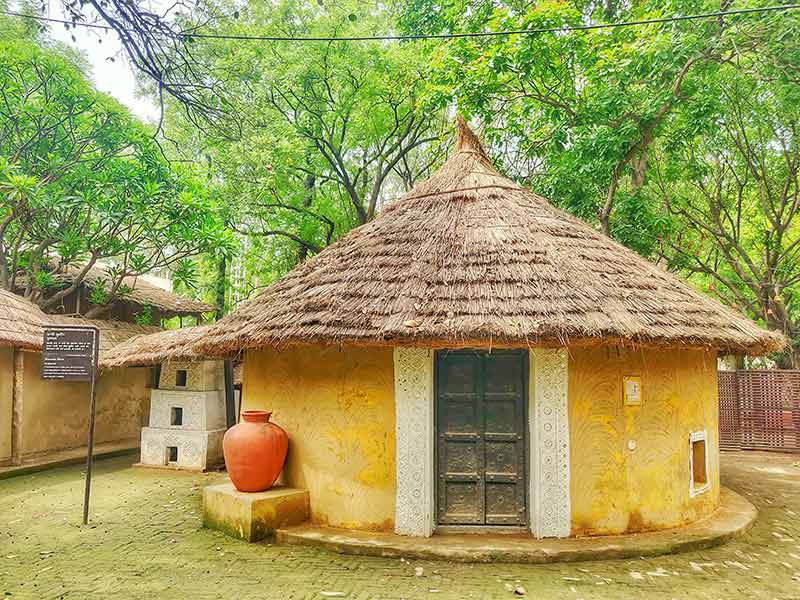 The National Crafts Museum in Delhi is one of the largest crafts museums in the country. This gallery has been set up over a span of 30 years and one should definitely give it a visit when they're in the city. After all, a dose of culture is always good for health, isn't it?!
Where | The National Crafts Museum - Pragati Maidan Bhairon Marg, Pragati Maidan
Timings | 10 AM - 5 PM (Closed On Mondays)
Entry | Rs 20 Onwards
Here's Their Website | http://nationalcraftsmuseum.nic.in/
38. Explore The Lanes Of Majnu Ka Tilla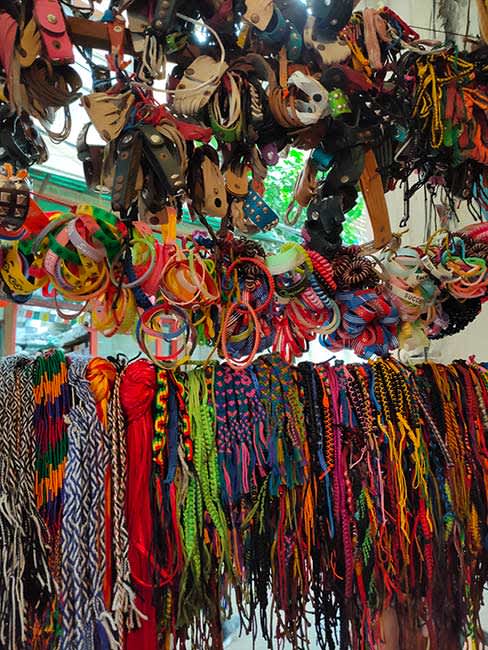 Also known as the Monastery market, this market holds a special place in the hearts of Delhiites. One should explore the bustling lanes of this neighbourhood as they have a range of colourful clothes, trendy jackets, snazzy bags and LOTS more. Plus they also have a number of eateries serving a delish fare!
39. Walk Through The Mehrauli Archeological Park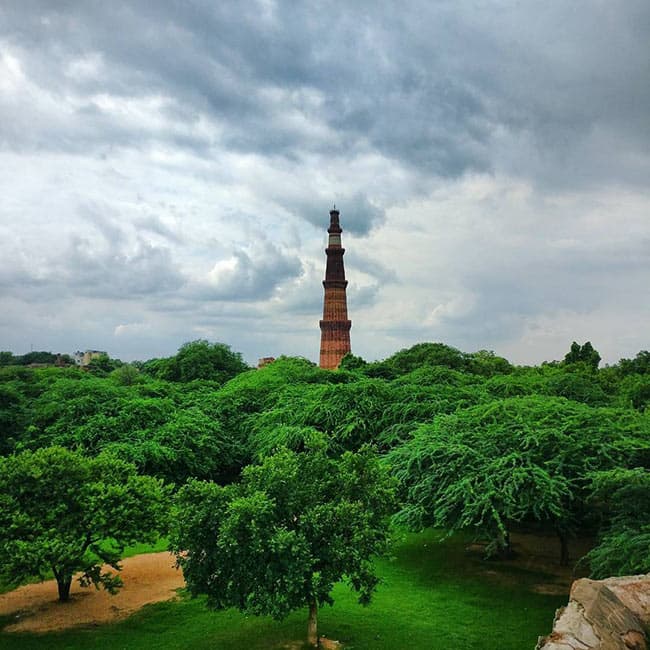 Picture Credits: siddharth038
Mehrauli Archeological Park is spread over a massive 200-acre land and has over 100 historically significant monuments. While you explore these on a pleasant day, it will certainly give you a glimpse into the lives of the royals that once walked the city.
Where | Mehrauli Archeological Park - Anuvrat Marg Opposite Qutub Minar Metro Station, Mehrauli
Timings | 5 AM - 6:30 PM
40. Step Into The Past At Agrasen Ki Baoli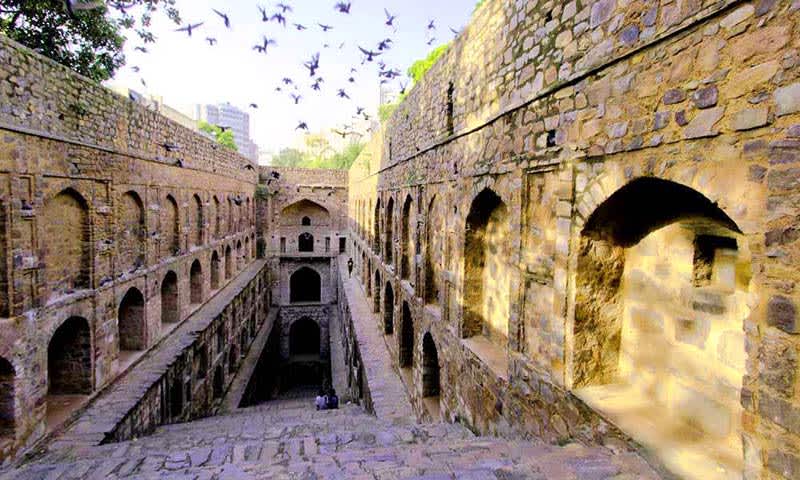 Agrasen Ki Baoli is located near the buzzing CP with what's said to be 108 steps. Coming under the Archeological Survey Of India (ASI), this one is something that you should definitely check out when you're in the town. It's not just a historical splendour at its best but something that you should cover.
Where | Agrasen Ki Baoli - Hailey Road, KG Marg, Near Diwanchand Imaging Centre
Timings | 9 AM - 5:30 PM
41. Unleash Your Shopaholic Soul At Hauz Rani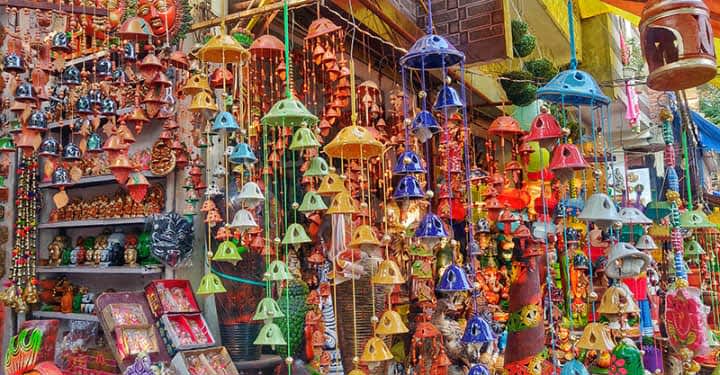 Hauz Rani is known for its pottery market that has a huge variety of colourful crockeries that will spoil you for options. Apart from these, you can also pick up pretty saplings and plants from the market here to decorate your dream patio. 
Where | Hauz Rani - Malviya Nagar
42. Go Explore Matia Mahal Street In Old Delhi For Juicy Kebabs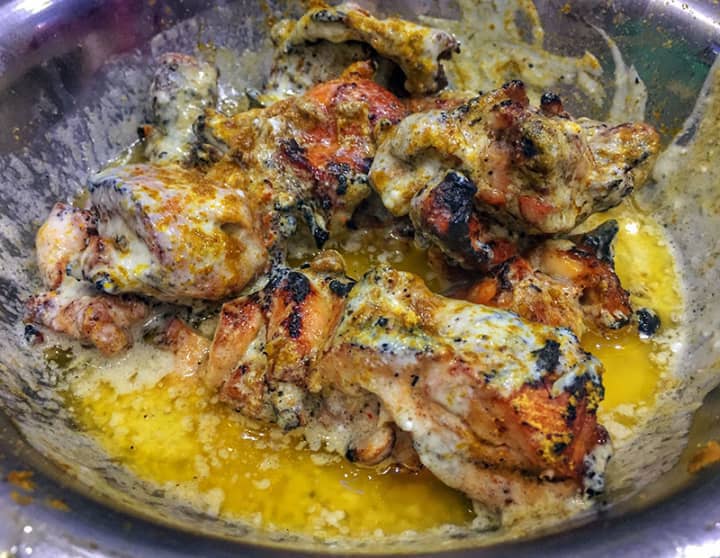 This place can safely be called the 'Food Capital' within Delhi and is considered a paradise for all the food lovers of the city. Just one visit to this place is definitely not enough as you'd want to keep coming back for more and more each time. You cannot get enough of the vibrancy and excitement that embodies Matia Mahal, a street inside the walled city that never sleeps! 
43. Hoard Home Decor From Amar Colony Furniture Market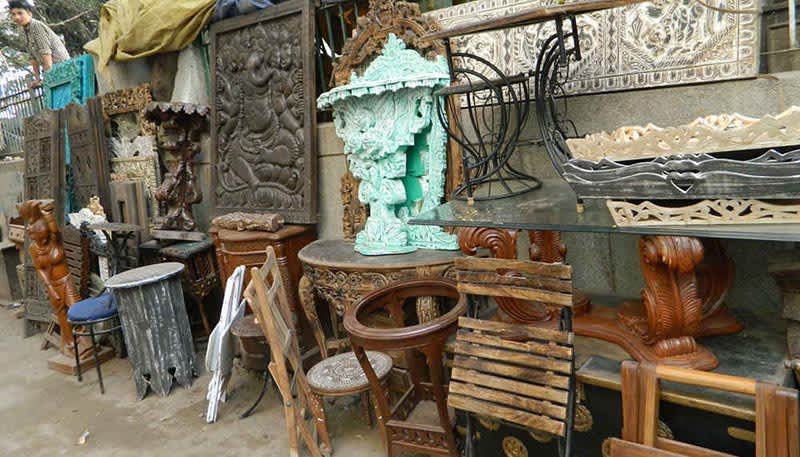 If you're looking for ways to revamp your humble abodes then Amar Colony Furniture Market is your go-to place. The furniture and the other goods displayed here for sale constitute both second hand and recycled items, which have been transported from places like Jodhpur, Mumbai, Calcutta, and various regions in the south, and imitations of these very same items which are manufactured by the dealers.
Where | Amar Colony Furniture Market - Amar Colony
44. Experience The Best Of Both Worlds At Paharganj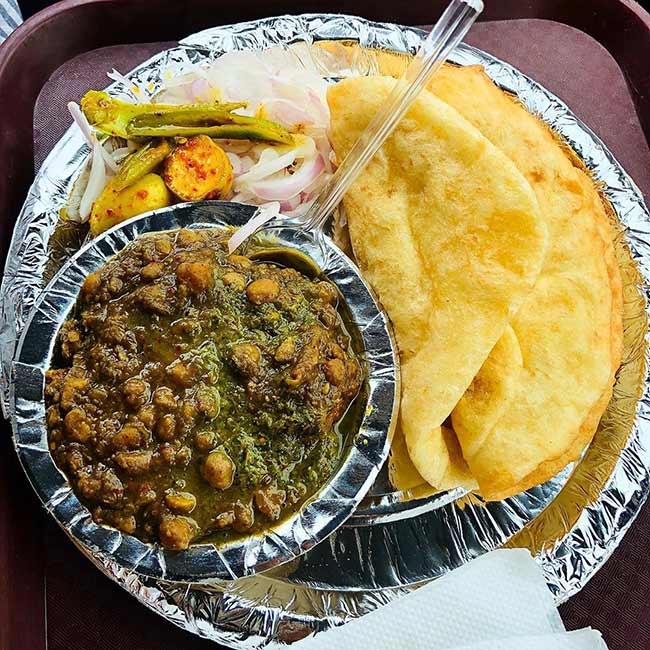 Picture Credits: twocents.worth
From legendary eateries like Sita Ram Diwan Chand, Kashmir Sweet Shop and a shopper's paradise which thrift stores and flea markets, Paharganj is as iconic as it can get. Every Delhiite has had their fair share of Paharganj, whether it's a delayed train or an outing to hog on some chur chur naan, the place has more stories than any other part of the city.
45. Salute The Fallen Soldiers At Swatantrata Sangram Museum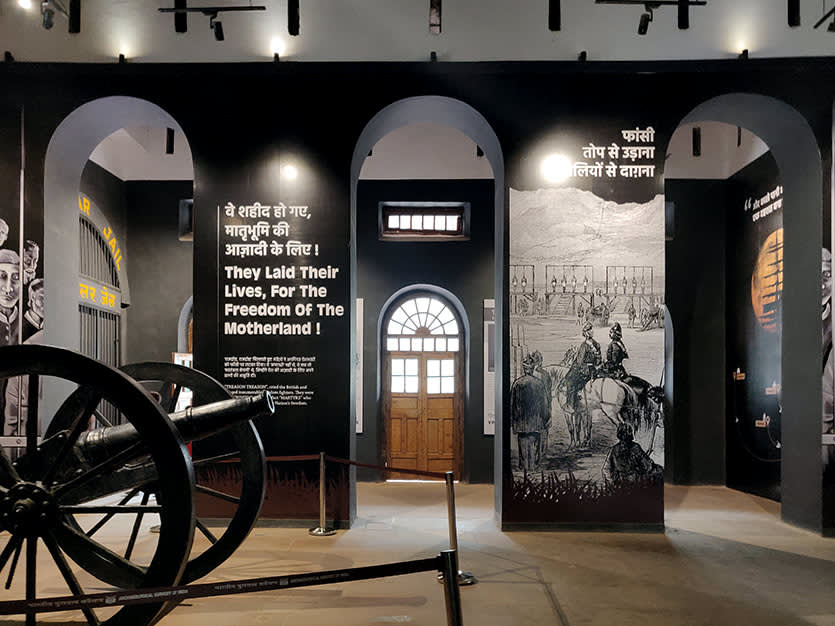 Built by the Archaeological Survey of India (ASI), this museum is dedicated to the unsung heroes of the country's freedom struggle. The interactive museum is a digitised, state-of-the-art, informational and educational exposition that features multi-sensory technology which will keep the visitors engaged. 
Where | Swatantrata Sangram Museum - Lal Qila, Chandni Chowk
Timings | 9 - 5 (Closed On Mondays)
Entry | Rs 80 (Adults)
46. Have A Culinary Experience At DLF Cyber Hub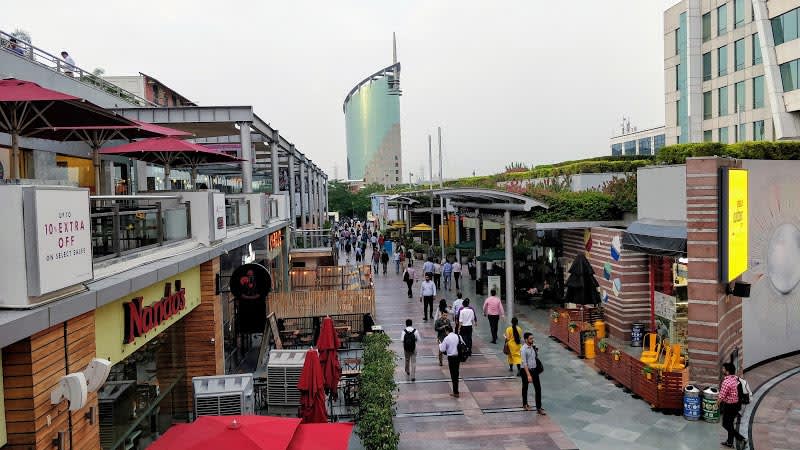 Picture Credits: Ashu Goel
Ever since DLF Cyber Hub popped up on Gurgaon's skyline, it has been a hotspot for all things food and more. With tons of eateries lined up and each serving the most delectable dishes, one should definitely visit this place. DLF Cyber Hub has eateries like Foxtrot, The Drunken Botanist, IHOP, The Wine Company, Olly Gurgaon and more.
Where | DLF Cyber Hub - Basement Street Number 1 BMS Office, DLF Phase II, Gurugram
Check Out Their FB Page | https://www.facebook.com/dlfcyberhub/
47. Jump Around At Bounce Fitness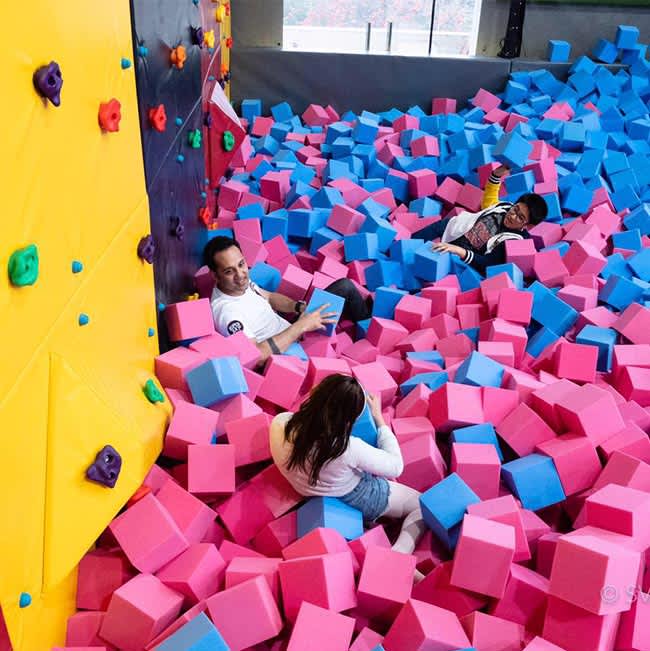 BounceFitness is an indoor trampoline park in Gurgaon. Just as the name suggests, this is an indoor playground where you can treat your inner child to a crazy fun-filled time! These guys offer a bunch of activities like virtual reality games, simulator games, body zorbing and more that will make you jump in joy!
Where | BounceFitness - DLF Star Mall, Sector 30, Gurgaon
Timings | 11 AM - 10 PM
Call Them | +91 9818 270 099
Check Out Their FB Page | https://www.facebook.com/bfgurgaon/
48. Experience Snow In Delhi At ISKATE By Roseate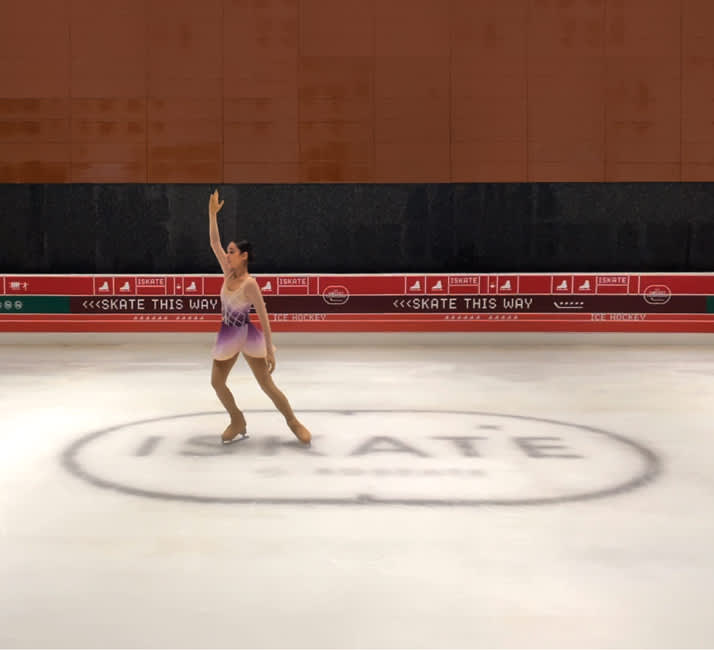 How about spending some time ice skating with your family? And you won't have to visit the snowy mountains, you can experience the Eskimo life right here in Delhi at ISKATE that's in Ambience mall. And as you slide left and right on your ice skates, don't forget to indulge in a snowball fight with your peeps! You can also indulge in a great cup of coffee and more at their cafe! 
Where | ISKATE By Roseate  - 6th Floor, Ambience Mall, NH-8, Gurugram
Timings | 12 Noon - 10 PM 
Call Them | +91 12 4461 0606
Here's Their Website | https://www.iskate.co.in/
Check Out Their FB Page | https://www.facebook.com/iskateIndia
49. Shop For Trendy Leather Jackets From Yashwant Place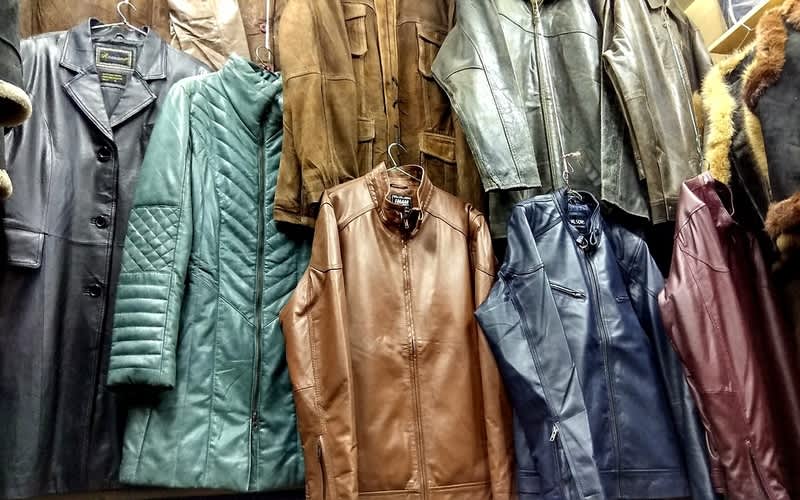 Yashwant Place is an under-discovered gem in Chanakyapuri that has every leather garment and article of your dream at the cheapest rate and in fab quality! Swamped with foreign tourists and locals, alike, you will find them buying leather jackets and goodies in bulk!
Where | Yashwant Place - Chanakyapuri
50. Visit The Sulabh International Museum Of Toilets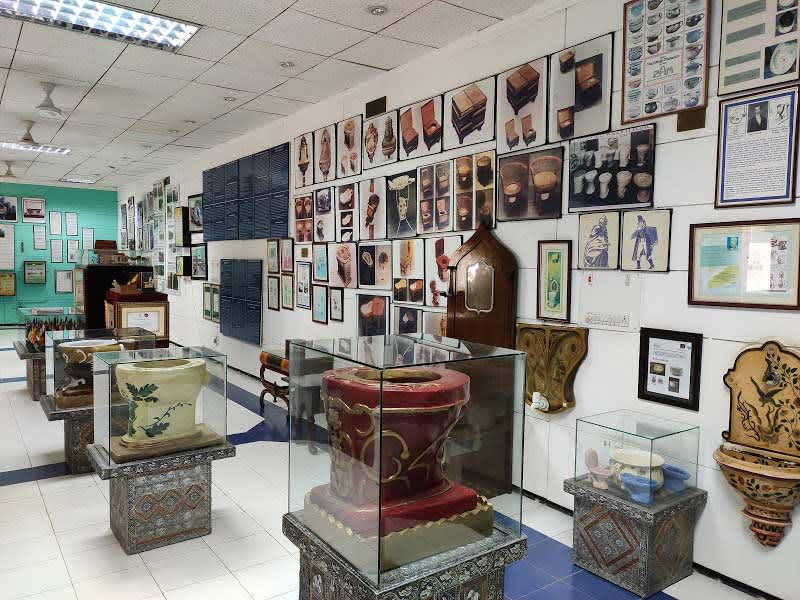 Picture Credits: garima gupta
Working on Mahatma Gandhi's philosophy of sanitation, Dr Bindeshwar Pathak set up the Sulabh International Toilet Museum, located in Mahavir Enclave of the West Delhi area. It's said to be a one-of-its-kind museum in the world. The other arm of their NGO is working on various sanitation programmes across the world and the social and economic liberation of manual scavengers. This museum showcases the evolution of toilets - from the most ancient civilizations to the very contemporary toilets of the present age.
Where | Sulabh International Toilet Museum - RZ-83, Sulabh Bhawan, Palam Dabri Road, Mahavir Enclave, Sulabh International Social Service Organisation
Timings | 10 AM - 5 PM
Call Them | +91 11 2505 3646
Entry | Free
That's an exhaustive list, we know. But this is only the tip of the iceberg and Delhi has so much more. How many have you ticked off your list?!