Delhi
12 Places To Check Out On The Yellow Line For A Comprehensive & Budget Dilli Darshan!
Delhi has the flavour of every state and culture, making it one of the most colourful, historically rich and vibrant cities of this nation. And with the introduction of the metro just under 20 years ago, it has now become the lifeline of the city and has made travel hassle-free and convenient for all us Delhizens. So we've got you the best of both worlds - here's a list of places you can visit on the Yellow Line of the Delhi Metro for an all-inclusive Dilli darshan - scroll on!
1. Qutub Minar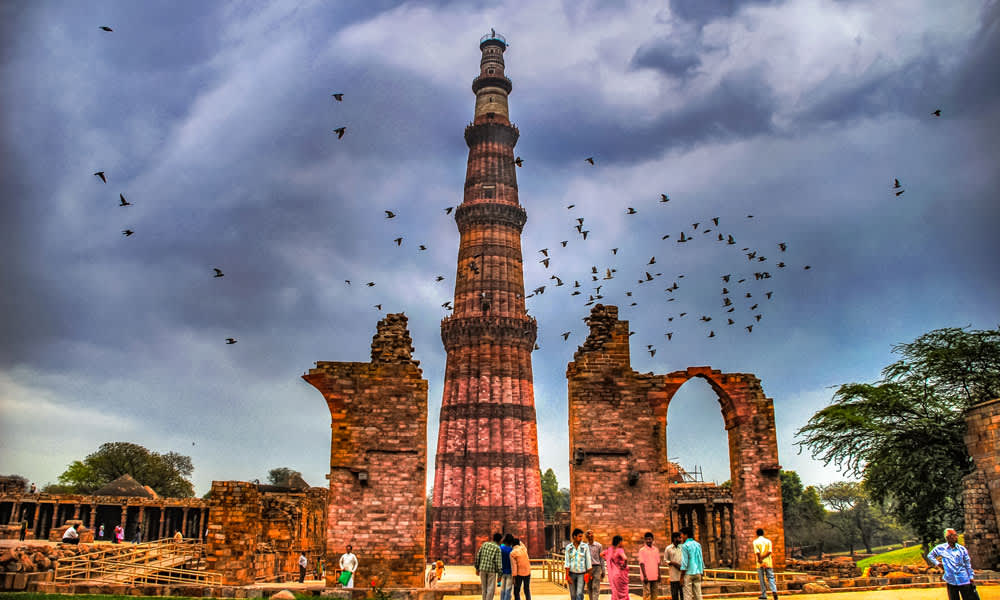 Get down at the Qutub Minar Metro Station to visit this UNESCO World Heritage site. This magnificent monument stands tall at 234 feet; it's a red sandstone and marble minar surrounded by medieval and ancient ruins collectively known as the Qutub Complex. Your Dilli darshan is incomplete without visiting this gem!
Where | Qutub Minar - Mehrauli, Near Qutub Minar Metro Station
Check Out Their FB Page | https://www.facebook.com/qutubmina/
2. The Garden Of Five Senses
Picture Credits: Sourav Singh 
The Garden Of Five Senses is not just a park, it's more of a gem to stimulate one's response to the environment! There are gorgeous varieties of fragrant flowers, amazing sculptures and food and shopping courts here to boot. This fetching place is a riot of colour, noise, touch, taste, smell and then some, so defo make a pitstop right here with your cameras in tow!
Where | The Garden Of Five Senses - Westend Marg, Saidulajab, Near Saket Station
Check Out Their FB Page | https://www.facebook.com/thegardenoffivesenses 
 3. Safdarjung Tomb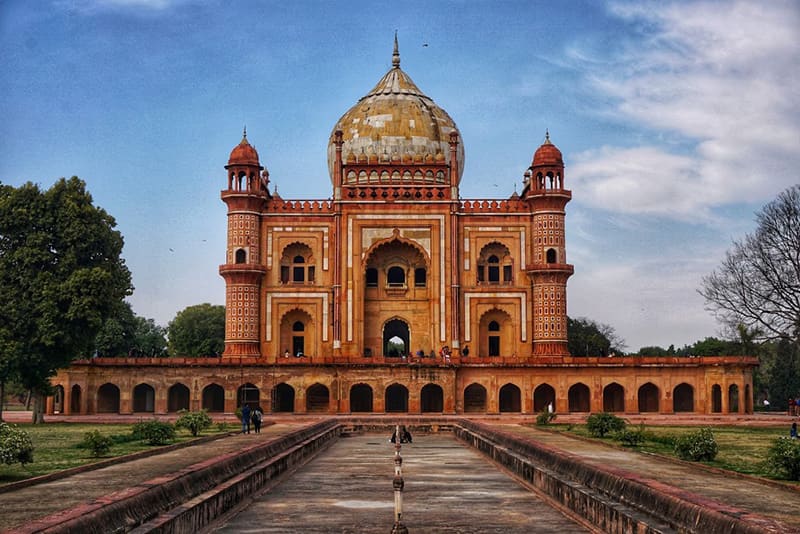 Picture Credits: ritesh sonawane
The Safdarjung Tomb, also referred to as 'Safdarjung Ka Maqbara', is made of red sandstone and marble. It's the last monument tomb-garden made by the Mughals. The main structure is surrounded by well-manicured gardens, fountains, and has a water canal flowing through the compound. It's a sight to behold and something y'all can't afford to miss!
Where | Safdarjung Tomb - Airforce Golf Course, Delhi Race Club, Near Jor Bagh Station
4. Champa Gali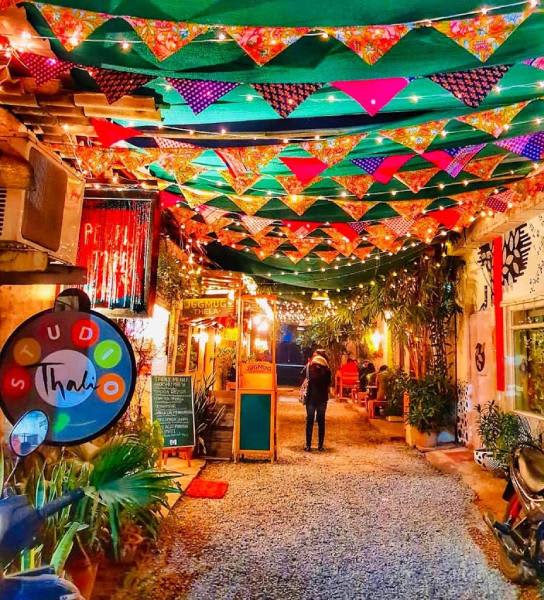 Picture Credits: Bhupesh Kumar
Champa Gali is THE spot on every Delhi hipster's hit list. It's popular not only for its scrummy cafes but also for its Parisian-Esque alleys and glitzy labyrinthian setting. This spot offers rustic old-world charm and is a blend of restaurants, coffee shops, art galleries and even some organic stores, so hop over for a fabulous brunch and shopping sesh here!
Where | Champa Gali - Khasra 258, Lane Number 3, Westend Marg, Saidulajab, Near Saket Station
Check Out Their FB Page | https://www.facebook.com/champagali/ 
5. Jama Masjid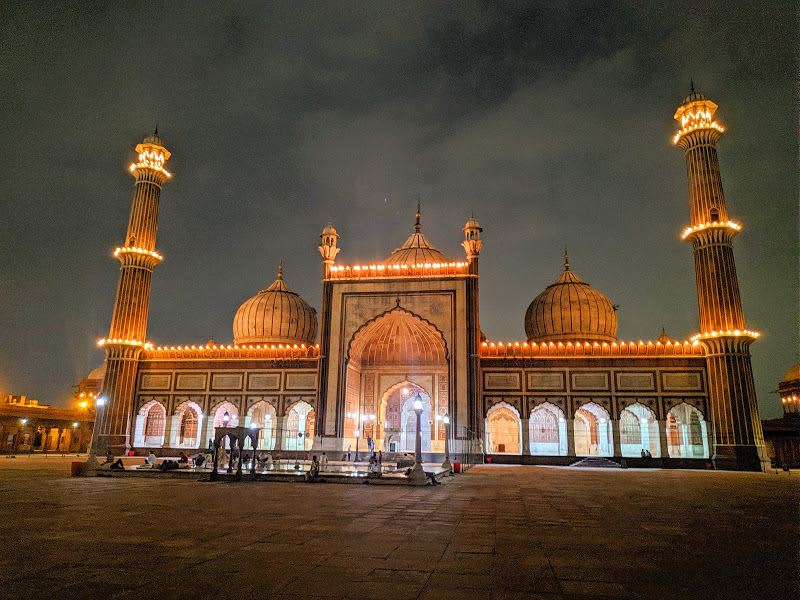 Picture Credits: Shubam Bhasin
Jama Masjid is one of the biggest and best-known mosques in Delhi. It was earlier known as Masjid-i-Jahan-Numa which translates to a mosque commanding the view of the world. This breathtaking architectural marvel is surrounded by three huge gates, four towers and two 40-meter high minarets constructed of strips of red stone and white marble. This place should definitely be on your list if you adore historical monuments and panoramic views!
Where | Jama Masjid - Meena Bazaar, Chandni Chowk, Near Chawri Bazar Station
Check Out Their FB Page | https://www.facebook.com/delhisjamamasjid/ 
6. Lodhi Gardens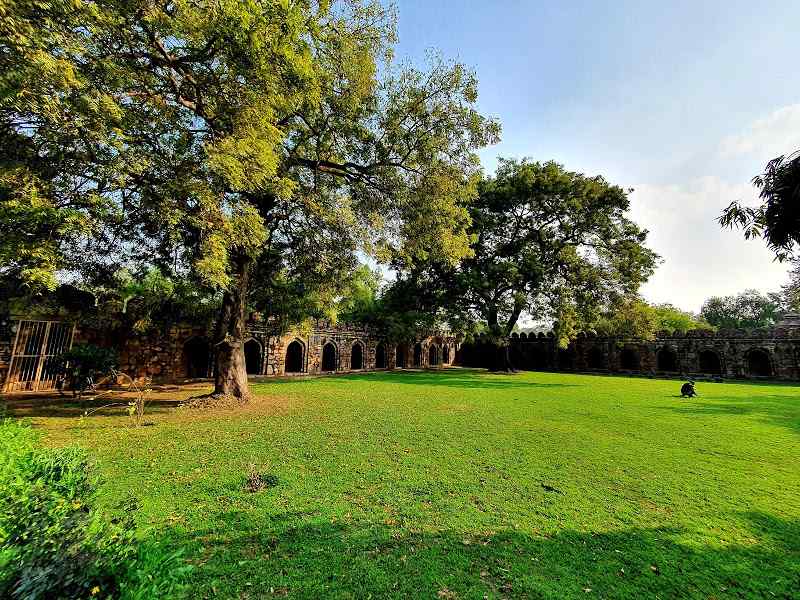 Picture Credits: Hridyapal Bhogal
The Lodi Gardens are Delhi's loveliest and most sought-after spot. The contrast of ruins against the lush greenery of the gardens makes it a favourite among tourists and locals alike. It is a hub for the folks who live nearby and like to sweat it out with their morning and evening exercise routines. The soothing greenery of this place is a sight for sore eyes and you can enjoy a picnic here as well. Sounds perfect, right?!
Where | Lodhi Garden - Lodhi Road, Lodhi Estate, Near Jor Bagh Station 
Check Out Their FB Page | https://www.facebook.com/lodhigarden786/ 
7. India Gate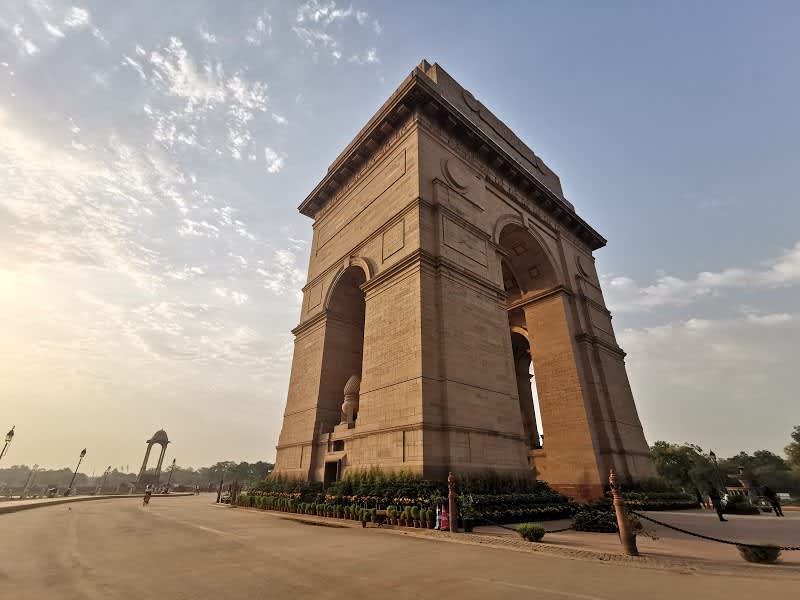 Picture Credits: Ashish Mundhra
India Gate defines Delhi better than anything. It was built as a memorial for martyrs of World War I and the war in Afghanistan. Surrounding the imposing structure is a large expanse of lush green lawns, which is a popular picnic spot. It's dramatically floodlit at night while the fountains nearby make a lovely display with coloured lights, making it a must-visit place in Delhi!
Where | India Gate - Rajpath, Near Central Secretarial Station
Check Out Their FB Page | https://www.facebook.com/MonumentIndiaGate 
8. Hazrat Nizamuddin Aulia Dargah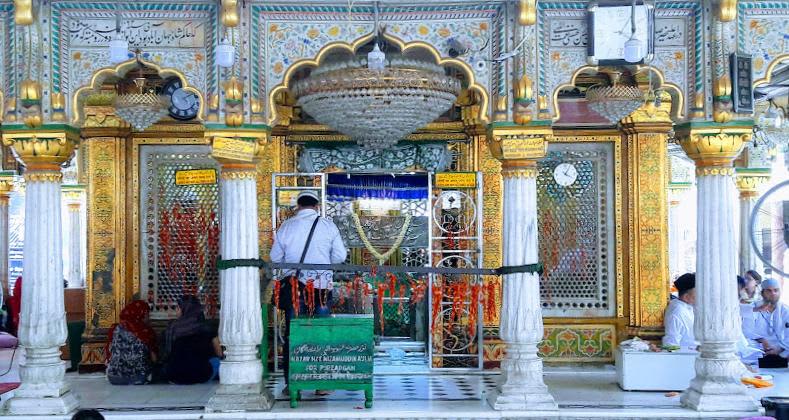 Picture Credits: Nipun Aggarwal
People all over the city visit Hazrat Nizamuddin Aulia Dargah to find solace and escape from the fast-moving life of the capital. It's an iconic shrine dedicated to the famous saint Nizamuddin Aulia. Qawwalis are organised daily, but the ones on Thursdays and Sundays have a special touch to them, which, believe us, you defo don't wanna miss! 
Where | Hazrat Nizamuddin Aulia Dargah - Boali Gate Road, Opposite The Lodhi, Near Jor Bagh Station
9. Gurudwara Bangla Sahib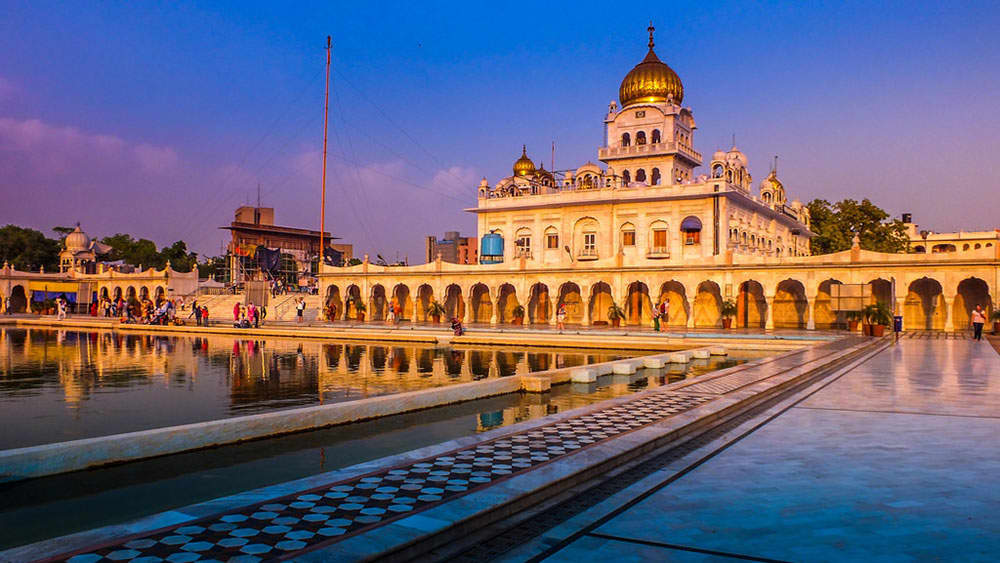 Gurudwara Bangla Sahib is the most well-known Sikh gurudwara in the city. It's said that the 8th Sikh Guru, Guru Har Krishan Sahib Ji, stayed here and later, when he died, it was converted to a gurudwara. It comprises the main sanctum sanctorum, the Sarovar, the Yatri Niwas and a school. Moreover, there is a hospital, museum and an art gallery functioning in its basement, so come over for some peace and a good helping of Kada Prasad here!
Where | Gurudwara Bangla Sahib - Hanuman Road Area, CP, Near Jor Bagh Station
10. Humayun's Tomb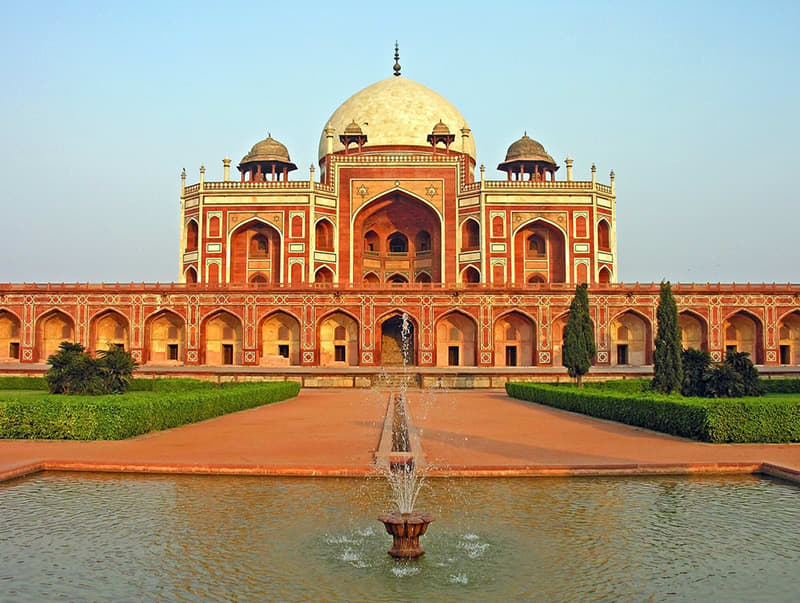 Humayun's Tomb was the first garden tomb on the Indian continent. It's influenced by Persian architecture and is also an inspiration for The Taj Mahal. It's a treat for the eyes thanks to the luscious gardens and the calming & peaceful environment that it's enveloped by. All these things make this tomb a must-visit to escape from the noise and pollution of the city!
Where | Humanyun's Tomb - Mathura Road Opposite Dargah, Nizamuddin, Near Jor Bagh Station
11. Dilli Haat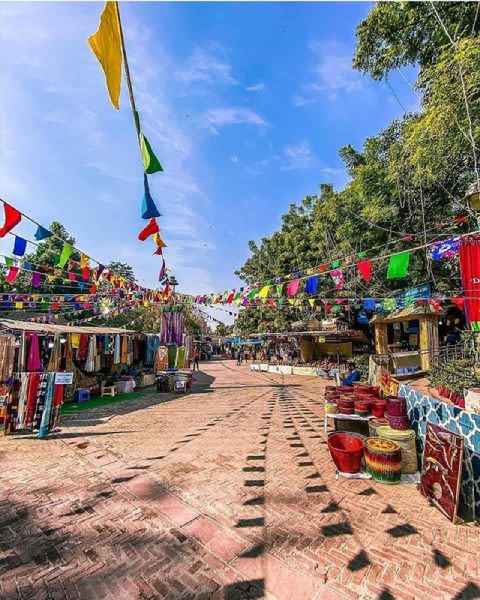 Picture Credits: delhikagabru
End your Dilli darshan with a shopping spree at Dilli Haat. This hub right outside the INA Metro Station is a mesmerising coalescence of various cultures of India. It's designed to give you a feel of an authentic, rustic marketplace. They have something for everyone, be it shops for wrought iron figurines, cane furniture, antique finds, pickles and jams, bangles or a custom jewellery piece - all this and so much more. To calm your hunger pangs while you shop, taste the multitudes of scrumptious dishes available at the food court here!
Where | Dilli Haat - Near INA Station
Entry | Rs 20 (Adults) & Rs 10 (Children)
Check Out Their FB Page | https://www.facebook.com/Dilli-Haat-INA-858726330958892/ 
12. The Red Fort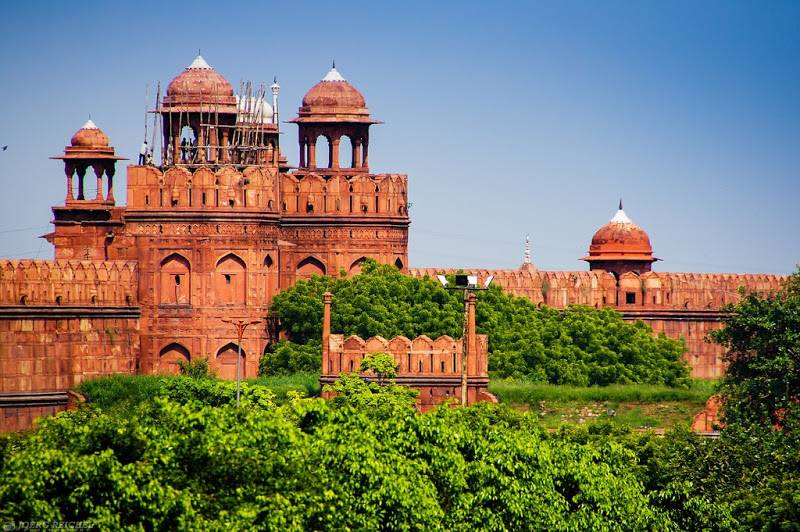 Picture Credits: Dear Zindagi
The Red Fort, also known as the Lal Qila, is one of the most iconic monuments of Delhi. It's named so due to the red coloured sandstone used in its construction. This gem is enclosed with a complex comprising palaces, entertainment halls, baths and indoor canals, projecting balconies, geometrical gardens and an ornate mosque as well. This one needs to be a part of your next Sunday outing fosho!
Where | Red Fort - Netaji Subhash Marg, Chandni Chowk, Near Chandni Chowk Station
Check Out Their FB Page | https://www.facebook.com/Red-Fort-297279673641054/ 
Enjoy the culture and heritage of the city at these places - on the cheap!