Under The Moon & Over The Sea: Here's 5 Best Rooftop Restaurants In Udaipur
Tired of roaming on the streets of Udaipur and want to go, relax and grab a bite to eat at a peaceful and pretty rooftop restaurant? You have arrived at the right article to look for the right place! As Udaipur has a huge number of rooftop restaurants which give a scenic view of the Pichola lake, we went and winnowed out a list of the top 5 rooftop restaurants to go have a meal at!
1. Udai Kothi Restaurant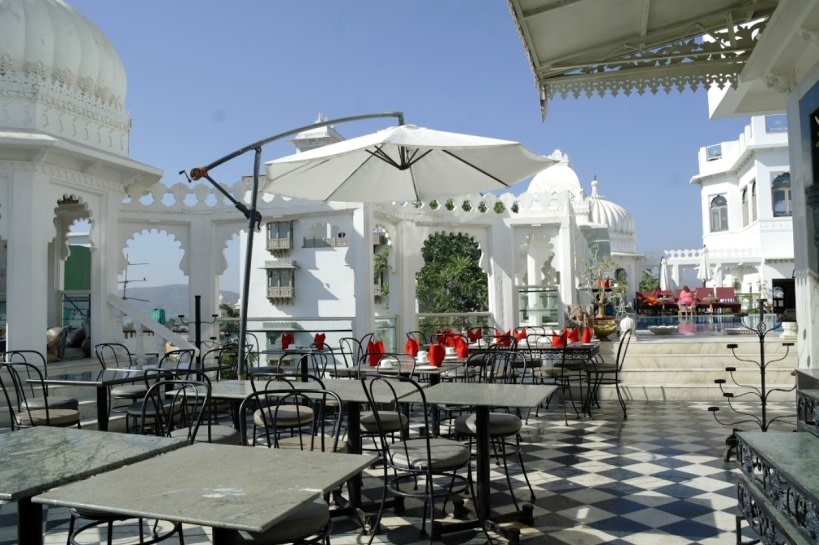 Picture Credits: Mukesh Sakarwal
This restaurant has been rated as the best boutique hotel of India by the National Geographic Traveller and the best wedding venue in Rajasthan by the New York Times *WOAH*. This in itself speaks volumes about the kind of restaurant it is. Luxurious facilities clubbed with a blend of artful architecture leaves guests awestruck. So, don't forget to stop here for a glass of something sparkling with a beautiful view. You can definitely add it to Udaipur's 'must do' list!
Meal For Two | Rs 1,800 
Where | Udai Kothi Hotel, Opposite Chandpole, Hanuman Ghat Marg
Check Out Their FB Page | https://www.facebook.com/udaikothipalacehotel/
2. Natural View Restaurant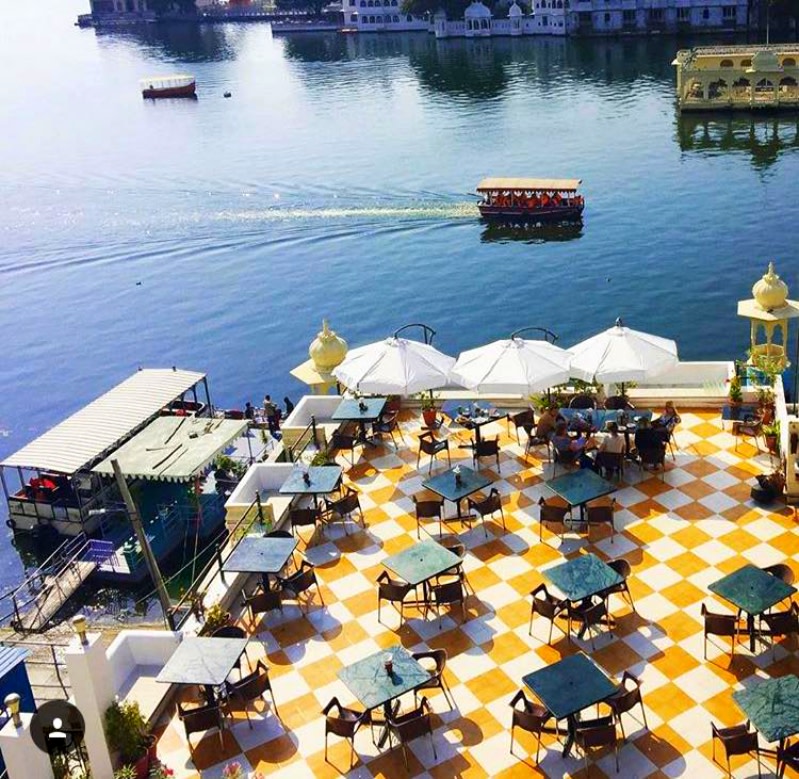 If you're looking for a pocket-friendly restaurant which is close to the lake, Natural View Restaurant is the best option for you. The restaurant offers the most mesmerizing view of Lake Pichola and they have a large variety of North Indian, Chinese as well as Continental dishes on their menu. You might want to visit the place in winters for a memorable experience as the restaurant arranges bonfires during that time *YAS*!
Meal For Two | Rs 700
Where | 32, Lal Ghat, Chandpole
Check Out Their FB Page | https://www.facebook.com/naturalviewrestaurant/
3. Upré By 1559 AD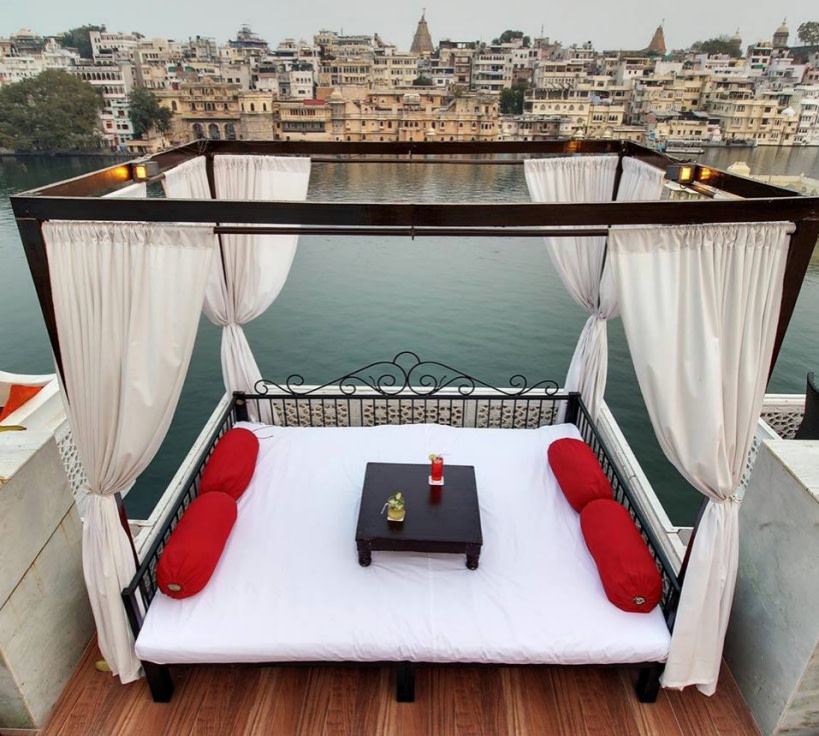 If you want to have some homely Rajasthani food on a windy pleasant night, Upré by 1559 AD is perfect for you. You might face a little difficulty reaching the rooftop restaurant as the way to the terrace is a bit narrow. But once you're here, the food you'll be served will be well worth the trouble. You must hog on Laal Maans, Veg Kebab Platter, Seekh Kabab and Malai Tikka, which are the most popular dishes offered here. Come drop by!
Meal For Two | Rs 1,900 
Where | Lake Pichola Hotel, Outside Chandpole, Pichola
Check Out Their FB Page | https://www.facebook.com/Upr%C3%A9-by-1559-AD-159250597465854/ 
4. Jaiwana Haveli Rooftop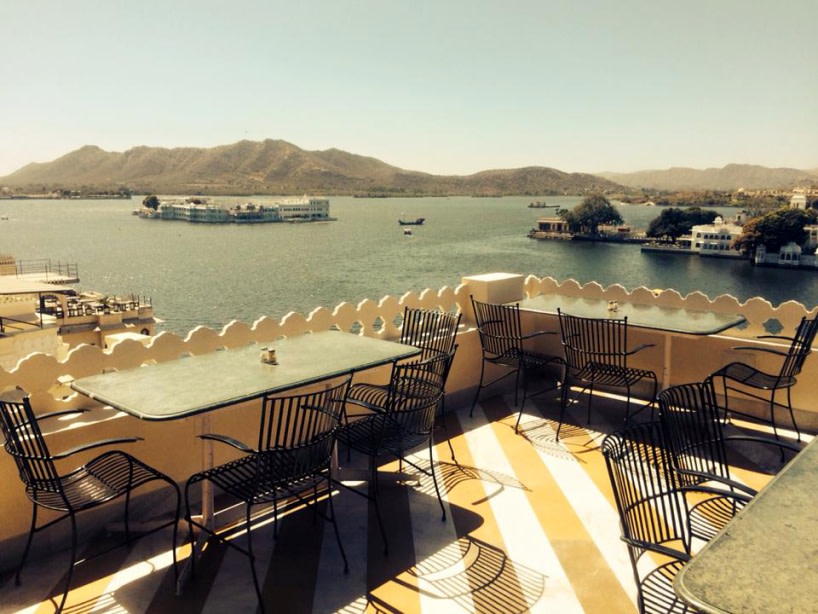 This rooftop restaurant provides a spectacular view of Pichola Lake. It's in close proximity to City Palace, Chandpole and Bagore ki Haveli, so you can directly head here when you're done roaming around the city. You'll have to climb around 4 floors to reach the dining area, but your hearts will melt upon seeing the beautiful panoramic scenes all around. You must try Gatte ki Sabzi and Kadhi Pakora at this place when you land up here!
Meal For Two | Rs 900
Where | 14, Lalghat, Chandpole
Check Out Their FB Page | https://www.facebook.com/Jaiwana-Haveli-Udaipur-232917310075886/ 
5. Panorama Rooftop Restaurant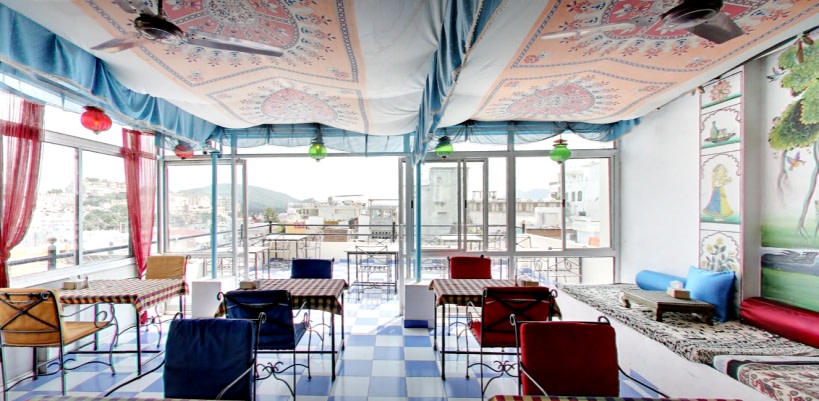 This place is very popular among foreigners and offers a fantastic view of Lake Pichola. The place gets lit up at night with soothing music, beautiful candles and chilly breeze all around. They have North Indian, Chinese as well as Italian fare on offer. You must come with your friends here when you're running out of money but still want to have a good meal by the lake. This place will surely give you some *CHEAP THRILLS*!
Meal For Two | Rs 800 
Where | Panorama Guest House, Hanuman Ghat, Outside Chandpole
Have a happy, trippy time gorging away at these spectacular rooftop restaurants in the city!