Keep Korma And Curry On: 10 Best Rajasthani Restaurants To Have A Meal In Udaipur
From Rajasthani thalis to laal maas to malai tikka to beer, the restaurants of Udaipur have all the flavours and dishes on offer you could possibly imagine. We've culled out a list of the 10 best Rajasthani restaurants in Udaipur, so all the food lovers, scroll through and head on over. Happy eating!
1. Dining Hall & Restaurant

This pure vegetarian restaurant situated right opposite the railway station serves the most popular Rajasthani Thali in Udaipur that one just can't miss. Along with that, there's a huge variety of Gujarati, Chinese as well as North Indian dishes on offer here. You should definitely order the Rajasthani Thali, Kadhi, Buttermilk and Gulab Jamun here. And oh, don't forget to make reservations - there's always a long queue outside this restaurant!
Meal For Two | Rs 400
Where | 22-24, City Station Road, Near Railway Station
Check Out Their FB Page | https://www.facebook.com/NatrajDinningHallRestaurant/
2. Ambrai At Amet Haveli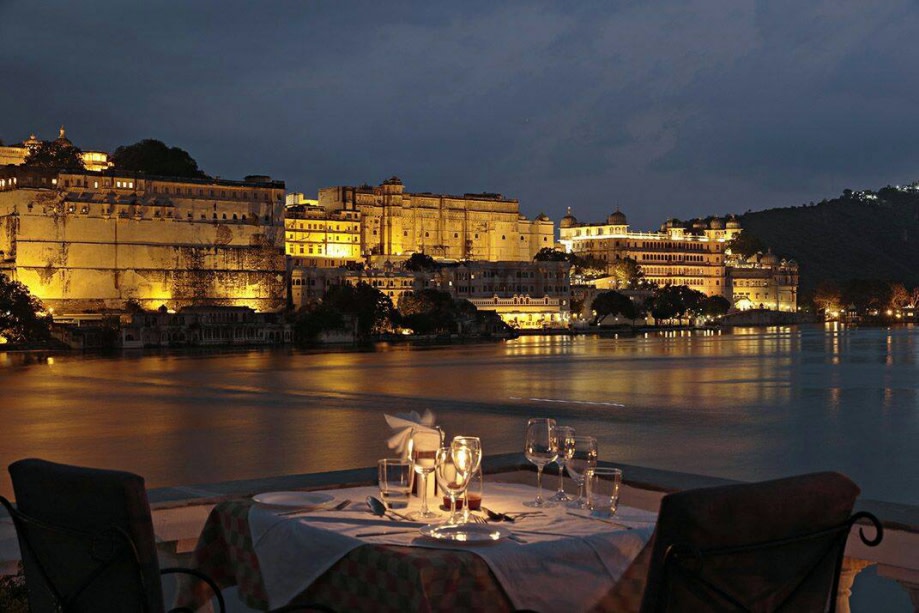 If you're looking for a lakeside, Indo-western, multi-cuisine restaurant to go to, then you must make reservations at Ambrai. This restaurant gives most breathtaking and soothing panoramic views of Jagdish Temple, Gangaur Ghat, City Palace, Lake Palace, Jag Mandir and Sajjangarh Fort. If you wish to indulge in cultural Rajasthani flavours, choose the 'Mewari' menu which includes delicacies like Laal Maans, Murgh Tikka & Gatte Ki Sabzi. Happy binging!
Meal For Two | Rs 1,700
Where | Amet Haveli, Ambamata Scheme - A Road, Outside Chand Pole, Naga Nagri, Pichola
Check Out Their FB Page | https://www.facebook.com/Ambrai-652151838174465/
3. Amantra Navidya 

If you're in Udaipur, then you can't go home without having the Rajasthani Thali at Navidya which can feed two people easily. There's a huge variety of lip smacking dishes in the Thali which will make you fall in love with the Rajasthani cuisine. Along with that, they have Chinese, North Indian and Continental options on their menu as well. This place is a great escape from the hustle and bustle going on outside, so make sure to pop in for a break!
Meal For Two | Rs 500
Where | Amantra Comfort Hotel, 5-B, New Fatehpura, Opposite Sahelion Ki Bari, Fatehpur
Check Out Their FB Page | https://www.facebook.com/Amantra-Comfort-Hotel-Udaipur-206508496051326/ 
4. Neel Kamal Restaurant At Taj Lake Palace

If you want to go to a fancy restaurant having the perfect ambience and serving  the perfect food, Neel Kamal is the place for you! The food is prepared in an open kitchen and you can ask the chef to alter the menu according to your tastes and preferences. Besides the great quality and quantity of the food, there are musicians playing instruments in the background to lighten your mood. So come in, relax and get introduced to some amazing tastes and flavours of Rajasthan!
Meal For Two | Rs 7,000
Where |The Taj Lake Palace, Lake Pichola
Check Out Their FB Page | https://www.facebook.com/TajLakePalace1746/ 
5. Upré By 1559 AD

If you want to have some homely Rajasthani food on a windy pleasant night, Upré by 1559 AD is the place for you. You might face a little difficulty to reach the rooftop restaurant as the way to the terrace is a bit narrow. But once you're here, the food you'll be served will be well worth the trouble. You must hog on Lal Maans, Jeera Rice, Veg Kabab, Seekh Kabab, Malai Tikka and the mocktails whipped up here. And oh, drop by for dinner, the view from up top is spectacular!
Meal for Two | Rs 1,900 
Where | Lake Pichola Hotel, Outside Chandpole, Pichola
Check Out Their FB Page | https://www.facebook.com/Upr%C3%A9-by-1559-AD-159250597465854/ 
6. Parkview Restaurant

If you wish to give yourself a non vegetarian treat in the City of Lakes, Park-View Restaurant should be your go-to place. It's one of the oldest and largest restaurants in Udaipur that offers mouth watering North Indian and Rajasthani fare. Serving the perfect combo of Butter Chicken, Butter Naan and beer, this place will not fail to impress you and will have you returning again and again!
Meal For Two | Rs 800
Where | Opposite Town Hall, Bapu Bazar, City Centre
Check Out Their FB Page | https://www.facebook.com/udaipurs/
7. Millets Of Mewar

This quiet and peaceful restaurant in the woods has a touch of ethnicity and modernity all at the same time. There is floor as well as chair seating here. Their menu offers Rajasthani, North Indian, Korean as well as Continental cuisines, among which you must try the special thali, pancakes, burrito and yummy shakes. The service is slightly slow, but the view from the restaurant makes up for it. Miles of Mewar certainly offers a dining experience to remember! 
Meal For Two | Rs 600
Where |16, Bhim Parmeshwar Marg, Hanuman Ghat, Outside Chandpole, Pichola
Check Out Their FB Page | https://www.facebook.com/MilletsOfMewar/ 
8. Apni Dhani

If you're going to or coming back from Udaipur, then you should definitely stop by Apni Dhani, which offers the most authentic and delicious Rajasthani food. Order their Rajasthani Thali which includes Kadhi, Bhindi Masala, Papad ki Sabzi, Dal Bhaati, Bajre ka Khichda, Bajrey ki Roti, Rice and much more! The place is perfect for a family dinner as they also host dance, puppet and magic shows. A lot of the tourists come here everyday, so grab a seat early if you're visiting!
Meal For Two | Rs 800
Where | NH8, Pratap Nagar, Udaipur
Check Out Their FB Page | https://www.facebook.com/apnidhaniudaipur/ 
9. Udaipuri Restaurant 

This multi-cuisine restaurant is a paradise for vegetarians. The decoration of the restaurant with stainless steel utensils makes it one of a kind. It's perfect to spend some quality time with your friends and family. The Lasagne and Jalfrezi are the best dishes on their menu. Beat the heat with a glass of chilled mocktail from the Virgin Bar.  So, if you find yourself in the vicinity, why not grab a quick bite here?!
Meal For Two | Rs 1,500
Where | 1, Shastri Circle, Shakti Nagar
Check Out Their FB Page | https://www.facebook.com/Udaipuri-218015224878750/ 
10. Traditional Khana

Any visit to Udaipur is incomplete if you don't try the local dishes, and this is the best place to do that! One can find a plethora of Thalis and combos on the menu here. The best part is that 90% of the food cooked here is made from organic ingredients. You must try the Rajasthani Thali, Dal Bati Churma, Gatte Ki Sabzi, and Khichda served here. It's always nice to drop by here because after the meal, both your wallet and stomach will be equally happy. Definitely give it a try!
Meal For Two | Rs 1,000
Where | 48-D Panchwati Circle, Adjoining RK Mall, Panchwati
Check Out Their FB Page | https://www.facebook.com/Traditional-khana-restaurant-at-48-d-panchwati-udaipur-315519585482333/ 
So now that you know about the best restaurants in the city, tell your friends and start planning your outings! Nom nom!