From Dahi Kachori To Vada Pav, Here's 6 Best Street Food Shops In Udaipur
If you're bored of having Rajasthani food in fancy restaurants in Udaipur and are craving for some spicy street food, we've got your back. We have a list of the 6 best and most popular shops in Udaipur which serve the best street food you've had - read on, bookmark and gorge away!
1. Purnima Vada Pav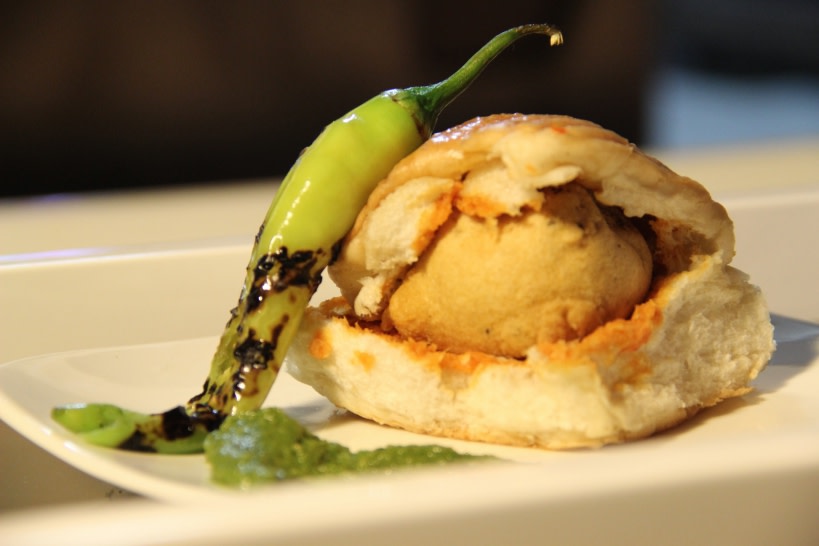 A prominent dish from Mumbai, the Vada Pav at Purnima is amazingly tasty and has a slight twist added to it - the dish basically consists of an aloo patty sandwiched between two slices of pav and is mixed with sweet and spicy chutney. Club it with a cup of buttermilk and it'll make for the best combo ever. If you like spicy food, ask them to add a green chilly to your Vada Pav!
Where | Shop No 267, Hiran Magri Main Road
Timings | 9 AM - 9  PM
2. Shiv Shakti Chat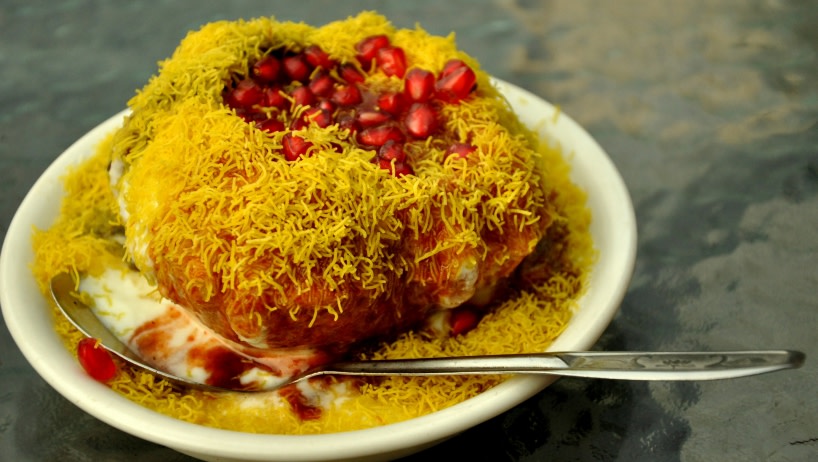 If you're a chat lover, you must rush to the Shiv Shakti Chat Centre in Bapu Bazaar. Besides serving the tastiest chat, you can also do some shopping in Bapu Bazaar while you're at it. The place is famous for its Dahi Kachori which is made of flour and stuffed with a filling of dal. They crush the kachori and add spicy chutney and sev on top of it. You should definitely have it once!
Where | Bapu Bazar, Nada Khada
Timings | 10 AM  - 7 PM
3. Jai Bhole Mishthan Bhandar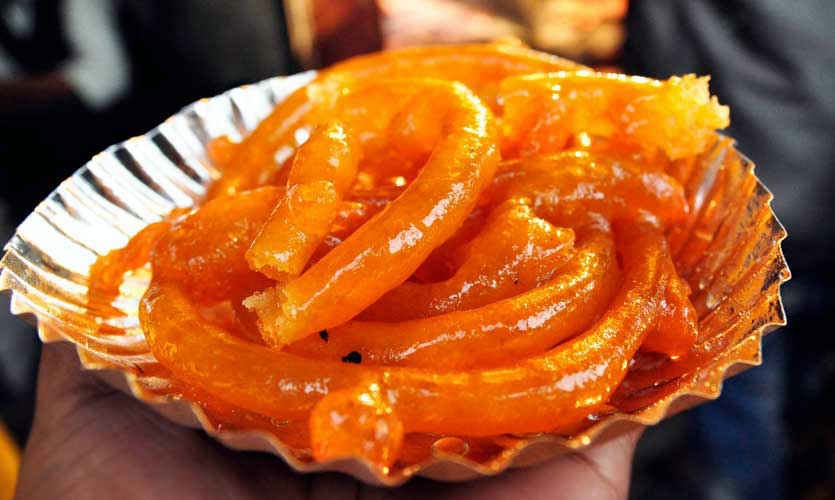 If you've got a sweet tooth and love jalebis, head to Jai Bhole Mishthan Bhandar in Udaipur. Operational since 40 years, this place serves a wide range of sweets and Namkeen Sev. The ground cardamom used in the sugary syrup renders a unique flavor to their scrumptious Jalebis. So, head to Bhole Misthan for a sugary sweet treat!
Where | Inside Delhi Gate, Nada Khada
Timings | 6 AM - 10 PM
4. Sukhadia Circle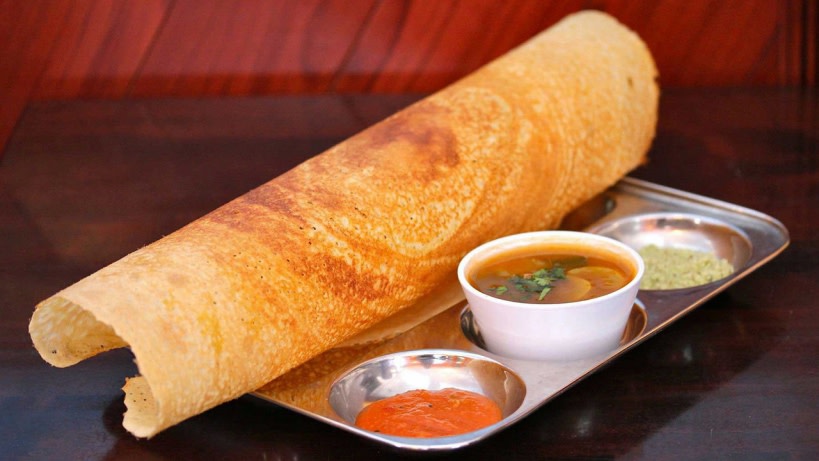 Sukhadia Circle is one of the most popular street food circles in Udaipur with a huge variety of stalls in the area such as Chhotubhai Chaat Wala, Vinayak Chinese and South Indian Point and Dagwal Pav Bhaji. We recommend you try the Indian version of the pizza at the Pizza Corner. Try going there on a weekday as it's extremely crowded during weekends due to its impeccable food!
Where | Bombay Market, Sukhadia Circle, Panchwati
Timings | 11 AM - 11 PM
5. Egg Curry Stand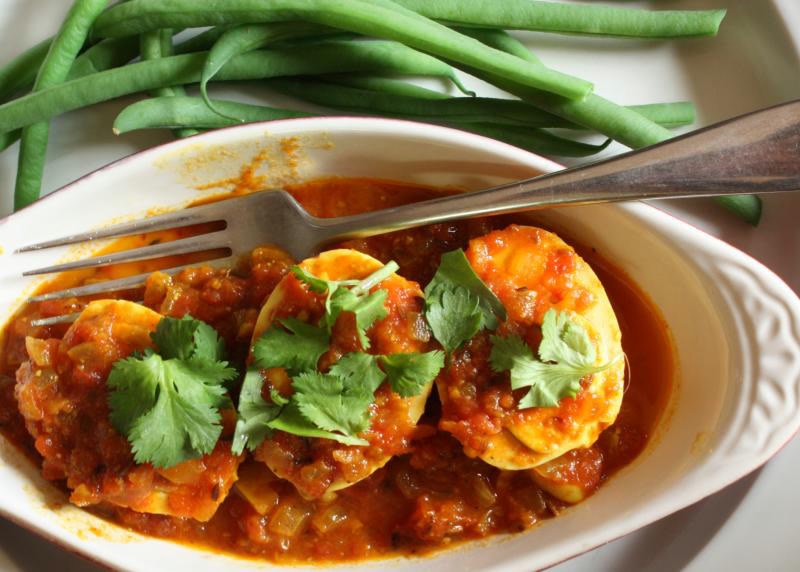 If you have immense love for eggs, this place might fulfil your long standing street food craving. The small stand serves a variety of dishes made using eggs, and you must try the Boiled-Egg Bhurji and Tandoori Omelette here. The place offers the right combination of sautéed vegetables and scrambled eggs which has the right blend of mild spices. Come drop by for a filling snack!
Where | Chetak Circle, Udaipur
Timings | 9 AM - 9 PM
6. Bajrang Bali Sandwich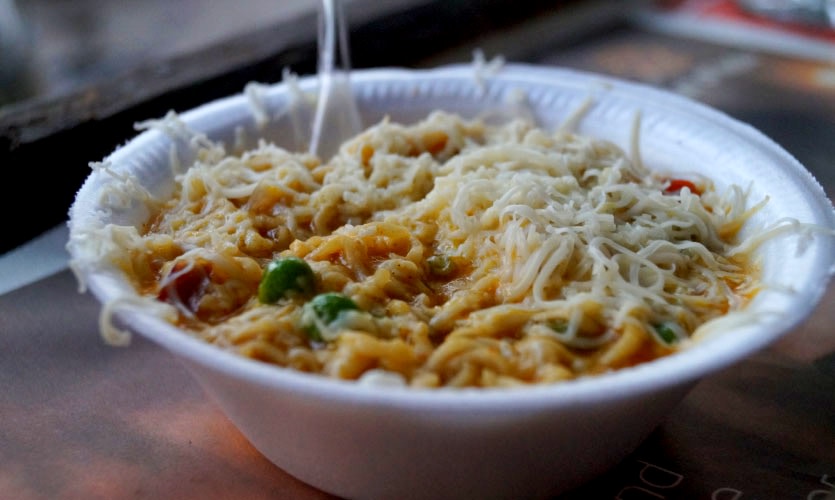 Try the best sandwiches and Maggi in town at Bajrang Bali Sandwich. You will find a variety of sandwiches here, and their Matar-Masala Cheese Sandwich is our personal favourite. The Maggi here is made in the most innovative manner with spices, onions and cheese on top of it. No other joint in Udaipur serving sandwiches and Maggi is quite as good as this one!
Where | Panchwati Main Road to Rk mall diversion
Timings | 6:30 AM - 10 PM
Now you have quite a few places to go to and quite a lot of dishes to eat. Head on over!