Srinagar
Check Into The 8 Best Hotels In Srinagar For That Perfect Vacation/Staycation
Srinagar's beauty is a delight to the soul. From its serene lakes and gardens to meadows and mountains, there's much to see and absorb and so you have plenty of reasons to visit it! Find a list of the best, most dreamy looking properties in Srinagar when you find yourselves in the beautiful city.
1. Vivanta by Taj - Dal View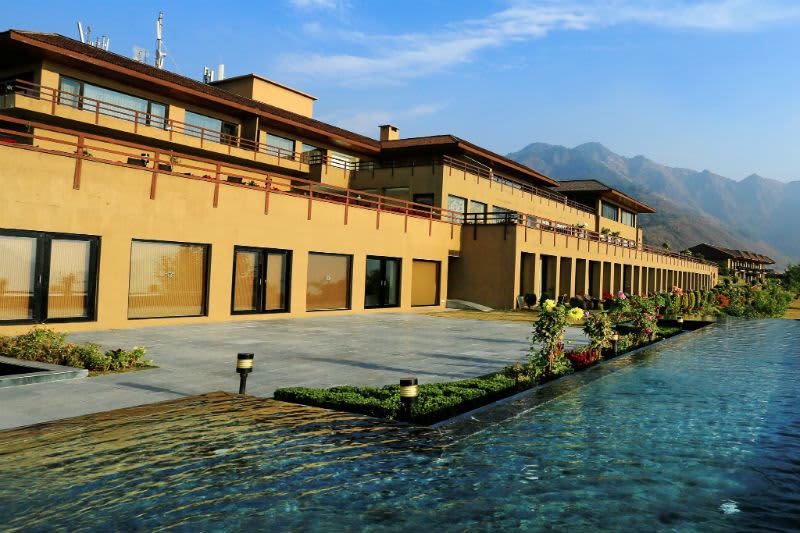 Perched on the Kral Sangri hill, Vivanta By Taj captures stunning views of the Dal Lake, surrounded by the majestic Zabarwan Mountains. Spread across 6 acres, it offers 81 rooms and 3 suites done up in a contemporary style with fancy flourishes of traditional Kashmiri design. They also have a lovely infinity pool so head on over!
Where | Kralsangri, Brein
Book Your Rooms Online Here | https://vivanta.tajhotels.com/en-in/dal-view-srinagar/
2. Hotel Mumtaz Towers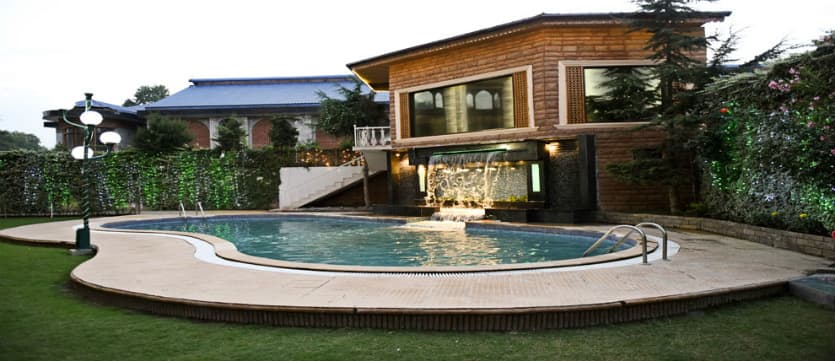 Grand Mumtaz is a 5 minute drive from Dal Lake and not very far from Srinagar's main markets which makes it very accessible. The rooms are well equipped, spacious and comfortable. Their restaurant serves an array of cuisines ranging from Chinese to South Indian and Kashmiri. Also, they have an entire shopping mart where you can splurge away.
Where | 11, Maulana Azad Road
Book Your Rooms Online Here | http://www.grandmumtaz.com/
3. Fortune Resort Heevan 
This luxury resort is the stuff dreams are made of! Fortune Resort Heevan is a wonderful blend of traditional Kashmiri architecture with all the modern day luxuries! It offers 39 beautifully furnished rooms, landscaped gardens and a wide selection of food! This resort is an ideal retreat to experience the charm of Kashmir.
Where | Gupta Ganga Ishwar, Opposite Deevan Colony, Nishat
Book Your Rooms Online Here | http://www.ahadhotelsandresorts.com/heevanresort/heevan-resorts-srinagar/
4. The Lalit Grand Palace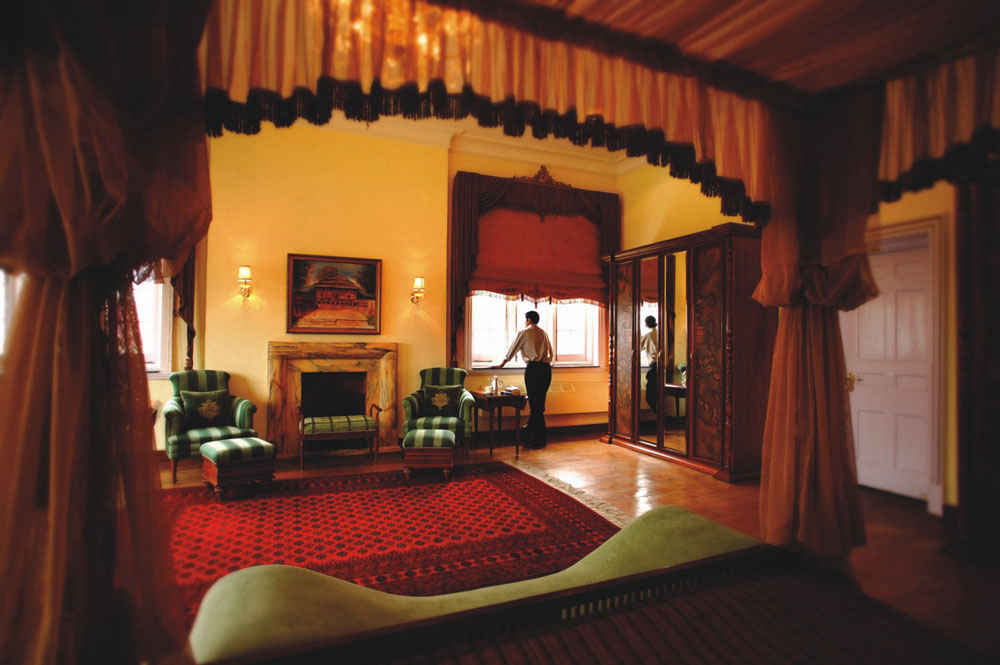 The hotel has a rich legacy and has been serving its patrons for more than a century. It operates 113 palace rooms and suites, including 10 cottages and offers over 4,000 square feet of banqueting space! Overlooking the Dal Lake, they have well maintained gardens enriched with flower beds and Chinar Trees. Go for a relaxing spa session to unwind and enjoy some authentic Kashmiri food at their multi cuisine restaurant called Chinar.
Where | Gupkar Road
Book Your Rooms Online Here | https://www.thelalit.com/the-lalit-srinagar/
5. Swiss Hotel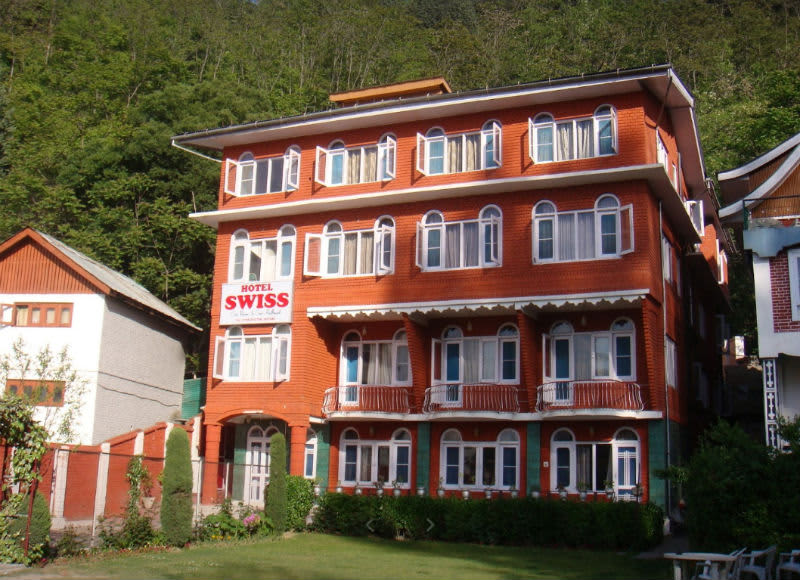 Kashmir is often called the "Switzerland of India" so there's bound to be a Swiss Hotel! With a great view of the Zabarwan Hills, it's one of the most beautiful, eco friendly and pocket friendly properties in Srinagar. Its proximity to Nehru Park and Dal Lake makes it a highly sought after option. They even help you plan your itinerary and arrange shikaras, houseboats and taxis for transportation.
Where | 172, Gagribal Road, Nehru Park
Book Your Rooms Online Here | http://www.swisshotelkashmir.com/
6. Jamal Resorts
Jamal Resorts is promoted by The JCI (Jamal Carpet Industries) and so its interiors are wonderfully done up. Their swiss  style rooms are quite spacious with ample storage space and wood paneling.Their charming garden makes for a lovely outdoor seating area and they even have a children's park! The outdoor coffee shop is just the perfect spot for your daily cuppa!
Where | JCI Complex, Ishber, Nishat
Book Your Rooms Online Here | http://www.jamalresorts.com/
7. Paradise Gateway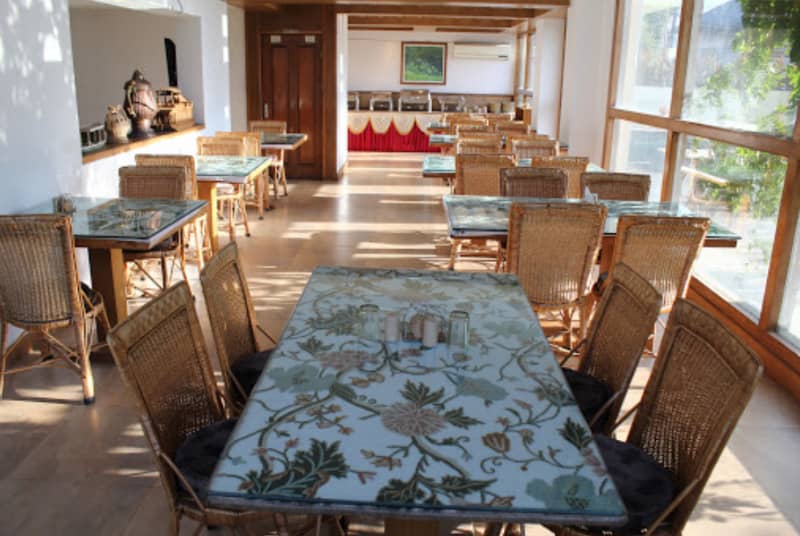 What's touted to be Kashmir's first luxury boutique hotel is just a 10 minute drive from Dal Lake and so the environment is peaceful and blissful. With the Zabarwan Hills in the backdrop, the hotel looks heavenly, especially during the snowy winters. We love it for its inspiring design, rejuvenating spaces, innovative dining & entertainment, and edgy art!
Where | Brein, Nishat
Book Your Rooms Online Here | http://www.hotelparadisegateway.com/
8. Hotel Mirage

First things first; get a hold of their garden-facing room because the view is mind blowing! The French windows and the verdant beauty outside is irresistible. Their personalized assistance has made them quite popular amongst tourists. You can choose from their Deluxe Room, Deluxe Suite and Family Suite for a comfortable stay. The Kashmiri dishes on their menu are highly recommended.
Where | Raj Bagh New Era Road
Book Your Rooms Online Here | http://hotelmirage.in/
Get booking and have a happy staycation!