Srinagar
5 Street Food Joints in Srinagar That'll Make Your Tummy Rumble With Joy
Kashmir has an amazing food culture and it's evident at every nook and corner! Apart from the traditional and overwhelming wazwan, Srinagar has several small eateries where you can grab fabulous street eats! These are the places that serve the best street food in Srinagar:
1. Sher Barbeque Cafeteria

Almost 80 years old, the place is legendary when it comes to barbeque munchies. Sher Khan is popular for his Mutton skewers which are prepared with a special set of spices. These are served with chutneys and a local bread called Lavasa. Don't underestimate the chutney as they add a nice zing to the meat. Soft and juicy kebabs or tikkas are just what you need to whet your appetite.
Where | Khayam Chowk
2. Imran Barbeque Cafeteria

One of the most popular eateries in Khayam Chowk, people flock to this place everyday for some grilled grub. They serve authentic Tujji, grilled to perfection and their Mutton Kebabs are extremely soft and succulent. These are served with breads and about 6 varieties of chutneys.
Where | Khayam Chowk
3. Grand Grills

Grand Grills attracts people from all over the city for its delicious Kashmiri Biryani which is extremely fragrant and flavourful. It's one of the most popular dishes here so make sure you lay your hands on some. Their kebabs and mutton dishes are pretty good as well.
Where | Near Bemina Degree College
4. Gareeb Nawaz

Another legendary shop tucked away in the food gali of Khayam Chowk, Gareeb Nawaz conjures the best Tujji in this area. A pioneer in bringing this dish to the mainstream food culture, the owner, Mustafa, is an expert on meat and has perfected the art of making this grilled snack that has managed to be a crowd puller for more than 4 decades. Dip it in some chutney and you're good to go.
Where | Khayam Chowk
5. Shahi Durbar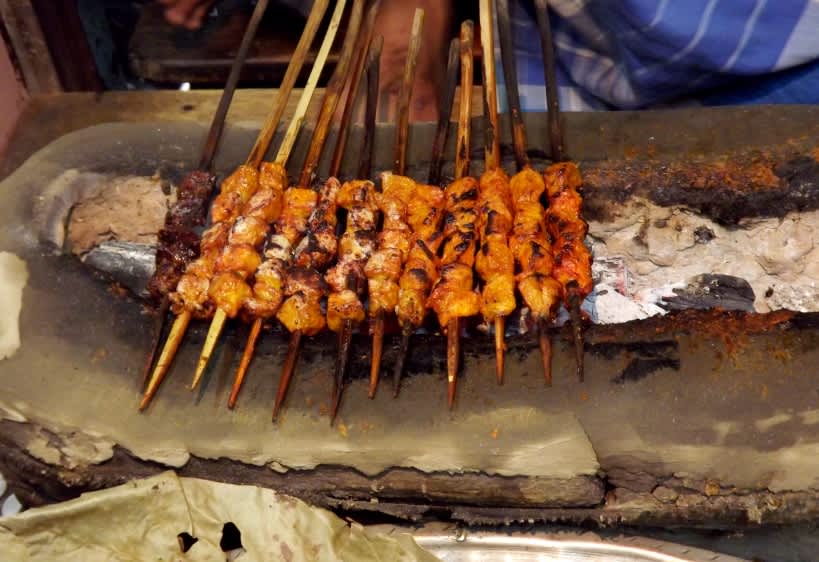 You'll find Tandoori Chicken, Fried Fish and tons of kebabs lined up at the counter waiting to be served to the ever-increasing queue of customers at Shahi Durbar. Their Fish and Mutton Kebabs are fabulous. Even main course dishes like Chicken Kali Mirch deserve a takeaway. Brilliantly marinated, the chicken and its spicy gravy go well with a Rumali Roti or Naan.
Where | Khayam Chowk
While Khayam Chowk is the ultimate spot for street food, in the evenings, you can find small vendors near Dal Lake that whip up some amazing kebabs, Nadur Monj and Chicken Kanti! Pair them up with a Sheer Chai and you have a great meal to keep you hale and hearty.