Nainital
Check Into The 10 Best Boutique Homestays & Cottages In Nainital
Hills stations are a popular spot for housing a lot of picturesque homestays & cottages that are super cozy and welcoming. Equipped with the latest modern amenities, laced with history, greenery and a classic old world charm all at once, these are the prettiest boutique homestays and cottages you ought to check into when in Nainital.
1. The Naini Retreat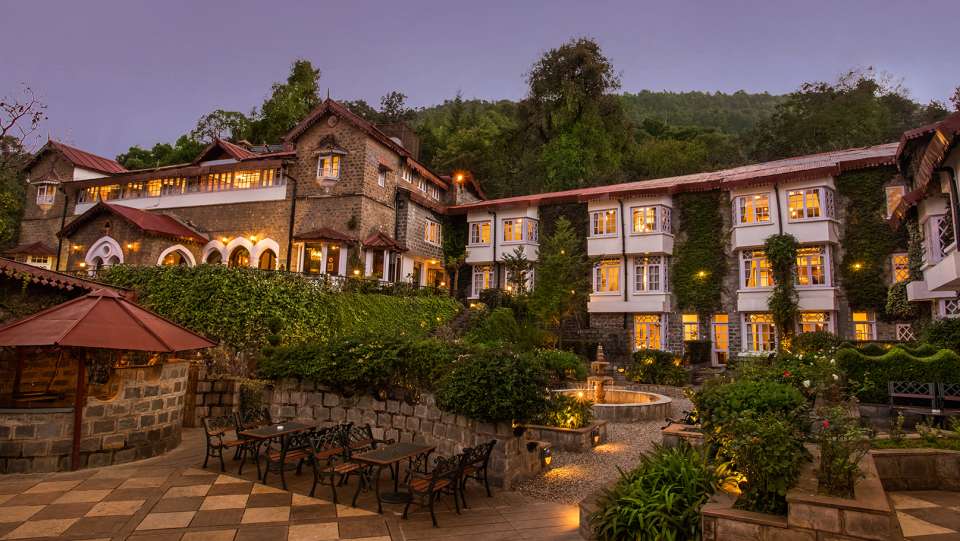 A luxury retreat hotel, this heritage property is nestled on the Ayarpatta slopes and is said to be one of the most beautiful retreats in the quaint and pretty hill town of Nainital. With a view overlooking the Naini Lake, the rooms here spell out pure luxury. It's flanked by beautiful gardens that only enhance the beauty and aura of the place.
Location | Ayarpatta, Mallital
Here's Their Website | http://www.leisurehotels.co.in/the-naini-retreat-nainital/
2. Bob's Place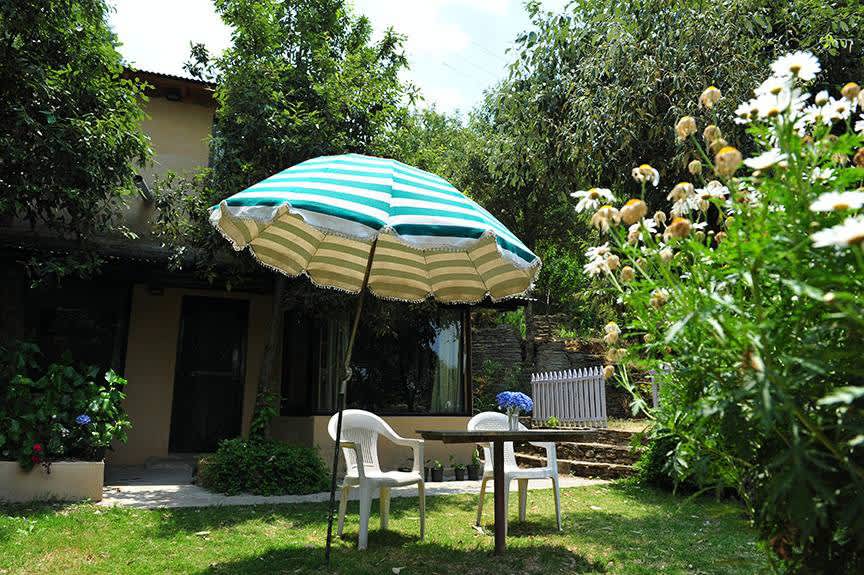 Amidst lush valleys and mountains clad in oak and rhododendron trees, Bob's Place in Nathuakhan is a quiet Himalayan mountain resort, perfect for a leisurely visit any time of the year.
Situated 6,400 feet above sea level, 5 stone-and-wood cottages offer you 8 double bedrooms and a suite, each with its own sit-out and garden. There's a common lounge and dining area and a deck that faces the Himalayas! 
Location | UnnaNathuakhan
Here's Their Website | http://www.bobsplace.in/ 
3. The Cottage Jeolikot
Nature gracing the views no matter where you look, acres of slopes come packed with fragrant & colourful looking bounty. Amidst all this beauty lies a centenarian, gabled, red roofed cottage that's located between Kathgodam and Nainital, at a height of some 4,200 feet! It makes for an all weather destination. This is one place you really wouldn't want to check out of!
Location | Bareilly-Nainital Road, Jeolikot
Here's Their Website | http://www.thecottagejeolikot.com/ 
4. Soulitude In The Himalayas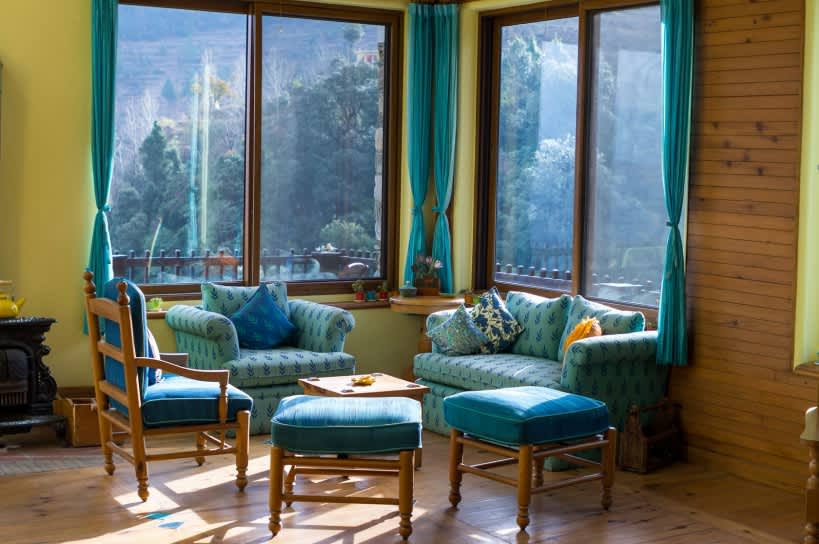 Nestled atop a peaceful hillside in Gagar, Soulitude provides complete solitude for the soul! Behold the mighty Kumaon Himalayas as you breathe in the fresh mountain air. Spectacular snow views, good food and warm hospitality makes it a great choice for some relaxation and fun. With 10 exquisitely luxurious rooms, head here to dismiss the din of the city and rejuvenate.
Location | Gagar ,Bhowali-Ramgarh-Mukteshwar Road, Ramgarh
Here's Their Website | http://www.soulitude.in/ 
5. Shervani Hilltop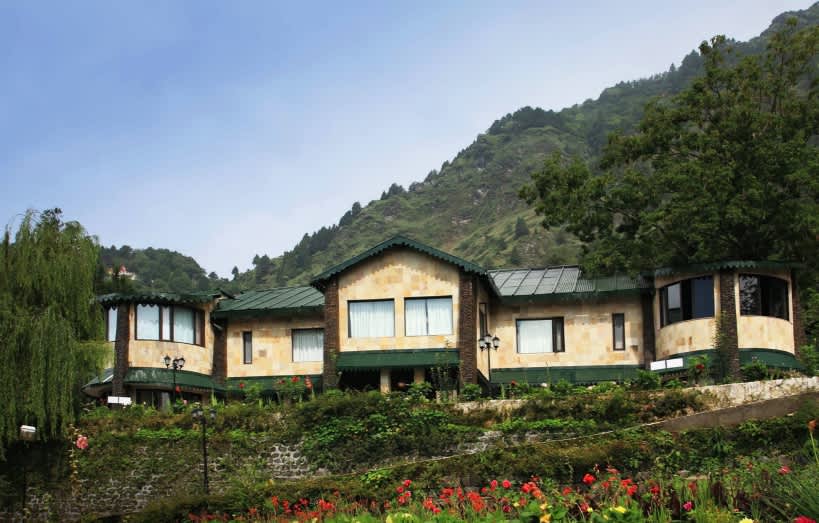 Shervani Hilltop was established as a holiday resort in 1981. This 4 star boutique resort overlooking the lush greens and peaceful mountains boasts of all the modern facilities. Built on the likes of little cottages away from the busy township, it has 47 rooms with wooden floors, attached baths and great room service! 
Location | Mallital
Here's Their Website | http://www.shervanihotels.com/shervani-hilltop-nainital/ 
6. Crosswinds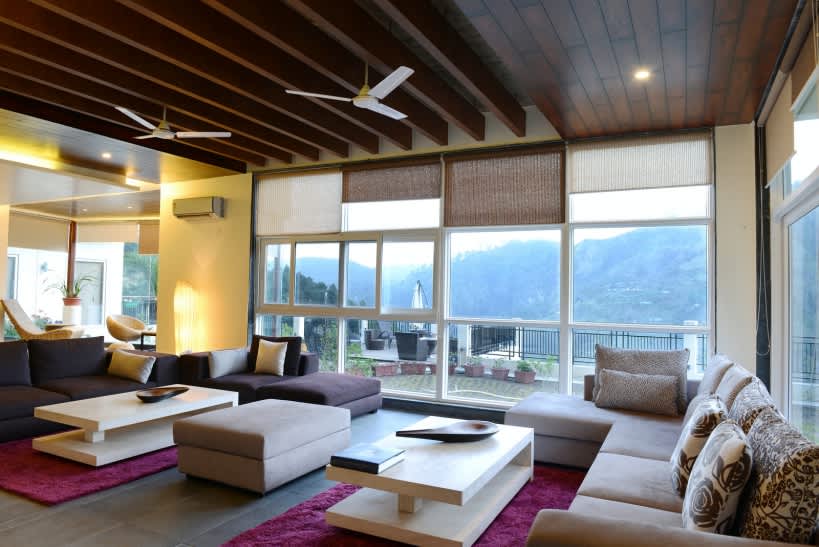 This vast 5,400 sq.ft. villa features everything from expansive living & dining areas, deluxe furnishings to modern amenities! With 6 luxurious rooms, an extensive library zone for reading as well as a beautiful wooden deck area and lawn, this place is as gorgeous as it sounds. Also, the place delivers exclusivity as the whole villa is considered reserved even if booked by just one group and only a minimum of 3 rooms need to be booked. Unoccupied rooms are kept vacant, and are not given to anybody else during your period of stay, enabling you and your group to have the place to yourselves!
Location | Gethia Talla, Gethia
Here's Their Website | http://cross-winds.in/ 
7. Jilling Terraces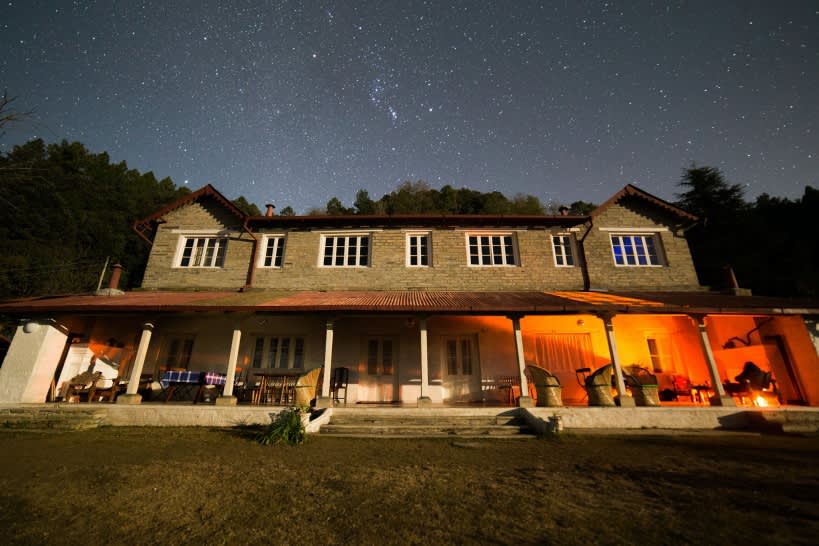 Set in a clearing amidst a 100 acre forest in Uttarakhand, this 80 year old house located just a couple of hours away from Nainital in the South Gola range of Himalayas, offers stunning views of Nanda Devi and the surrounding peaks on clear days. With a magnificent decor and superb hospitality, this place has the potential to transport you to a whole new world!
Location | Bhatelia-Dhanachuli-Bhimtal Road, South Gola Range
Here's Their Website | https://www.jillingterraces.com/ 
8. Abbotsford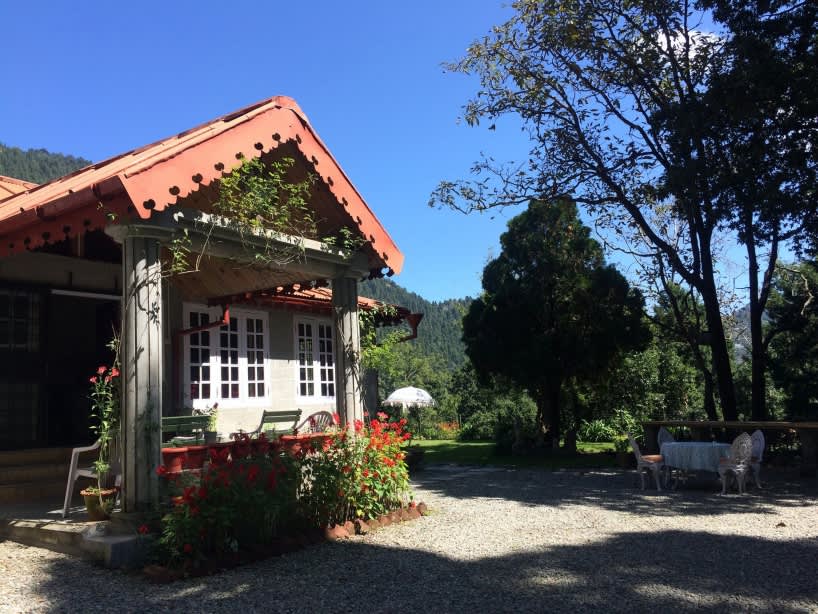 Built in 1876  and owned by an Englishman John Hope Simpson, it was bought by the Prasada's in 1903. The 4th generation of the Prasada's continues to carry on the rich legacy displaying tasteful interiors which are a mix of high wooden ceilings, tinned roof and pinewood flooring. Decorated halls and a spread of antiquarian items, this place is an exploration in itself.
Location | Prasada Bhawan, Oak Park, Mallital
Here's Their Website | https://www.abbotsfordnainital.com/ 
9. The White Peaks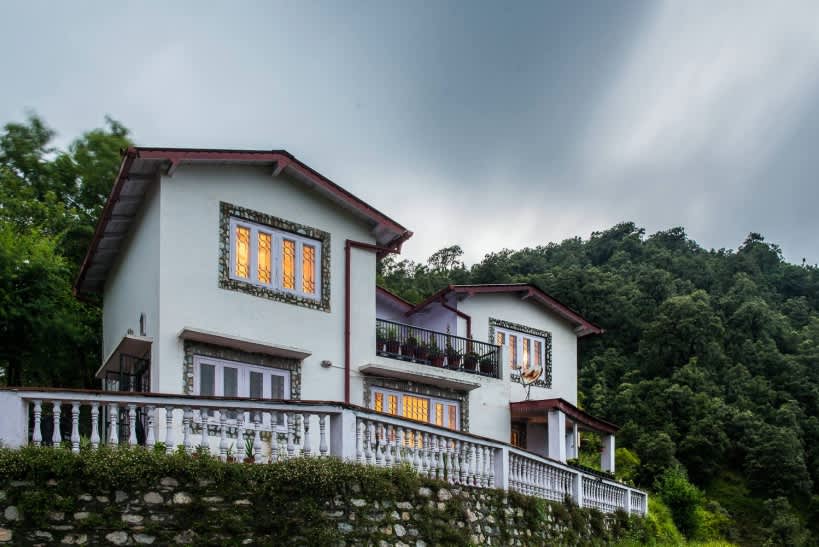 The super cozy cottage with 2 intimate & comfortable rooms capable of accommodating 4 people, also lets you bring your pooches on your trip! Featuring a warm fireplace and a sun-kissed courtyard offering 180-degree views of the snow peaked Himalayan titans, they have on-site staff and all the modern amenities you may wish to indulge in.
Location | Gagar
Here's Their Website | www.thewhitepeaks.com 
10. Two Chimneys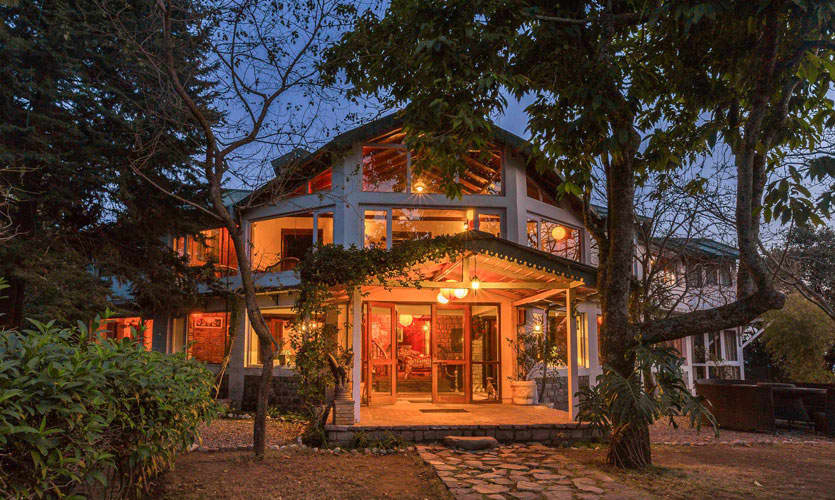 A unique boutique lodge tucked away in a quiet village called Gethia in Uttarakhand, Two Chimneys is a magical hideout! It's the perfect destination when looking for a romantic interlude away from the maddening din of the city. There are 11 beautiful decorated rooms overlooking the serene valley and lush landscape of the Kumaon. You'll definitely want to go back here!
Location | House No.1, Village Gethia, Chikuwa
Here's Their Website | http://www.twochimneysgethia.com/ 
Stunning all of them, aren't they? So make sure you end up in one of these beautiful places on your next visit.