Mussoorie
7 Hair-Raising Adventure Sports In Mussoorie That Are Sure To Give You An Adrenaline Rush
Are you one of those people who's always up for some adventure, someone who seeks it out especially when on vacation?! Then Mussoorie is the place to be. The city has a wide array of adventure activities that you must experience to get your heart racing!
1. Rock Climbing And Rappelling

If someone asks you what a hair-raising experience feels like then tell them to try out Rock Climbing and Rappelling! You can ascend or descend the highest natural rocks in Mussoorie that Snow Adventure Zone boasts of. It is a grueling activity which completely tests your strength, endurance, agility and balance! This one is perfect for you if you're a true seeker of adventure!
2. Zip Lining

Zip Lining is one spine-chilling activity! In this, you're harnessed and attached to a wire rope with the help of a pulley and then made to slide down from a great height! It's extremely accelerative and you can reach a speed of over 50 Kmph *WOAH*! 
3. Valley Crossing

Valley Crossing will definitely scare you out of your wits! This one demands you to cross a valley with the help of a pulley by pulling by your own hands and move like a commando! You'll be suspended at a height of 70 ft. and feel an adrenaline rush as you cross a 240 ft. long valley *wide eyed*. You can also race down with your friends by asking for a parallel! 
4. Paragliding

Mussoorie is one of the best destinations to float through the sky while paragliding over the hills *starry eyes*! You can mount a two-seater joyride which is operated by a professional with over 3000 flying hours. The best part about it is that you don't need any prior training for this long ride which is at a jaw dropping altitude of 10,000 ft! Sounds exhilarating, eh!  
5. River Rafting

River Rafting is undoubtedly the most popular adventure sport in Mussoorie. The swift gushing rivers are a delight for all the white river rafters! The rafting course passes through deep forests, rocky terrain and if you're lucky you can even get glimpse of the snow slopes! The rafting takes place on the challenging rapids of Alaknanda, Dhauliganga and Kali river. 
6. ATV Quad Bikes And Mountain Biking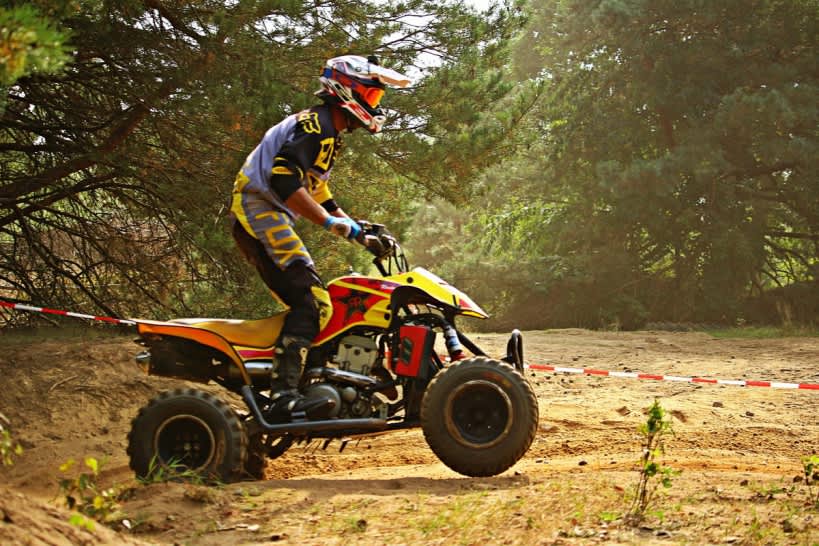 Snow Adventure Zone offers a 300 kms off road trail to get the best Himalayan experience and explore the undiscovered vistas of the Himalayan landscape. It's a very thrilling activity to drive at high speeds over steep slopes and the rugged terrain.
7. Zip Swing
Zip Swing is the perfect blend of a zip line and a giant swing. It never fails to astonish the crowd and attracts a lot of adventure seekers. You'll be harnessed and attached to a wire rope from which you'll go zip lining till the middle and then you will be swung at a breathtaking altitude of 80 ft. So hold tight and don't forget to try this one out! 
Check Out These Tour Operator For Taking On These Activities:
Dada Boudir Tour & Travels | http://www.dadaboudir.com/adventure-tour-packages-in-uttarakhand.html
Snow Adventure Zone | http://www.snowadventurezone.com
Mussoorie Adventure Park | http://www.mussoorieadventurepark.com/Activities&Fees.html
Adventure Park Mussoorie | http://adventureparkmussoorie.com
So, leave the monotonous you behind and embrace the adventurer inside while taking on these heart throbbing activities!