Mumbai
6 Oldest & Most Popular Cafes That Have Proudly Stood The Test Of Time
Disclaimer: Bearing in mind the current health crisis befalling the city and the world at large, we're tweaking our content policy and recommendations. Stay positive, keep hygiene levels up and don't fall prey to panic and misinformation.
This city is full of quaint cafes that teleports you back to the bygone eras. The mouth-watering yummies, the warm ambiance and the faint smell of nostalgia in the air reminds us of the rich culture and heritage. Here are 6 cafes that have been around for ages and have only gotten better with time. Keep scrollin'!
1. Leopold Cafe Mumbai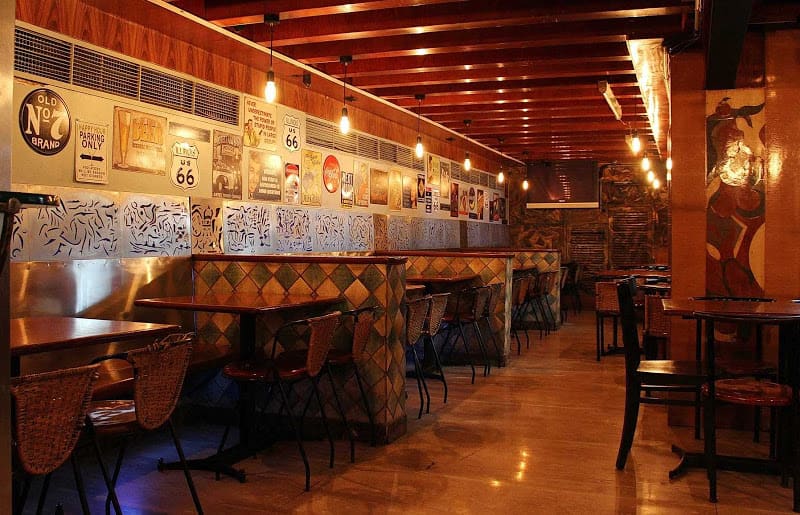 Sitting in the heart of the city near the famous Colaba Causeway flea market is this old eatery called the Leopold Cafe which was established in the year 1871 and is still going super strong. This is a super popular eatery with the locals wanting to try out its food, so you might have to wait for a bit until you get your table. Leopold offers a wide variety of beers so grab your pint and munch on their drool-worthy dishes like Kung Pao Prawns, Korean Rice With Chicken, Bombay Masala Sandwich and Khasta Paneer.   
Where | Leopold Cafe Mumbai - S.B. Singh Road, Colaba Causeway, Colaba
Timings |  7:30 AM - 12 Midnight
Meal For Two | Rs 2,000
Call Them | +91 2222 828 185
Check Out Their FB Page | https://www.facebook.com/leopoldcafecolaba/
2. Kyani & Co.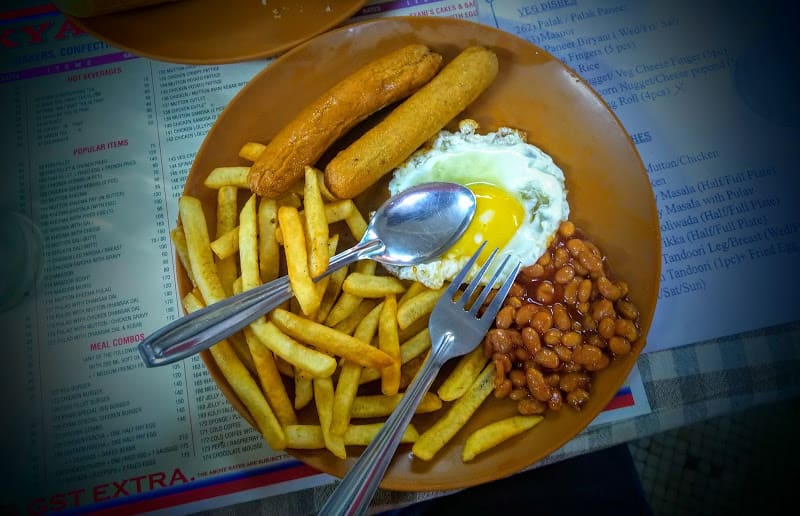 Picture Credits: Jaydeep Meher
If you love to pair your rice with some juicy meat and if you're a fan of Iranian food, then this cafe is absolutely the place to be. Kyani & Co. is one of the oldest Iranian restaurants in the city and it is still famous for maintaining the legacy. This cafe has an old vintage kinda vibe and welcoming environment. Don't miss out on the sausage and eggs breakfast here and other popular dishes like Sausage Bun Maska, Iranian Tea, Mutton Keema Pulao, Chicken Bhurjee, Chicken Lollipop and Fish Filet. 
Where | Kyani & Co. - JSS Road, Jer Mahal Estate, Opposite Metro Cinema, Marine Lines
Timings | 7 AM - 9 PM  
Meal For Two | Rs 400
Call Them | +91 2261 229 437
3. Cafe Madras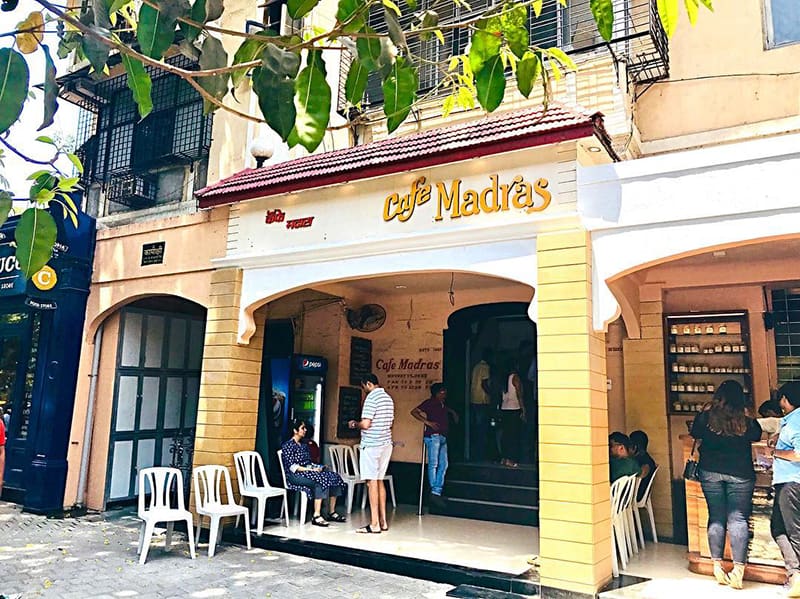 Picture Credits: binayak_ransingh
This legendary cafe in Matunga East will defo fulfill all your South Indian cravings under one roof. Cafe Madras opens up at 7 in the morning and serves authentic South Indian delicacies at pocket-friendly prices. Stuff your faces with their delectable dishes including Rasam Vada, Onion Rava Dosa, Dahi Rice, Mysore Pak and Filter Coffee. Head here and grab scrummy yummies with your buddies today!
Where | Cafe Madras - 38 B, Circle House, King's Circle Near Maheshwari Udyan, Matunga East
Timings | 7 AM - 2:30 PM & 4 PM - 10:30 PM  
Meal For Two | Rs 250
Call Them | +91 2224 014 419
Check Out Their FB Page | https://www.facebook.com/Cafe-Madras-153098921406466/
4. Brittania & Co Restaurant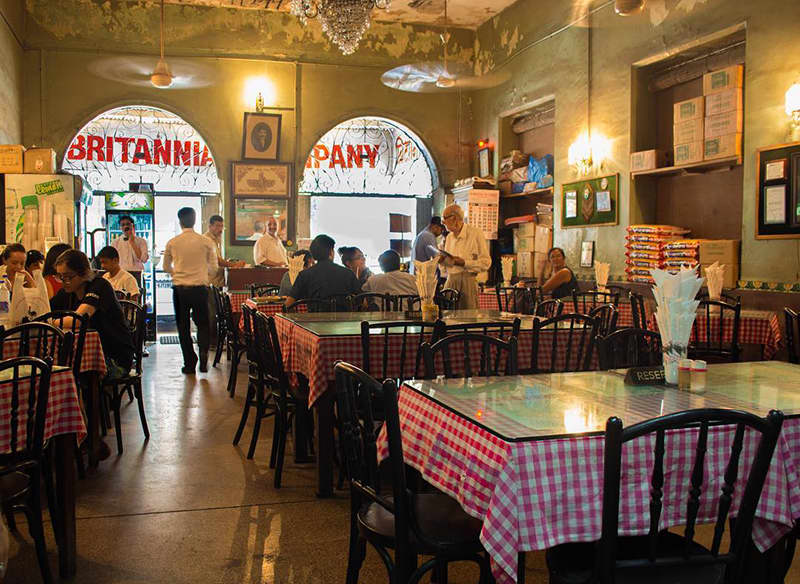 Picture Credits: britannia_co
This Iranian beauty opened up in 1923 and it still stands strong at Fort in Mumbai! Being currently run by the family's third generation, the quality of food is as excellent as it used to be! Its Berry Pulav is one of our fav dishes from the eatery, we also love the Mutton Dhansak, Prawn Biryani, Sali Boti, Veg Pattice and Caramel Custard! Get yum in your tum with this Iranian Cafe already! 
Where | Brittania & Co Restaurant - Wakefield House, 11 Sprott Road, 16 Ballard Estate, Fort
Timings | 11:30 AM - 4 PM  
Meal For Two | Rs 1,000
Call Them | +91 2222 615 264
Check Out Their Insta | https://www.instagram.com/britannia_co/
5. Cafe Excelsior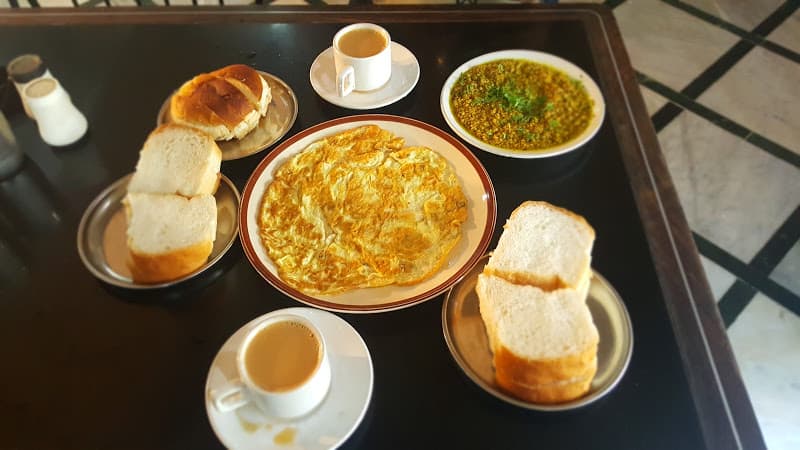 Picture Credits: Romit Jumani
From North Indian and Chinese to Parsi and Lebanese, this eatery has a lot to offer. It has a very welcoming environment and serves some tempting dishes like Keema On Toast, Open Shawarma, Fish Curry Rice, Chicken Afghani, Omelette Sandwich and Fruit Salad With Ice Cream. The quick service and cheerful waiters will absolutely make you feel at home, so you should drop by for a tasty meal whenever you're in or around Fort.
Where | Cafe Excelsior - 23, AK Nayak Marg, Opposite New Excelsior Cinema, Fort
Timings | 8 AM - 11 PM  
Meal For Two | Rs 500
Call Them | +91 2222 074 543
6. Sassanian Restaurant And Bakery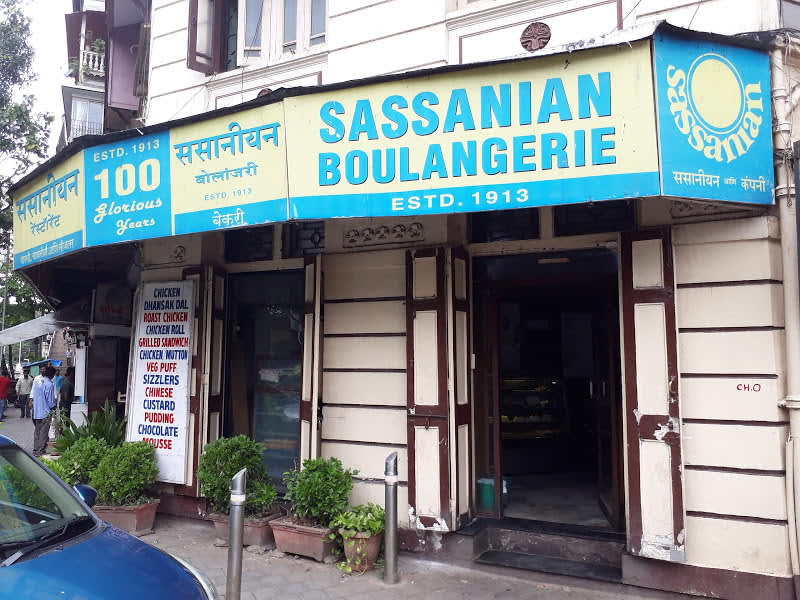 Pciture Credits: Tarique Hyderabadi
With its kinda vintage interiors and scrumptious food, this renowned cafe has always been an eye-catcher. This is a Parsi and Iranian restaurant and also serves freshly baked products! Serving good quality food at impressively cheap rates, this place is super famous! Chicken Omelette, Mutton Cutlet, Chicken Stroganoff, Egg Biryani, Chicken Farsa and Hawaiian Chicken Roll is really tasty and you must drop by for some of their toothsome mains! 
Where | Sassanian Restaurant And Bakery - 98, Marine View, Dhobi Talao, Marine Lines
Timings | 7 AM - 10 PM  
Meal For Two | Rs 600
Call Them | +91 2222 006 198
Check Out Their FB Page | https://www.facebook.com/pages/category/Bakery/Sassanian-Restaurant-and-Bakery-222790284526216/
Visit these age-old restaurants with your fam right away!