Leh
Cozy Feels In The Middle Of The Mountains - 6 Best Homestays To Check Into Ladakh
Homestays have become quite popular of late, they act as the perfect home away from home, and are much more cosier and personalised than hotels. So if you find yourselves headed to Ladakh, check into these rad homestays instead of hotels!
1. Gangba Homestay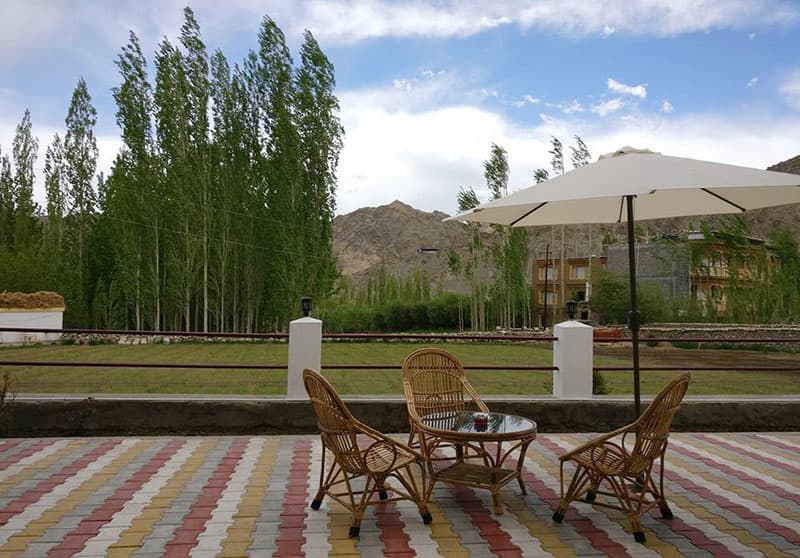 The Gangba Homestay is one of the most homey homestays that you'll find in Leh. The hosts are extremely friendly and will cater to all your needs! The owner Stanzin will help you out with anything from exploring the local culture to recommending you undiscovered places to check out! The homestay has spacious rooms with amenities like Wi-Fi, attached baths, connectivity, etc and they also have a small library for all the book lovers! They serve authentic Ladakhi and Tibetan dishes as well! It's also situated really close to the Shanti Stupa and the view from here is amazing!
Location | Upper Tukcha Road
Browse Their FB Page | https://www.facebook.com/gangbahomestay/
2. Ladakh View Homestay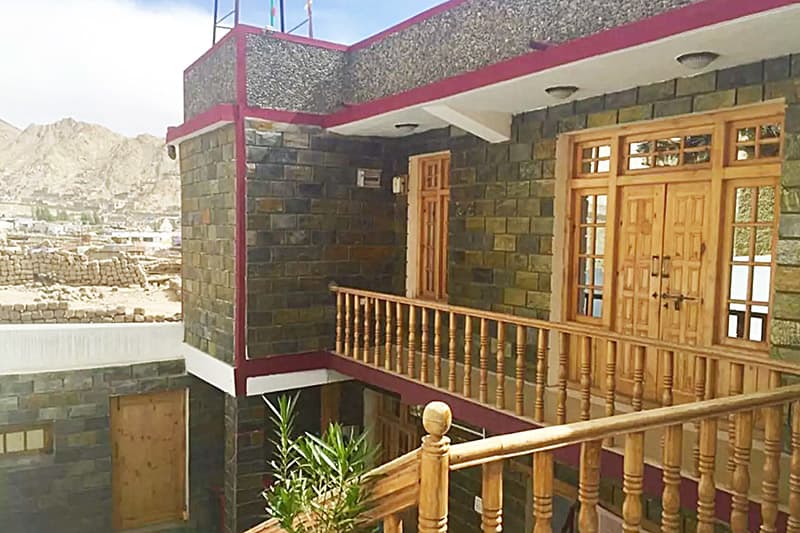 The Ladakh View Homestay situated right below the Leh Palace is a homestay owned by a Ladakhi family who are very friendly and will make you feel welcome right away! The homestay as the name suggests provides a view of the Leh Valley. They showcase 4 private bedrooms with all the amenities provided including transportation and helping in booking tours & treks if you wish to. And another great thing about the Ladakh View is that they allow pets!
Location | Old Leh, Near Leh Palace 
Book Here | https://www.airbnb.co.in/rooms/8046587
3. Gangs Shun Homestay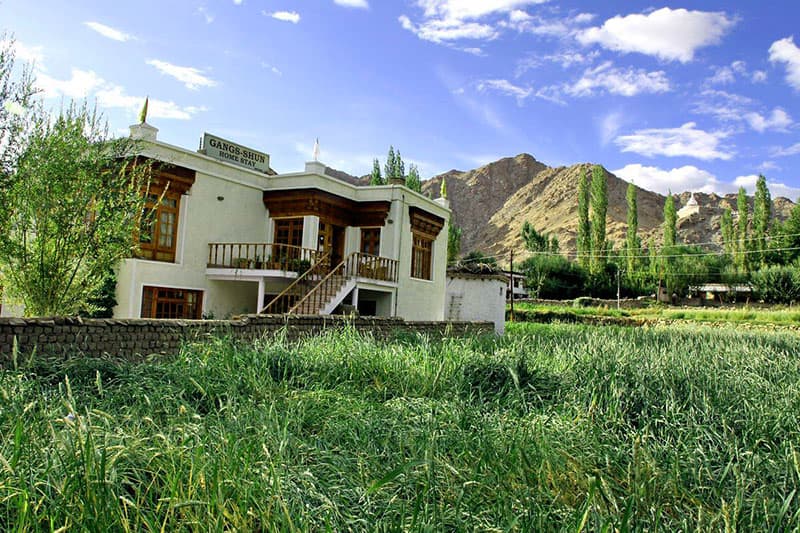 Located just 5 Kms from the Leh Airport, the Gangs Shun Homestay is a cosy property offering 7 spacious rooms for accommodation. Each room offers basic amenities like Wi-fi, bottled water, bathrooms and laundry service! The best part about the homestay is that it's close to the airport and the railway station as well as the bus stand. Plus the family is very welcoming. Mr. Morup will leave no stone unturned to make your stay as comfortable as possible! The food is super tasty and the produce is straight from their very own farm! They also have a cutesy garden for you to laze around in!
Location | Upper Tukcha Road, Leh 
Browse Their FB Page | https://www.facebook.com/Gangs-_-Shun-Homestay-124185007680173/
4. Goba Homestay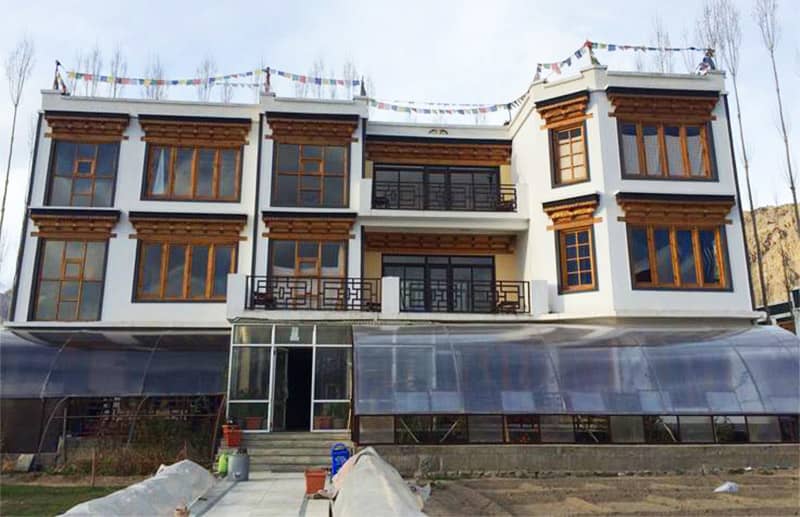 Managed and owned by Anchok Goba, the owner of the very famous restaurant, Tibetan Kitchen on Fort Road, the Goba Homestay was started in the year 2015 and it instantly gained popularity. It comprises of 10 rooms with a simplistic but fabulous decor and includes amenities like LED TV's, Wi-Fi, and en-suite facilities with a view! The homestay also has a sitting room, a garden and a restaurant. The family is very friendly and they make you feel right at home.
Location | Idgha, Chubi, Near Women Alliance 
Book Here | http://www.homestayladakh.com/
5. Tukchu Homestay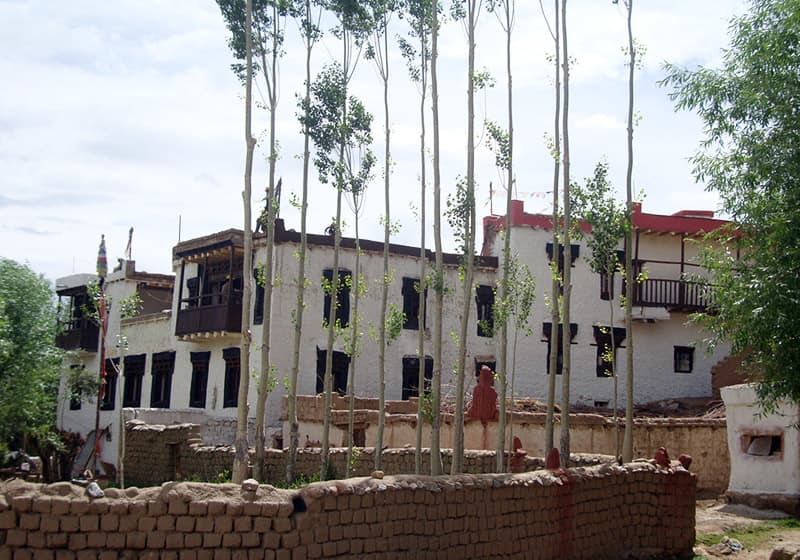 Owned by the Tashi family, the Tukchu Homestay is a lovely place with a great view! The family is friendly and warm and you will really enjoy spending time with them. The house has a great ambience, being 100-year old and offers spacious rooms! The homestay is right below the Shanti Stupa so you can head there in the evenings for a marvellous view of the valley. They'll also help you out with bookings for your trip. 
Location | Changspa, Below Shanti Stupa
Book Here | http://tukchu.weebly.com/
6. Reeyork Homestay
This homestay located in Chubi is extremely budget friendly. The family hosts are helpful and make sure you're most comfortable. The place has three storeys and 13 spacious rooms. We recommend the rooms on the top for the view! Traditional ladakhi food is served and there is a garden with Apricot and Apple trees where you can relax! 
Location | Chubi, Ladakh 
Book Here | https://www.goibibo.com/hotels/reeyork-house-hotel-in-leh-4269662234357016563/
So stay in one of these homey, cosy homestays and make awesome memories!