Leh
A Chadar Of Ice *Quite Literally*! Walk On A Frozen River At The Chadar Trek In Ladakh
Are you someone who lives off adrenaline, loves adventure, or are simply an avid trekker?! Well then, what are you waiting for, take on the very famous Chadar Trek in Ladakh.
The Chadar Trek is a winter trail spread out over the Zanskar region of Ladakh. The trek takes place during winters when the Zanskar river freezes and the ice sheet over it is referred to as Chadar which basically means cover. The trek was actually a traditional route used during winters for travelling by the locals as Padum, the centre of Zanskar is cut off from the rest of Ladakh but soon it became a major attraction for tourists and trekkers all over the world.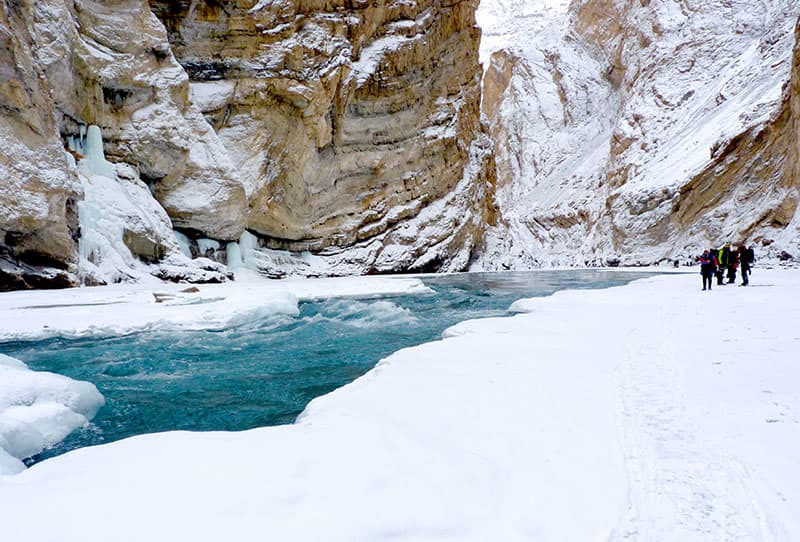 The trek is no easy feat, it is considered one of the most difficult treks. The approximate trekking distance is about 75 kms. You camp in tents, and stop at places like the Tilat Sumdo, Shingra Kongma, Tibb and Nerak, connecting over various villages in the Zanskar region.
The temperature drops below the freezing point in the region during winters and during night it drops down to -20/25 degree Celsius at times. The region also isn't very rich in vegetation at this point of time, except a few Juniper trees here and there. You might spot a snow leopard if you're lucky and also see some frozen waterfalls on the way that will leave you spellbound!
The trek usually lasts for about 8 to 9 days, and there a number of travel companies offering an organised trek so if you're a brave heart who is ready to take on a challenge and is full of zeal and enthusiasm, book your tickets and start planning your trip now!
Duration | 8-9 Days 
Cost Per Person | Rs 20,000 - Rs 24,500
Book Your Trek Here | http://www.chadartrek.com/ & https://himalayatrekker.com/