Kolkata
8 Iconic Cafes As Old As 130+ Yrs That Have Stood The Test Of Time & Are Still Going Strong
When it comes to Kolkata, you can be sure that each nook and corner of this city has some history attached to its name. Be it the magnificent British monuments or the age-old tiny eateries that cover the city of joy, this place has a rich culture and history. And today, we're bringing to you the oldest and the most popular cafes in the city that still have the old school charm! Keep scrollin' peeps.
1. Allen Kitchen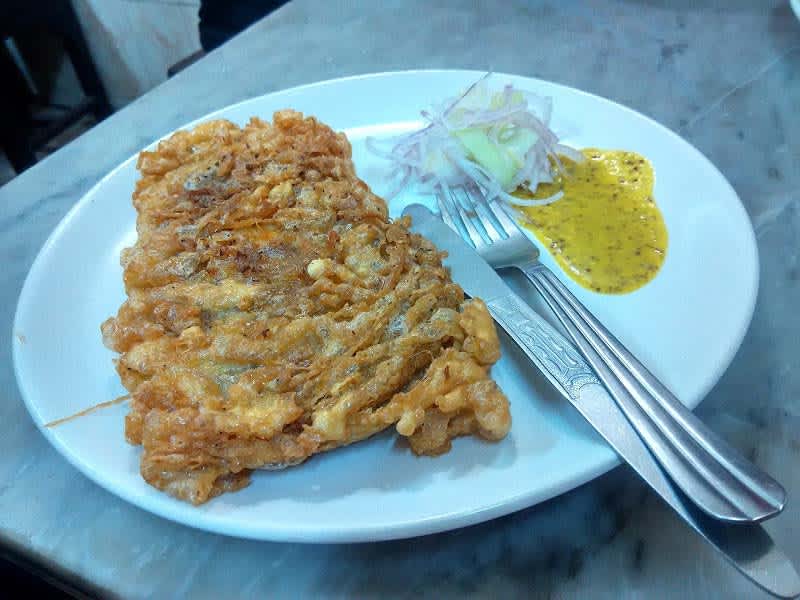 Picture Credits: Oishik Sarkar
An old school eatery that's been in the city for over 130 years, Allen Kitchen has proudly thrived since the departure of the British. The tables here are made of marbles, yet another proof of how old this place is. Known for its Sp. Prawn Cutlet, Fish Pakora, Chicken Kabiraji and Mutton Steak, all made in desi ghee, this humble joint will surely make your foodie soul break into a happy jig!
Where | Allen Kitchen - 40/1, Jatindra Mohan Avenue, Shobha Bazar
Timings | 4 - 9 PM
Meal For Two | Rs 300
Call Them | +91 9836 803 572 & +91 8013 821 055
2. Mitra Cafe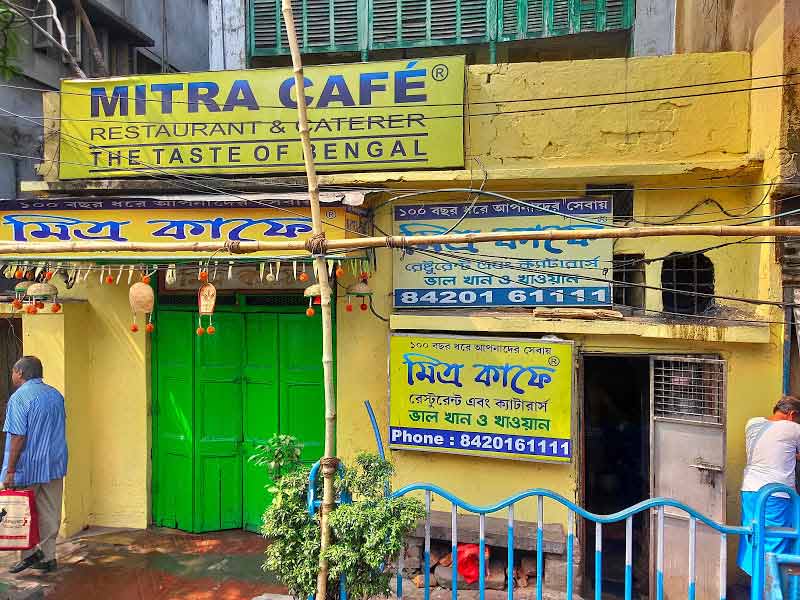 Picture Credits: Sourav Bhadra
Mitra Cafe has been in business since 1920 and till date, this lil cafe is swarmed with visitors throughout the day. You may not be able to get a table in here 'cause of the crowd, but the delicacies you get here will make you wanna come back for more. We recommend you order up their Gandharaj Chicken Pakora, Mutton Chop Devil, Special Mutton Biryani and Fish Kabiraji the next time you land up here with your squad!
Where | Mitra Cafe - Shobha Bazar, Dum Dum, Baguihati & Other Outlets
Timings | 5 - 10 PM
Meal For Two | Rs 500
Call Them | +91 8420 161 111 & +91 9830 342 665
Check Out Their FB Page | https://www.facebook.com/Mitra-Cafe-509545389111300/
3. Indian Coffee House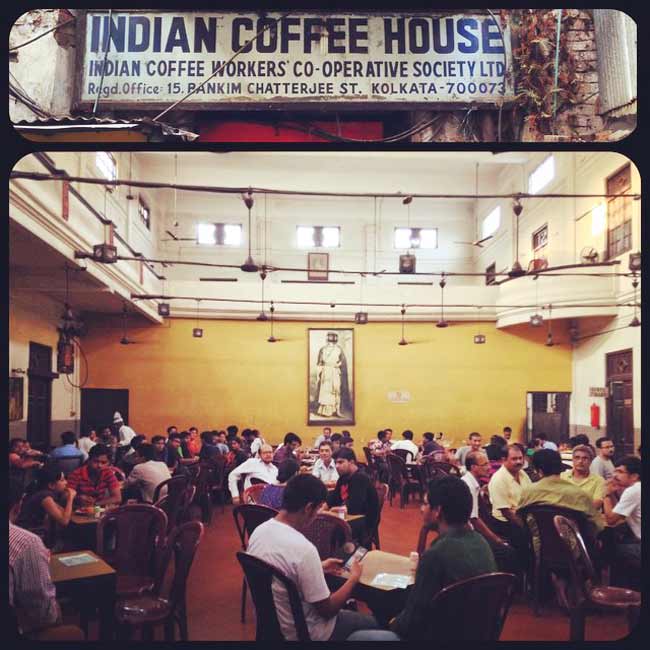 Picture Credits: meiyangchang
The legendary adda for all those chai and coffee dates, Indian Coffee House opened its gates in the 1930s in the city of joy. A rendezvous place for icons including Rabindranath Tagore, Amartya Sen, Shashi Kapoor and several other notable personalities, Indian Coffee House is visited by hundreds of people each day. Gobble down Chicken Sandwiches with a steaming cup of Hot Coffee and you'll be sorted for the day!
Where | Indian Coffee House - College Street & Jadavpur
Timings | 9 AM - 9 PM
Meal For Two | Rs 300
Call Them | +91 9007 798 519
4. Golbari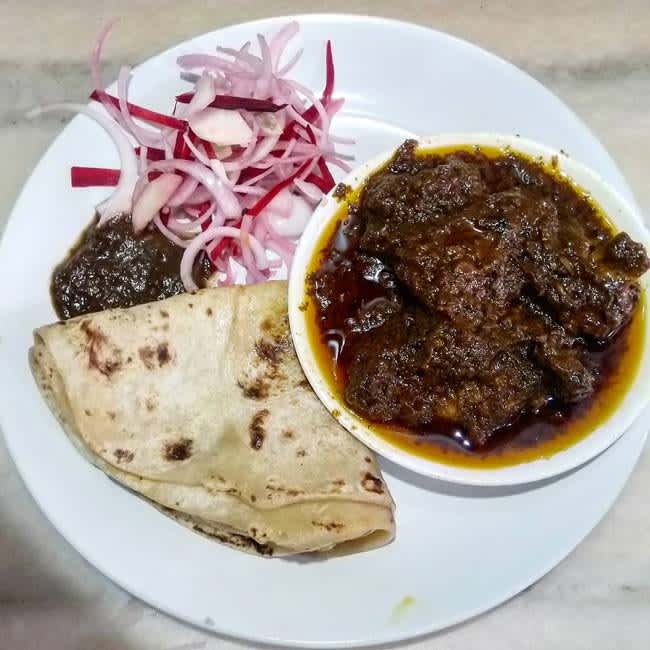 Picture Credits: the_bong_connoisseur
As soon as we hear Golbari, the first thing that comes to our mind is the utterly delicious Kosha Mangsho. Succulent mutton pieces cooked in a thick, spicy gravy - yes, that's Golbarir Kosha Mangsho for y'all. An eatery that's over 95 years old, this crowd-fav joint has managed to keep up the quality and some of our recommendations include Fish Chop, Chicken Masala & Mutton Breast Cutlet!
Where | Golbari - 211, A.P.C. Road, Acharya Prafulla, Chandra Road, Fariapukur, Shyam Bazar
Timings | 12:30 - 11 PM
Meal For Two | Rs 350
Call Them | +91 33 2554 6096
Check Out Their FB Page | https://www.facebook.com/pages/category/Community/Golbari-kosha-mangsho-161362217223270/
5. Paramount Cold Drinks & Syrups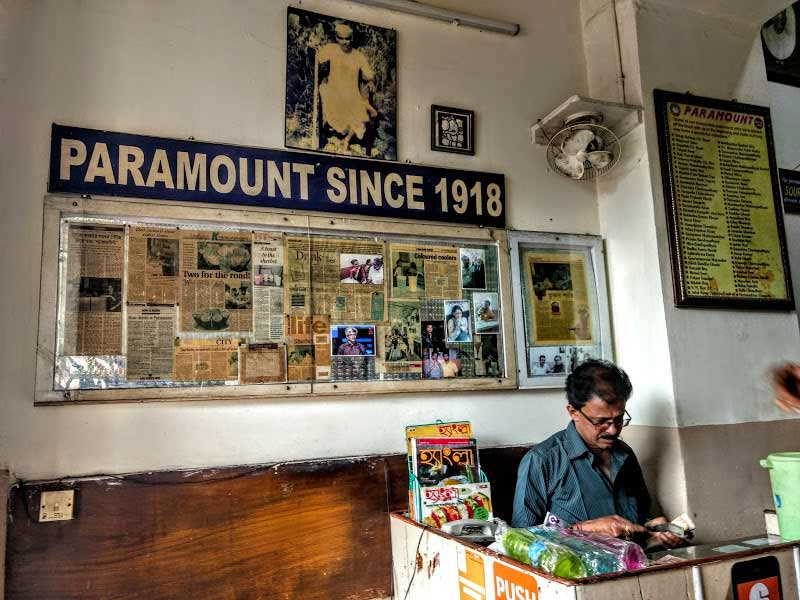 Picture Credits: Rajib Saha
Known for its sherbets and other refreshing drinks, Paramount was opened in 1918 and since then, has been wowing its patrons with flavourful beverages of various and frankly, quirky kinds. A modest-looking cafe snuggled away in the bustling College Street, they serve ah-mazing Dub Sarbat, Banana Malai and several other sherbets that y'all must try. Their Cocoa Malai, Mango Mania and Passion Fruit drinks are a hit amongst the locals!
Where | Paramount Cold Drinks & Syrups - 1/1/1D, Bankim Chatterjee Street, College Square, College Street
Timings | 11:30 AM - 10 PM
Meal For Two | Rs 350
Call Them | +91 33 2219 2433 & +91 9674 215 355
6. Dilkhusha Cabin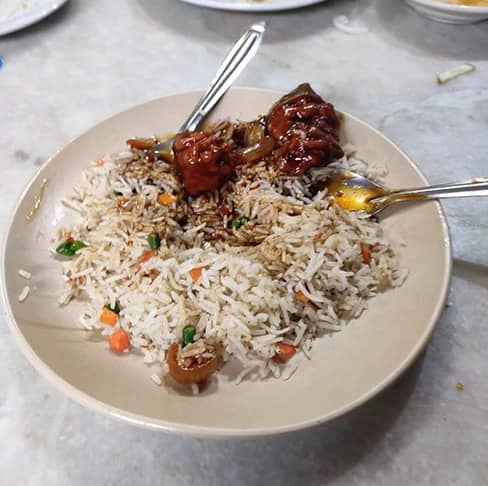 Dilkhusha Cabin was established in 1906 and presently, it serves over 40 delectable dishes. A small cafe with simple interiors, this eatery has held the hearts of many over the decades. Guys, try out the Chicken Kasa, Fish Fry and Mutton Kabiraji for the ultimate gastronomical experience!
Where | Dilkhusha Cabin - Building 88, MG Road, Near College Street Crossing, College Street
Timings | 11:30 AM - 10 PM
Meal For Two | Rs 350
Call Them | +913322417375
7. Peter Cat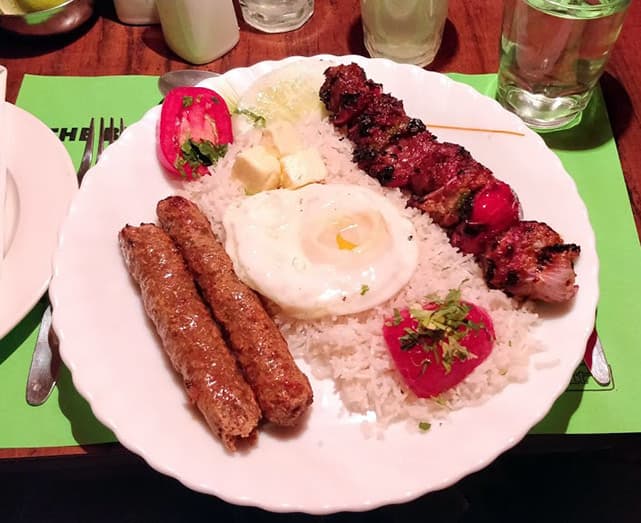 Picture Credits: Rahul Pati
Peter Cat, a legendary restaurant in the city that opened in 1975, and their super popular, as well as unique Chelo Kebab, sure have our hearts! The gorgeous red-themed interiors make up for a stunning backdrop for all your Insta shots. Guys, the Chelo Kebab platter is a must-try along with the yummy Fried Chicken Liver. 
Where | Peter Cat - 18A, Park Street, Park Street Area
Timings | 11 AM - 11:20 PM
Meal For Two | Rs 1,000
Call Them | +91 33 2229 8841
Check Out Their FB Page | https://www.facebook.com/PeterCatKolkata/?rf=1641959766018798
8. Eau Chew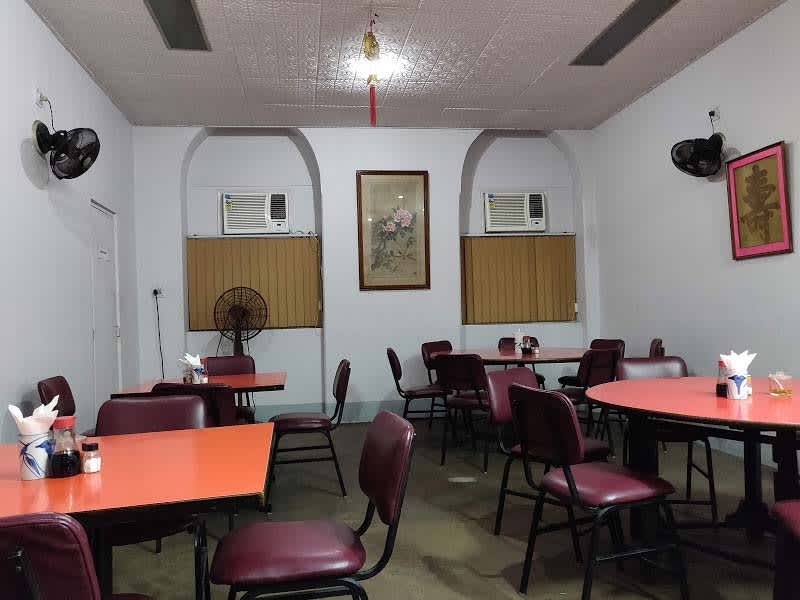 Picture Credits: Dollar Creation
Established around 1920, Eau Chew only opens for 7 hours daily and they're the original inventors of Chimney Soup and Josphine Noodles. Run by one of the oldest families in Kolkata, Eau Chew gives us major old school vibes. The Flaming Fish, Garlic Pork Eau Chew Special Noodles is something you can't afford to miss folks!
Where | Eau Chew - 12, Ganesh Chandra Avenue, Chandni Chowk
Timings | 12 Noon - 3 PM
Meal For Two | Rs 600
Call Them | +91 33 2237 8260
Check Out Their FB Page | https://www.facebook.com/eauchew/
So folks, head over to these age-old cafes and experience the delicacies the old Calcutta way!