Heritage Havelis & Luxurious Palaces: These Are The 10 Best Hotels To Stay At In Jaisalmer
Jaisalmer has been the home of many illustrious rulers, and it's natural to dream of living like a Maharawal for a weekend. Lucky for you, we've found the most opulent hotels to check into ASAP!
1. Suryagarh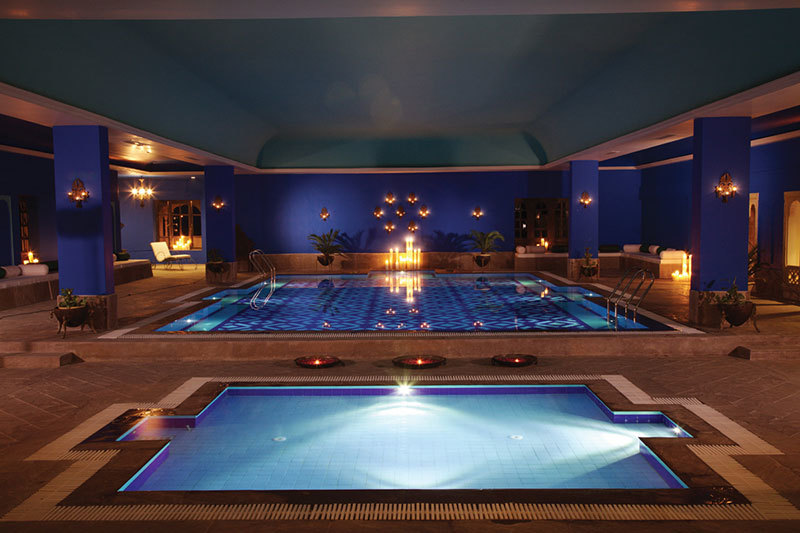 Live out your fairytale fantasy with a stay at this sandstone palace! Surrounded by sand dunes, the Suryagarh seamlessly blends the traditions of the Thar with modern luxury and opulence. The accommodation ranges from a range of spacious rooms, gorgeous suites and even standalone 'havelis' built around courtyards! Taste some gourmet fare at the two in-house restaurants or snack on chaat and a hot cuppa at the central courtyard. With a peacock themed indoor pool, a dedicated card, billiard room and a well equipped gym, rest assured you're never getting bored.
Where | Kahala Phata, Sam Road
Official Website | http://www.suryagarh.com/
2. Hotel Rang Mahal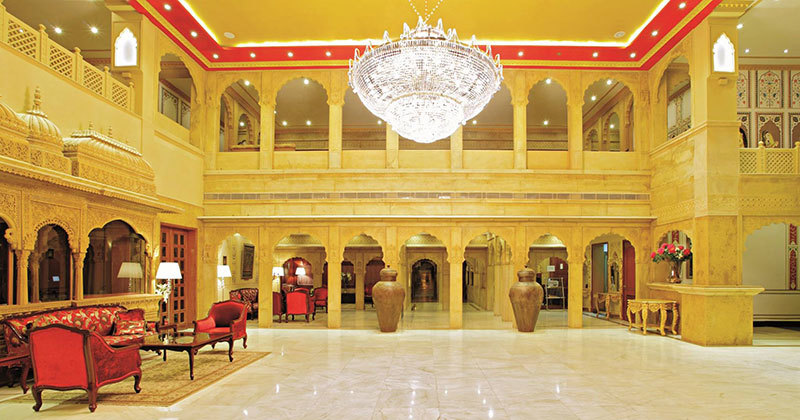 Hotel Rang Mahal promises to take you back to the days of the Silk Route! Enjoy a lavish stay while still being close to the hustle and bustle of the city. Choose from one of the 118 rooms and suites, all furnished to exude some old world charm. The décor includes huge chandeliers, Rajasthani art and elegant furniture. Boasting of three multi-cuisine restaurants, a poolside bar and a gorgeous little café, the hotel is sure to satisfy all your cravings. You can also enjoy a special royal welcome and various folk performances on request.
Location | 5, Hotel Complex, Sam Road
Website | http://www.hotelrangmahal.com/
3. Jaisalmer Marriott Resort & Spa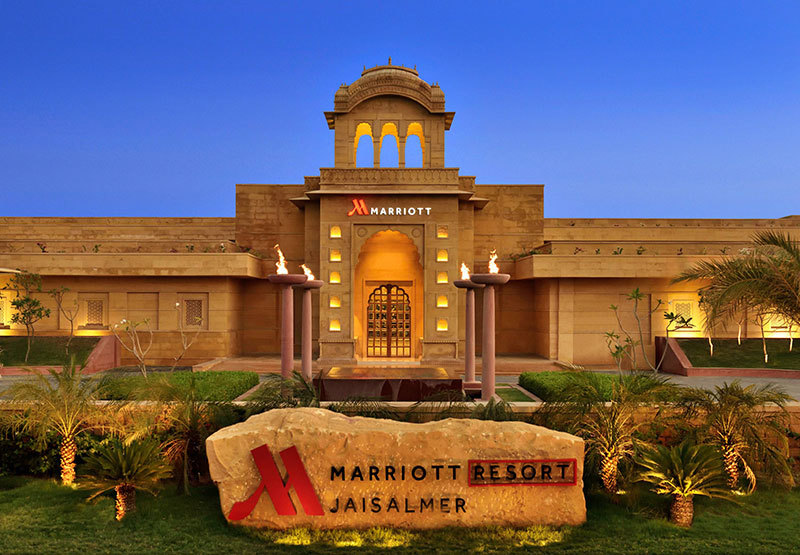 The Jaisalmer Marriott is the ideal place for hosting large events or a family holiday, with a plush décor, 135 rooms and 50,000 square feet of lush verdure. Admire the fort or perhaps the hotel's own gorgeous courtyard, depending on which suite you choose. The rooftop restaurant Wyra serves up delicious grilled fare and the hotel's breakfast spread is absolutely mouth watering. You can also relax at the luxury spa and outdoor pool or sweat it out at the fitness centre. The resort follows a smoke free policy.
Where | Jaisalmer-Sam-Dhanana Road, Police Line
Official Website | http://www.marriott.com/hotels/travel/jsamc-jaisalmer-marriott-resort-and-spa/
4. Desert Tulip Hotel & Resort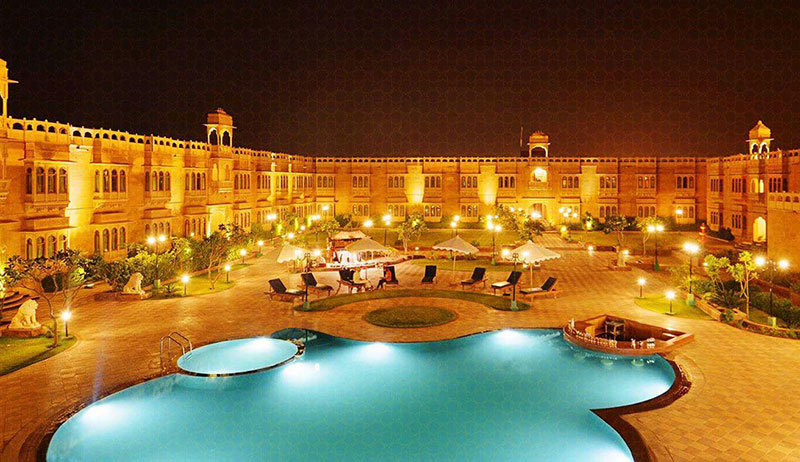 With a mesmerising façade and intricate carvings, the Desert Tulip Hotel & Resort is truly a sight to behold. The spacious suites are all named after musical instruments such as Kartaal and Algoza. Gorge on spicy barbeque dishes or have a bonfire night at the rooftop restaurant. There are plenty of facilities for leisure time as well. Cross off your Joey and Chandler friendship goals at the foosball table! You can also check out the indoor pool, the spa and the salon.
Where |  4, Hotel Complex, Jodhpur Barmer Link Road
Official Website | http://hoteldeserttulip.com/
5. Killa Bhawan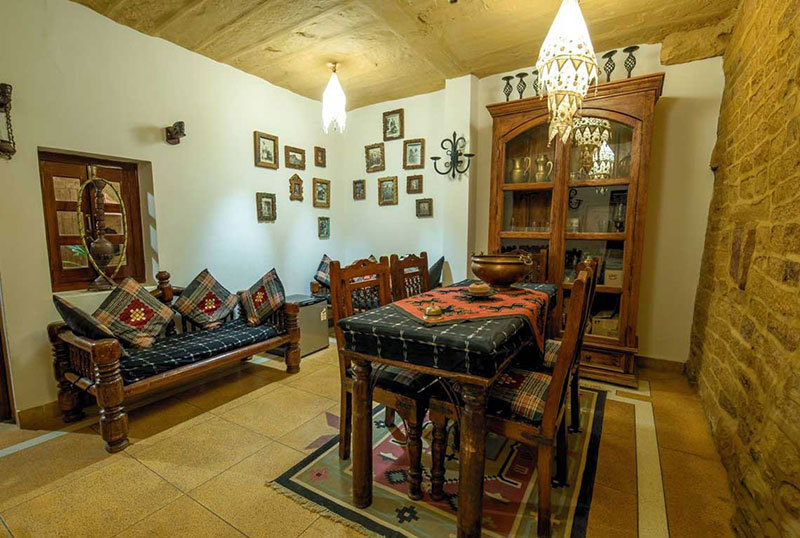 Famous for offering spectacular views of the city, Killa Bhawan is a heritage hotel that's actually a part of the Jaisalmer Fort. Set in three bastions of the Sonar Qila, the hotel has 8 heritage rooms, all cheerfully adorned with a vibrant décor. The deluxe rooms feature antique pieces, marble floors and stately furniture that reflect the yesteryear glory of Jaisalmer. If you're travelling with a large party, you can book a whole private section of the hotel, including 3 heritage rooms, 2 adjoining bathrooms and your own exclusive lobby and terrace! 
Where | Kotari Para
Official Website | http://www.hotelkillabhawan.com/en/jaisalmer-heritage-hotel-killa-bhawan/
6. Fort Rajwada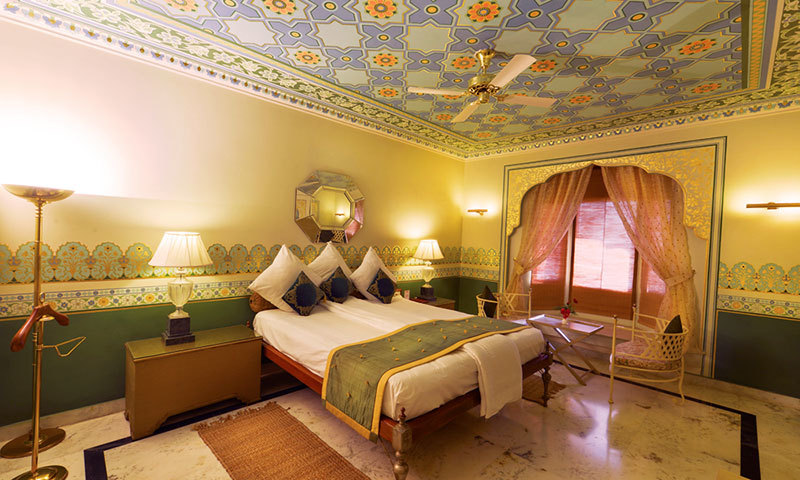 Fort Rajwada is a sprawling heritage hotel run by the Rathore family. The hotel is adorned with hundreds of traditional paintings and murals, all created by local artists! Enjoy the atmosphere of imperial Rajputana luxe and taste some amazing Rajasthani flavours at one of the two restaurants within the hotel. There's also a poolside barbeque where you can dig into some delicious Shahi Kebabs and a rooftop Sunset Bar to chill out at. The rooms range from budget options to more opulent choices like the 'Sheesh Mahal' suite which features exquisite mirror work. 
Where | 1, Hotel Complex, Jodhpur Barmer Link Road
Official Website | http://www.fortrajwada.com/
7. Gorbandh Palace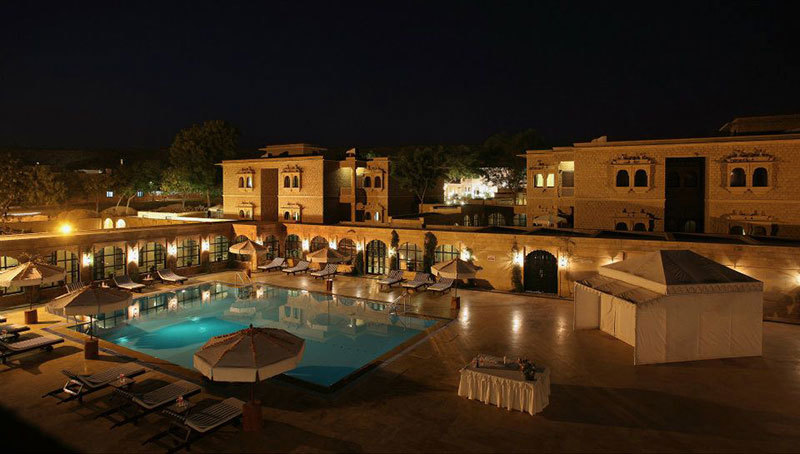 Named after the harness used on camels, Gorbandh Palace has a richly traditional Rajasthani ambience. Boasting of beautiful fountains and lush lawns, this hotel is like a royal retreat in the middle of the desert! Located near the famous Sam Sand Dunes, Gorbandh Palace has up to 83 rooms to choose from. The swimming pool is one of the cleanest and best pools in the city so make sure you check it out! You can also spend a relaxing day at Tattva, the state of the art spa.  
Where | 1, Tourist Complex, Sam Road
Offical Website | http://www.hrhhotels.com/royal_retreats/gorbandh_palace/
8. 1st Gate Home-Fusion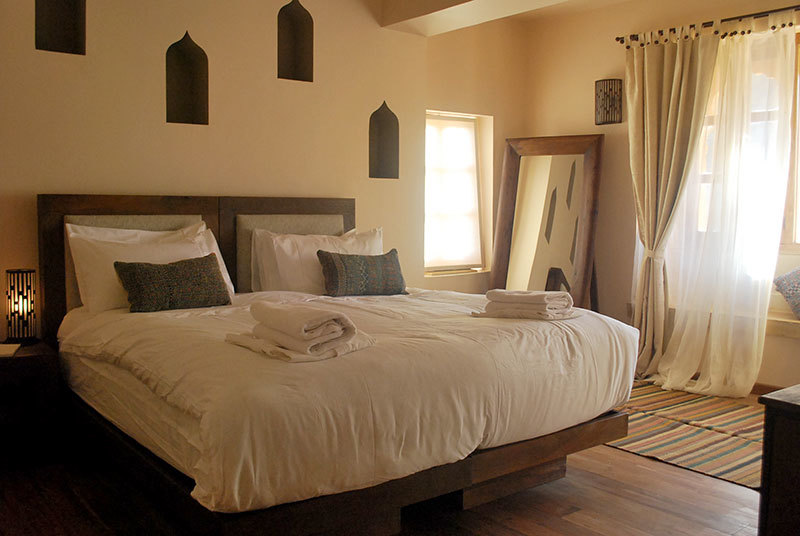 Run by Italian Federica and Melchioretto and Jaisalmer's Manoj Purohit, 1st Gate Home-Fusion combines Italian grandeur and design with true Rajasthani warmth and tradition. The rooftop restaurant is known for heavenly thin crust pizzas and amazing Italian coffee. The best part is that this charming hotel is not only eco friendly but extremely pet friendly! Hang out with adorable Ting Tong, the resident pug or the cat Bella. A small but tightly run ship, 1st Gate Home-Fusion promises to make you feel at home.
Where | Dhibba Para
Website | http://www.1stgate.in/
9. Mandir Palace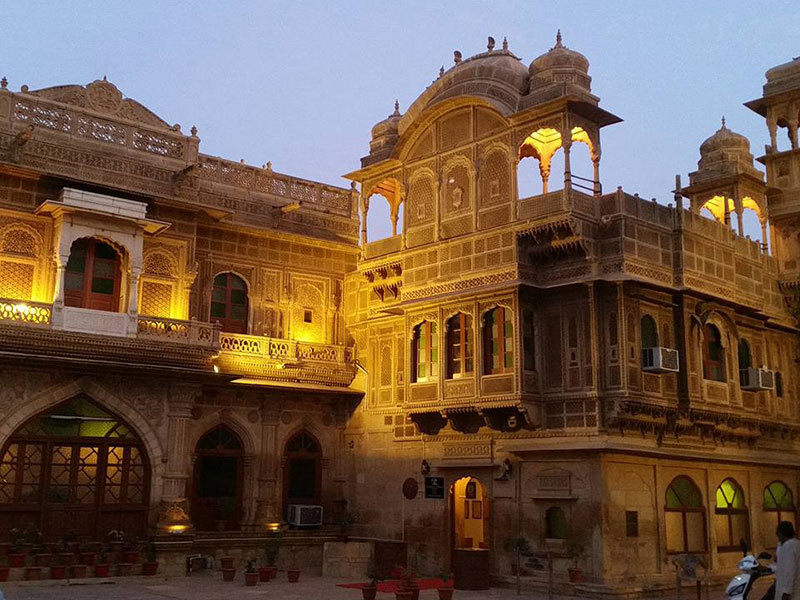 Picture Credits: Silvia Gara
Built by Maharawal Mulraj about two centuries ago, the luxurious Mandir Palace was inhabited by actual royalty once upon a time! Many of the rooms that you can stay in were personal suites of Jaisalmer's ruling elite. The architecture is absolutely exquisite and includes the tallest structure of Jaisalmer outside the fort- the striking Tazia Tower. This premier hotel has its own antique gallery or museum as well as a swimming pool and a badminton court. The in-house dining options include courtyard dining as well as a rooftop restaurant.
Where | Gandhi Chowk
Official Website | http://www.mandirpalace.com/
10. The Gulaal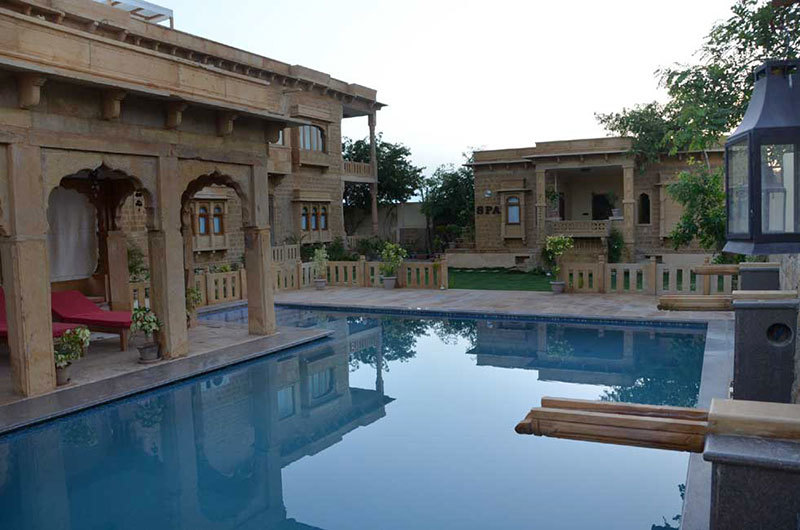 Experience all the romance of a proper Haveli at The Gulaal. Designed around an open courtyard and featuring delicate latticework, jharokhas and pillars, this hotel has 4 luxury suites with different themes and based on Vastu principles. The swimming pool has the traditional charm of a medieval rain water tank, while the spa boasts of a steam bath and ayurvedic massages. The hotel also has daily yoga and meditation classes and a full time yoga instructor. For elegance on a budget, this is the perfect choice.
Where | Opposite Nagar Parishad, Bera Road
Official Website | http://www.thegulaal.com/
Check into one of these lavish places and have the experience of a lifetime!