Hyderabad
7 Religious Sites In Town To Visit For Some Much Needed Peace & Tranquility
It is easy to lose your mind in this chaotic grind that we're subjected to every day. Moreover, with a virus outbreak at large, it becomes imperative for our overall wellbeing to maintain our peace of mind amidst all the stress. Hence, we've brought you our curated list of religious spots in the city where you can declutter your minds and take in the glorious architecture! 
1. Shri Jagannath Temple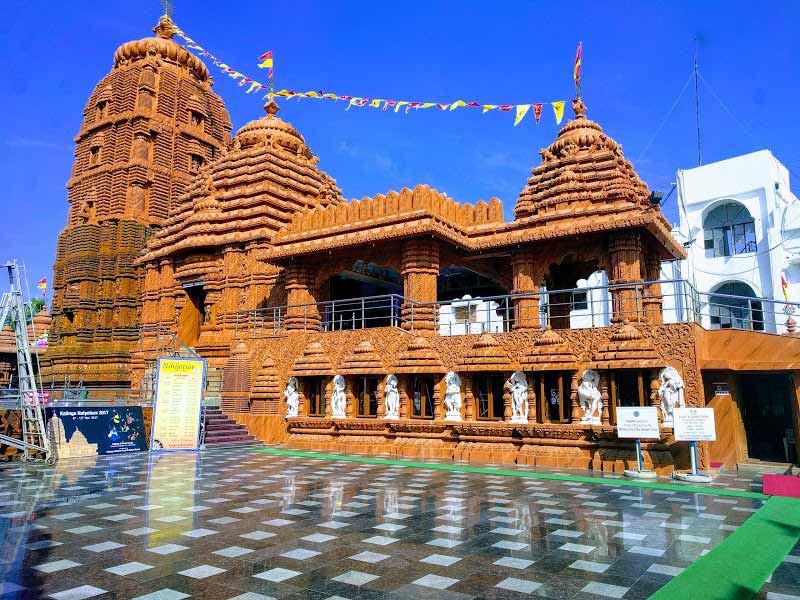 Picture Credits: raja g
Inspired by the legendary Jagannath Temple of Puri, this temple is dedicated to Lord Krishna. The foundation of this temple spreads over an area of 300 sq. yards. The interiors are well designed with oodles of artsy influence, and also features the incarnations of Lord Vishnu in the form of wall-carvings. The main temple houses the statues of Lord Jagannath and his siblings.
Where | Shri Jagannath Temple - Plot No- 1269, Road No 12, Banjara Hills
Call Them | +91 4064 525 848
2. Chilkur Balaji Temple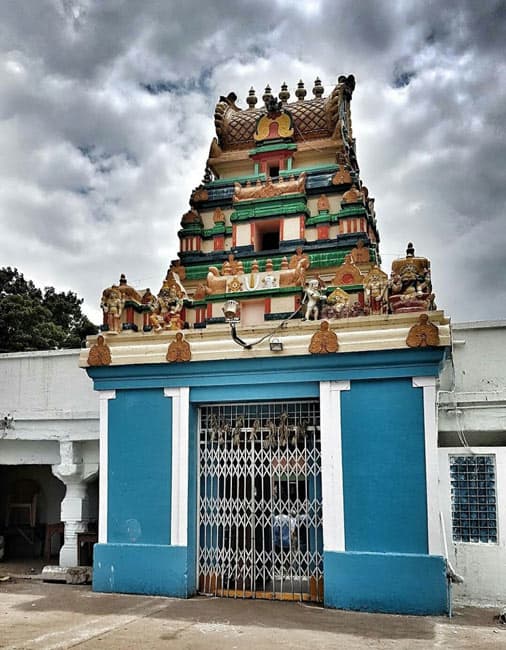 Picture Credits: Sukhjinder Dhilion
A temple fabled to be 500 years old, Chilkur Balaji temple stands as one of the oldest temples in Telangana. A major highlight of the temple is the absence of a donation box, making it one of the very few temples in the country to have such an attraction. A popular institution, the temple hosts around 1 lakh devotees every week. Lord Shri Balaji Venkateshwara is the primary deity and several imminent gurus practice devotion towards this deity here.  
Where | Chilkur Balaji Temple - Chilkur Balaji Temple Rd, Himayat Nagar
Call Them | +91 8417 235 933
3. Birla Mandir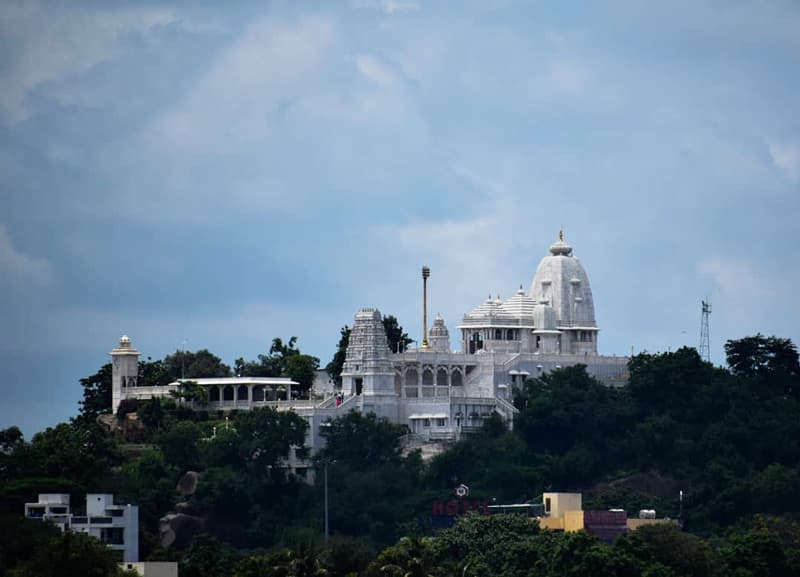 Picture Credits: deepshikha_p3112
Made of unblemished white marble, Birla Mandir is an architectural masterpiece that took 10 long years to finish!  The magnificent statue of Lord Venkateshwara, who's the primary deity is made entirely out of granite stone! You'll even observe scenes of Hindu epics carved into the walls and ceilings intricately. Situated atop a hillock, the taxing trek to the temple is rendered trivial when you finally reach and witness the picturesque view!
Where | Birla Mandir - Hill Fort Rd, Ambedkar Colony, Khairtabad
Call Them | +91 4023 233 259
4. Mecca Masjid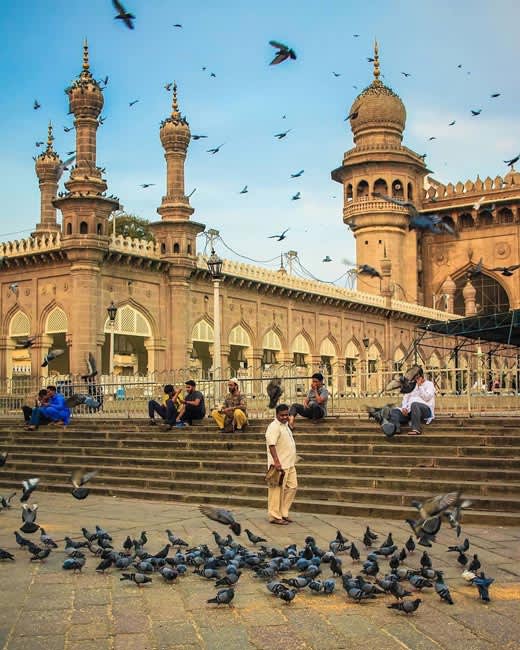 Picture Credits: lellelanithin_
One of the largest mosques in town, the majestic Mecca Masjid can accommodate up to 10,000 devotees at a time! The uniquely designed walls are made of granite and make the structure look pristine. If you look closely, you'll see that verses of the Holy Quran are intricately engraved on the arches. Explore the beautiful interiors and courtyards of Mecca Masjid, while you bask under the divinity of the supreme power.
Where | Mecca Masjid - Charminar Rd, Charminar, Ghansi Bazaar
Call Them | +91 4066 745 986
5. Ratnalayam Temple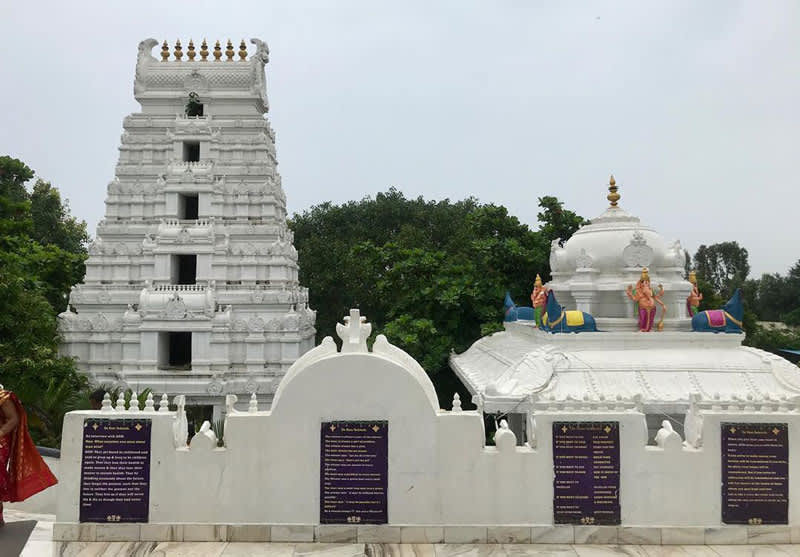 Picture Credits: sanjeevkrjaiswal
Devoted towards preserving the faith in Lord Venkateshwara, Goddess Padmavati and Goddess Alivelu Mangamma, Ratnalayam temple is a beautiful edifice nestled amidst the lush landscapes with grand fountains. Spread over a lavish area of 5 acres, this temple doesn't compromise on space, as you'll see with their huge parking space, Yagashala, Goshala and canteen. A trip to Nizami City is incomplete without a trip to this temple!
Where | Ratnalayam Temple - Rajiv Gandhi Rahadari, Near Shubham Gardens, Aliabad
Timings | 6 AM- 12 Noon, 4 - 8 PM
Call Them | +91 9908 481 089
6. St. George's Church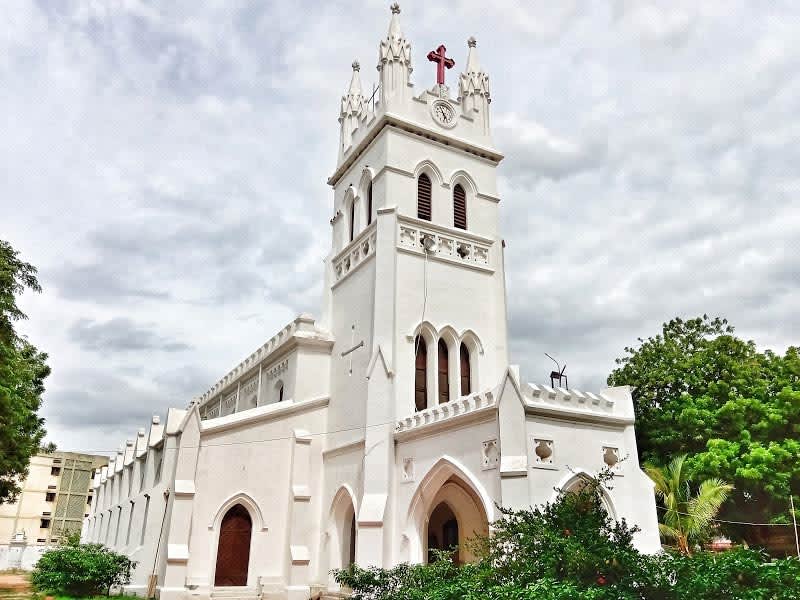 Picture Credits: Paras Agrawal
Built-in 1844 AD, St.George's Church is one of the oldest churches in town. Weddings, baptisms, funerals that were held in the colonial times are depicted on the walls of this Church, making its interiors unique in taste and style. During celebratory events like Christmas and Easter, the church is beautifully adorned with flowers and lights, making it a stunning sight!
Where | St. George's Church - 4-1-1111, King Koti Rd, Bogulkunta, Basheer Bagh
Call Them | +91 4023 232 193
7. St. Joseph's Cathedral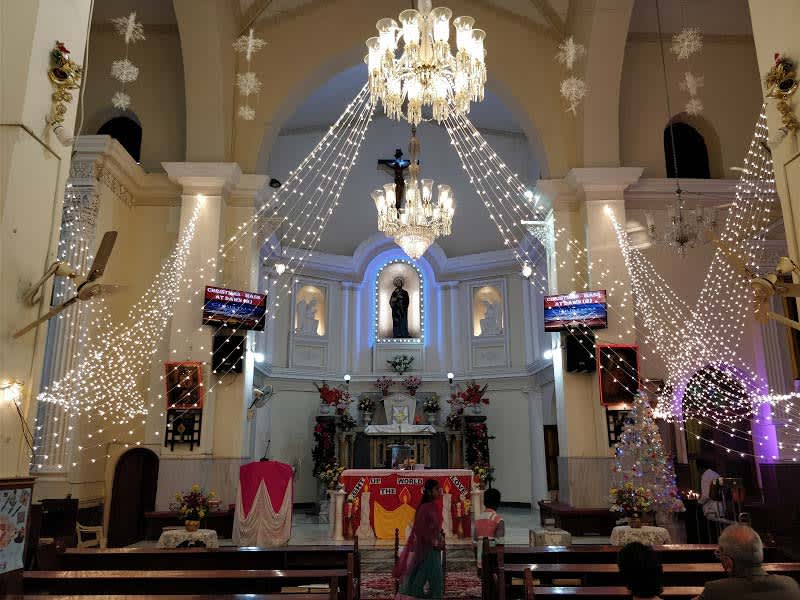 Picture Credits: Nobble Joseph
The foundation of this church dates back to 1869, making it a mark of immense historical significance. The centre hall is huge and can accommodate up to 500 people at the same time! A multitude of artwork is displayed at this Cathedral, including antique European oil-based paintings that were gifted by a Nizam. The beautiful sanctuary halls and the granite flooring add to the beauty of the church!
Where | St. Joseph's Cathedral - 5-9-305, Gun Foundry Street Number 1, Gun Foundry, Basheer Bagh
Call Them | +91 4023 234 156
So, city dwellers, it's high time that y'all take a break from the daily grind and retreat to the almighty's abode for a peaceful evening.
P.S. Make sure you contact the concerned officials before you pay a visit as the places might be temporarily shut down in light of the lockdown reforms.