Goa
6 Dazzling Flea Markets In Town Where You Can Snag Trendy Goodies At Dirt Cheap Prices
Flea markets have always been go-to spots for shoppers despite the ease and accessibility of luxurious stores and boutiques. They've managed to endure for generations because of the huge variety of goodies and merch they offer at unbelievable prices! So we present to you a list of some of the best flea markets in town for an intense retail therapy session! Keep scrollin' shoppers!
1. Anjuna Market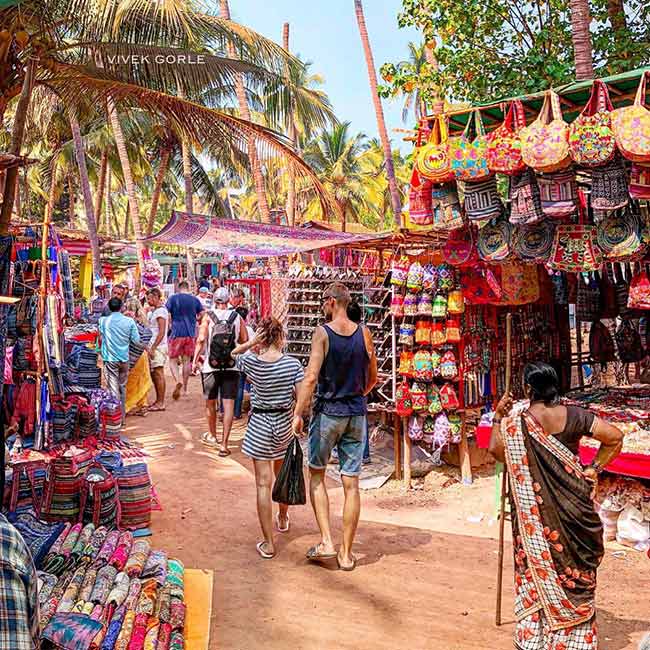 Picture Credits: thehungrytourer
One of the most famous and buzzing markets in Goa, the Anjuna Market started as a "Hippie exchange" of commodities where people from different countries sold second-hand items. Having sustained the status quo, every nook and corner of this market screams hippy culture. You can check out the massive collection of vibrant clothes, jewellery, wall hangings, hammocks, etc. Stick around and you'll catch some live performances by homegrown bands!
Where | Anjuna Market - 10, St Michael's Vaddo South, Anjuna
2. Saturday Nite Market - Arpora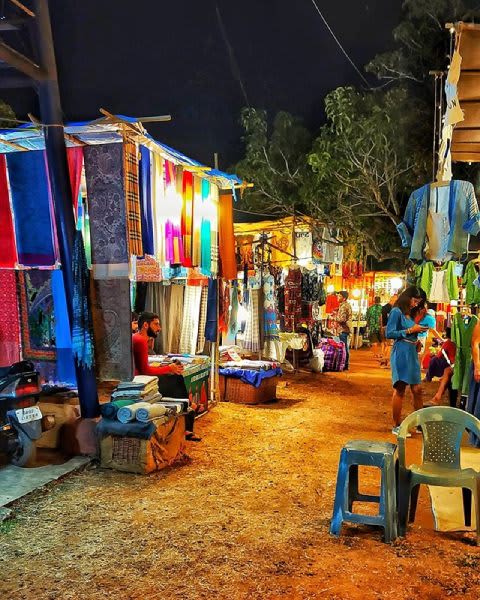 Picture Credits: photo_khajur
This market is the heart and soul of Arpora. It's a charming trade ground that's swarmed with patrons till the wee hours of the night. The colourful kiosks offer the best of local as well as international goods; Such as designer apparel, quirky accessories, hammocks and more. Btw, you can find a plethora of options to nibble on some delish snacks here while you shop. This market also plays host to tarot-card readers, fire jugglers and more!
Where | Saturday Nite Bazaar - Arpora
3. Mapusa Friday Market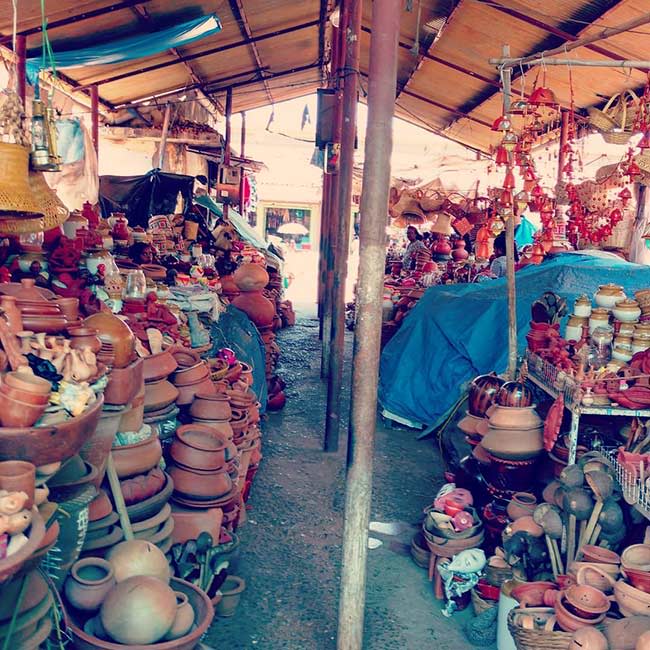 Picture Credits: ncdsouza
Mapusa Friday Market is a quintessential Goa flea market featuring every indigenous delight that one could look for; Be it local Feni, organic food, fruits, vegetables, meat, clothing, textiles, earthen pots and lots more of Goan produce. The sprawling market covers a large area so, make sure you hydrate well and bring your A-game in bargaining!
Where | Mapusa Friday Market - Mapusa Market Area, Panaji
4. Calangute Bazaar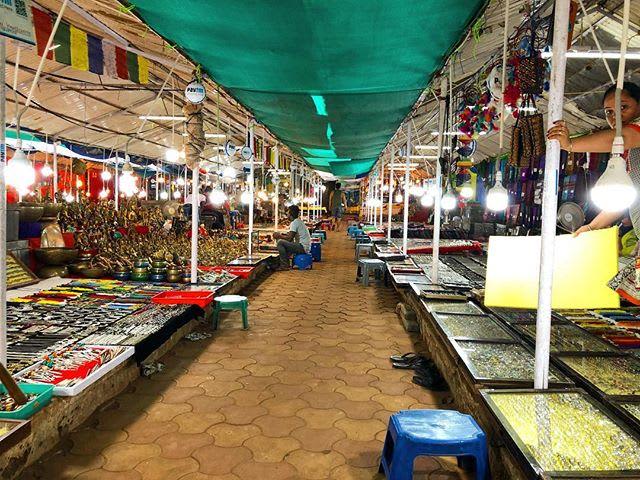 Picture Credits: kathrynj_d
Situated near and named after the famous beach, this bazaar is famous for its wide range of Kashmiri and Tibetan knick-knacks. Lined with innumerable shacks and shops, this place is a total shopper's paradise. You can buy sarongs and trinkets made of seashells, or treat yourself to mouth-watering fried prawns and beer at the shacks!
Where | Calangute Bazaar - Calangute
5. Beachside Designers' Village - Ashwem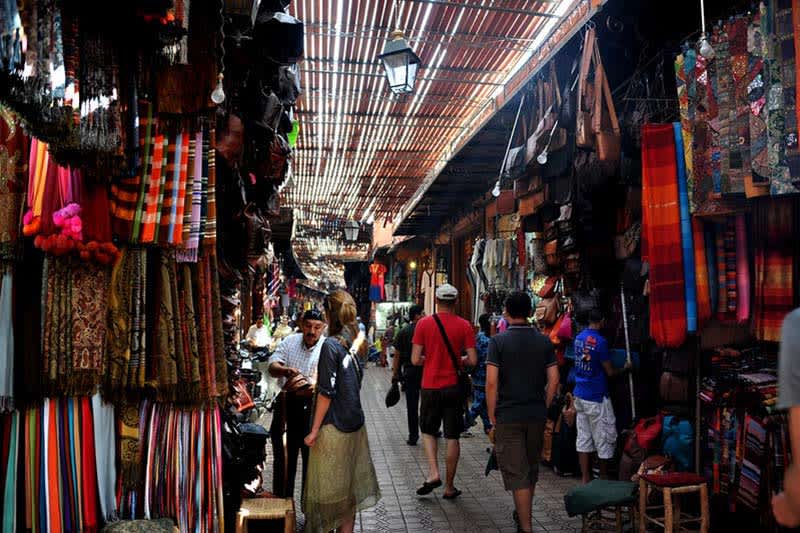 India 1st luxury market-space, Beachside Designers' Village is a beautiful open-air beachside bazaar that features products of acclaimed Indian and International brands. This little area is called "Le Souk" houses quirky stores like The Shop By Nana Ki & The Bohemian Culture where you can find boho style apparel and jewellery!
Where | Beachside Designers' Village - Ashwem Beach, Ashwem
6. Arambol Street Market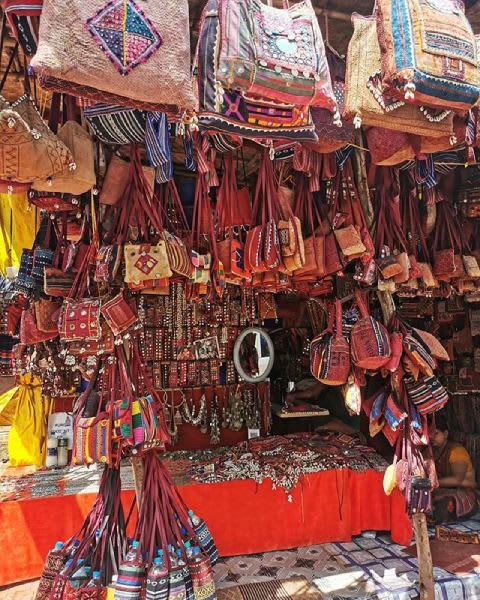 Picture Credits: claudiademi
This colourful little market houses a wide range of goodies such as spices, hand-made soaps, hammocks, bags, clothing, jewellery, tea and what not! Arambol Street Market marks the superlative representation of Goan Hippy culture. Get your Boho aesthetic materialized at this colourful street market! 
Where | Arambol Street Market - Arambol
It's time to shop till you drop at these vibrant flea markets that are full of life!