Goa
5 Best Eateries Serving Authentic Goan Food That Y'all Need To Try Right Away!
Goan cuisine has an exotic blend of seafood, spices and diverse flavours; Owing to the heavy influence of Portuguese culture. The eateries here offer a wide range of lip-smacking delicacies to choose from. We've picked some of the best places in town that are serving scrumptious authentic Goan delicacies, so read on fellas!
1. Ritz Classic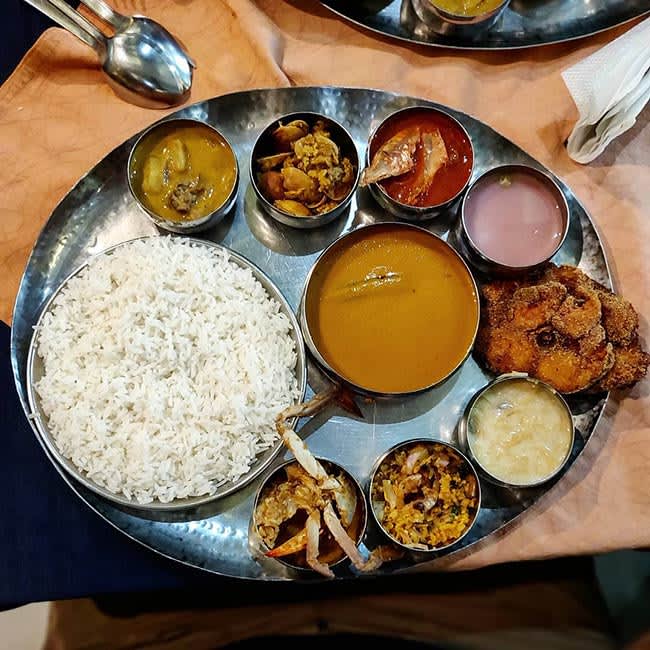 Picture Credits: thebigbhookad
Full of old Goan charm, legendary seafood hub Ritz Classic holds a special place in our hearts. The interiors of this pocket-friendly cafe are modern and welcoming; all the more reason why this eatery is a hot fave amongst the locals. We're drooling over their Fish Thali, Crab Rachedo, Prawn Cafreal, Butter Garlic Prawns and Crispy Batter Squid. Wash it down with an Apple Rock Martini and you're good to go!
Where | Ritz Classic - 1st Floor, Vagle Vision, 18th June Road, Panaji
Timings | 11 AM - 8:30
Meal For Two | Rs 600
Call Them | +91 8322 426 417
2. Hog Worth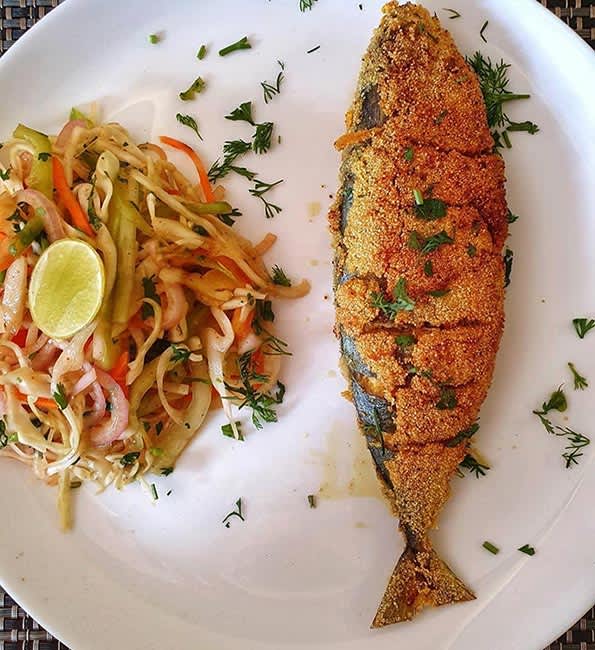 Picture Credits: goaonmyplate
Situated in the glistening bylanes of Panaji, Hog Worth is winning over a lot of people with its ah-mazing portrayal of exquisite Goan cuisine. Some of the authentic delicacies that y'all need to try are Bangdo Rawa Fry, Roulado, Chicken Cafreal and the delectable Serradura. Their speciality dessert called Bolo Sans Rival is to die for! 
Where | Hog Worth - LA Campala, Rd Lane 3, Miramar, Panaji
Timings | 12 Noon - 3 PM & 7 - 11 PM (Wednesday - Monday)
Meal For Two | Rs 600
Call Them | +91 9112 369 086
Check Out Their FB Page | https://www.facebook.com/HogWorthgoa/
3. Souza Lobo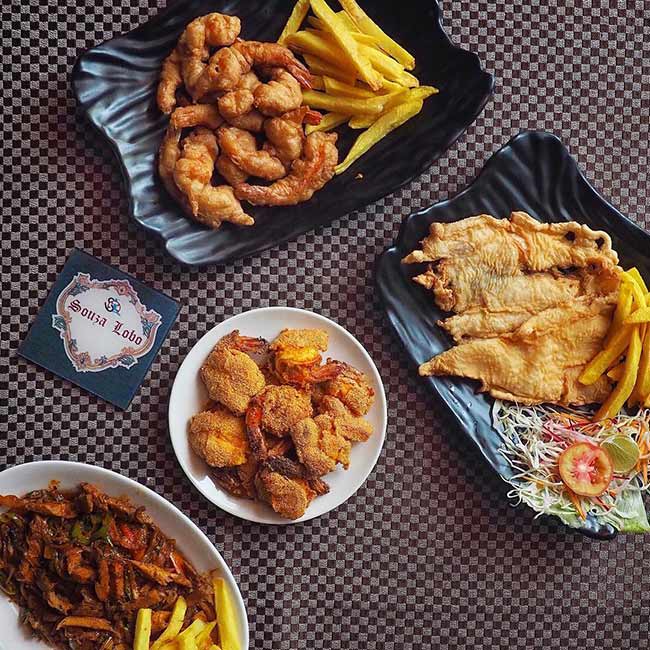 Picture Credits: joashmanning
Famous for preserving the authenticity of Goan and culinary culture, Souza Lobo has made its place in the hearts of its visitors since 1932! With its laid back ambience, you can sit back and relax at this breezy beach shack with a bottle of chilled beer. We recommend the Masala Prawns, Butter Garlic Mushrooms, Crab Xacuti, Squids Chilly Fry and Mussels and Baby Kingfish. 
Where | Souza Lobo - Calangute Beach, Calangute
Timings | 12 Noon - 4:30 PM & 7 - 11:30 PM
Meal For Two | Rs 1,300
Call Them | +91 2261 344 865
Check Out Their FB Page | https://www.facebook.com/souzalobogoa/
4. Hotel Venite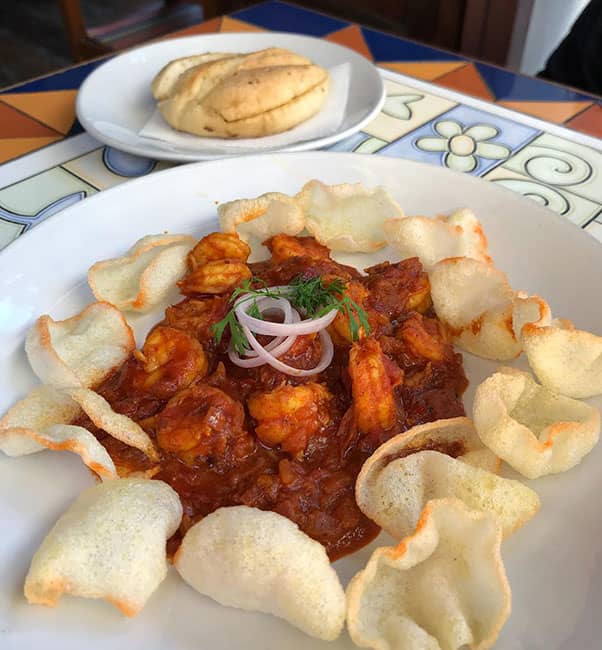 Picture Credits: thatgoangirl
Hotel Venite is a cute lil eatery with quirky interiors and a compact seating space. This place can be deemed as the epitome of the infamous Goan hippy culture. Housed in a 200-year-old Portuguese heritage home, Hotel Venite has been serving palatable dishes like the popular Jumbo Prawns, Bombay Duck, Prawn Curry Rice, Stuffed crab and the enchanting Seafood Pasta.
Where | Hotel Venite - 31st January Rd, Panaji
Timings | 9 AM - 10:30 PM
Meal For Two | Rs 1,000
Call Them | +91 8322 425 537
Check Out Their FB Page | https://www.facebook.com/HotelVenite/
5. Kokni Kanteen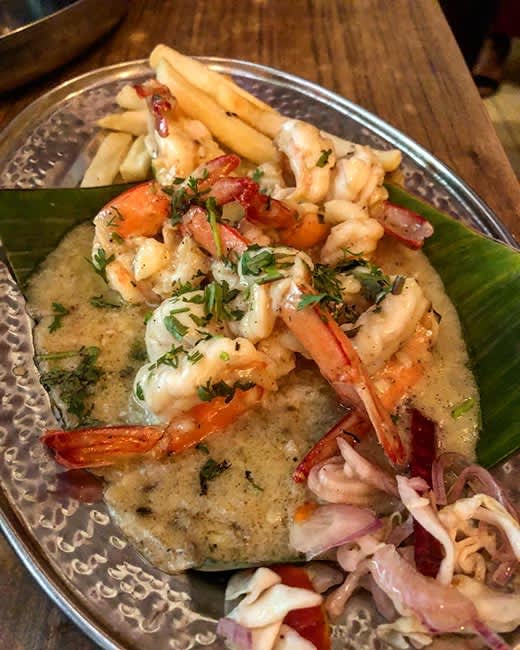 Picture Credits: foodaholic_lives
From authentic fish thalis to Kokni songs encapsulating the atmosphere, this hospitable eatery will draw you in with its homely environment. Since 1972, the lovely folks at Kokni Kanteem have been serving delish yummies that don't satiate the soul in merely one visit! Their absolute must-try items include Prawns Colbert, Clams Masala, Surmai Ambotti, Red Solkadhi, Dry Fish In Mustard Seasoning and Goan-style Pomfret Masala Fry.
Where | Kokni Kanteen - Dr. Dada Vaidya Rd, Altinho, Panaji
Timings | 12:30 - 3 PM &  7 - 11:30 PM
Meal For Two | Rs 800
Call Them | +91 8322 421 972
Check Out Their FB Page | https://www.facebook.com/koknikanteen/
As a fabled punmaster once said, your seafood, you eat it! So when are you eating out next?
P.S. Make sure that you contact the restaurants before paying a visit as some of them might be temporarily shut down due to the pandemic reforms.