You know that one place which becomes our go-to hangout spot, the one place we keep ending up at everytime we feel like going out? Well, that's how we describe Woodhouse Cafe in our heads. A cozy, warm place in Malviya Nagar, it has the perfect ambience and food, that makes you wanna come back here several times! 
As the name suggests, this cafe has wooden interiors and furniture and we feel like we're inside a holiday lodge - it's that beautiful. With gentle accents of forest themed colours & decor, comfy chairs to snuggle into and walls decorated with pretty fairy lights, the ambience here screams homeliness and warmth!
They have both indoor and outdoor seating and while we choose to settle inside, the outdoor seating could be a fresh and refreshing experience during the spring months. Coming to the food, the staff is extremely careful, both while serving the customers and also preparing the food to absolute perfection. We tried out these 7 dishes and here's our take on them! 
1. Kitkat Shake

The KitKat Shake has a great consistency and wasn't too sweet, which is something we are otherwise always sceptical of while getting shakes from new places. Try this one out but don't expect anything fancy or the one loaded with kitkats and brownies. This one is a regular. 
Price | Rs 125
2. Poha

We were surprised to see Poha on the menu since these guys usually serve omelettes and pancakes for breakfast. It was light and deliciously flavoured, with peanuts and veggies in it making it great for those who are perhaps trying to eat healthy. The poha here was low on oil and yet not too dry, making it all the more amazing!
Price | Rs 69
3. Creamy Potato Sandwich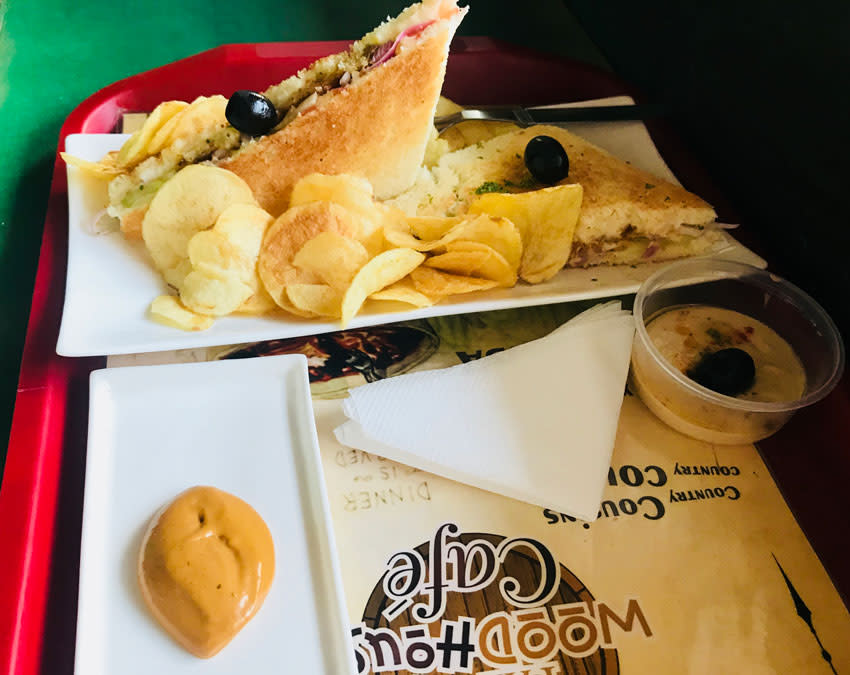 The Creamy Potato Sandwich is one of our treasure finds because it is absolutely heavenly! Served with a delicious dip, the filling of this sandwich is quite unique, making it different from the regular vegetable and cheese sandwiches. These classic sandwiches would definitely make you want to come back to this place! 
PS - The sandwich here is served with yummy potato chips *huge grins*! 
Price | Rs 159
4. Aloo Puri

How often is it that you find Puri Sabzi in a cafe? It's like finding your favourite gol gappa wale bhaiya at a food festival, nahi? So we decided to go for Aloo Puri next, the puri was not too oily and sufficiently crisp while the sabzi had a mild spicy taste and we could make out the punjabi masalas in it *yum, yum*! 
Price | Rs 99
5. Dal Makhani With Rice

This has become our go-to order for lunch as the quantity is substantial and filling! The spice level is just right and it's like getting your favourite dhaba makhani dal in a cafe. The best of both worlds, right? Along with the dal being creamy, the rice were perfectly cooked and the raw onions on the side were the true, traditional addition. 
Price | Rs 159
6. Chana Salad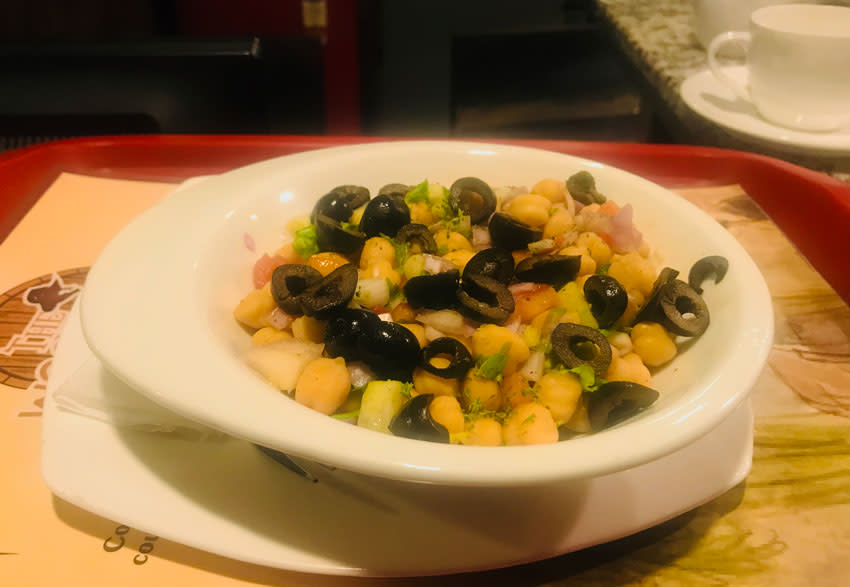 To be honest, we're used to ordering a salad and getting, well, a mess of lettuce. But the Chana Salad was actually nice and quite filling for us which is great for those who are on a diet. The dressings were not very heavy and did not overpower the taste of the different ingredients. It was also garnished with black olives and we definitely appreciate that!
Price | Rs 139
7. Cheesy Garlic Bread 

While it wasn't terrible, the garlic bread can definitely be worked upon. The flavours and garnishings were way too indianized and resembled something you'd get at a cheap food truck so we'd suggest giving it a miss for now as it was slightly bland and well, nothing special! However, when we did mentioned this to the owner, he really insisted on serving us another plate. 
Price | Rs 189
All in all, we are definitely coming back and bringing our squad along to share this charming little place. It is located on the main road of the Malviya Nagar Market and won't be that hard to find. The prices are super affordable and that is something which we're always looking for, right
They're also up for home deliveries, so keep their number on speed dial for your next houseparty! If you're looking for a place that could be your regular for lunch during office or otherwise, give Woodhouse Cafe a try and you won't be disappointed.
Also, their staff is courteous and are always looking out for your feedback and would accommodate any changes you like. And well, good hospitality always makes it a memorable experience. 
Where | Woodhouse Cafe - C 60, Shivalik Road, Malviya Nagar
Meal For Two | Rs 800