With a Raw, Grungy Ambience Coupled With Boozy Cocktails & Carefully Curated Nibbles, Here's Bunmanchi For You
Stepping into this rad, leather strewn bar in downtown G.K. II, one thing just screamed out at us - grunge! Rough-hewn, long wooden tables crowd around a long, stone-floored space just tailor-made for those long-drawn out, happening parties. Cute wooden stools pepper the area, and are complemented with cool corners studded with deep leather couches and chairs - making us feel thoroughly pampered and psyched!
Statutory warning - Bunmanchi takes its snacking and boozing very seriously - absolutely no main courses are served here, and they've got a one-pager appetizers and finger-food menu to prove it. So we leapt headlong into this heady bar and here's what we ended up with!
Strawberry Daiquiri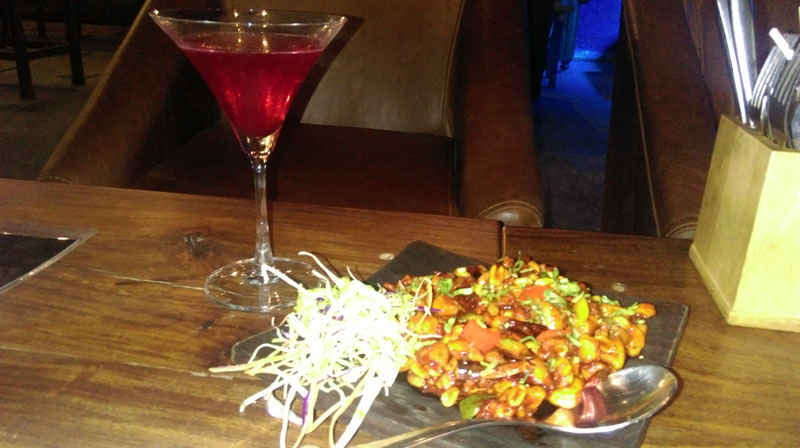 Concocted by blending splashes of Bacardi Blanc with tropical lime juice and strawberries, their Strawberry Daiquiri was incredibly sweet and tasty, with just the right amount of boozy punch infused in it to keep you happily chugging on it all night long. Presented in chic Martini glasses, this one's especially for the ladies!
Pork Lemon Fry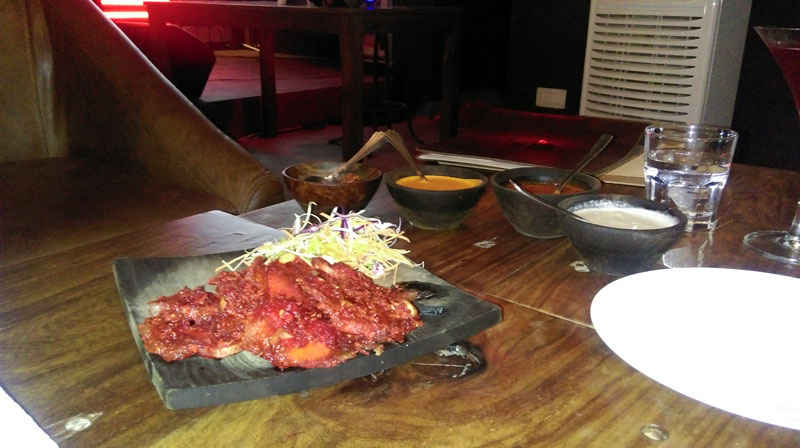 Hungrily moving on to our starters, we then sampled their Pork Lemon Fry. Succulent to the core, this dish consisted of prime pork strips desi-fried (just the way we like 'em) to perfection - with the perfect amount of zing added to make you smack your lips after each bite - must order!
Chicken Dry Fry
With liberally heaped roasted peanuts providing a delightful crunch, we intensely enjoyed each morsel of the zesty, spicy chunks of well-cooked chicken stir fried with masses of hot red chillies and assorted bell peppers. This dish makes for the perfect finger food to munch on while you're sipping those cocktails!
Veg Platter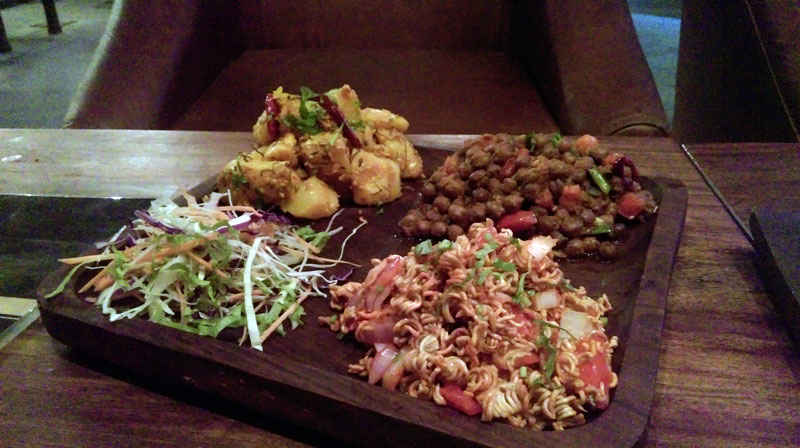 Their Veg Platter came heaped with just-right mounds of great veggie items including a little something called the Bhuteko Chana, which consisted of incredibly juicy stir fried chickpeas; Wai Wai Sadeko which was totally masaledar uncooked Wai Wai meshed with raw, chopped potatoes and onions, marinated in mustard oil - you might want to order some extra, 'cause you just won't be able to stop eating this!
Veg Dimsums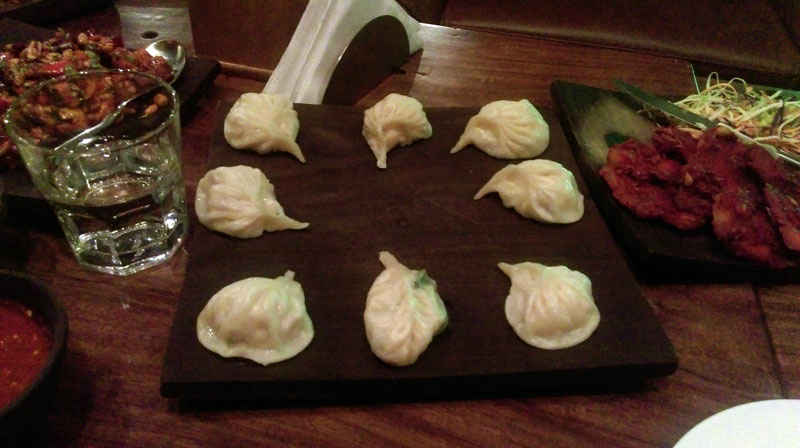 We eagerly awaited their dimsums, and Bunmanchi obligingly did not disappoint! Enveloped in an extremely thin veneer, the dimsums brimmed with delightfully crunchy, fresh veggies including lots of cabbage, carrots, onions and a dash of coriander, and we relished every last bite!
Classic Margarita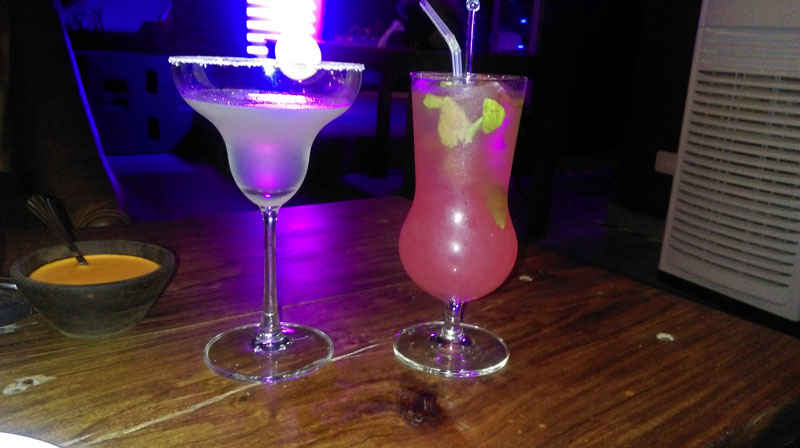 Not one to stop at just one cocktail, we reached for the big guns and ordered ourselves up a smashing Margarita! Slick and edged with scoops of salt licks, their Classic Margarita was a punchy burst full of tequila and triple sec - and we happily slurped our way to being good and buzzed.
Gyuma - Tibetan Mutton Sausages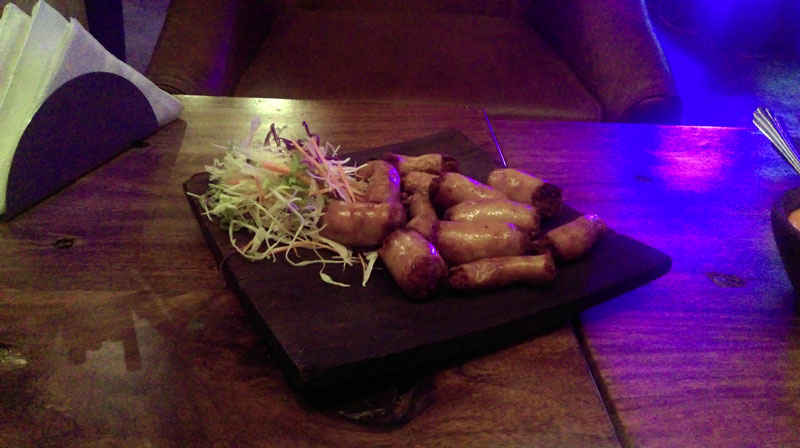 Carefully nursing our already full tummies, we then went in for something they call Gyuma. Delighting the hardcore carnivore in us, their Gyuma was chock-full of minced mutton fried to heavenly crisp chunks, making for a gratifying in-between-drinks snack - must try for the more culinary adventurous of you!
We'd simply like to round off by saying that Bunmanchi's music is loud, it's food spicy and flavourful and its cocktails simply divine - when are you heading over for your next night out?
Meal For Two | Rs 1,500
Location | M Block Market, G.K. II