Wildly Popular Kake Di Hatti In GTB Nagar Dishes Up Luscious Desi Khana & We Gorged Away!
A famous dhaba from the old lanes Chandni Chowk made its way to modern New Delhi; Kake Di Hatti, which is more than half a century old, opened up two outlets in North Delhi to give everyone a taste of their decades-old recipes. We visited their branch in GTB Nagar, a little away from the popular café lane. The place is very easy to find and is a ten minute walk from the GTB Nagar Metro Station.
The ambience of the place is somewhere between a dhaba and an economically-priced restaurant. We spotted their menu right at the entrance attached to a podium and saw 4-5 men making rotis, which for us was the signature 'dhaba' element. We found the interiors to be slightly dingy, although they have tried to add some colour to the walls. They have an all-vegetarian menu, with a lot to offer. This is what we gorged on here!
Paneer Tikka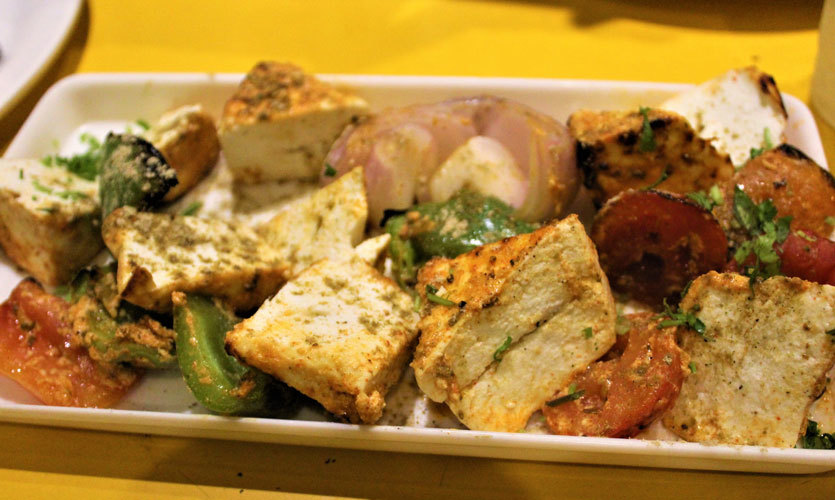 We ordered the signature vegetarian appetizer - the Paneer Tikka! The portion served was impressive, however, sadly the dish was a disappointment in terms of taste. Though we'd tried this very dish before as well and found it to be full of flavour with the aromatic whiff of tandoor, this time the chef was not up to his game. If you're a first timer here, we'd suggest you try their Tandoori Platter to get a taste of everything all on one platter. 
Dal Makhni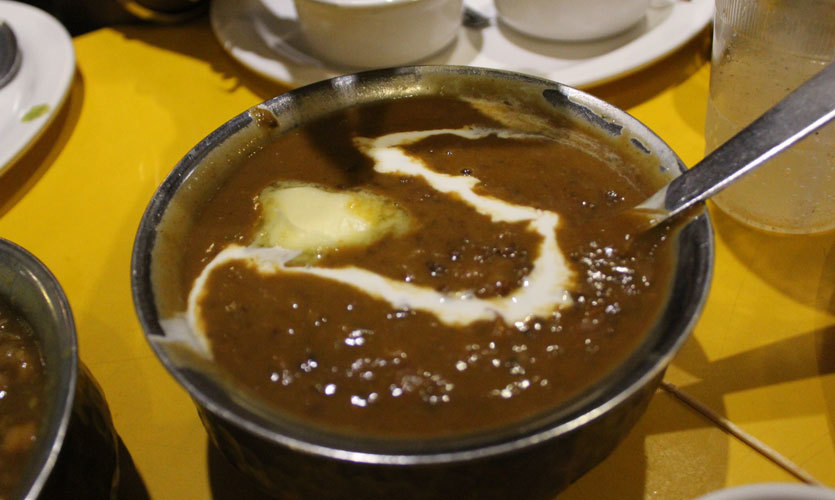 We wasted no time in ordering our mains, and you just can't visit a dhaba and not order Dal Makhni! A big portion of Dal Makhni with a dollop of butter and cream was served to us, to our happy delight! The taste was that of typical dhaba-style rich buttery Dal Makhni, which we thoroughly relished and polished off in no time.
Chole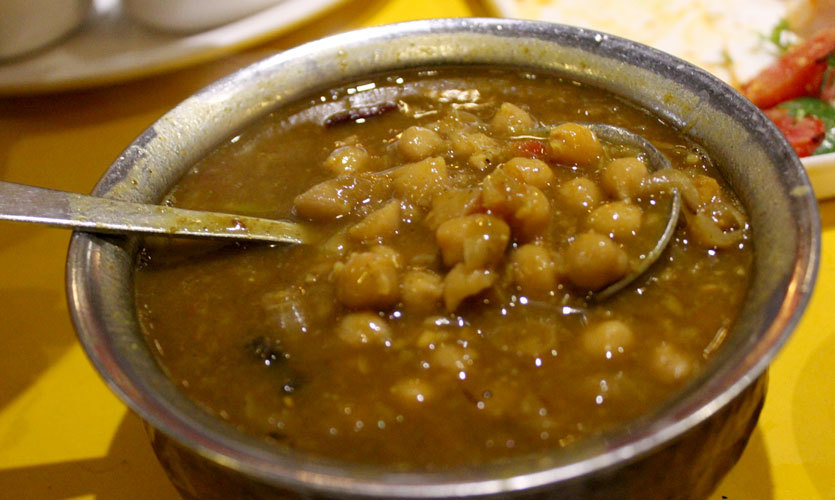 Ah, the authentic taste of Punjabi masala chole! A spicy and tempting bowl which would have been perfect with golden bhature, but since that wasn't on the menu, we paired them with soft and fresh Paneer Naan. The combination was perfect and the best part was that the chole were not oily and held the soulful flavours of desi Punjabi masale! 
Soya Malai Chaap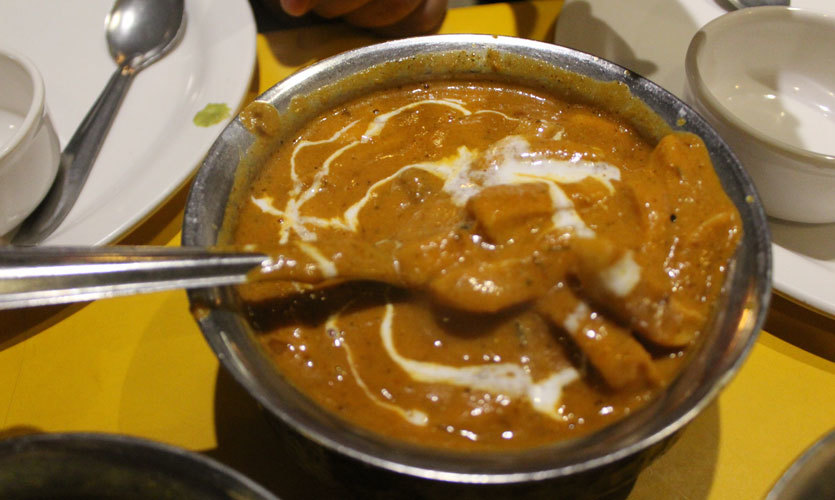 A creamy tomato gravy with chaap - that sums up their Soya Malai Chaap! The gravy, to a huge extent, was similar to that of shahi paneer or butter chicken. Their gravy was fine, however, we didn't quite like the dish in its entirety, because of the raw soya chaap that was added to the dish. 
Naan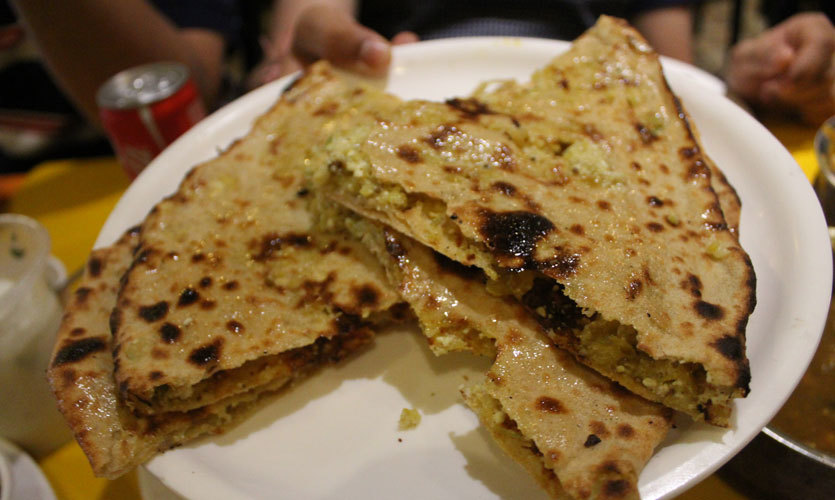 We don't usually consider breads as a separate dish, just a companion to the main dish. However, Kake Di Hatti serves an insane variety of stuffed naans and deserves a special mention! They come in three sizes - small, medium and large. The large size is humongous and is even up for trademark registration, and anyone who has a sizeable appetite should definitely try this. We loved their Garlic Naan, Paneer Naan and the good ol' Butter Naan. 
Drinks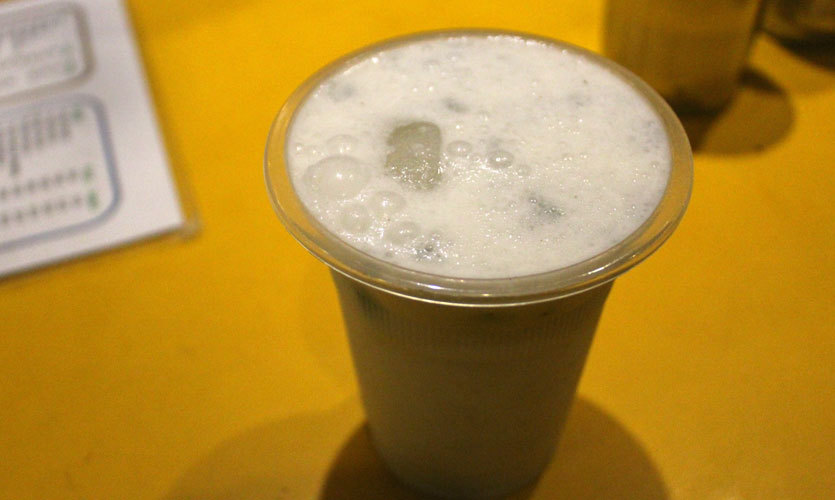 We washed down the oodles of food with a big glass of Chaach; the perfect drink for the approaching summers and our tummies. We loved the Chaach for its simple ingredients; pink salt and refreshing mint leaves, which was a like a breath of fresh air after an enormous meal. We would also suggest you try their Mix Fresh Lime Soda; the perfect union of salty and sweet.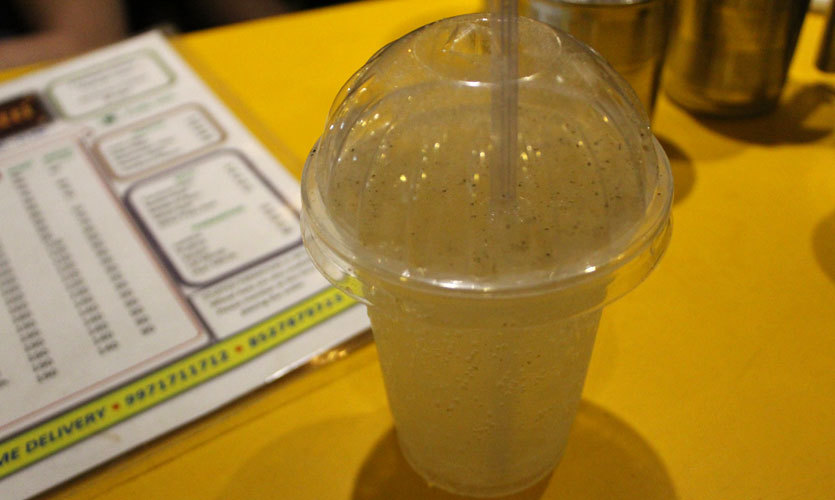 If you're in mood for some appetizing Punjabi vegetarian food then Kake Di Hatti is definitely THE place to visit. We experienced the authentic Chandni Chowk flavour without the mess and the dirt - what more could we ask for?! Come on by!
Meal For Two | Rs 750
Location | G-20, Near Traffic Signal, Vijay Nagar