End of the month hasn't set in, but you're already broke? We know them feels! It aches more when you want to hog some kickass street food, but also want to make ends meet. Thankfully, we have the solution for you guys. Exiting from the Green Park Metro Station's gate number 2, just look to your left and you'll be surprised to find the number of mouth watering options there.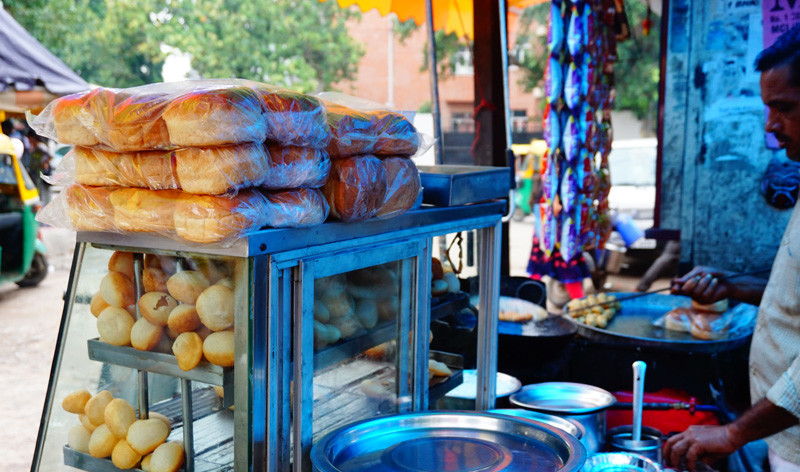 But the main attraction of this mini-marketplace is not the joints in the market, but the incredible options on the sidewalk! You'll be surprised to know the most expensive food item we could find here costs as low as Rs 130. So we went here at our month's end, almost broke & ravenous, and came back smiling with a belly-full of food that costed next to nothing. Here are our picks from this mini-food trail!
1. Garma Garam Samosas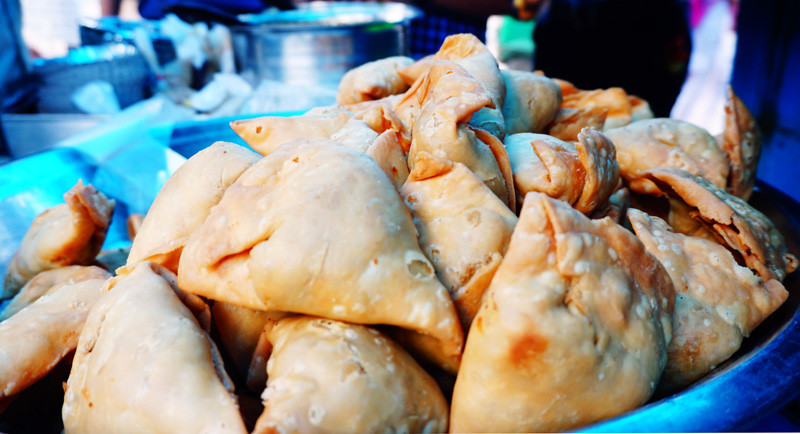 This stall, bearing no title card as such, is more popularly known as Panditji ke samose. The samosas are quite well stuffed and of a formidable size too. Panditji has a distinct style of serving these, where he sort of flattens the samosa and pours a bit of either Pudina chatni or the meethi chatni (of your choice). The taste is quite decent too, for a snack that costs so less.
Price | Rs 10 Apiece
2. Ram Ladoo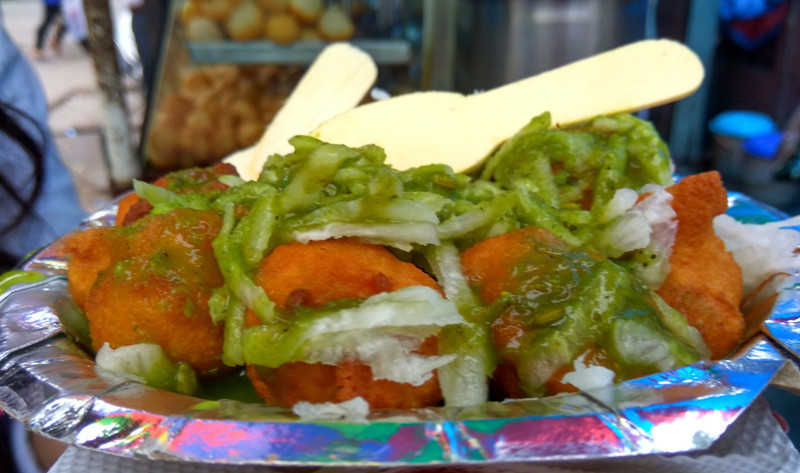 Ram ladoos were one of our favourite snacks growing up, but for some reason we don't see much of these little balls of heaven nowadays. For the same reason, we had to try these Ram ladoos served at this chaat corner / stall right next to the pan shop at the parking entrance, that goes by the name of 'Balaji Chaat'. One plate of Ram Ladoos has ten freaking ladoos served in the traditional manner, that is, topped with shredded radish and the super tangy dhaniya-pudina chutney, which makes it for the perfect appetizer snack!
Price | Rs 30 Per Plate
3. Spicy Veggie Burger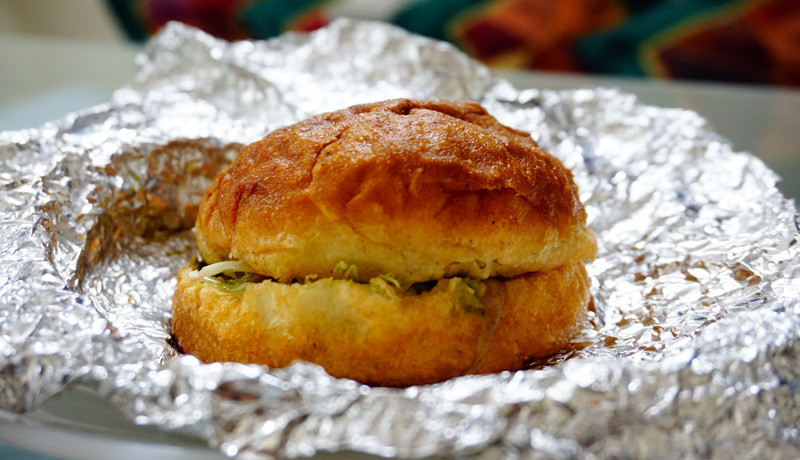 The same guy who serves the Ram Laddoos (Balaji Chaat) also makes very basic but zesty and spicy veg burgers, with some chopped tomatoes and onions heaped atop the fried patty. A word of advice though; you might want to avoid this one if you're on an oil-free diet, since it basically oozes oil. Yes. Loads. This chaat corner also has other options such as Aloo Tikkis and Gol Gappas. 
Price | Rs 20 Per Burger
4. Chicken Momos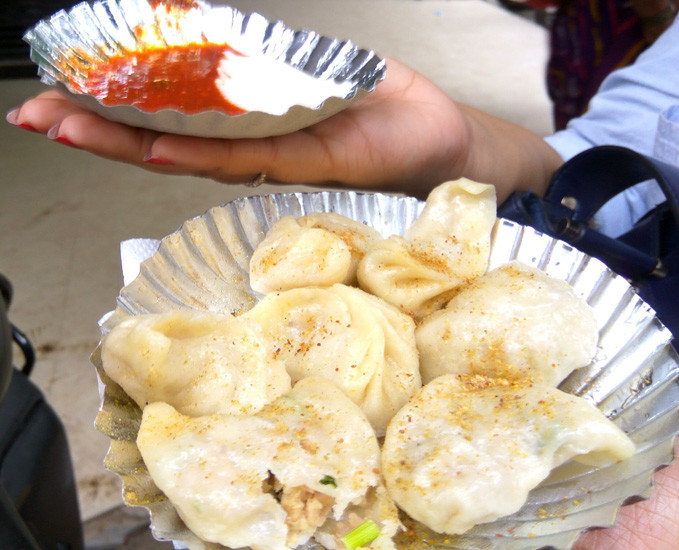 No food trail, however big or small it may be, isn't complete without a hot plate of steamed Chicken Momos. Set up in the Green Park Metro Station Market, right in front of the IndusInd Bank, we found this stall by the unusual amount of crowds it had around it compared to other joints. Naturally we headed over to find out what's so special about the momos. We're going to be honest, the dumplings were just as good as at any other place. Served with the classic red-garlic chutney and mayonnaise and chaat masala sprinkled on the dumplings, their USP definitely is the price and quantity they offer.
Price | Rs 30 For Half-Plate (8 Pieces)
5. Chicken Szechwan Chowmein
The Chicken Szechwan Noodles are served at the only Chinese van in the area, that goes by the name of Madhuvan Chinese Fast Food, right outside Axis Bank. And boy oh boy, the variety they serve will stun you! After a good five minute gazing at their menu, we finally decided to try the Szechwan Chicken Chowmein and we're glad to say it was worth it. The seasoned and fiery flavour of the noodles clicked instantly with us. And on top of that, they really load the chowmein with generous quantities of chicken, so much so, that one plate of them serves two!
Price | Rs 130 Per Plate
Some of the other things we tried and so could you, are the Chhola Kulchas, Gol Gappe, and the Chicken Kathi rolls, which were honestly almost as good, but just missed the cut. 
Meal For Two | Less than Rs 250
Market Location | Right Next to Green Park Metro Station's gate number 2, Balbir Saxena Marg