Where The Traditional Goes Futuristic: Our Verdict of The Newbie Prankster in GGN
Giving traditional dishes a futuristic (no, seriously!) and innovative twist of their own, Prankster's menu is one-of-its-kind! Being die-hard foodie gluttons and absolute suckers for innovation and cheek, we scampered over and devoured their scrumptious dishes. Read on to know our verdict of this newbie in town!
Lotus Stem Fritters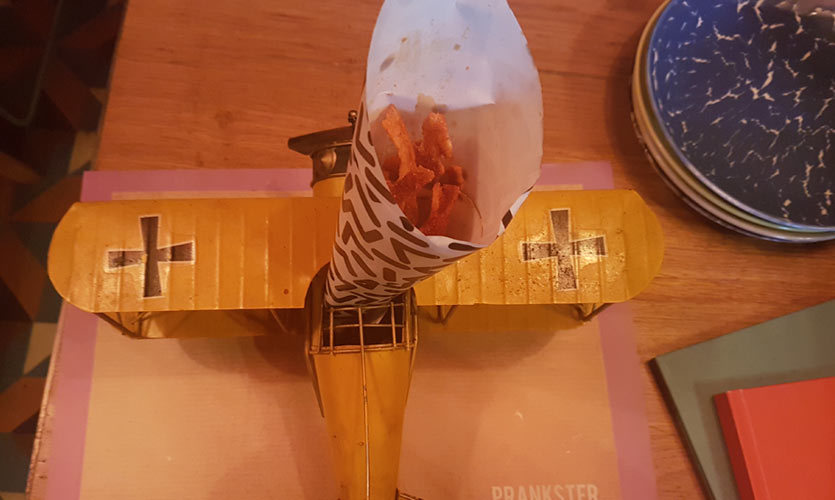 We were welcomed by their complementary snack, the Lotus Stem Fritters. The presentation and the idea of converting crunchy and delish lotus stems into something so delicious just blew us away! The fritters were crispy and laden with delectable spices. Couldn't stop munching on 'em!
Beer Waali Maggi
Being hopeless lovers of both Maggi and Beer, we ordered ourselves one of their most innovative cocktails - Beer Waali Maggi. The drink was served with raw Maggi and the glass was ringed with Maggi masala (yay!), and so our first sip was heavenly! The creative concoction of beer, vodka, tomato juice and Maggi masala won us over in a jiffy.
Prankster Punk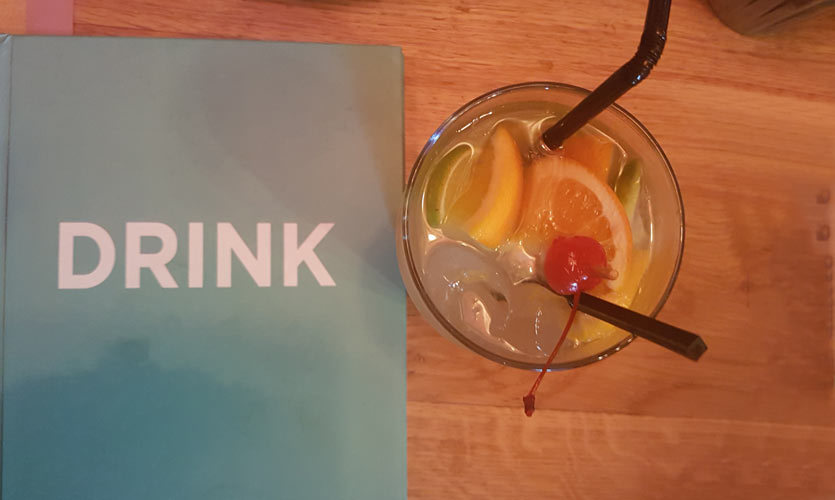 Next up was another cocktail called the Prankster Punk. The concoction comprised vodka, orange chunks, lime chunks, peach puree, lime juice and refreshing apple juice. This combination was a citrusy and refreshing one, and might turn out to be your saviour in the scorching Delhi heat!
Flat Gappa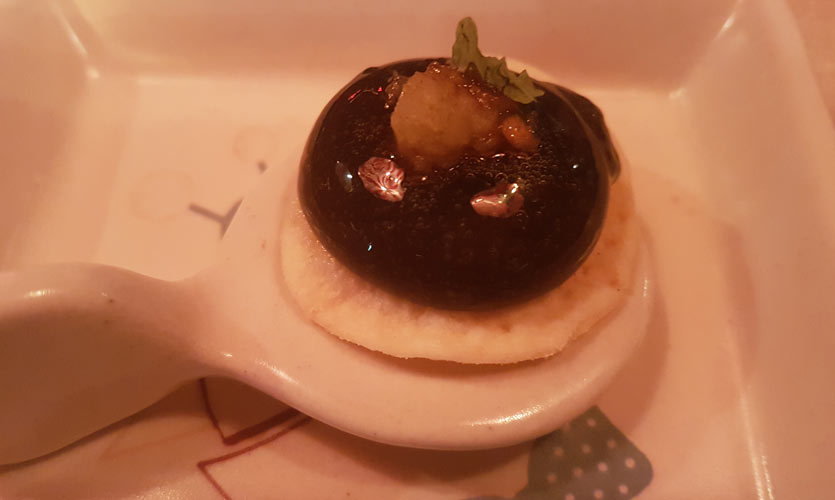 Another complementary snack we were served with was an amazing Flat Gappa (yes, really), because the traditional gol gappas are just too mainstream for Prankster! The Flat Gappa was a ball of pani puri water which was carefully placed on a crispy papad and topped with mint. The Flat Gappa bursted smoothly in our mouth and tasted even better (and defo healthier) than the traditional one!
Sago Samosa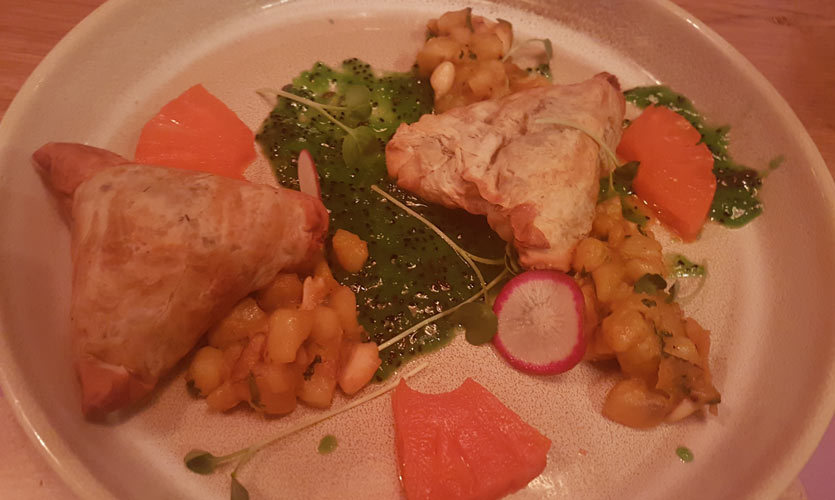 Next up was Sago Samosa. It was served beautifully with kiwi chutney and pineapple pickle. The covering for the samosa was a flaky one, like the one of a patty - to make it healthy and lighter than the usual samosas you get. The samosa was stuffed with a pungent combination of sabudana and spices, and we relished every last morsel!
Sambhar Cappuccino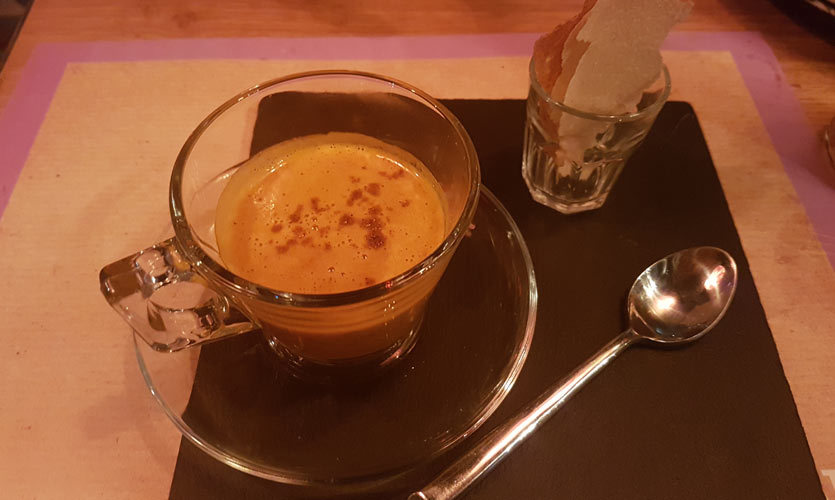 Yes, you heard that right! The newbie Prankster serves a lil something called Sambhar Cappuccino, and we'd heard a lot about it so the next order had to be this. The cappuccino wasn't runny, instead it was thick - just the way we like it! To top it all, they'd served it with Dosa biscuits and the whole concoction just stole the show for us *happy grins*.
Nitrogen Dahi Bhalla Ice Cream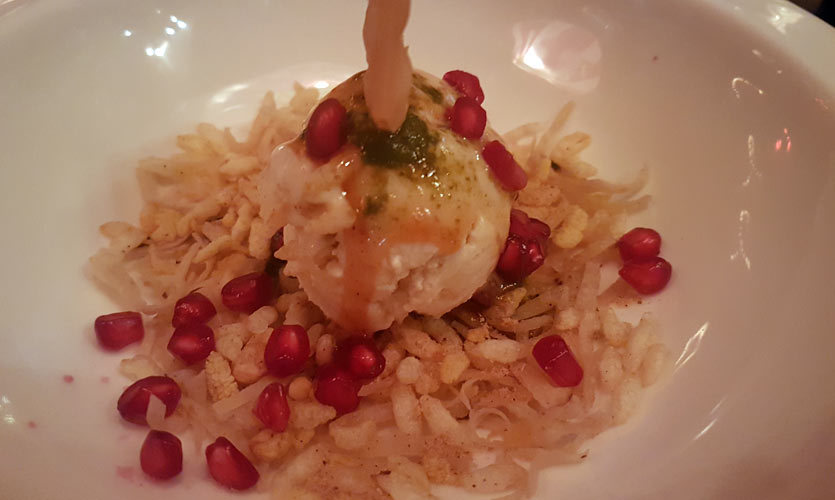 The nomenclature blew us away and so we ordered ourselves a plate of nitrogen Dahi Bhalla Ice Cream. The way Prankster has given the traditional dish, a scrumptious spin of their own. The bhalla was more like an ice cream, and yet it maintained it's sweet and sour taste. To add the crunchiness, it was sprinkled with crunchy romali rotis. Needless to say, it tickled all our culinary fantasies.
Pav Bhaji Zinker Burgers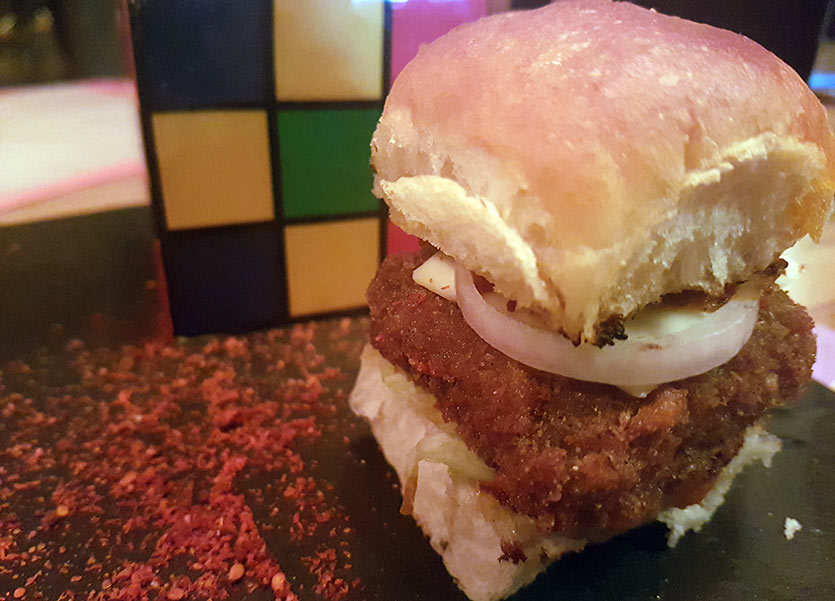 Mingling the super traditional pav bhaji and burgers, this one was another deadly combination that Prankster has come up with. The tikki of the burgers was filled with scrumptious bhaji, and tucked in between their in-house bakery's bun. The burgers were soft, the tikki was crispy from outside and soft from within. All in all, very good and very cool!
T.T. Lamb Chops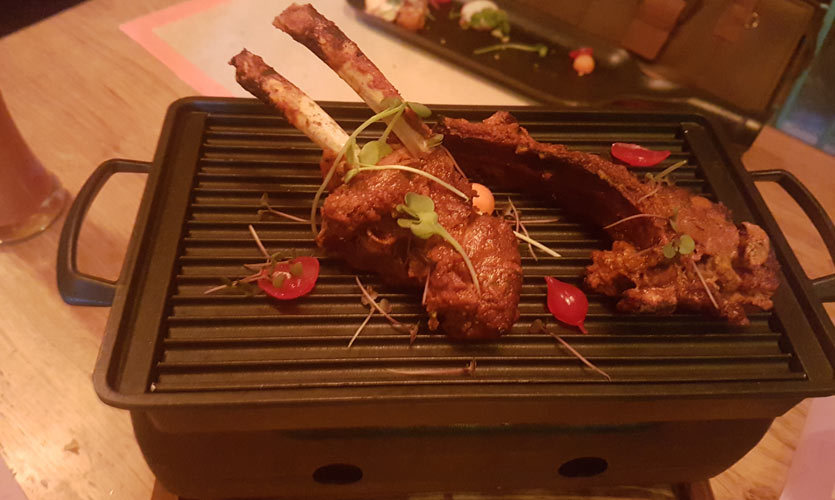 Our next order was T.T. Lamb Chops, where T.T. stands for Tender and Tandoori (lol). With the bone sticking out of these chops, we must say that it was easier to eat these ones as compared to the regular ones you get. On the very first nibble, we could taste how tender the lamb really was. With every single bite teeming with smoky tandoori flavour, the chops bowled us over and we happily stuffed our faces!
Imly Glazed Chicken Kung Pao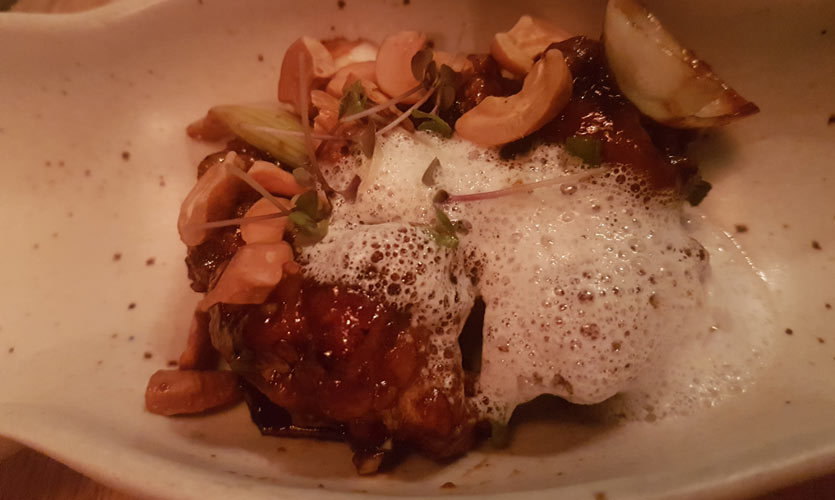 When basic kung paos started to seem too basic, Prankster sneaked in and turned it around! The Imly Glazed Kung Pao was an Indian take on the traditional Kung Pao. Served with two chewy imly balls and loads of peanuts, this one left us craving for more. Go try!
Egyptian Pizza, Fittar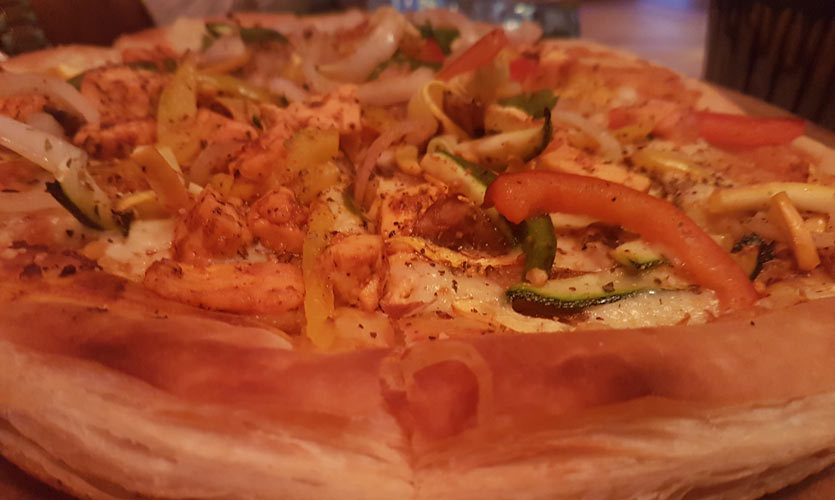 Okay we've had Italian pizzas, desi pizzas and even Punjabi pizzas. But Egyptian pizzas? We had to try this! Our pizza had generous toppings of paneer tikka, avocado and the like. The crust of this pizza was rather a flaky one as compared to the usual crusts, which we really liked as it made the pizza lighter. A big thumbs up for this one!
Chocolate Jingle Pudding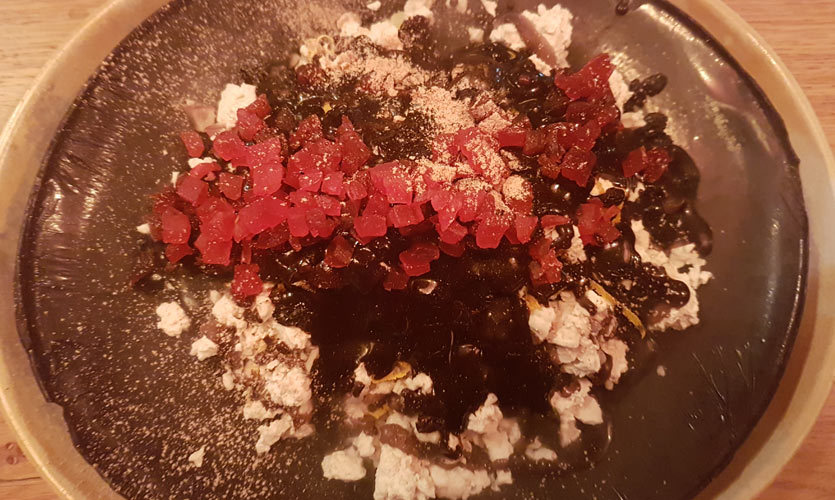 No meal is complete without having a real dessert, and so to wind it up, we ordered a Chocolate Jingle Pudding for ourselves. The sweet dish was made live in front of us and it was indeed a sight to behold! The plate was made of chocolate, and was topped with a gazillion toppings like brownie bits, berries, Nitrogen-cooked cinnamon syrup and more. Each bite of this was a burst of myriad flavours. Absolutely delightful!
Litchi Tikka
Enticed by the name, we ordered ourselves their Litchi Tikka. The litchi was a little brown, and stuffed with khoya and other dry fruits. It was served with pistachio shavings, which took the tikka game to a whole new level. Kudos to them for such a novel, funky dish!
Hitting another dimension of the culinary world through their innovative and scrumptious delicacies, Prankster is one crazy place. Miss out at your own risk!
Meal For Two | Rs 1,500
Location | Sector 29, Gurgaon