We've Mapped Out 7 Best Places That Do Delicious & Easy-To-Munch Waffles On Sticks!
Picture Credits: bravotv.com
Our sweet tooth cravings only get more intense during the winters and nothing could be more satisfying than a delicious plate of hot waffles. But wait, what if we tell you that your beloved waffles come on top of easy-to-carry sticks?! These crispy, gooey waffle sticks are so much fun to eat and they taste just as good as your regular waffles, if not better. So we went and mapped out 7 perf joints that dish up yummy waffles on sticks!
1. The Waffle Baker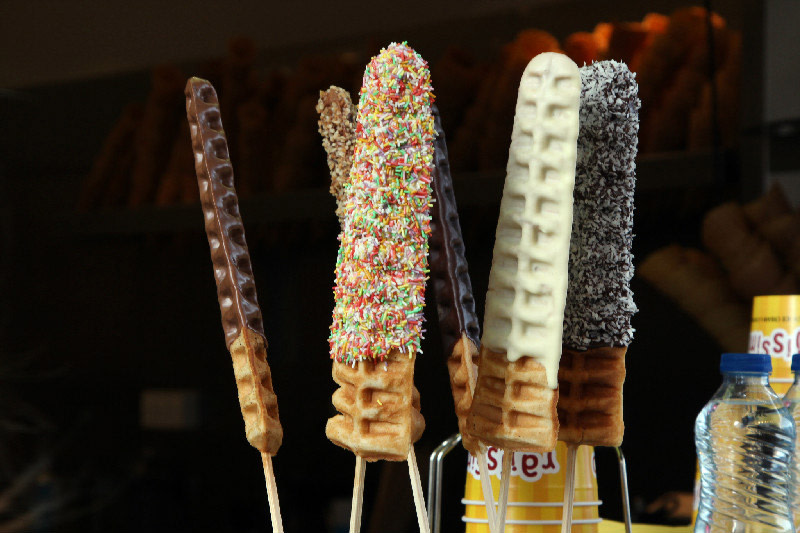 It's a small joint, hidden away in the lanes of GTB Nagar but as soon as you enter, you know you're going to be getting something GOOD! They have a wide variety on the menu and the best part is that you can customize ALL of your orders. Coming to waffle sticks, we absolutely love their Pink Spunky and Mint-o-Choc Waffle Sticks. They're freshly made, very filling and absolutely scrumptious. Come on by for your share!
Where | 2507, Hudson Lane, GTB Nagar
Check Out Their FB Page | https://www.facebook.com/The-waffle-baker-127938374497447
2. Movenpick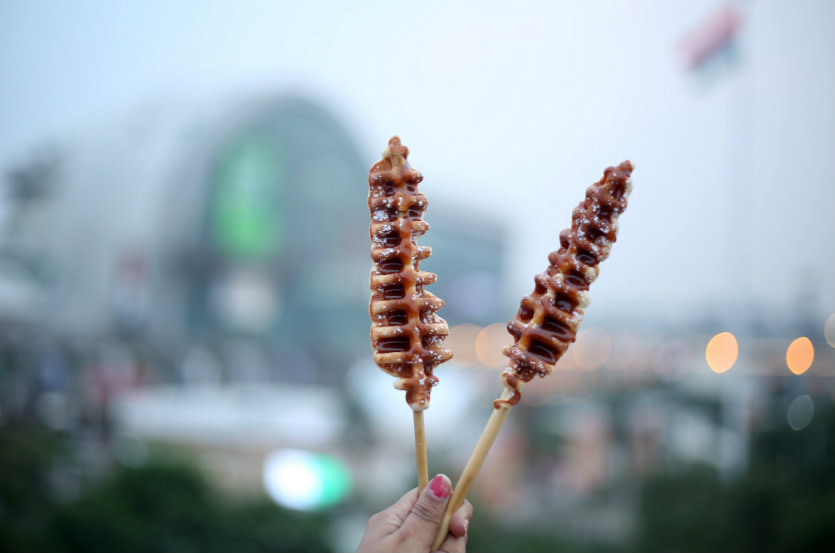 This dessert cafe is ideal for grabbing a quick bite and some coffee for an on-the-go pick-me-up! They serve a variety of ice creams and their flavours are far from the usual ones you'd get anywhere else. As for waffle sticks, theirs come in three variants, Caramel, White Chocolate and Berry with a generous amount of toppings to go with them and we can't wait to go devour these yummies!
Price | Rs 175 Onwards
Where |  M-7, East Block Road, GK II
Check Out Their FB Page | https://www.facebook.com/moevenpickicecream.in/
3. The Feast House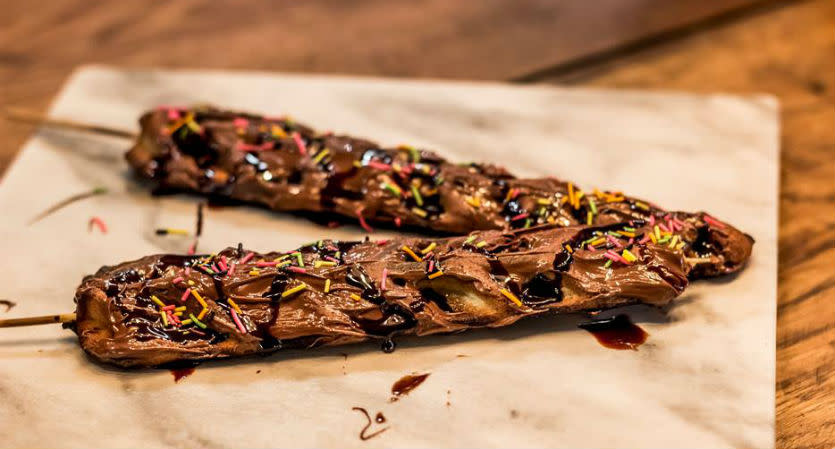 We're so excited to discover this place and even more eager to share it with you! The Feast House is a multi-cuisine restaurant in Karol Bagh and they have a brilliant array of desserts. Their waffle sticks come in two variants, the Classic Waffle Sticks with maple syrup and the other is their Nutella and Dark Chocolate kind, the dark chocolate neutralizing the sweetness of Nutella just right, with a hint of richness. It's also super easy to reach, located just outside Karol Bagh Metro Station so go grab yours!
Price | Rs 140 Onwards
Where | 1-B Pusa Road, Karol Bagh, Near Karol Bagh Metro Station
Check Out Their FB Page | https://www.facebook.com/TheFeastHouseCafe/
4. Waffle Chowk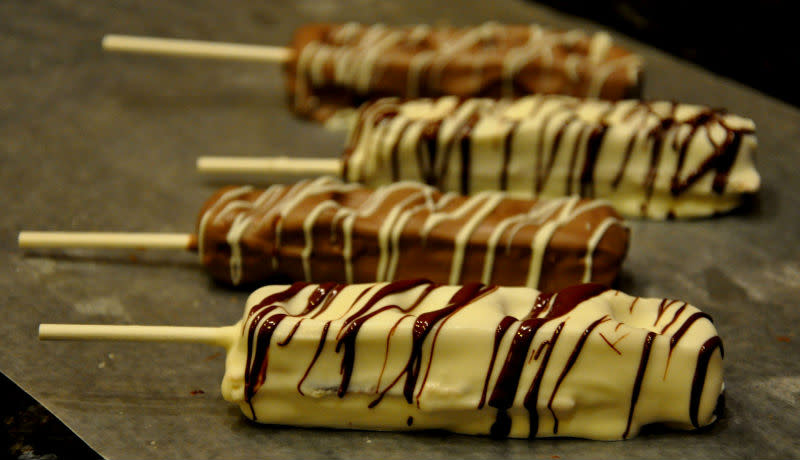 Picture Credits: Source
This Is A Representative Image
Their waffle sticks have the definite potential to become an obsession for us, THAT's how good they are. They come in two variants, dipped in white chocolate and milk chocolate (yum!). But that isn't all, because they coat it with a generous layer of sugar and nuts, making it oh so crunchy and nutty! Get some hot chocolate to go along with this and you're all set for a cozy winter day, or night, because they stay open till 12:30 AM!
Price | Rs 150
Where | Punjabi Bagh, Sector 28, Noida & Sector 29, Gurgaon
Check Out Their FB Page | https://www.facebook.com/wafflechowkpunjabibagh/
5. Wheelys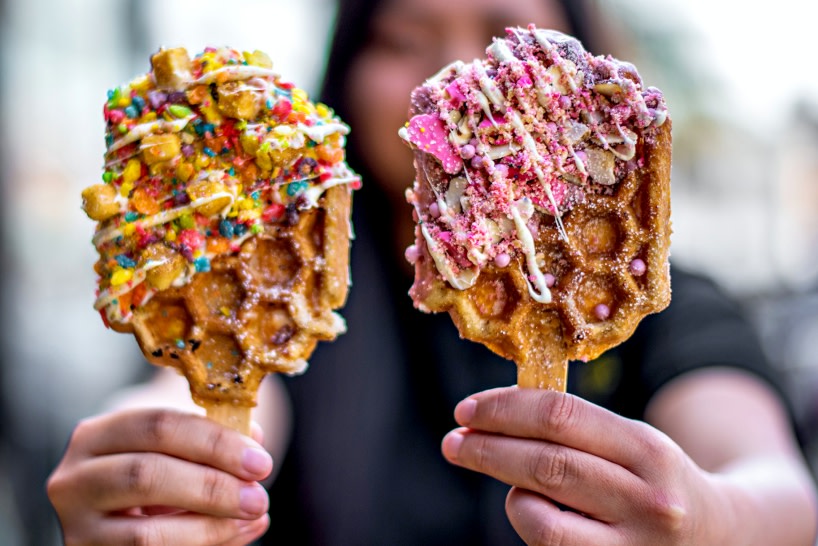 Picture Credits: bravotv.com
Wheelys has long been our favourite for waffles and they recently introduced waffles on sticks. Their special variant is known as Waffle Pops *so cute!* and these hot and buttery pop sticks are served covered in chocolate and sprinkles. Their gooey, sweet recipe is irresistible and we pretty much can't stop at just one *heart eyes*!
Price | Rs 120 Onwards
Where | DLF Mall Of India, Sector 18, Noida
Check Out Their FB Page | https://www.facebook.com/Wheelysin/
6. Doner Grill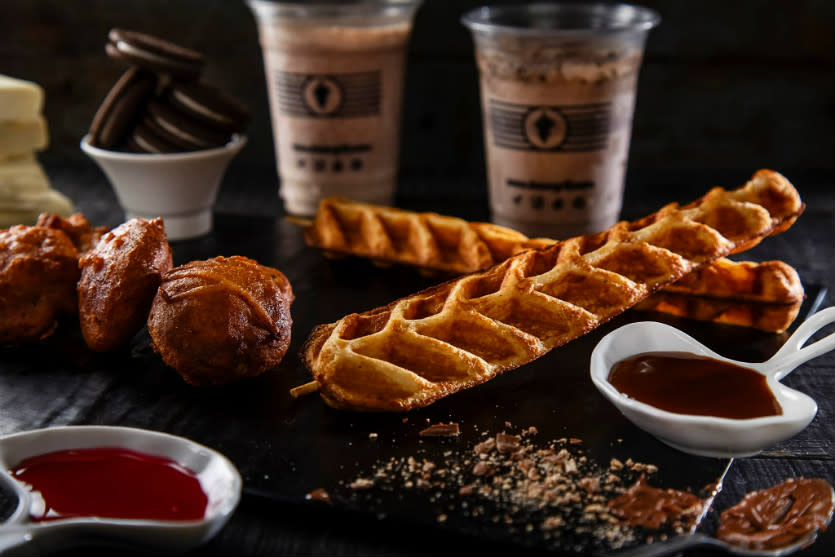 Doner Grill specializes in Turkish cuisine and even though they are pretty amazing at savoury wraps and other sundry dishes, it's their waffle sticks that makes us visit them all the time. You can choose any two toppings to go along with your stick, from white chocolate, milk chocolate, peanut butter, caramel, Nutella, dark chocolate, blueberry syrup and various others, so get in there now!
Price | Rs 300
Where | GK I, Punjabi Bagh & Chattarpur
Check Out Their FB Page | https://www.facebook.com/D%C3%B6ner-Grill-1528995527110730/
7. Hashtag Waffles
Picture Credits: minimeltsevents
This Is A Representative Image
They have a beautiful outdoor seating space and this quaint little cafe is ever fragrant with the smell of chocolate and waffles, making us come drifting right here again and again. You can get them in the Classic Buttery flavour or Chocolate or Nutella and the best part is that they're super affordable! 
Price | Rs 69 Onwards
Where | Indirapuram, IP Extension, Krishna Nagar & Other Outlets
Check Out Their FB Page | https://www.facebook.com/loveforwaffle/
On sticks, on plates, with all kinds of toppings, our love for waffles only grows stronger each day and we'll make sure yours does too!