Disclaimer: Bearing in mind the current health crisis befalling the city and the world at large, we're tweaking our content policy and recommendations. Stay positive, keep hygiene levels up and don't fall prey to panic and misinformation.
The Red Fort or Lal Qila is synonymous with Delhi. It is an unmistakable behemoth that dominates the skyline of Old Delhi and is a national symbol and hence a must-see destination for everyone visiting Delhi. This is why it is extremely difficult to imagine a structure inside this extremely well known and meticulously maintained complex to be as deserted and neglected as the Lal Qila Baoli. The map of the Red Fort compound installed at the entrance declares it boldly but the lack of an information board in front of the baoli itself tells a different tale.  
Baolis or step wells are a common sight in Delhi. Many of them are now in a dilapidated state and the Lal Qila Baoli is one of them. What is interesting here is that this baoli apparently predates the Red Fort itself. It is believed to have been built during the Lodhi era, sometime in the 14th century. The Lal Qila and assorted buildings came up only in the 17th century. This generation gap is probably the reason why it is detached from the razzle dazzle of the rest of the Fort complex bustling with tourists and shoppers.
A Unique Design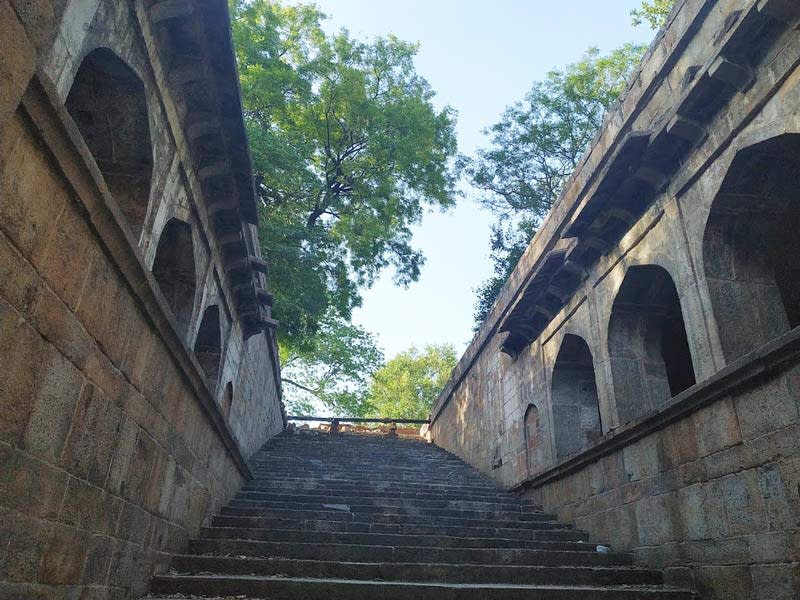 Picture Credits: Deepak Verma
The Baoli is distinctive because of its unique design. The main well is somewhat of an octagonal shape with multiple stories and two flights of stairs. There is still water there but it looks dark and decrepit considering ages of stagnation and lack of usage. 
When the Red Fort was eventually built, Emperor Shah Jahan reportedly repaired the baoli according to his preferences and needs. According to some speculations, the upper chambers were even used as prisons during the later centuries. 
After Independence, the baoli kept changing hands and eventually was given to the Archaeological Survey of India (ASI). But even after that its fortunes did not really improve and it was mostly used as a dumping ground. Still, it survives and is worth a visit in case you are interested in architecture and engineering of the pre-Mughal era.
Reaching The Lal Qila Baoli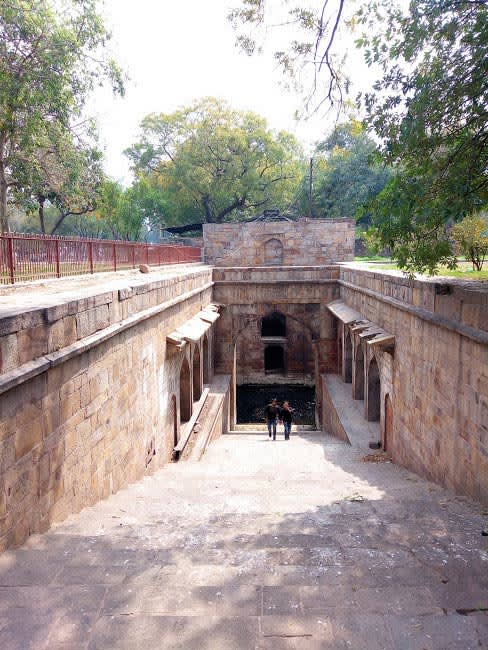 Picture Credits: Kai Chongloi
It is easy to reach the Lal Qila Baoli simply because it's within the Red Fort Complex that everyone is familiar with. Once you enter the main compound through the Lahori Gate and cross the busy shops of the Chatta Chowk, you have to take a left turn. 
The first major building you will come across here is the Swatantrata Senani Museum (Freedom Fighters' Museum). You have to keep moving in the same direction to locate the office of the Central Industrial Security Force (CISF) and on the opposite side of that lies the baoli. 

Where | Lal Qila Baoli - Lal Qila, Chandni Chowk