Enter the upbeat, sprawling Epicuria in Nehru Place and you're surrounded on all sides by pretty, swanky joints which make it difficult to choose a place to eat at. After much debate, we leisurely made our way to the little corner that is Dimcha, & upon entering we were immediately acquainted with a charming nest full of cute wooden tables, little pots festooned with sprigs of fresh flowers, low-hanging white-cloth swathed bulging lanterns, and the gorgeous theme of baby-blue-on-white all around!
The peppy service and upbeat vibe simply added more joy of the prospect of being fed gourmet Pan-Asian at its best! Hold on tight as we take you on a thoroughly scintillating gastronomic journey!
Kiwi Mint Cooler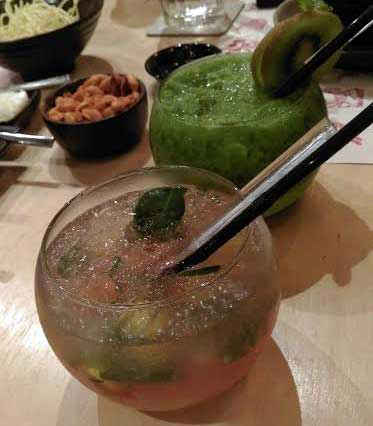 We were regaled with some of Dimcha's awesome mocktails, including their much-loved Kiwi Mint Cooler, which was peculiarly pungent, totally frosty and so thoroughly refreshing that we were left reeling! Super-yummy, this one simply begs to be tried y'all.
Prawn Khao Suey (Non-Veg)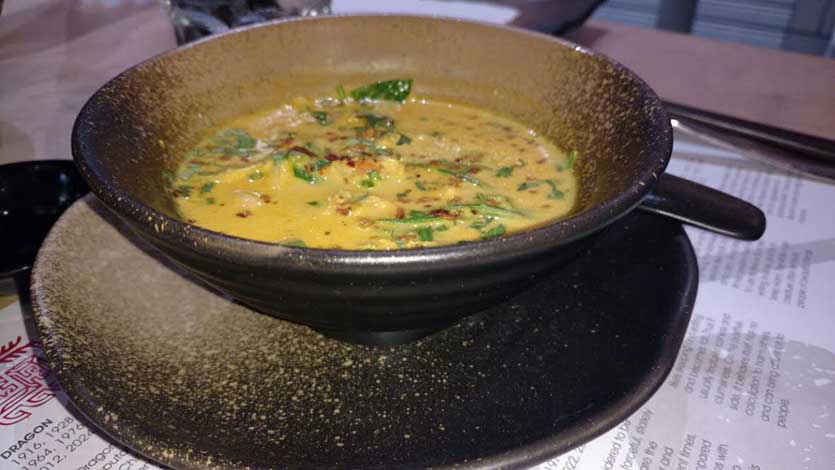 A complete meal in itself, and one of our favorites, their Prawn Khao Suey was a bowl full of coconut-y delight! Brimming with chopped-up, crunchy veggies, noodles and the flavorful sauce that was composed of lots of coriander, shallots, liberal helpings of ginger and lots of Thai spices, we relished every last prawn-meat heaped spoonful!
Spicy Prawn Dimsums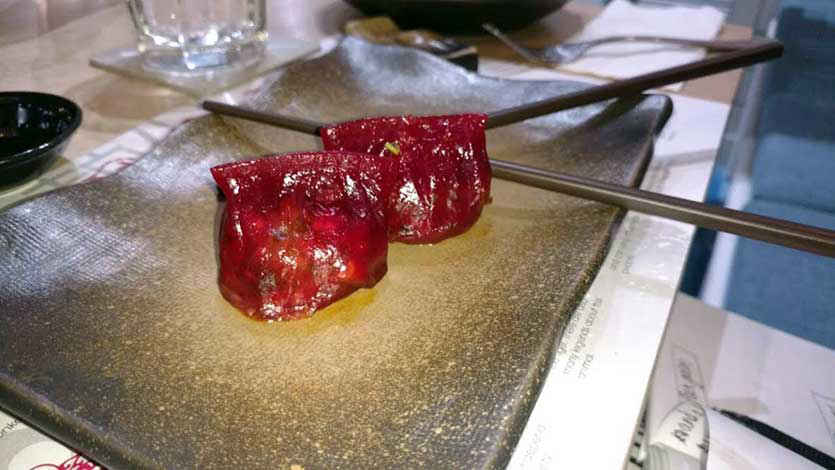 Coming to their truly spectacular offerings, we were then presented with an array of delicious, steaming dimsums. Their Spicy Prawn Dimsums were scrumptiously spicy and flavorful, and were covered with sheet-thin beetroot skin holding within perfect hunks of prawn meat, tossed with lots of red chili flakes to add that zing. Definitely try this one if you're a bonafide spicy food lover!
Prawns & Onion Dumplings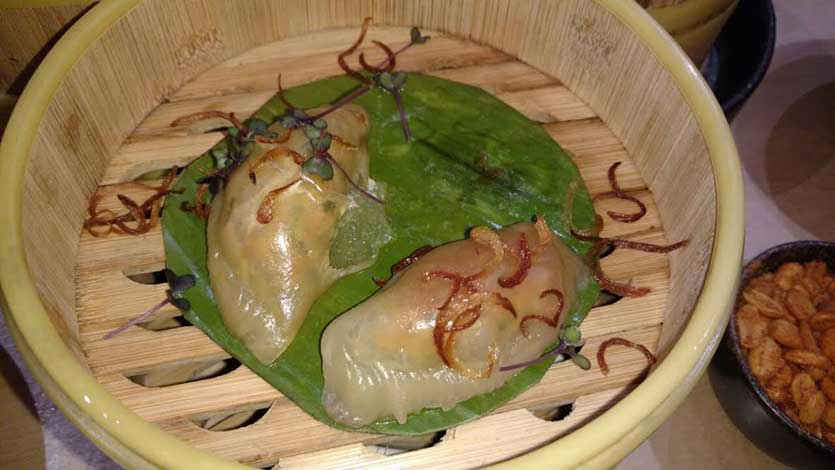 With a truly magnificent presentation, our steaming hot Prawns & Onion Dumplings arrived. Mouthwateringly tasty, the subtle flavors of freshly minced shrimp meat and fried onions warred with each other to form a perfect medley in our hungry mouths! Yummy and exceedingly unique is how we'd sum up this one.
Kaffir Lime Cooler
A light, zesty concoction suffused with heaps of crushed Kaffir lime leaves, freshly-cut lemon chunks and a little sweet n' sour syrup, all doused with bits of ginger with heaps of sparkling water poured over - this drink is basically #SummerCoolingGoals! We loved it till the very last sip.
Kenya Bean Dumpling (Veg)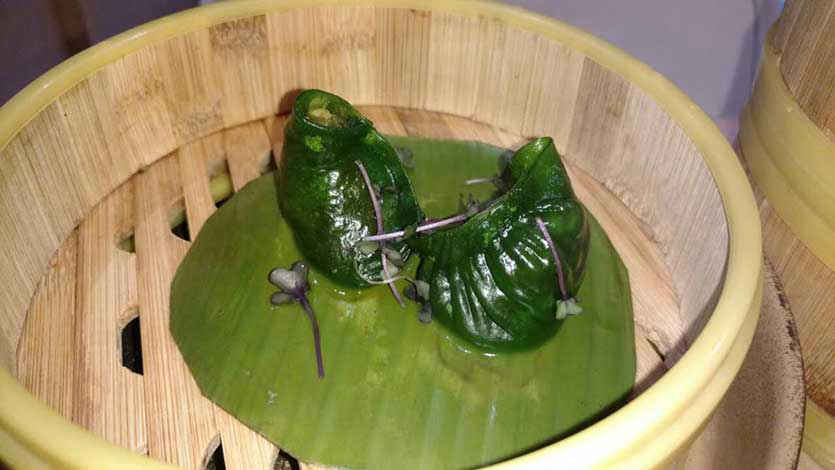 Oozing juicy yumminess, their Kenya Bean Dumplings were a riot of finely chopped French beans, liberally sprinkled with tons of chili to make each morsel an experience in itself! We say it again, all those of you who simply swear by zesty, spicy food - simply park yourselves here at Dimcha and have their Kenya Bean Dumplings. Don't worry, you can thank us later!
Black Pepper Duck Dumplings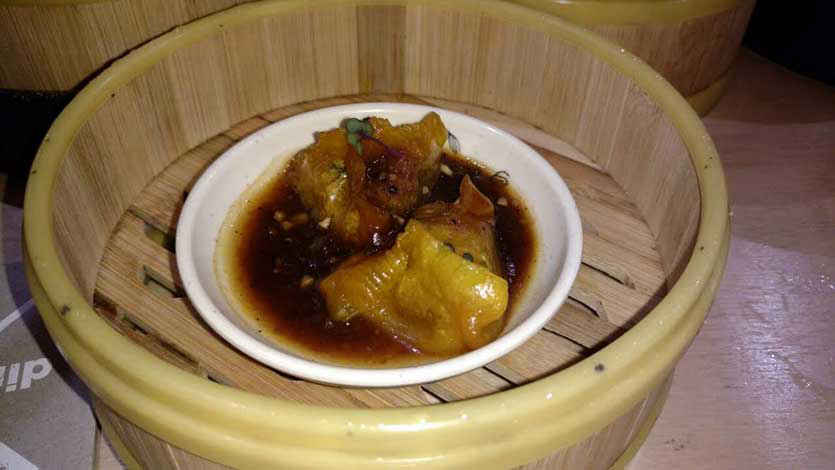 Super-succulent, substantial braised duck meat was covered with a delicate, thin covering and was absolutely smothered with Dimcha's patent black-pepper sauce. We kept munching and scooping up more and more of their divine sauce and couldn't stop ourselves from savoring the taste of this one.
Green-Chilli Lamb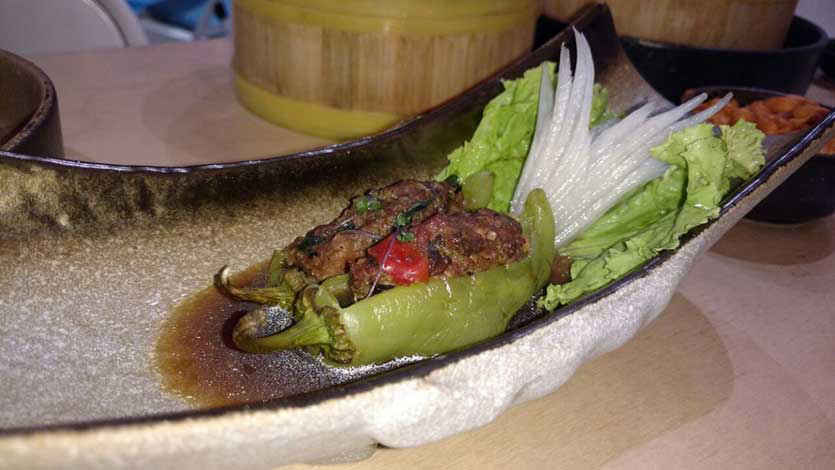 The perfectly minced lamb laced with black beans, burned garlic with splashes of soy ginger sauce stirred in was then neatly stuffed into hollowed-out, fat green chillies; then the entire concoction was steamed and voila - a masterpiece was born! With a subtle, meaty essence along with the flavor of spicy green chillies poking in, this dish is an example gourmet food at its best!
Diced Chicken in Black Bean Sauce
Delicately fried and drowning in the tastiest black bean sauce we've had in a while, their Diced Chicken was, in a word - superlative! Made up of lots of green chillies, bell peppers, spring onions and the much-loved and most-ordered black bean sauce, you might want to order more than one helping of this yummy dish.
Chocolate Mud Cake with Coconut Ice Cream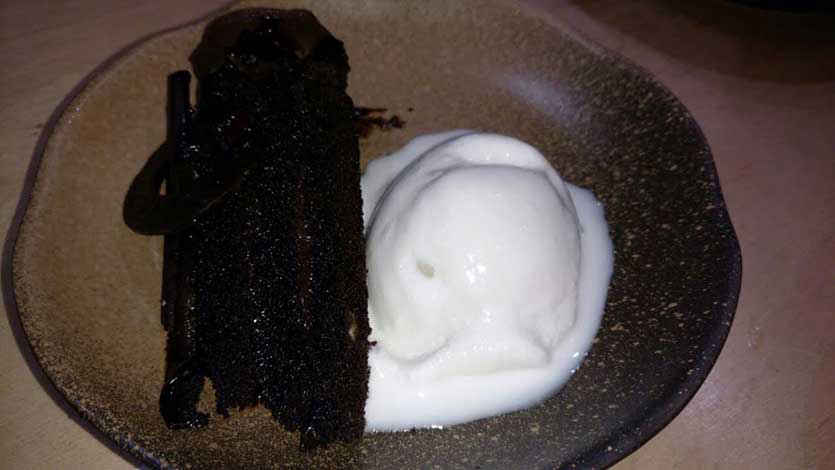 We wrapped up our fabulous lunch date at Dimcha with a thick slice of their sinful Chocolate Mud Cake and a big scoop of their Coconut Ice Cream. The addictive and overpowering taste of the ice cream coupled with the chocolaty, gooey goodness of the cake simply made our day! 
So with happy, satisfied taste buds and full tummies, we wholeheartedly recommend the airy, bright Dimcha for the next lunch date with your BFF. We are sure you're going to love it!
Meal For Two | Rs 1,750
Location | Epicuria, Nehru Place Metro Station, Nehru Place