We'll say straight off that this one was truly a Sunday brunch with a spectacular view! Here we are, introducing the intricately renovated Ottimo at West View at the ITC Maurya. As soon as you walk into the restaurant, it gives you the feel of an old-time colonial dining room with polished stone walls, wrought iron chandeliers, stacked books and wall plates all around you making you comfortable & cozy. Just a few steps outside take you to a contrasting modern, trendy rooftop which has the best view in town, with Delhi sprawled out beneath you!
Moving on to our culinary brunch fest, the food was truly European and the spread was lavish with fresh portions coming out of the live, open kitchen.
Burrata Bar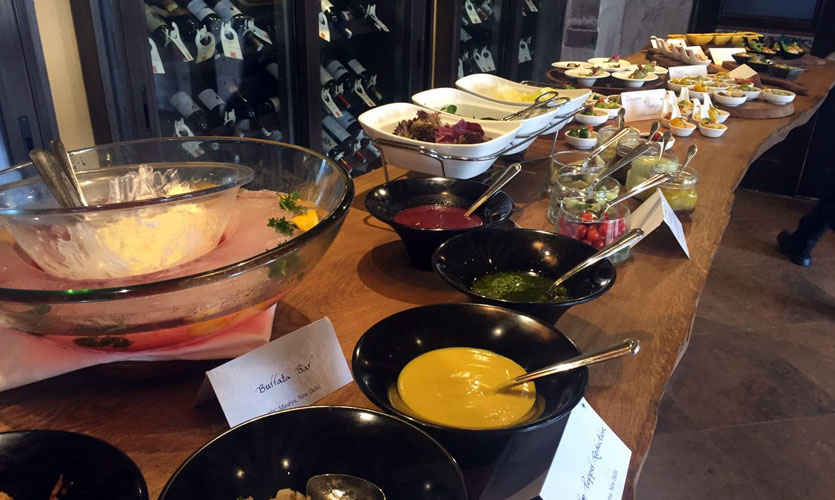 After scanning the layout we started off with their Burrata Bar that had a nice range of seafood, cold cut meats & vegetables all spread out, along with truly unique dips and sauces just waiting for us to pounce on them! Of the Burrata Bar, our special pick would be their Poached Prawns, chili-stuffed olives & veggies with bell pepper reduction.
Saffron Crepes Stuffed With Spinach & Ricotta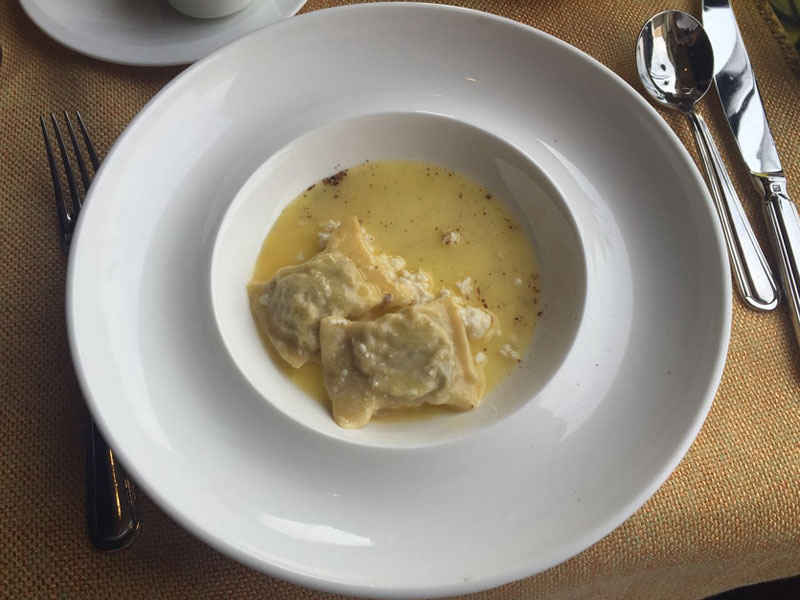 After we finished our starters, Italian Master Chef Vittorio Greco came to the table to introduce himself and suggested we try their Saffron Crepes stuffed with spinach and ricotta, served with spicy onion relish which was truly magnificent in flavor and presentation (living up to his Michelin-star level of expertise)!
Hand-Tossed Pepperoni Pizza
To complement our ongoing love affair with their lovely spread, we ordered their hand tossed Pepperoni Pizza freshly baked in their newly-installed stone oven which was good, but could have done with some added flavor! 
Leg of Lamb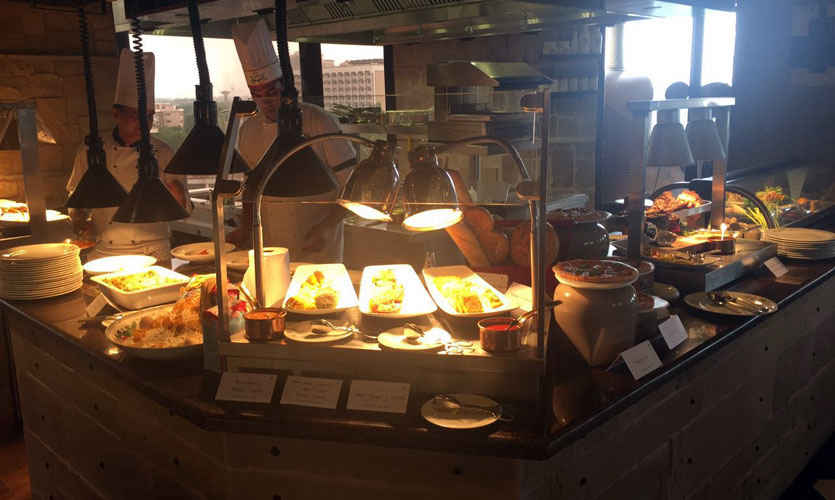 To all the meat eaters we would highly recommend their Leg of Lamb marinated in herbs which was flavorsome and tender! Fun fact - the chef has installed a herb garden on the terrace, and uses the fresh herbs in all his preparations! We also tried their Pork Sausages, which were juicy, spicy and supremely tasty. Also, their Barbeque Chicken Thigh lived up to our expectations.
Vanilla Gelato & Chocolate Cake
After such a heavy, delicious meal, we only had the capacity to try their Nitrogen-infused Vanilla Gelato and a slice of their Chocolate Cake which was good, but we felt as a whole, their desert counter lacked a variety of options.
All in all, we would happily recommend this place for a true-blue, Italian-style brunch!
Location | ITC Maurya, Chanakya Puri
Brunch Cost Per Head | Rs 3,250 (without alcohol) & Rs 3,750 (with alcohol)