We Tried Some Comforting Dishes From The All New Winter Menu At Cafe 5H In SPJ - Read On!
"What do these models and designers eat?!" a thought entered our mind with every exquisite and shiny dress we passed, displayed at all the splendid boutiques in the fashion hub of Shahpur Jat. Our question was answered at this comfy café, going by the name of Café 5H, famous for its healthy food and drinks which was serving an all-new winter menu!
The café derives its name from its address in the lanes of Shahpur Jat. It's a small homely and snug place justifying the essence of a café in the best possible manner. As we enter we have two tables laid out with a capacity of four on each of them. Just adjacent to these, couches are laid out to regale larger groups. One can easily snuggle on these couches and enjoy the delicacies offered by the café.
We loved the blue-white theme of the place, giving a soothing environment to relax in. The most interesting feature was, to match the spirit of the place, they have installed a unique set of tables. These are basically glass topped working bottoms of sewing machines. We loved to fiddle and play with them all the time. (Woohoo!)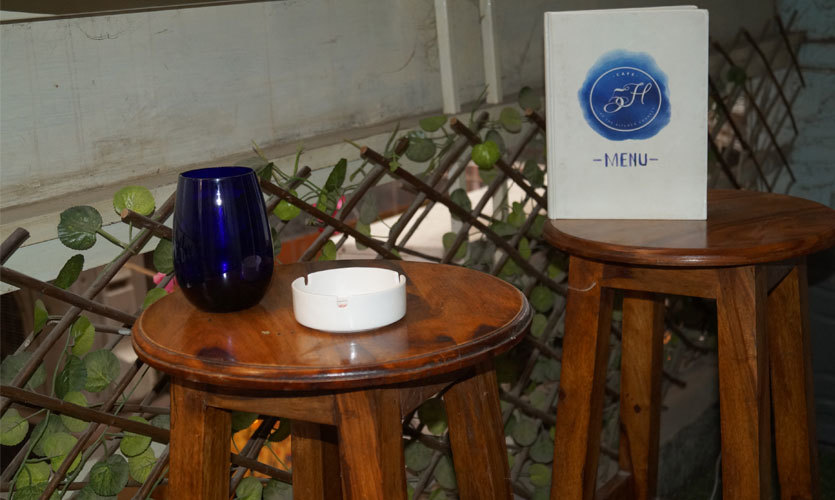 There was a real nip in the air and that led us to try out their recently launched winter menu. The thing that makes this café stands apart is the consistent changes it brings about in the décor as well as in the food items. The café boasts about having a diverse menu catering to the needs of all genres of people and by looking at the menu we had no second thoughts on that. The following items made our winter evening spectacular.
We gave our order and while we were waiting in anticipation of what was there in store for us, we were presented with chocolate cookies. Small sized blend of sheer happiness is what we would like to call them. The sugar content, the bitterness of dark chocolate, the vanilla essence and the other ingredients that went into making them were in total sync. They just set the bar too high with respect to chocolate cookies.
Carrot And Orange Soup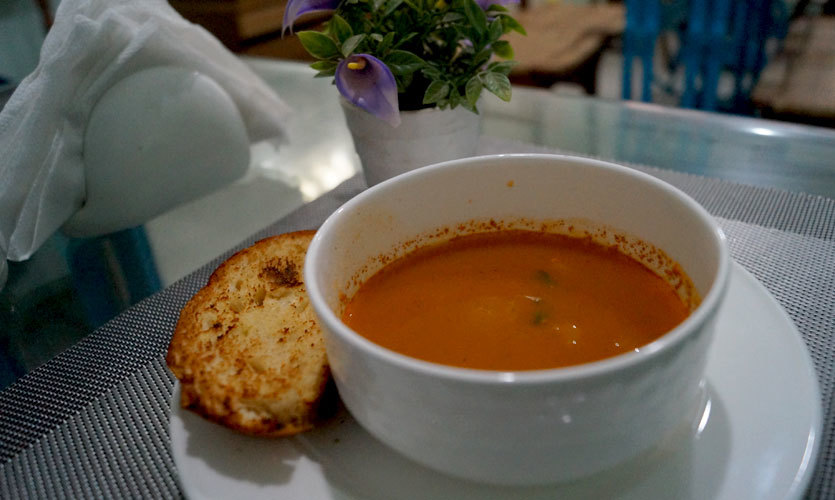 This was a very quirky combination yet satisfying to the core! The distinctive part of the dish was that not even a single drop of orange juice was used is making this soup. The normal carrot soup is stirred with orange pulp and the soup gets its flavour from the continuous stirring of the carrot soup with chunks of oranges - one can actually see the pulp floating in the soup. The soup tasted of a perfect blend of carrots and all the spices coupled with the sweetness of the oranges.
Chicken Garlic Bread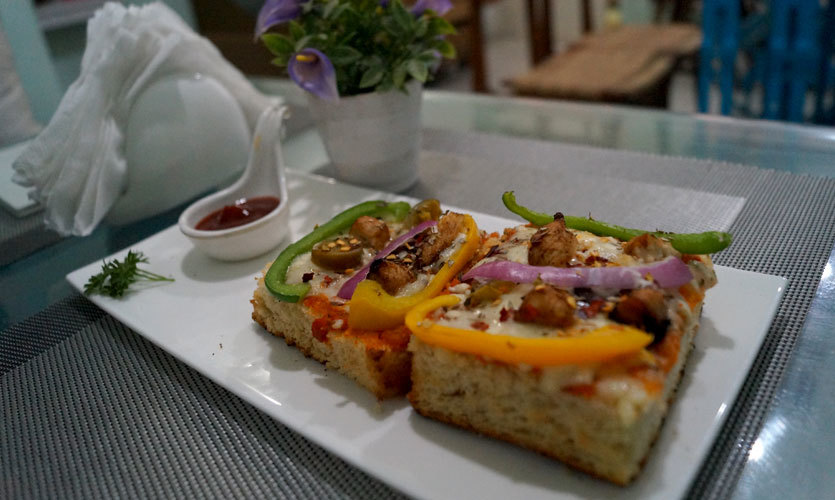 This place just kept on surprising us on every front. This dish amazed us on two fronts. The bread was freshly made and the generous toppings impressed us immensely. The focaccia bread was layered with a "special" sauce which was then covered with chicken pieces, yellow bell peppers, capsicums, jalapenos, black olives and abundant amounts of cheese (wow!). A bang on dish, this is a must try item from their winter menu.
Thukpa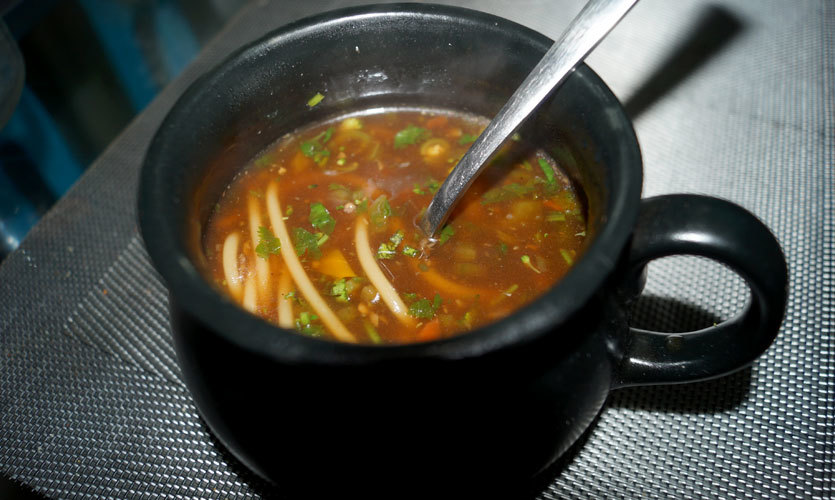 A popular Tibetan noodle soup in Ladakh with multiple varieties of veggies in it, the chef surely came equipped with a special set of skills to pull off such a dish with expertise. The one served at Café 5H had minced broccoli, carrots, coriander (not everybody uses that), corns and green chilies. Generally basic boiled noodles are added to it, but the chef used spaghetti instead. Just a caution, its one fulfilling dish so order this when going in a group!
Peri Peri Chicken With Fried Rice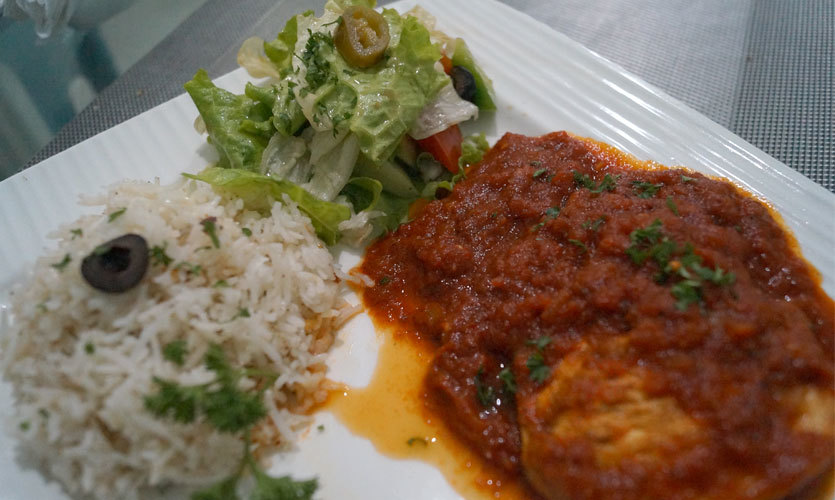 The best thing about every dish is their freshness quotient. This dish comprised of chicken breasts stirred in peri peri sauce and was served with fried rice and a good portion of salad. The chicken was tender, juicy and had absorbed the essence of the peri peri sauce. The sauce also had a certain character to it. It was not too spicy but also not too bland to go unnoticed. It's a So Delhi recommendation - do give it a try.
Spanish Churros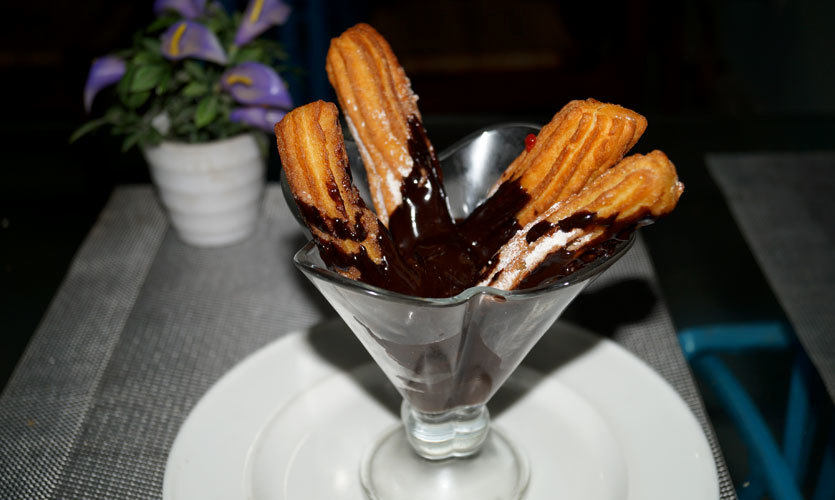 Churros is a sweet Spanish snack consisting of a strip of fried dough dusted with cinnamon. It looked super tempting and we couldn't wait to try it out. The freshly baked churros (still hot and crispy) dipped in dark chocolate was just the perfect combo. Leave calorie counting home and go try this dessert!
Citrus Winter Cake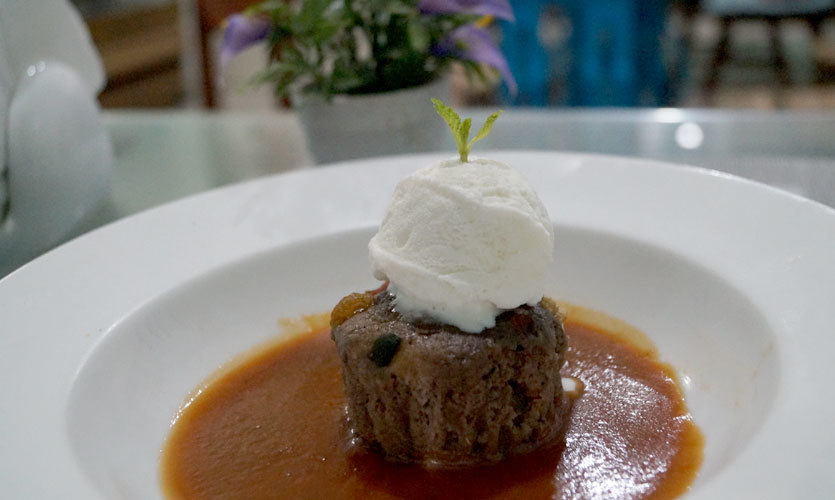 The dessert comes layered with rich, freshly made caramel and is super moist. On top of it is again a freshly made winter cake with nuts and cherries, easily spotted, topped with a single scoop of vanilla ice cream. The dessert did not look as promising from its first glance but boy were we wrong! To really enjoy this dish, one needs to take a scoop of all 3 ingredients together. It has a lasting impact, mainly due to the cold vanilla with hot cake and the caramel acting as a catalyst.
And with this, we were happily overfed with scrumptious food that's decent on the pocket and most significantly the cozy ambience of the place is what makes all the difference. Don't be surprised if you find us chilling there any time of the day!
Location | 5-H, 1st Floor, Jungi House, Shahpur Jat