We Sauntered into The Crude House Cafe in Tagore Garden For a Quick Snack And Here's How They Fared
Crude House Cafe, a quirky yet elegant cafe located in the ever-so-hyped area of Tagore Garden, offers a mesmerising and unprecedented experience whilst you sip at your favourite cold (or hot) beverages, and take a bite of the delicious treats you've been waiting for. Located right before the traffic light after the Tagore Garden Metro Station, the place is fairly easy to locate and the vibrant orange door, and the two huge hoardings will surely catch your attention.
As the name suggests, the place is crude and it does this in a very chic and unapologetic manner! The interiors are quite different from other similar restaurants and cafes in Rajouri Garden, and offer a pleasant appeal. Some of the major highlights are the pipes that run through the ceiling to provide you cool air, the big red frame on the wall that becomes a TV set at night and the amazing music played live at night. 
So here's what specifically caught our attention and gave our taste buds a fantastic time.
Fresh Lime Soda (Mix)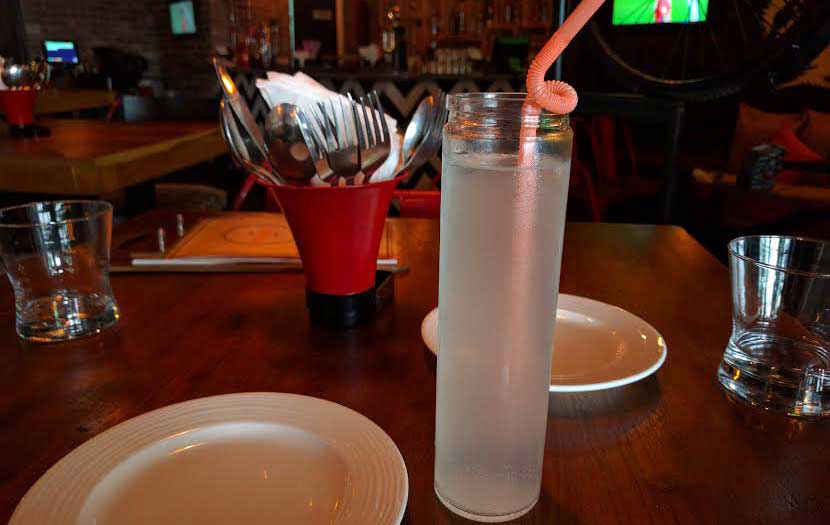 It's summers and we need to beat the heat, right? This beverage will do just that for you. With its sour and sweet taste, along with the chilled temperature, their Fresh Lime Soda will give you just the kick you need to get past the scorching heat. Served in a tall glass, the quantity is enough to quench your thirst and help you get past the exhaustion of a long day.
Ice Tea (Lime)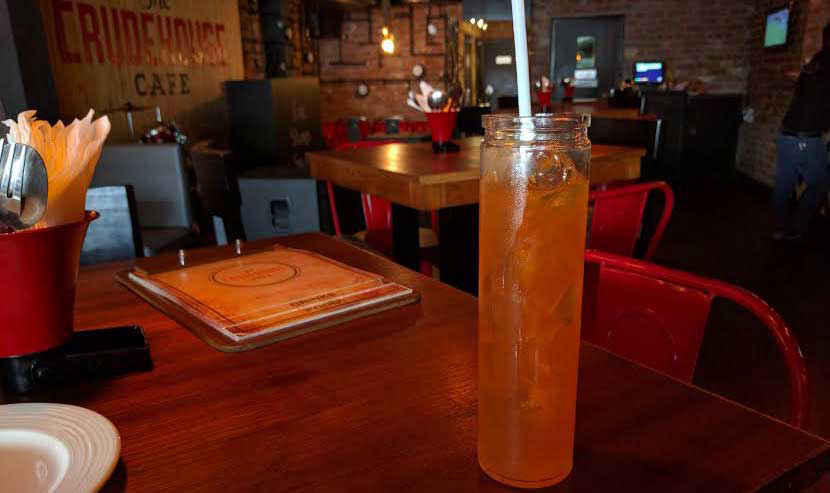 If you're a fan of the classic ice teas, then this item is an ideal beverage for you. The ice tea is unlike the ice teas served at other places, because it actually gives you the correct amount of sour and sweet taste, along with the pungent caffeinated taste of tea. Honestly, we haven't had a taste of such an awesome ice tea in a long time, and this one definitely made our experience really pleasant.
Veg Nachos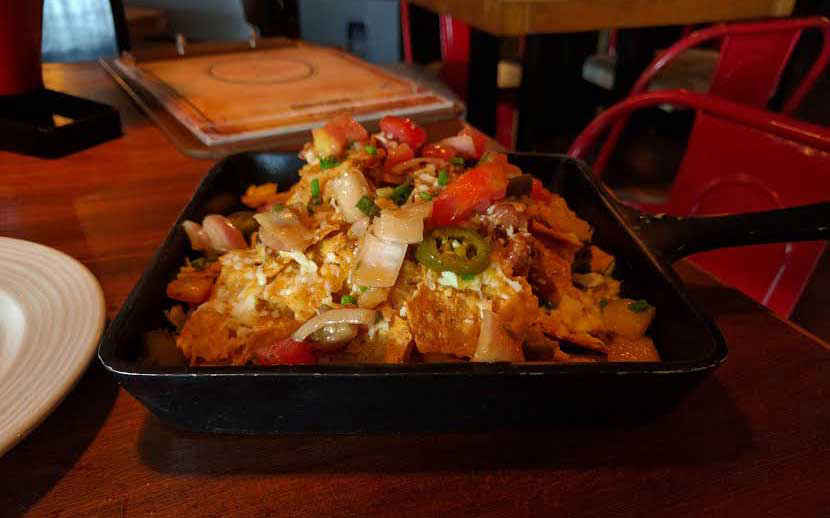 Moving on to the food items, what particularly piqued our interest were their nachos. A plate of delicious nachos is hard to be found, but Crude House Cafe achieves this in an amazing manner. The quantity is well over plenty, enough to suffice for at least 3-4 people. The nachos are crunchy, crisp and are served with a delicious combination of cheese, tomatoes, jalapenos and other veggies. The overall taste is a nice blend of sourness, cheesiness and the perfect saltiness.
Honey Chilli Potatoes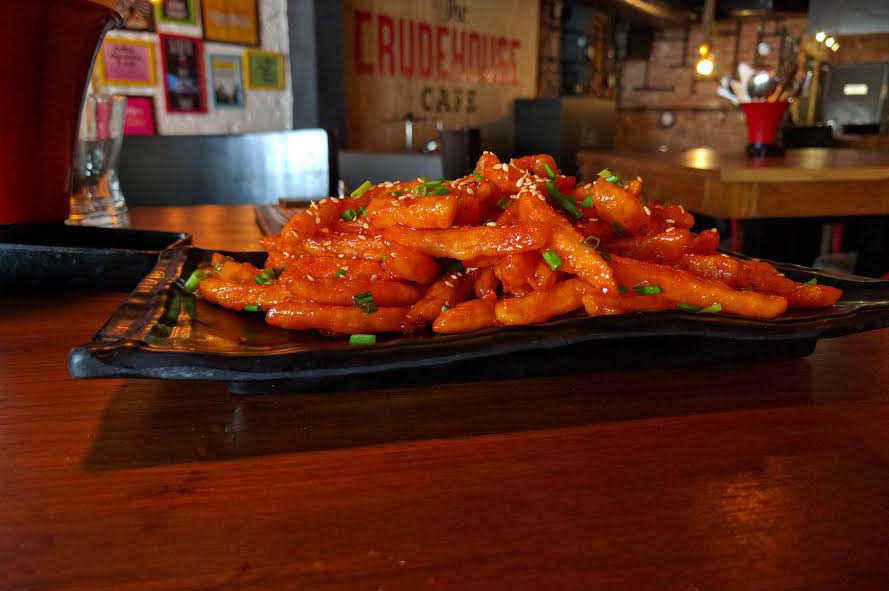 Their Honey Chilli Potatoes were abundant in terms of quantity, were crisp and every bite offered a sweet and spicy delight. The only snag we hit here was that the potatoes were a bit too sweet at times, and that seemed to overshadow the overall taste of spicy and sweet. Apart from that, the potatoes were still a delight to the taste buds and did indeed, stand up to the expectations set by Crude House Cafe.
Green Tea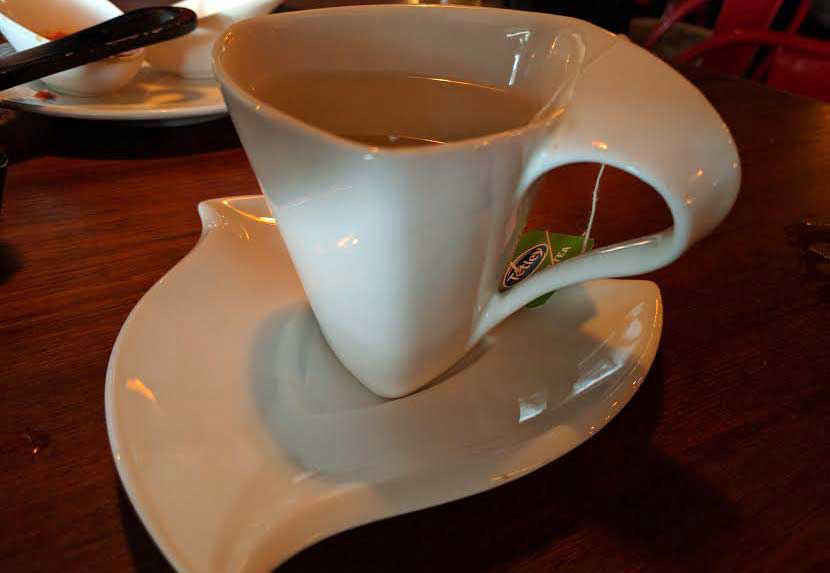 We decided to end the meal with a nice, hot cup of their Green Tea; and fair to say, we were not disappointed with our choice. The tea was served in a quirky cup (not a surprise though), and its herbal aroma was a pleasant treat to our senses. The tea had the correct amount of leaves in it, and was not too hot to burn our tongues off either. The experience was indeed refreshing and also healthy!
 
There you go, folks. These were the things that made our experience at Crude House Cafe such a delight and we assure you that you too will be glad to have a bite or two here. Head on over soon!
Meal For Two | Rs 900
Location | DE-83, Najafgarh Road, Block DE, Tagore Garden