The Sector 14 market is one of the oldest markets in Gurgaon. It's been here since ages, and acts as a hub to a lot of local eateries and other small vendors. On one of our visits to this market, we noticed a yellow scooter hanging on the window of a food joint - this was the entrance of funky Cafe Tafri! We decided to check the place out and see what it had to offer. 
The place is situated on the first floor and as we made our way to the cafe, we noticed some really quirky write ups on the side walls of the staircase.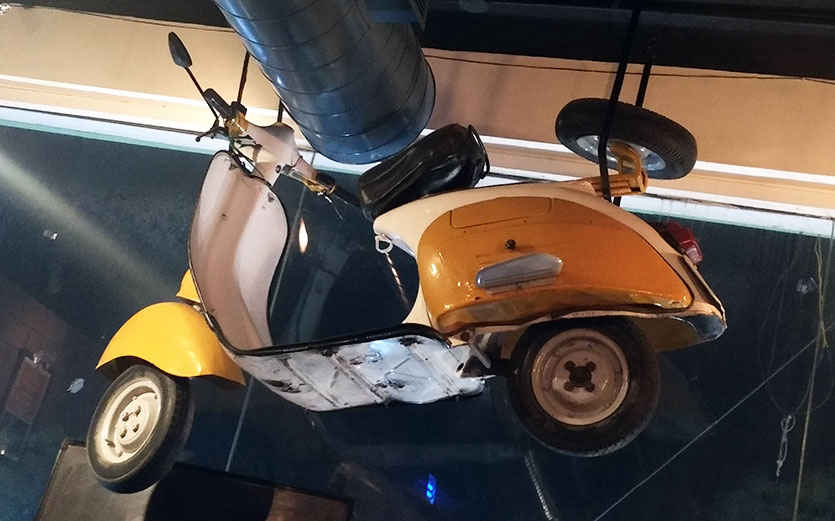 The interiors of the place are inspired by a garage, hence the hanging scooter. Upon entering the cafe, on the left hand side we saw a grill-studded wall where customers had written notes about their experiences and tied them with a little thread onto the grill. The seating area of the place is very symmetrically lined along the wall, and there is a little cosy nook on a raised floor in the cafe, where instead of chairs, people are given fluffy pillows to sit on. The name Tafri is given to depict the carefree relaxing environment that this place aims to create. 
Coming to the food, we expected the cafe to have a typical Continental menu, but along with Continental fare, the place also has offers a North Indian food menu to choose from. So here goes - here's everything we dug into!
Tafri Special Continental Veg Platter
We started off by ordering their Cafe Tafri Special Continental Veg Platter - the platter came to us in two portions, the first portion contained lots of Pita bread and bread sticks served to us with hummus, yogurt dip and guacamole dip. The second portion had Falafel, onion rings, and Mushroom Cheese Balls, Salsa Paneer and some more Pita bread. Onion rings, bread sticks and Paneer didn't quite go with the Falafel and pita bread, but each dish was delicious and had its own identity - go try!
Veg Tandoori Platter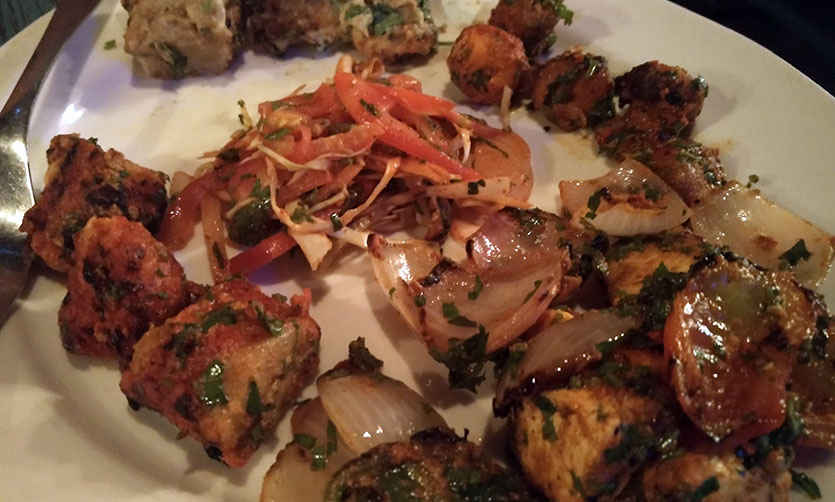 The speciality of this platter was that we were given the option to choose any four dishes according to our preference for the platter. We chose Tandoori Chaap, Malai Chaap, Tandoori Paneer and Tandoori Mushrooms. Our definite favourite was their Malai Chaap - soft soya chaap marinated in yogurt and spices. You can also opt for their Non-Veg Tandoori Platter! 
Stuffed Naan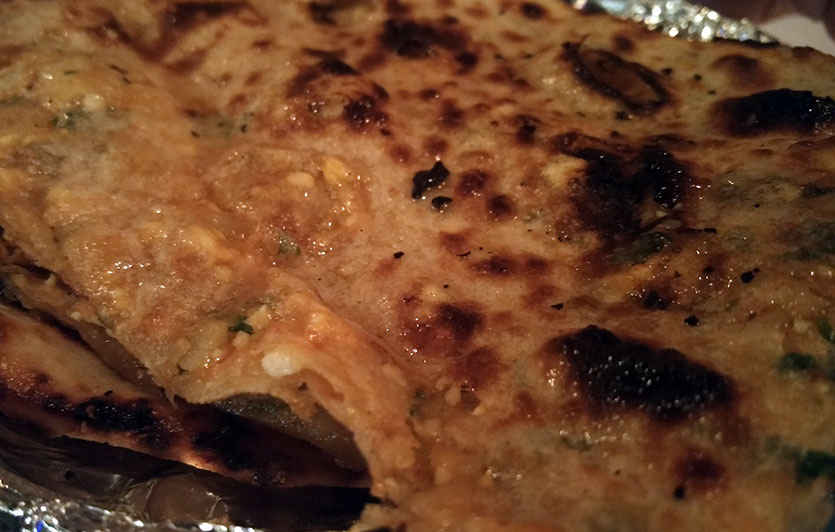 One enormous naan stuffed with potatoes, coriander and garlic - we simply stuffed ourselves silly! We were happy to see the quantity of the Naan - order just one, and a single person would be full for at least a couple of hours. The naan was baked in the tandoor and was crisp, just the way we like it!
Chicken Lababdar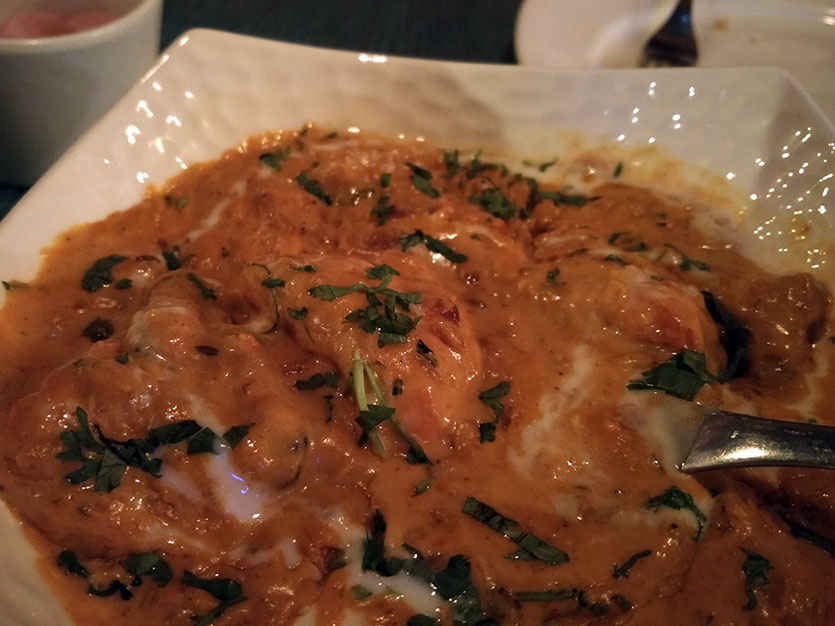 For our main course, we decided to order their Chicken Lababdar and a couple of tandoori rotis to go with it. And good it was! Four - five huge tandoori chicken pieces cooked in thick tomato gravy with loads of cream. The quantity and quality of the dish was pretty amazing - we'd ordered 4-5 rotis and a lachha parantha, but this one dish was enough for all of us to be totally satiated. This dish was an instant hit at our table and we would definitely recommend it!
Snickers & Mars Shakes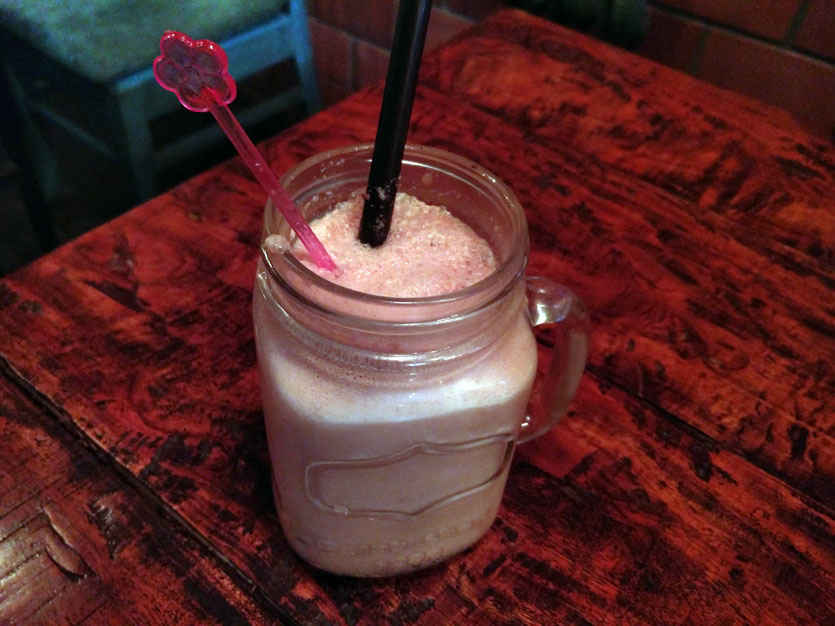 The drinks menu was pretty unusual - a list of shakes and mocktails were printed on a Sula Wine bottle, of course the bottle was empty, but this place is all about the details! For shakes, we decided to pick our all-time favourite Snickers Shake plus a Mars Shake. Both of them were served in mason jars, and since both of them were chocolate-based drinks, there was very slight difference between the two, but nonetheless both of them were delightful and quenched our thirst!
Chocolate Brownie with Vanilla Ice Cream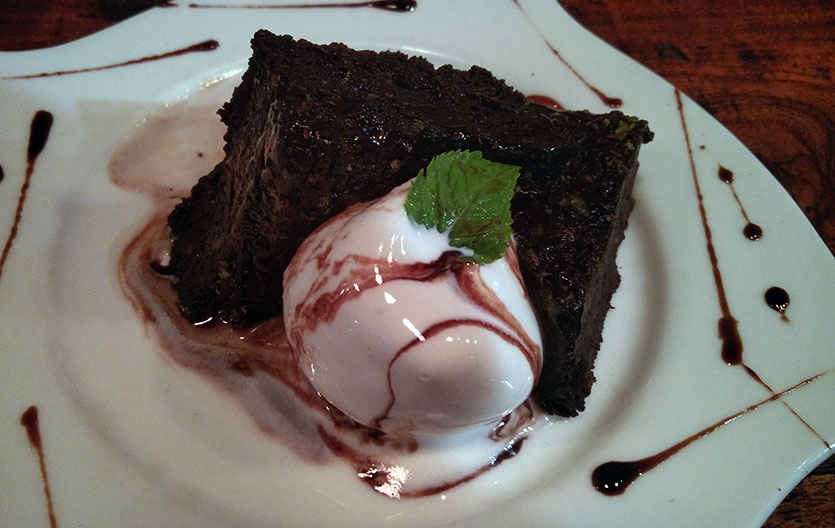 We ordered a Chocolate Brownie with Vanilla Ice Cream. We absolutely adored their delightful warm brownie topped with vanilla ice cream, which was and simply dripping with chocolate sauce. The brownie was fudgy on the outside, and soft on the inside and was the perfect way to end our meal here. 
Apart from delectable food and a great ambience, Cafe Tafri gives us all the more reason to come back super soon; they just completed a year and decided to give something back to their customers - they're offering 30% off for the entire month on their Indian menu and 10% off on their continental menu as soon as you check-into Facebook! Come on over. 
Meal For Two | Rs. 800
Location | 1st Floor, SCF 90, Sector 14, Gurgaon