Having heard some good things about a newbie Kashmiri delicacy joint in town, we sat up and decided to give Daawat-E-Kashmir a whirl! Happily arriving during a rain-drenched Thursday evening after work, our heaping box full of Kashmiri gourmet dishes came home, courtesy the awesome and very efficient delivery service of our newest find - Daawat-E-Kashmir.
We opened our box to find well-packaged and perfectly sealed cartons of good food - made freshly and delivered bang on time. We then decanted all our dishes onto our waiting plates and here's our verdict!
Chicken Malai Tikka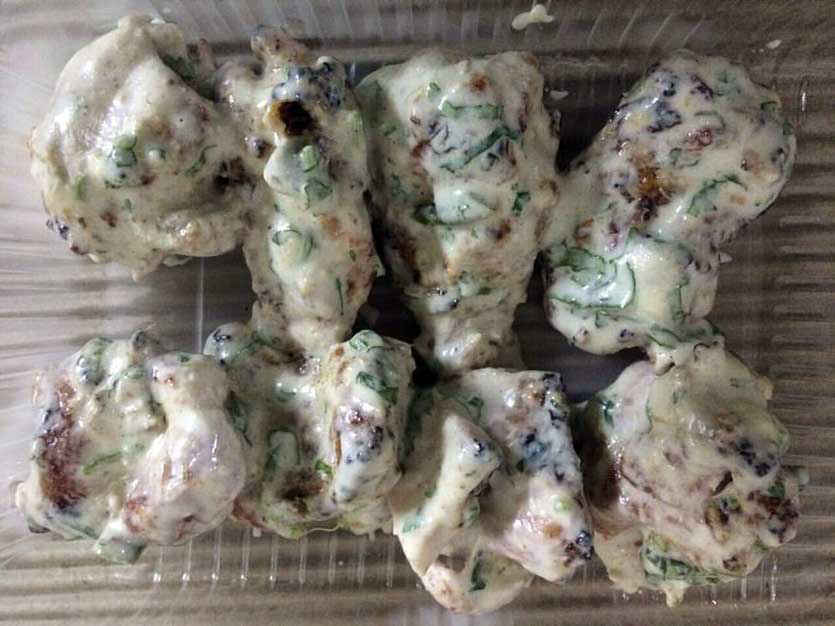 Perfectly marinated in lots of cream and their patent marinade, their Chicken Malai Tikkas were substantial chunks of well-cooked, succulent chicken meat that made for the perfect evening snack, and whetted our appetite for the gourmet storm yet to come!
Dahi Ke Kebab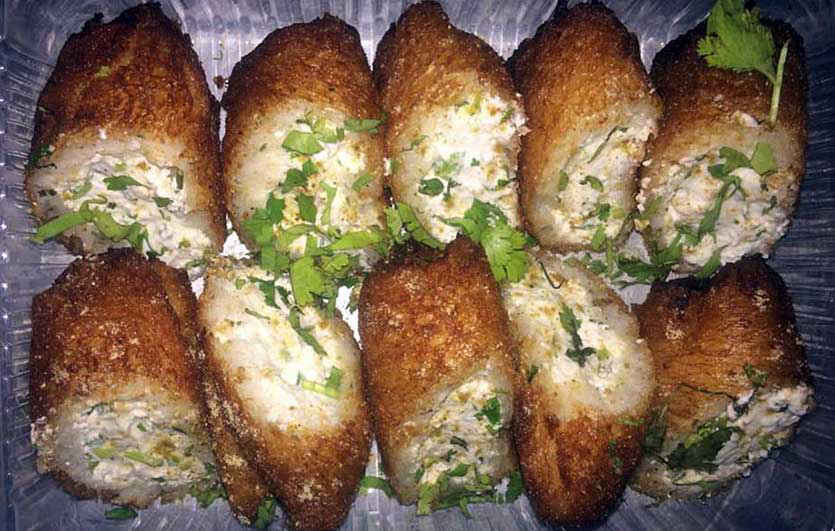 Our staple favorite dish that we can never get enough of is Dahi Ke Kebabs! Smothered with great big dollops of slightly sour (just the way we adore it) yoghurt and tossed in with some hot, chopped-up green chillies - all nice and fried - we gobbled down every bite of this one! Much recommended for those impromptu get-togethers where you just want something yummy to hog on!
Paneer Butter Masala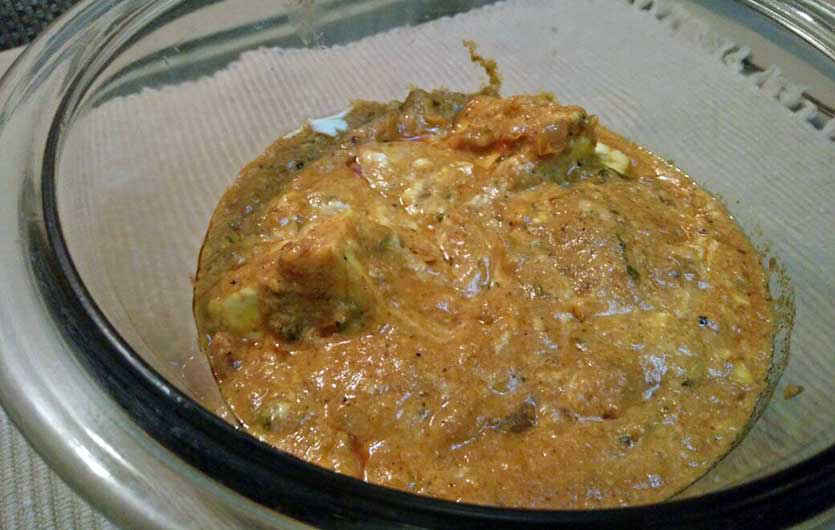 We hereby award full marks to Daawat-E-Kashmir for fresh, succulent pieces of paneer that were drowning in a thick, well-made gravy - a truly outstanding mixture of Kashmiri spices, cardamom and herbs! Seriously, when you collapse in an exhausted heap on the couch and fervently wish for something delicious, just call them up and order their Paneer Butter Masala -  it's that good!
Chicken Lababdar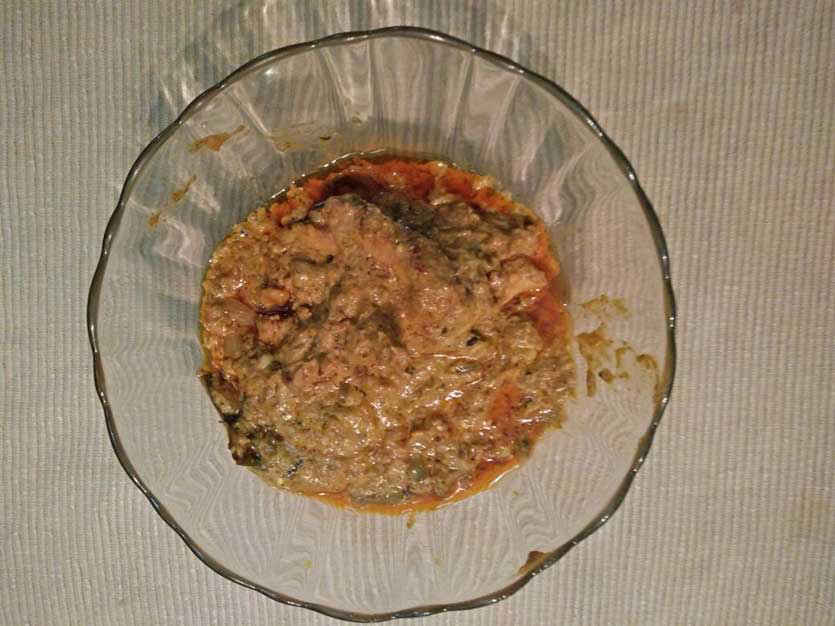 Running true to their theme of meticulously whipping up thick gravy dishes that taste like little bits of heaven on a spoon, their Chicken Lababdar didn't disappoint us! The meat pulled off the bones easily, and perfectly complemented the piping hot Pudina Parathas.
Mutton Roghan Josh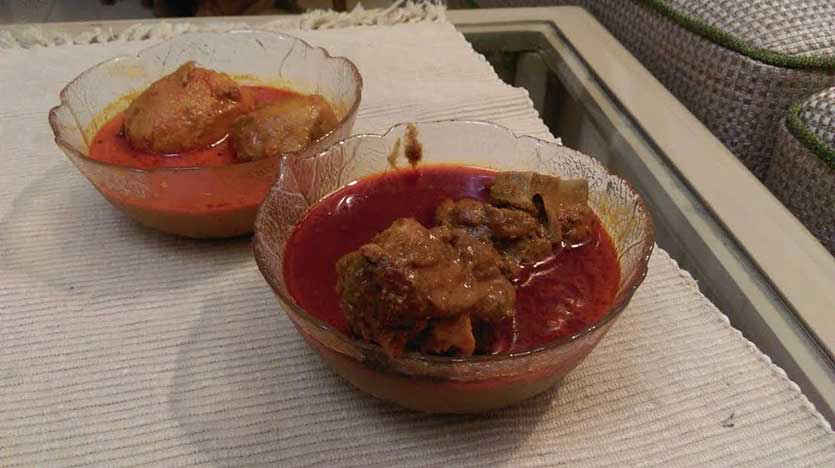 Coming to their piece de resistance, we then pounced on their Mutton Roghan Josh. Prepared using lots of fennel, cloves, desi garam masala, cardamom, bay leaves and the all-important Kashmiri chillies that give it the irresistibly awesome taste, the mutton itself was juicy, well-soaked in the gravy and for us mutton-lovers - pure bliss! We just kept dipping our rotis into our bowls and devoured every last morsel.
Kashmiri Dum Aloo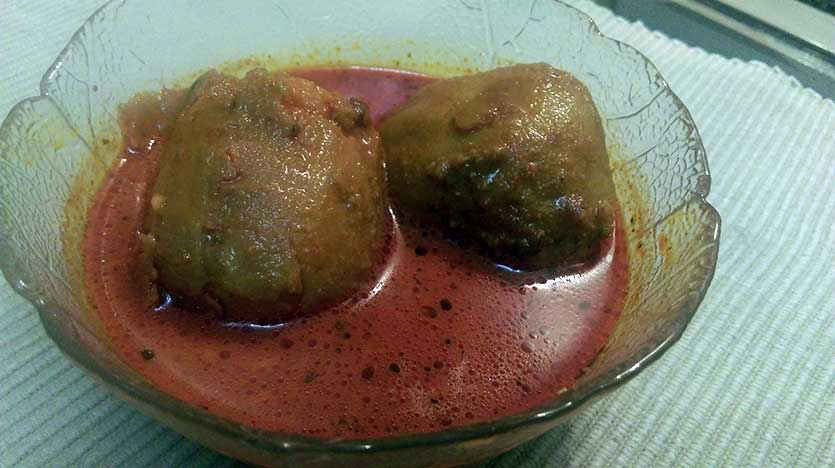 Fat, thick potatoes lay doused in a light curry that was full of zesty, spicy chili that lay heavy on our already-overloaded palette. Their Dum Aloo is the perfect dinner main course dish for all the vegetarians out there who're ravenous to try authentic Kashmiri cuisine for themselves. You should definitely order this one folks!
Chicken Yakhni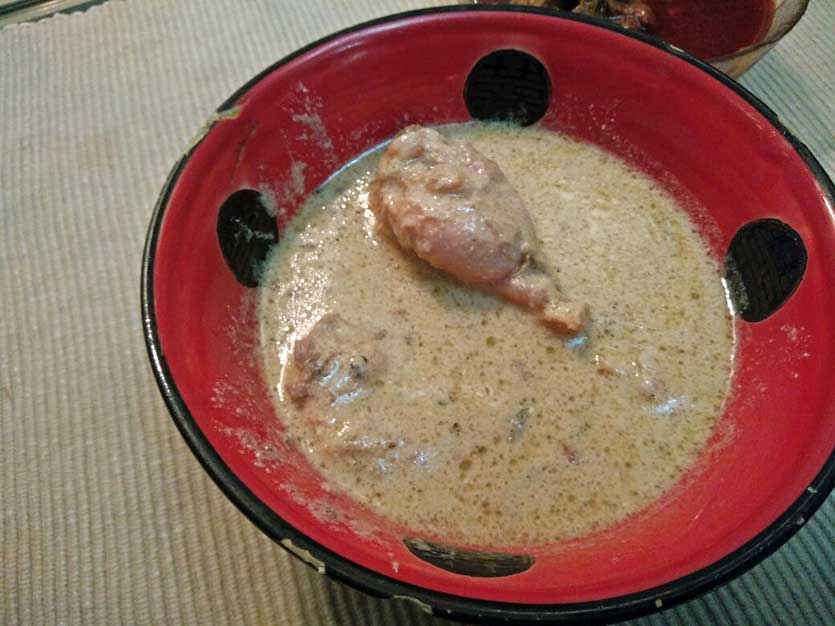 Their Chicken Yakhni, another authentic Kashmiri dish, consisted of a super-flaky, creamy and a tad too much greasy gravy studded with substantial chicken pieces just waiting for us to bolt down. We were also impressed by the effortless blend of spices that made all their dishes stand out from regular run-off-the-mill North Indian cuisine.
Quick tip - they deliver all across Gurgaon and Delhi, although in case of Delhi deliveries, they'll require prior notice of 2-3 hours, so don't dawdle!
Daawat-E-Kashmir is one joint you'll totally want to bookmark folks, as they single-handedly insist on seamlessly providing Kashmiri gourmet to the hungry masses! Try it out for yourselves.
Call Them Up | +91 124 4042 048 / 049, +91 9821 542 005 / 006
Meal For Two | Rs 1,000