We Left Cherry Comet Quite Impressed With Their Tasty & Quirky Range of Ice Creams
Cherry Comet at the Sangam Courtyard in RK Puram might not look like an outlet that you'd like to pay a special visit to, but once you do step in here, be prepared to be mesmerised by the variety of flavours that this ice cream parlour has to offer. That's what happened with us!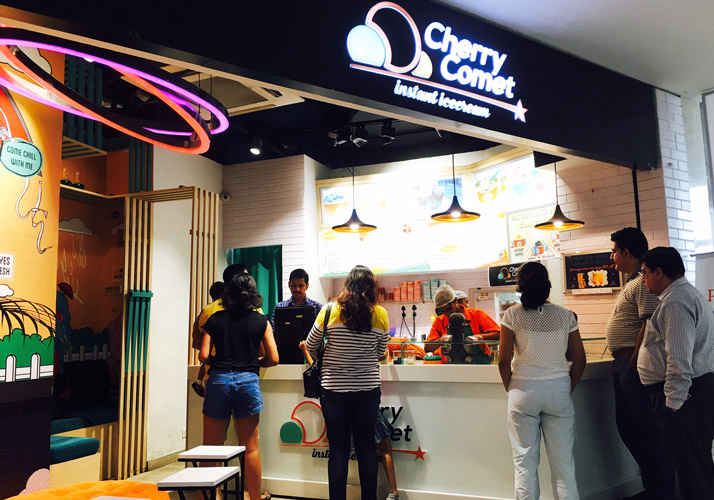 They specialise in liquid nitrogen ice creams and opened their doors in RK Puram to the public less than a year ago. Their first outlet has been thriving in Cyber Hub, Gurgaon. It's the brainchild of three engineering friends, who chose to name it Cherry Comet - as Cherry stands for freshness and Comet for the process. The products used to churn a scoop of instant ice cream are mostly natural; the ice creams are made on the spot and you can watch the whole process right in front of you. It's nothing short of intriguing and spectacular at the same time.
After a quick chat with the courteous host, we began the tasting process and here's what we think of the ice creams -
Banarasi Paan (Paan Flavoured)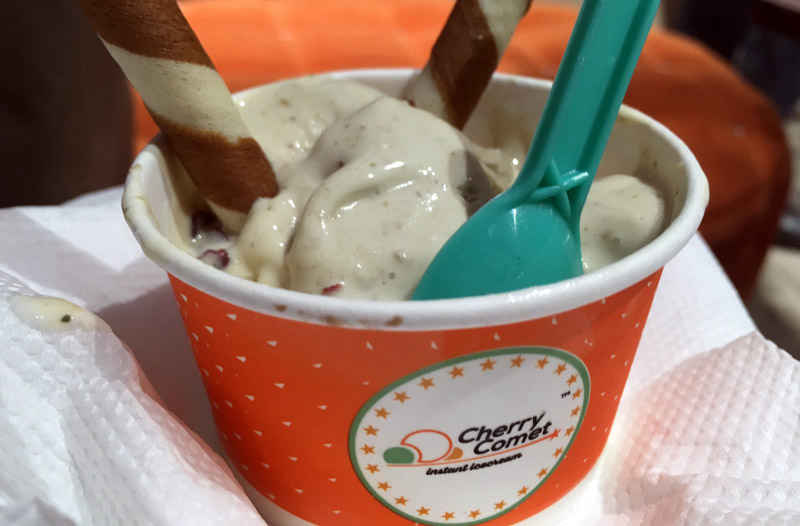 Made of natural ingredients like gulkand, betel leaf and supari, this was a delight to eat as it was as close to eating a paan, only better & we think it's a much lighter and healthier option! The sweetened supari perfectly complemented the flavour of the ice cream.
Pirate Punch (Dark Chocolate + Rum & Raisins)
This can be the ice cream of choice for anyone who loves rum and raisins. The flavour of rum is very prominent and goes well with the accompanying chocolate base of the ice cream. Overall, it somewhat reminds you of the classic rum and raisin chocolates, making this flavour one of the best at this place.
Hot Chocolate Fudge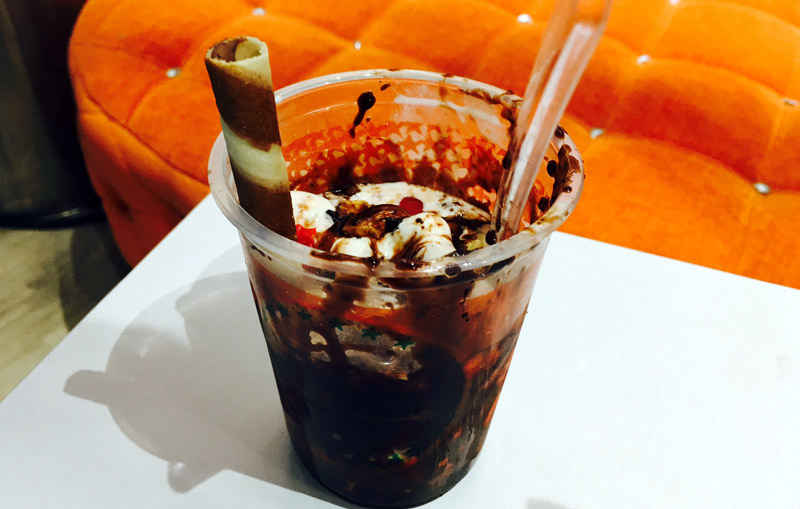 The HCF at Cherry Comet isn't very different from what you get at other outlets. It's flavoursome indeed but doesn't really stand out after we had already indulged in those delicious flavours of ice cream. Topped with cashews and cherries, it's quite a filling treat. 
Mango Lime Sorbet (Mango + Lime)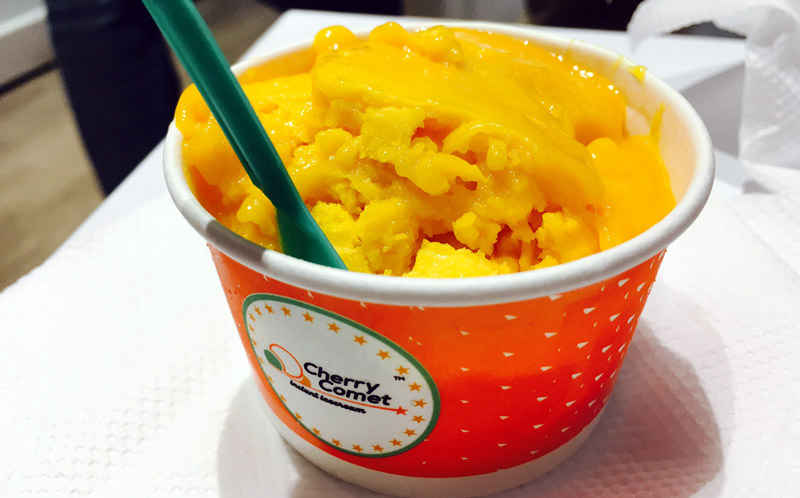 Moving on, we tried the Mango Lime Sorbet flavour. This is not your usual mango flavoured ice cream. The sourness of the mango and lime hits your taste buds the moment you take a bite. It's a unique take that has been executed pretty well. Imagine this to be an actual mango - frozen and served as a dessert to you!
Atrangi Imli (Imli + Indian Crispies)
Now this flavour blew our minds! Who would've imagined that you could have an imli ice cream one day? The actual ice cream is justice done to the quirky idea that it already is. Not too tangy and topped with besan sev, this is unique. We highly recommend this one!
Gulab E Lychee (Rose + Lychee)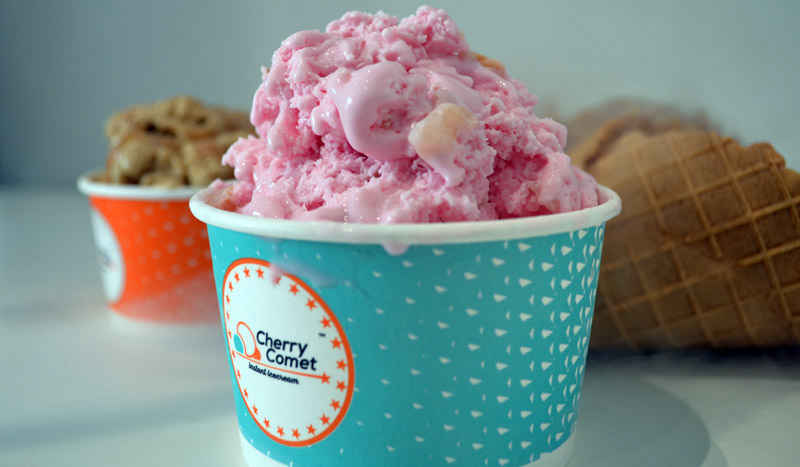 For us, this rose based ice cream with fresh lychee chunks didn't exactly stand out in terms of flavours. It's not something that you'd particularly choose from the humongous variety that they offer. We thought it was slightly bland.
Kokum Chiller (Beverage)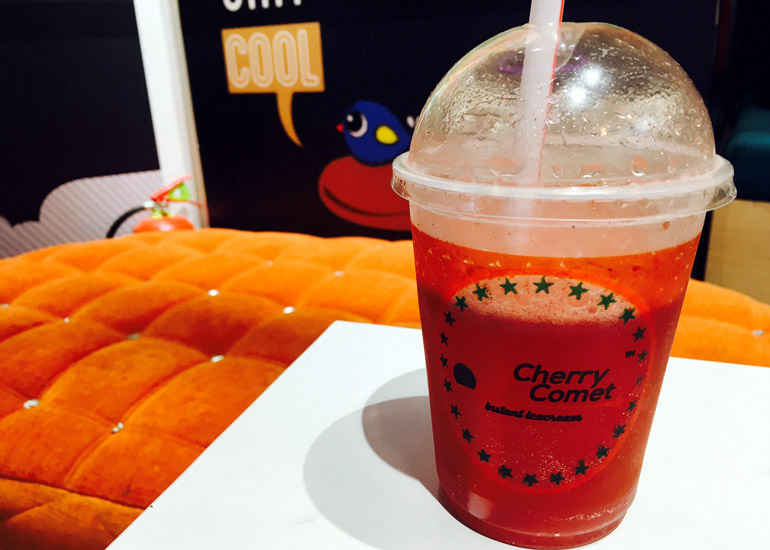 Light and refreshing, the Kokum Chiller helps you beat the heat. Rich in potassium, Kokum is found mostly in the Konkan area and is a not very known fruit in Delhi. We think this drink has all the potential of becoming a popular item on their menu! 
What the outlet strives to do is a refreshing take on the freshly minted ice-creams. The variety of flavours is a bonus and the hospitality of the staff gives it a bright and cozy vibe. The ice creams are light on your stomach and can be a perfect end to your dinner dates! So what are you waiting for? Head on over!
Location | 1st Floor, Sangam Courtyard, RK Puram
Cost For Two | Rs 400 (approx)