Disclaimer: Bearing in mind the current health crisis befalling the city and the world at large, we're tweaking our content policy and recommendations. Stay positive, keep hygiene levels up and don't fall prey to panic and misinformation.
Like the 'China ka Maal' that invaded Indian markets with their unique yet affordable products, Chinese cuisine has also invaded our hearts with their addictive flavours and made us crave these noodle-y creations on every odd weekend. Saadi Dilli is known to be the hub of all cuisines popular in India and since we all accept everything with open arms, we also take the liberty of mixing one thing with the other that leads to awesome new inventions!
'Dilli ka Khaana' and particularly our street food has become an attraction for people visiting from across the world. This street food is incomplete without those Chinese food vans which provide humongous quantities of food at supremely affordable prices in almost every locality. Papa Veg Chinese is one such shop and even the name reeks of Punjabiness!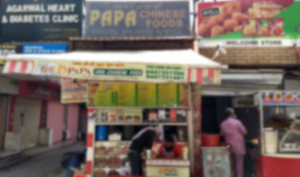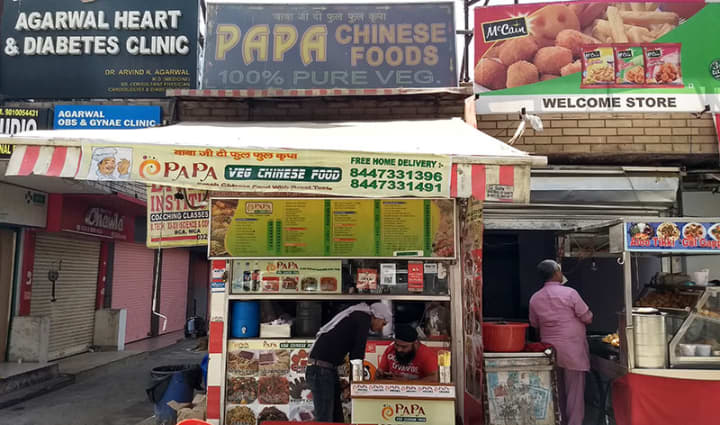 A very friendly Sardar-ji is there to help his customers make the best of their evenings with his 5-year-old-shop in the A-2 Block DDA Market in Paschim Vihar. If you belong to those Punjabi families who haven't touched meat in their whole lives and love animals way too much to even consider killing a cute little chicken when you can have all the paneer and soya in the world, this shop is a godsend. Here's everything we dug into here:
Chilli Paneer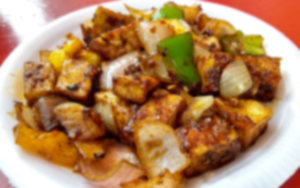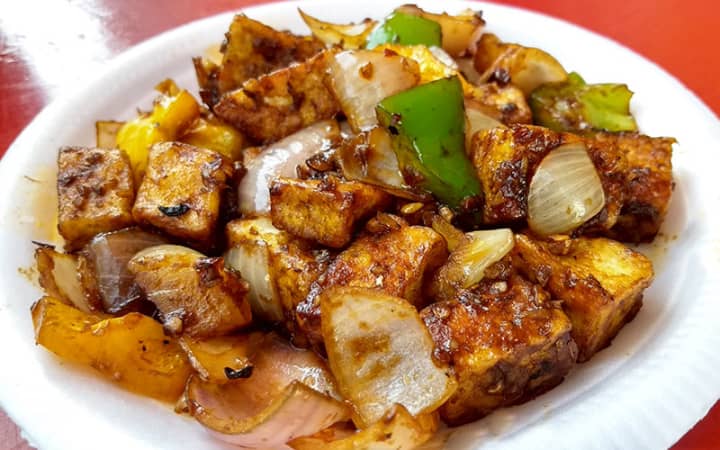 Crispy fried paneer and vegetables cooked in soy sauce that brings the whole dish together! There's not much that can go wrong with this simple and very popular dish and the chef here ensured that it didn't. Everything was cooked nicely and the paneer was soft on the inside and crunchy on the outside. 
Both gravy and dry versions are available, so you can take your pick. We had the half plate and the quantity seemed appropriate given the risk of paneer overdose! 
Price | Rs 120 (Half Plate) 
Manchurian & Fried Rice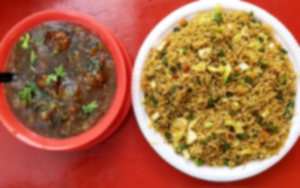 The Rajma Chawal of the Chinjabi nation, manchurian and fried rice are something you can eat for as long as you want without getting bored of it! The dishes are available separately but they seemed incomplete without each other. The manchurian balls were made of cabbage and carrots and were quite soft. The gravy, however, lacked veggies and contained only caramelised onions. The fried rice did not really have a lot of flavour or spice and even though it had an ample amount of veggies we still wanted something more in terms of the taste. 
Price | Rs 130 (Manchurian) & Rs 90 (Fried Rice)
Chaap Finger Aurley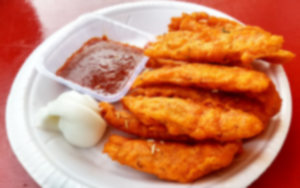 We were intrigued by the unique name and decided to order this one! This was soya chaap sticks coated in cornflour and fried till they were super crunchy. It was served with a sweet and sour sauce plus mayo. The oil was a bit much and the taste was quite bland. We couldn't really understand why this did not have any spices and hence, asked for a nice chilli sauce to try it with. That sauce wasn't what we had expected and hence, this one remained a disappointment. 
Price | Rs 100
Singapuri Noodles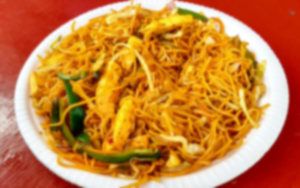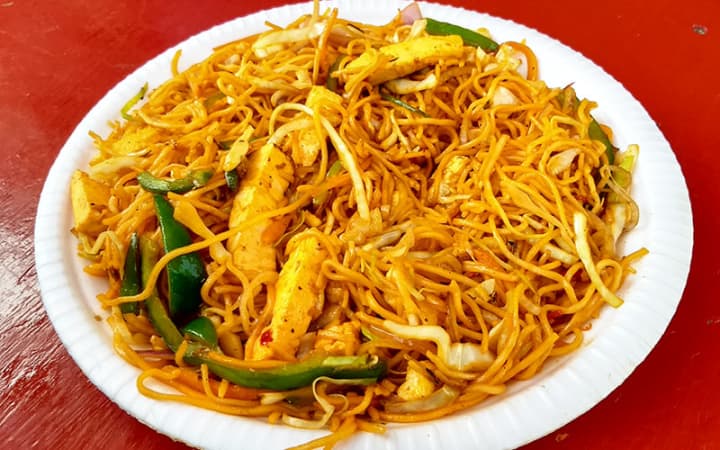 This dish was originally a rice noodle based dish that contained curry powder to amp up the spice game and eggs or chicken to make it a little more crunchy. Papa Veg Chinese's desi version contained a mix of spices with paneer. The flavours definitely were on the spicier side but much to our surprise, the (little) amount of oil used for cooking was absolutely spot on. The quantity was quite satisfactory for the price too! 
Price | Rs 90
Honey Chilly Potato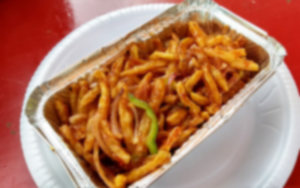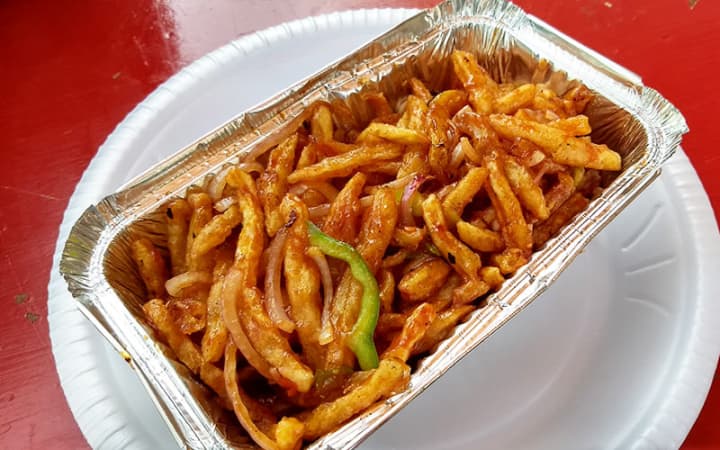 After the flop that was the previous dish, we did not want to experiment too much and ordered one of their most popular dishes. By the looks of it, the potato fries looked smaller than usual and perhaps because of this, it had an even texture throughout, setting it apart from those dishes which are crispy on the outside yet soggy on the inside. The flavour balance was delectable and we could have happily devoured a ton of it, being the couch potatoes that we are! 
Price | Rs 120
Kurkure Momos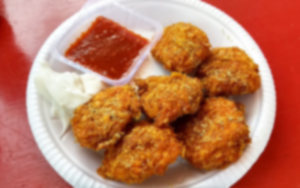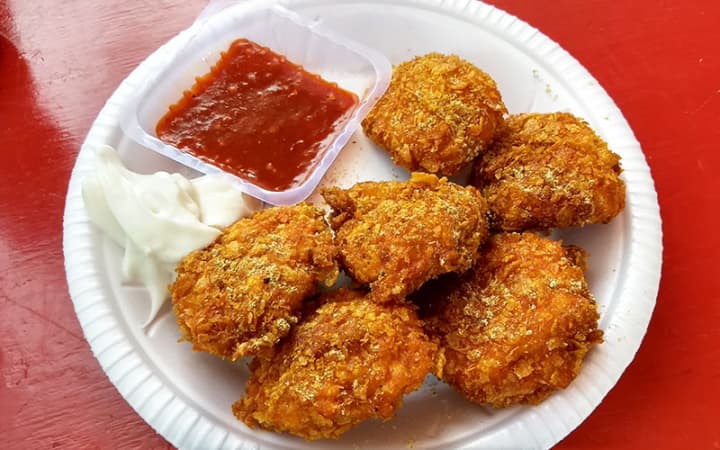 Finally, we then ordered their signature dish which is a must have if you visit this place. These balls of deliciousness filled with a spicy paneer mixture covered in kurkure chunks tasted quite amazing! This momo delight is so filling that you can't eat more than half a plate by yourself. It was served with a chilli sauce, sweet and sour ketchup and a dollop of creamy mayonnaise. This one stood up to the buzz! 
Price | Rs 100
Papa Veg Chinese is possibly the best Chinese takeout joint in Paschim Vihar. They serve pretty good food in terms of quality and quantity without pinching the pocket. Come swing by here for some post-work munchies!
Must Haves | Chilli Paneer & Kurkure Momos 
Location | 15, A-2 Block, CSC, Near Mother Dairy, DDA Market, Paschim Vihar