We Just Dropped by Parallel, a Totally Awesome Joint in Khan Market That Offers Fusion Craft Grub!
You expect nothing less than extraordinary if you plan to open a restaurant in India's costliest retail location, and the newest entrant, Parallel, is all set to grab the eyeballs of many. This place is a reckoner on many levels, and we thoroughly enjoyed a novel experience. The interiors of this place are totally in sync with the name they've chosen to adopt, Parallel.
From the bar design to the sophisticated lamps dangling down, from the electrical wires to the painted wall design, everything is 'parallel' to each other. In times of the generic run-of-the-mill restaurants popping up, Parallel provides a refreshing respite from the mundane. The food that the place serves truly hits the sweet spot. A mixed bag of Indian as well as Continental fare, we take you on a parallel gastronomic journey of what to try when visiting this place either on a business lunch or simply a dinner date.
Dabeli with Nimbu Leaf Pav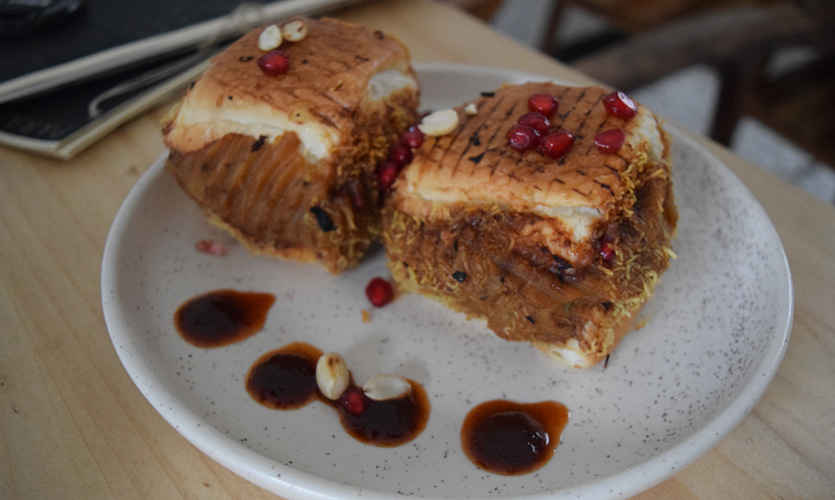 This quintessential Maharashtrian street food is as good as it gets. The presentation, including the flavours, is totally spot on. The potatoes are mildly spiced, the tamarind chutney adds to the experience, and the sev that the dabeli comes loaded with the toasted pav, which makes one trust the chef's skills of emulating good street food into fine dining.
DIY Prawn Tacos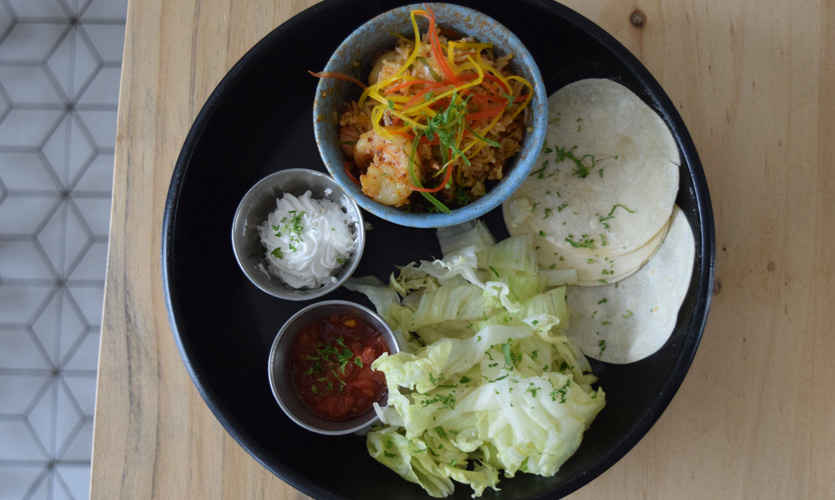 The chipotle prawns come loaded with sour cream and salsa and grilled tortillas. Keeping aside the fact that the tacos broke easily and it's a little cumbersome making the tacos yourself, the prawns were totally grilled to perfection. They retained the juicy texture that one looks for in prawns, and is a must order for those in love with seafood. Yum!
Banh Mi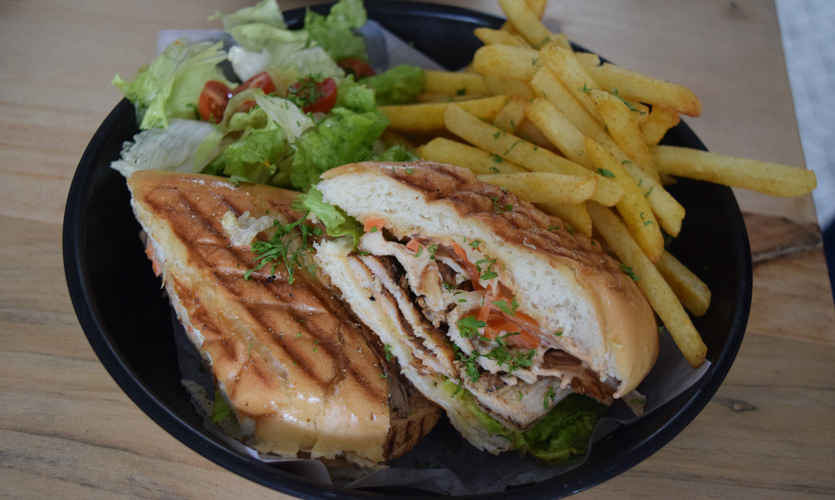 The name itself resonates with Vietnamese street food, but Parallel has created a rendition of their own and how! This huge sandwich comes along with a gargantuan portion of masala fries. The sandwich comprises healthy chicken breasts lathered in their special Togarashi Mayo and was a party for our palate. You need to try this sandwich for the ultimate foodgasm, folks!
Four Cheese Mac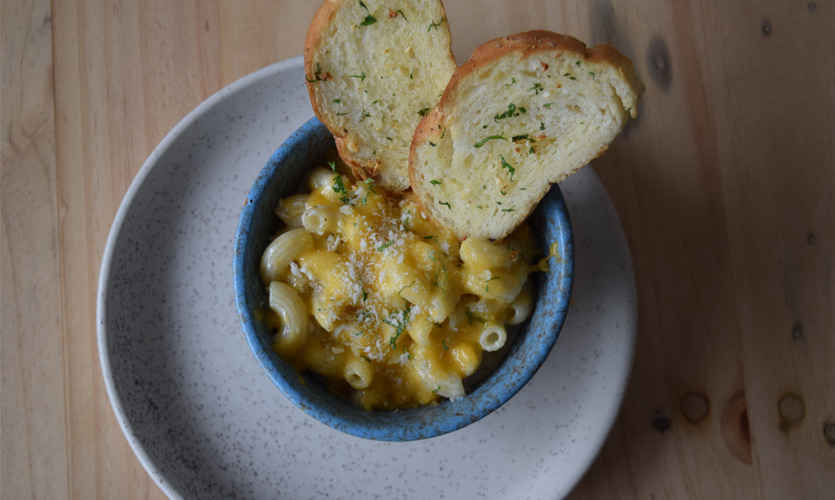 One of the most underrated dishes in the Indian food scene is the Mac and Cheese, owing to which restaurants fail miserably at creating the sinful Mac. However, Parallel sets the benchmark with its Four Cheese Mac which came with two portions of their yummy garlic bread. The Mac was so finely cooked and heaped with melting cheese, that if this doesn't get you dining here, then we don't know what will! Also, Parallel uses the authentic American Monetary Jack to whip up this special dish, so cheese lovers you're in for a treat!
Four Herb Grilled Chicken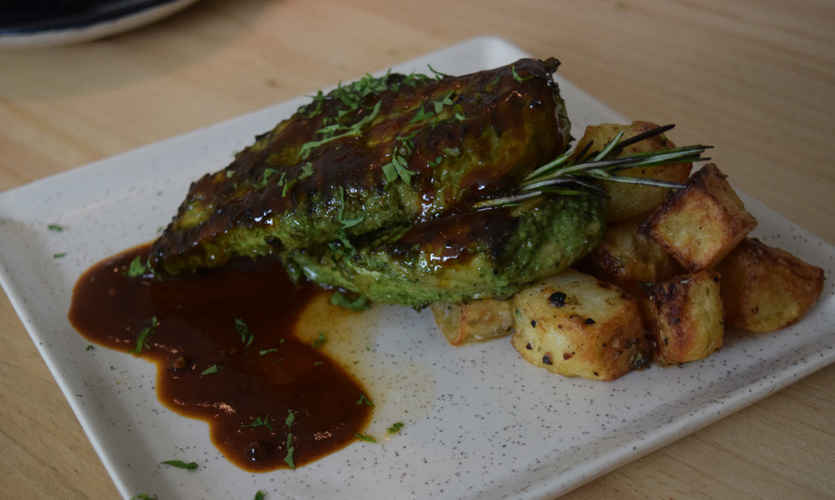 This might be one of the most common dishes on menus these days, but Parallel's take on grilled chicken with herbs lands them amongst the top contenders for Delhi's finest. The herb infused chicken skin on the meat was like Christmas, which came early and the chicken just on top was wiped out clean by us with their roast potatoes. With pudina, parsley, coriander, tulsi and green chilly as the marination, we daresay that we've hardly had such culinary perfection anywhere else!
Textures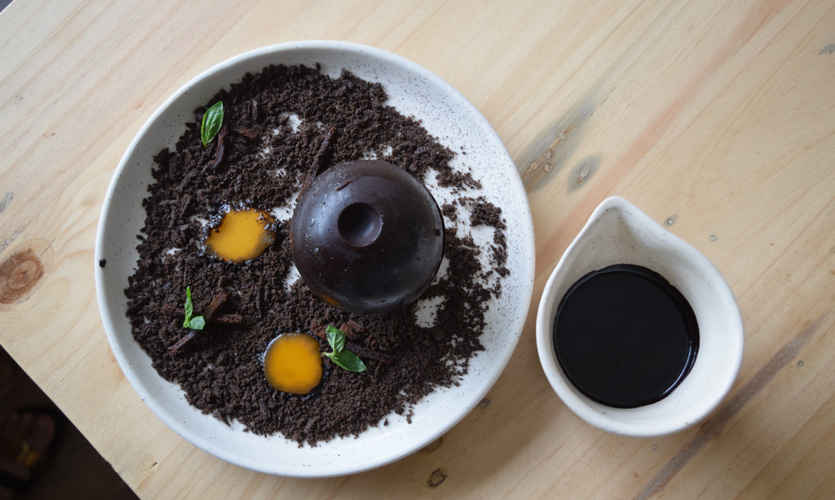 How do you take your eatery to the next level? Obviously by introducing kick-ass desserts and Parallel seem to know this formula for success. Textures, as one could say, is the ultimate dessert which comprises of hot chocolate poured over a chocolate sphere which is seen on a bed of chocolate soil, brownie crumble, chocolate kisses and pineapple gel (woah!). The sphere when poured over with hot chocolate crumbles to reveal a scoop of Basil Ice Cream, giving that extra refreshing punch to the otherwise chocolate-dominated dessert. To all the chocolate lovers, let's just say you might find heaven in this small plate.
Parallel offers everything for everyone! From regional Indian food to a multi-cuisine menu, they even offer some stellar beverages. You can sip on a Cucumber & Kaffir Lime mocktail while looking down on the busy Khan Market street or can even give their sinful Nutella & Pretzel Shake a go. We're definitely coming back again!
Meal For Two | Rs 2,500
Location | 12, Khan Market