We Hungrily Scampered Over to All Amitians' Foodie Adda, Hungry - I & Here's Our Take!
If you've ever been a friend to someone who did their schooling from Amity, then you will already be aware of this place, where one could expect a café-like experience on a decent budget. Amidst the peace of Sector 44, this place rests in a ruminative manner, caressing the needs of wanderers lost in the lust of food. It's a bistro spread out over three floors. The ground floor acts as the counter-cum-kitchen that's attached. In the basement area, they have an eccentric ambiance with floor seating (nice!) and red walls flaunting funky graffiti by amateur artists. The 1st floor is just a refined version of the basement.
A hungry afternoon guided us to this place, and the moment our car came to a halt, we were greeted by a person in an orange T-shirt, proudly flaunting the café's name, asking whether we'd like to be seated inside or wanted to be waited on in the car.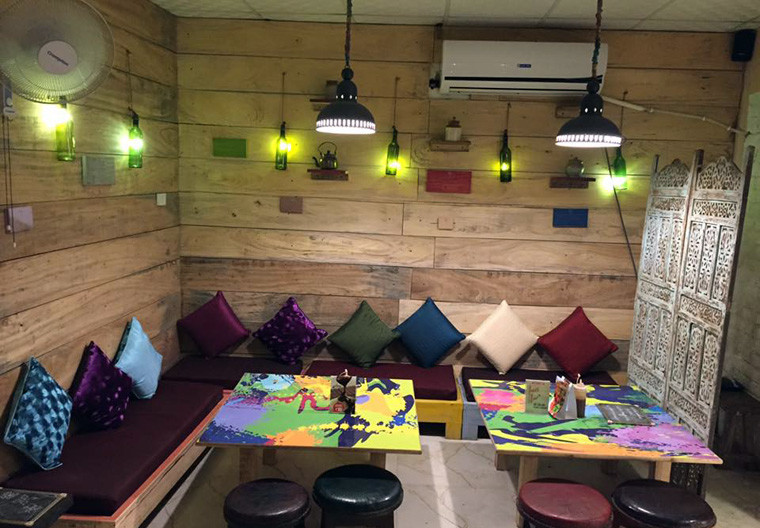 A small set of stairs took us to the basement (fair warning: tall people need to carefully duck), where we were embraced and guided towards our choice of seating area. The staff here is quite amicable. We were captivated by the feel the place offered while being seated on the small couches on the floor with the walls showing off different shades of perceptions and ideas of the people who visited this place.
Guided by the rumblings in our tummies, here's what we gobbled up-
Chicken Tikka Masala Sandwich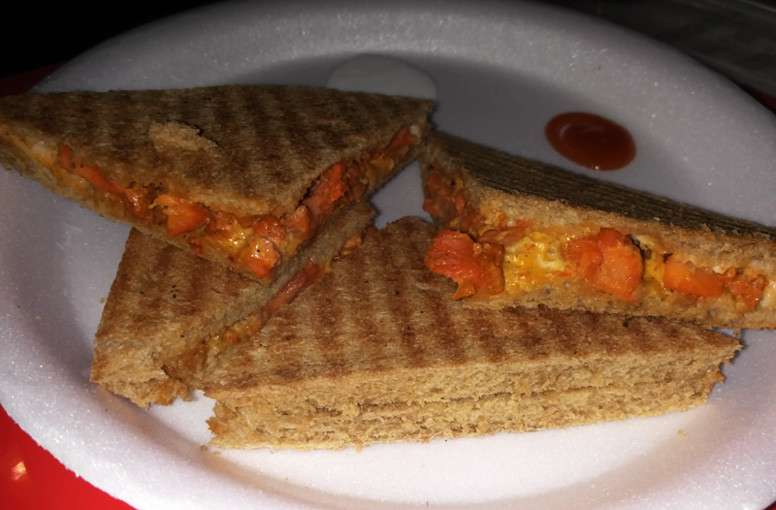 Known for their prowess in sandwiches and recording a high demand of this item, we couldn't restrain ourselves from ordering it. Though it took some time for our order to arrive, but it was worth the wait. The sandwich was served in disposable plates with mayonnaise/jalapeno dips. We were mesmerized by the filling used in the sandwich! 
The chicken chunks were tender, juicy, marinated well in the spicy sauce (secret ingredient) and cooked nicely in the tandoor. The pieces were minced, mixed with hummus and stuffed between the two big slices of bread, which was then grilled before being presented to us. There's a good variety in the non-veg section, however, all those options were not available when we visited, so you try your luck when there!
Onion Capsicum Cheese Sandwich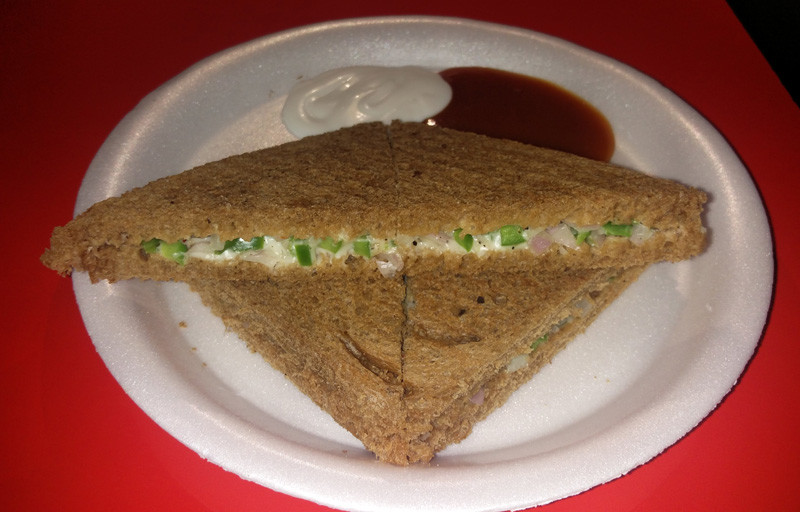 The twinkle in our eyes was soon lost when only a few options were available in the veg section. Out of the 18 varieties, only 11 could be devoured. Onion Capsicum Cheese Sandwich being the best option present, was chosen without a second thought. This one came in quick. Minced onions and capsicums, mixed in with hummus and mayonnaise formed the filing of this dish. Cheese slices were added in between thick slices of bread before grilling them. The chef did not shy away from putting substantial amount of filling in the sandwich. The sandwich, though being palatable, failed to impress. 
Kit-Kat Shake
Kit-Kat is one of those chocolates which have actually stood the test of time. With high expectations, we ordered this shake. Just a heads up, order the drinks first, they take time to arrive. We ordered this shake with our first sandwich and it crawled in front of us when we were halfway through the second sandwich. Nevertheless, all our protests came to a rest the moment this shake nurtured every cell of our oesophagus! Crushed ice, 8 sticks of Kit-Kat, milk and a hint of chocolate syrup, when mixed together resulted in this masterpiece. Needless to say, instead of the Oreo shake, this one's worth giving a shot!
Hazelnut Coffee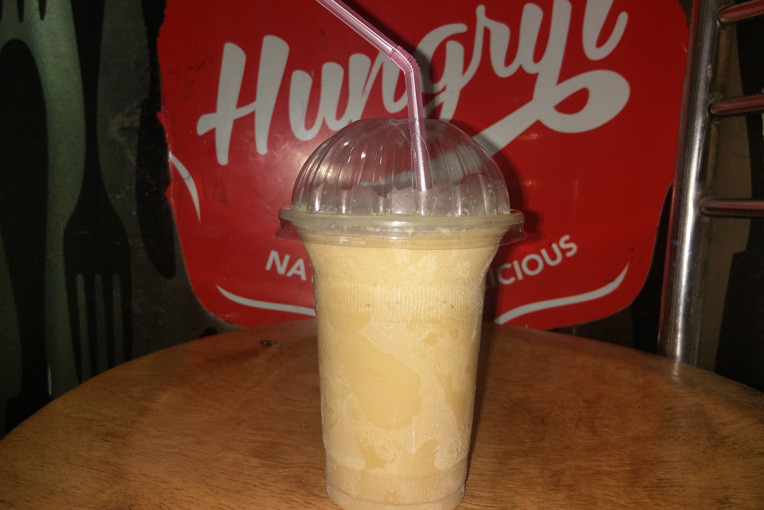 This place boasts of providing one of the best hazelnut coffees in town! The place offers a good collection of drinks to relish but to our amazement, all the beverages listed on the menu actually were available at the place! On top of that, they served our drink in exact 6 minutes and 19 seconds (yes, we calculated that!). With the first sip, we can say that the place can rightfully boast about serving one of the best hazelnut coffees in town (hats off)! It was sweet in the beginning, and just when the flavor of coffee took over, the taste of hazelnut with the slight bitterness of caffeine followed in. Really yum!
To summarize, one will be welcomed to different genres with an enormous variety of scrumptious dishes at decent prices for food, though not-so-decent on the drinks front. Overall, a nice place to hang out with buddies and chit chat for ages with serenity all around!
Meal For Two | Rs 450
Location | 20, A Block Market, Near Amity School, Sector 44, Noida