When Anubhav incessantly strolled the streets & bylanes of Delhi in search of food that was reminiscent of his "maa ke haath ka khana", he stumbled upon the idea of crafting food walks that would be all about the exquisite but traditional delicacies of Delhi. Read on to find out how he went on to create one of the best food walks in Delhi by choosing to transform his passion into his profession!
How did you ideate & kick-start Delhi Food Walks?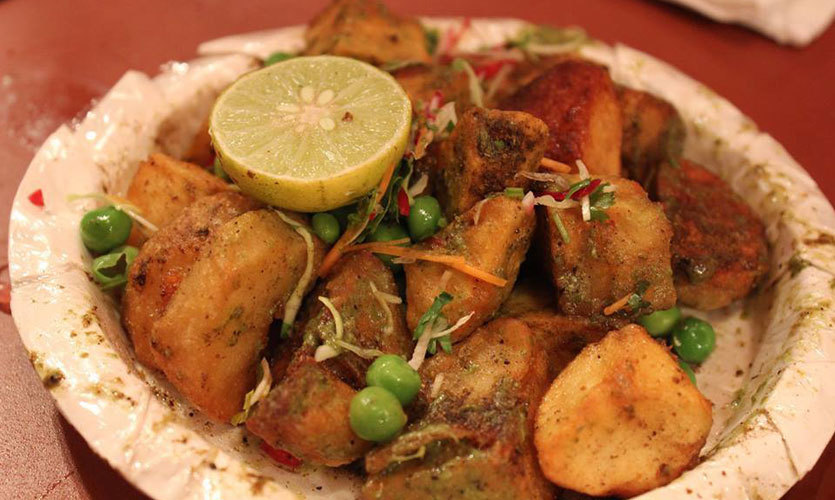 Delhi Food Walks has evolved out of my passion for food! To go on a walk, specifically for food, was my favourite personal time that was always well spent. I used to move out of my house every evening or go anywhere after office timings to explore Delhi for more food. Slowly and steadily, the idea emerged and I started inviting people over for a food walk. It was after some time that I thought to give up on my job to chase my passion for food even more.
Thus, Delhi Food Walks emerged with the following objectives in mind:
(a) To make the local cuisine of Delhi popular.
(b) To explore, experience and understand the food culture of Delhi through food walks.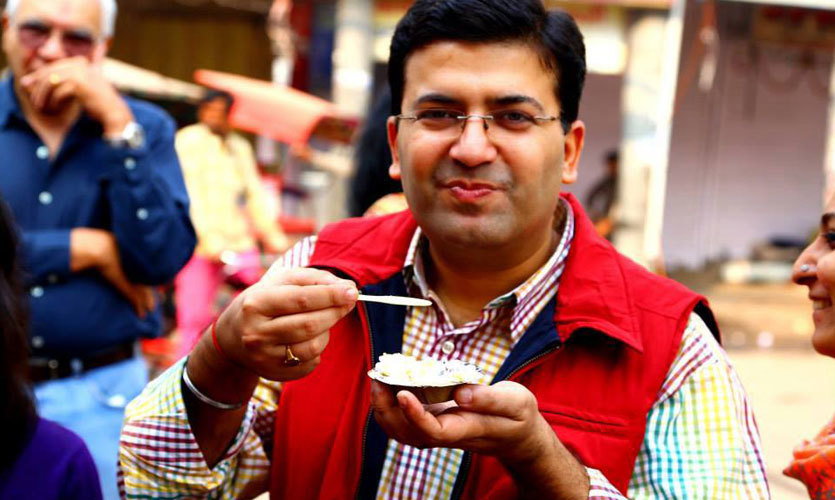 Delhi, the iconic post-colonial capital of India, represents a food utopia, an epicurean paradise of sorts, with cuisines for just about every palate. Whether it's Mughlai splendors, street food discoveries, or global foods with an Indian twist, Delhi is the place to be! 
I believe that each street and lane of Delhi is imbued with a history of gastronomic glory, offering the flavors of heritage, tradition and a passion for food that has been shaped over eras, and across borders. Delhi Food Walks conducts food expeditions to relish the food culture of Delhi and interact with fellow food enthusiasts. It began in 2011 to act as a bastion of Delhi's food culture.
People from all over the world write to us for our food walks. They get to eat with a local, understand the food history and culture, understand the local cuisine and its evolution and relish the food. Delhi Food Walks is popular amongst the locals as well. We curate and conduct theme-based food walks during all the major festivals of India.
What sort of food walks do you curate and which is your most recommended one?
The itineraries are planned keeping in mind the needs, requirements and taste preferences of the guests and we make efforts to customize our walks such that it suits them the best. Delhi Food Walks has gained expertise, having explored the lanes of the city over scores of walks, and is cognizant of what suits the Indian and non-Indian stomach the best.
Apart from the set itineraries for the customized food tours, I keep on curating new food tours including kebab and biryani trails and even chaat trails. My favourite food tours are the breakfast tour in Old Delhi and the Old Delhi (Evening) Food Walk.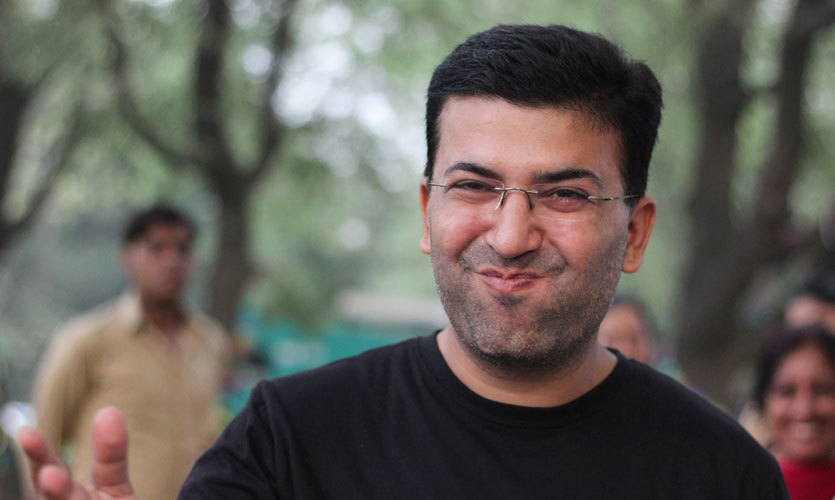 Do share a cherished incident from any one of your food walks.
Well, I think I cherish all my food walks. To receive an awesome response from the guests is what I actually aim for. Their smiles speak a lot! In our walks, discussions revolve around the food - we talk a lot about the local and regional cuisine and the spices and condiments used in cooking. Through food walks, people get to taste the authentic food in an original setting, instead of just having food in a restaurant. All the places shortlisted in our walks specialize in one or two dishes and we make sure they're hygienic. Walking in the narrow lanes of Old Delhi and stopping at around 10-15 places to savour different delicacies, is an experience of a lifetime. 
The most memorable food walk was the Sehri Walk (a night walk that starts at 11 in the night and ends at 5 in the morning). It was raining heavily in Delhi, but I didn't cancel the walk. With fellow food enthusiasts, I walked for 10 hours from dusk to dawn, and with umbrellas our troop seemed so distinct in the crowd, and the aroma of food simply added to the awesome weather. It was a different experience walking in the rain for the love of food and the bond that connects us! 
The other moment I cherished was when a tea-vendor in Old Delhi mentioned, "Aapka article padh padh ke log aa rahe hain yahan chai aur milk cake ke liye". I was simply elated!
Top 5 street treats to try in Delhi?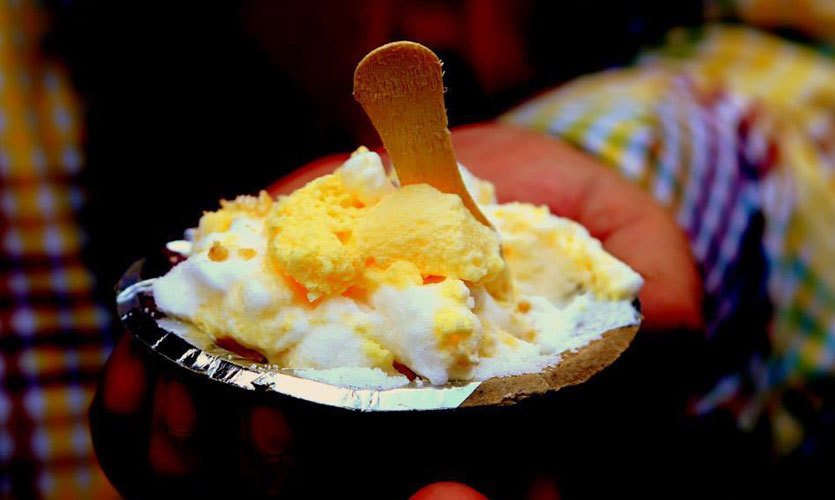 There are many, but so as to mention few:
1. Kulle Ki Chaat from Hira Lal Chaat Corner in Chawri Bazar.
2. Daulat Ki Chaat from any street vendor in Old Delhi.
3. Bade Miyan ki Kheer in Lal Kuan, Chawri Bazar.
4. Kulfi at Kuremal Mahavir Prasad.
5. Brijwasi Rasgulle Wala in Kamla Nagar.
Do you think Delhi's food is a testament of its evolution through different eras? How?
Someone rightly said that 'Just as each ruler left his architectural mark on Delhi, so each bequeathed to it a culinary legacy.' Starting from the time of the Aryans to Sultanate Delhi to Mughal Delhi to British Delhi to Delhi after Partition, each one of them have left a mark on the culinary map of Delhi.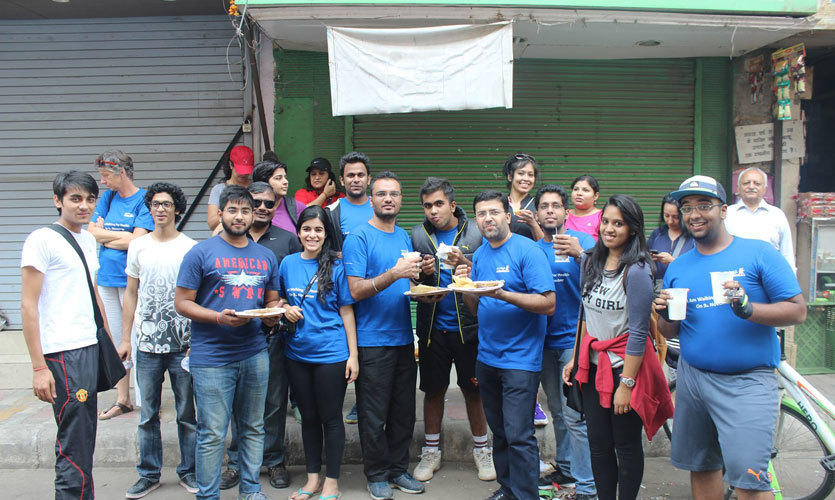 The Delhi sultans ruled for four and a half centuries between 1191 and 1526. It was also the period when the foundation was laid for the cuisine that the Mughals later took to great heights, which became the cuisine that much of the world recognises as 'Indian food'. The omnipresent street delicacies such as samosas and jalebis were introduced into Delhi in the Sultanate era.
What the Mughals can be acknowledged for is the refinement of the food of the Sultanate period and it was the Europeans who brought to their courts many of the foods that enabled them to achieve their culinary glory. It's hard to imagine Indian food without chilli, coriander, cashew nuts, pepper, tomatoes and potatoes, but these foods from the new world did not enter Indian culinary life until Europeans started to visit India.
After Partition, people migrated from all different regions of India to Delhi for work, and with them travelled their cuisine as well.
If you could eat one thing for the rest of your life, what would it be?
Everything available at Brijwasi Rasgulle Wala in Kamla Nagar- Rajma Chawal, Kadi Chawal, Paranthas, Naan, Rasmalai, Tikki, Samosa, Gulab Jamun, Laddu. Everything is excellent there! 
What according to you makes Delhi, 'So Delhi'?
For me the street food culture of Delhi makes Delhi, 'So Delhi'. The variety of street delicacies available on the streets of Delhi makes Delhi 'So Delhi'. At one end, we have Majnu Ka Tila's famous street dish - laphin and at other end we have Chapli Kebabs in Jangpura market. The chaat at Vaishno Chat Bhandar in Kamla Nagar to the puchkas of C R Park, Ghee Wali Nahari at Jawed Bhai Shop in Zakir Nagar to Taufeeq Ki Biryani in Chitli Qabar; Amritsari Kulcha at Kulcha King in Sarojini Nagar to Chole Bhature at Nand Di Hatti in Sadar Bazar, the geeley kulchas of Paharganj to the chhole kulche of Lotan. For me, the food of all the regions makes Delhi so special!
What lies ahead for DFW?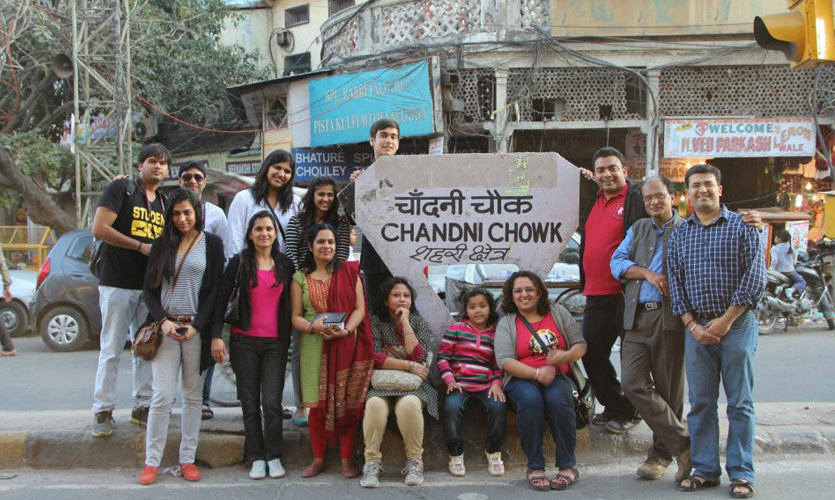 In future, I plan to start food walks in other states of India, organize street food festivals in Delhi, work on a street food guide and cooking sessions!
Thanks for that incredibly foodie conversation, not to mention all the awesome recommendations Anubhav!