We Had a Chirpy Conversation with Devina Malhotra, The Peppy & Fun Creator of Guilty Bytes
A food, fashion and gossip lover, Devina Malhotra is one of those Punjabi women who is always high on life. So here's all about our rendezvous with this peppy lady, who is known as the creator and curator of one of the most liveliest blogs in the city - Guilty Bytes.
How did you get into blogging?
I've always wanted to write, but it was the idea of having a space to chronicle and share my personal style, home-tested beauty tips, celebrity fashion obsessions and baking adventures that made me start a blog back in 2012. I wasn't sure what was I going to write about initially, but my family gave me that much-needed push and got me to express my style online. And then I began enjoying getting feedback from my readers so much that I finally quit my job to take up blogging full time.
How do you go about getting quirky ideas for your blogs?
As Punjabi as it can get, the most interesting thing about Guilty Bytes is its variety and focus on living it up – whether it's through real-girl fashion, food, beauty, celebrity fashion, wedding inspiration or just my love for butter chicken. I read a lot, research and draw inspirations from bloggers around the world. To make my writings more interesting, I ensure to incorporate my knowledge, voice and personality into my blog posts.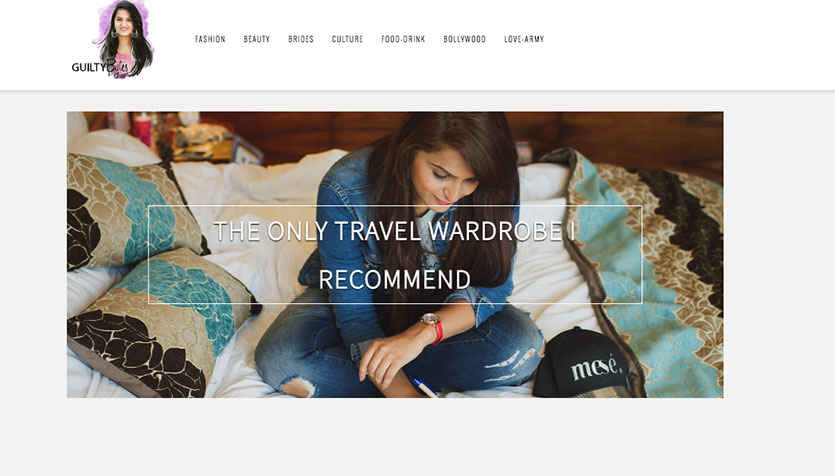 Where do you get your Bollywood insights from?
It's taken me some years to build relations with celeb PRs & styling artists. Having said that, Bollywood insights and gossip is exciting but we try to do a thorough check and verify from different sources before publishing any content online!
Amongst all the genres that you cover, which one's your favourite and why?
It's very difficult to pick one section since we are a lifestyle blog who cater to the multiple interests of our readers. But since I started this blog to showcase real-girl fashion for a curvy, tall, desi girl like myself, it's the 'Fashion Focus' section that is closest to my heart. From planning the shoots to finalizing on the brands I want to work with and sharing style tips, this section features a lot of hard work and great team effort.
Can you tell us about some blogging myths that are completely false in your opinion? 
There are two blogging myths that I absolutely do not believe in-
'Having a Niche': According to me, it's okay if you don't have a niche but make sure that you know about the content that is connecting you with your current audience. Always analyze which posts are more popular and which ones people are commenting on.
'Good Photography Makes For a Successful Fashion Blog': The only way to create a successful blog is to create content that is perceived as valuable. No matter how much the visual media changes, skilled writing will always enjoy its position in the blogging arena.
When do you think is the right time to monetize a blog?
It's never too early in my opinion. If you intend to turn it into a business someday, focus on monetizing it from the start. But then again, focus your energies in creating and publishing content that you are passionate about and build traffic first. Place adsense and affiliate marketing programs alongside to learn and explore. Blog for yourself - followers, opportunities and money will follow on the basis of your ability to sustain your initial idea of blogging!
Tell us about your best collaboration till date?
I wish I could name just one! I have had great travel experiences at Suryagarh Jaisalmer, discovered modern Indian designs with label Anu P.D., explored the best food with JW Marriott, Aerocity and co-created beauty DIYs with Philips India. When I look back, I realise how far I have come, whether in terms of working with brands or in my overall journey of blogging!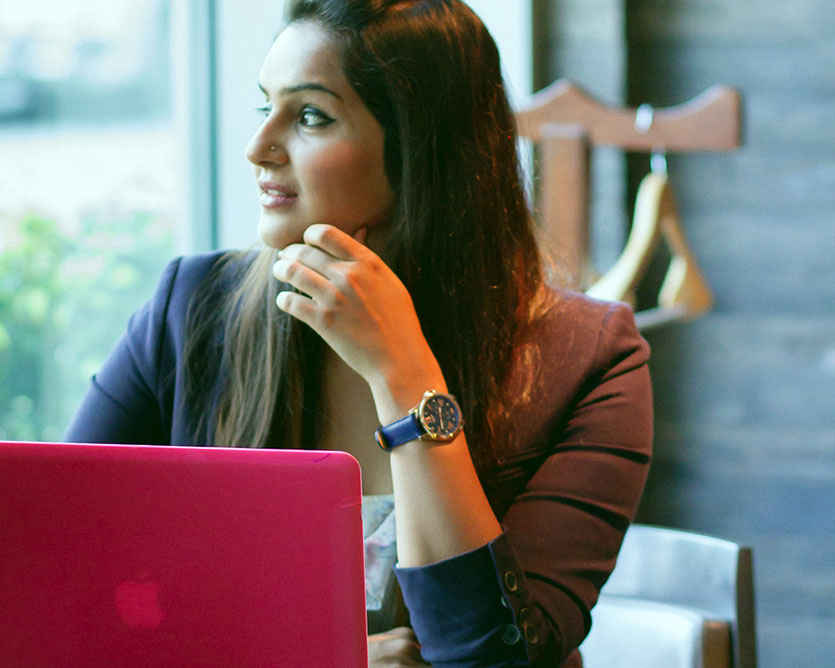 Describe your ideal reader.
I have found readers in both men and women. These people are highly active online and are engaged through their mobile devices 24*7. The best part is that they share multiple interests, ranging from celebrity gossip to restaurant reviews to fashion tips & lots more that we write about.
What according to you, makes Delhi 'So Delhi'?
Delhi just embraces you no matter where you come from! Being an army kid and having lived all over the country, Delhi has never intimidated me. There is fashion, food, adventure, history and so many details in the city that infact inspired me to create and run Guilty Bytes. From my college to work to now blogging - I have a lot to owe to this city!
What advice would you like to give to upcoming bloggers?
The best way to build a blog in 2016 is to create content that is perceived as valuable. Focus on reading and take inspiration from the ones who are already in the field. Also, have a multifaceted approach while promoting the blog on different mediums. Never shy away from getting onto new platforms, apps or social media communities that can help you build an audience numbering hundreds of thousands or millions!
We hope this opportunity to acquaint yourself with the various vignettes in Devina's life prodded the writer or the fashionista in you to realize its true calling!