We Found The Perfect Beauty Platform For You Called Glamrada To Solve All Your Makeup Queries!
Picture Credits: Devika Gupta
Are you usually clueless about what makeup to buy and what makeup will be healthy/suit your skin? Are you always pestering your friends to help you with the right application of makeup products? Are you fond of reviewing products you use and helping out others to make more informed decisions before purchasing?
If all your answers are a big fat YES then Glamrada is the platform for you!
Who They Are
Glamrada is a peer to peer beauty platform with comprehensive product listings for sharing unbiased reviews by people who have used/tested any product.Their vision is to enable you to buy better products by creating a community where beauty enthusiasts can share their collective beauty intellect!
What They Do

They aim to become a one stop destination for all things beauty, transforming how we shop for beauty products by providing everything from product reviews for makeup and skincare essentials, tutorials, trends, queries, tips, DIY hacks, beauty advice and more (what, wow!).
Reasons To Visit Their Rocking Website
You can create your own beauty profile with details such as your age, skin tone & skin type etc. and describe yourself and link your social media accounts to your profile on Glamrada *how cool is that?!*.
The website has the option to post both text or video reviews and since the vision is to create a community, user registered on the website can follow other users (to keep themselves updates on their activities), mark other's reviews as helpful etc.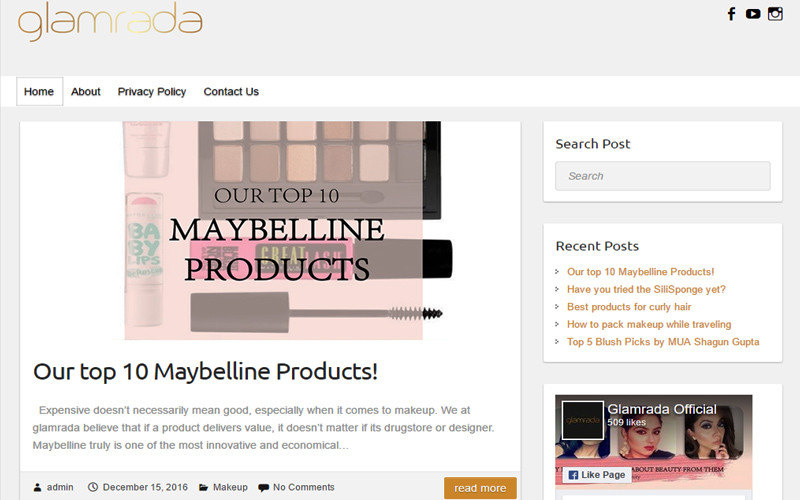 In order to encourage more reviews, there is a point system, where users earn points for various activities done on the website (example - write a review, comment on a article, start a discussion, refer a friend etc). The users with most points get promoted to the next level and once you reach a certain point, you will also get to enjoy some free giveaways too! You can explore more here - http://www.glamrada.com/badges
In order to keep users engaged, there are articles covering topics ranging from makeup, skin & hair from bloggers, makeup artists and inhouse professionals. The topics range from product picks of particular brands to generic makeup advice. Get more deets here - http://www.glamrada.com/blog
Like we said, there are also many makeup tutorials on the website from prominent makeup artists of Delhi. Check it out here -
They also have a live chat to answer any queries that you may have!
So browse through and write reviews on your favourite products to find yourself in a sweet spot with lots of glam points in your kitty! ( running to write our first makeup review!)
Website | www.glamrada.com
Facebook | https://www.facebook.com/glamradaofficial/
Instagram | https://www.instagram.com/glamradaofficial/
Youtube | https://www.youtube.com/channel/UCqnUbu0Hr7zxWG92xY2FnFw