We Expected Lazeez Mughlai & Were Handed Platefuls Of Disappointment @ Azam's Mughlai
Street food can said to be ruling the roost when it comes to Delhi - full of taste, quality and cheap, these standalone street joints are the pulse of the city. Delhi, more than any city in India, will never fall short of expectations, at least in our experience (wanna wager?!).
Last week, we finally went over to Azam's Mughlai and our verdict stands thus: If given an opportunity, try spending your money on the beautifully-done Parsi place, SodaBottleOpenerWala right across this so-called Mughlai food paradise suggested by so many. Out of their huge menu consisting of veg and non veg options alike, we went for the most sought-after and those which could be had standing (since there's no seating available). 
We finally settled on four choices:
 
Malai Chicken Tikka Roll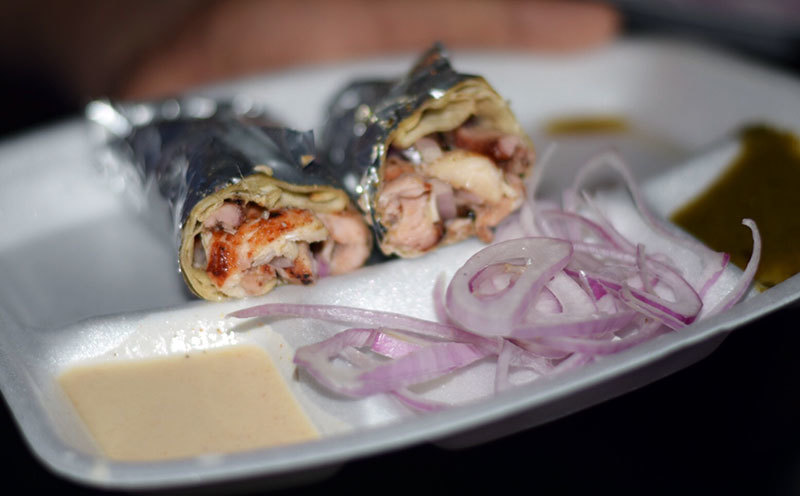 Of all the places we've ever laid our hands on a chicken roll, it couldn't get any worse than this! A rumali roti rolled with inadequate mint chutney, onions and tikkas that never gave us any confidence on this guy who apparently sells one of the best street food, according to many. If you really do intend on not listening to us and still ordering this, then tell the owner to atleast grill your tikkas to perfection, and not let them be half-cooked.
Price | Rs 180
Mutton Galauti Kathi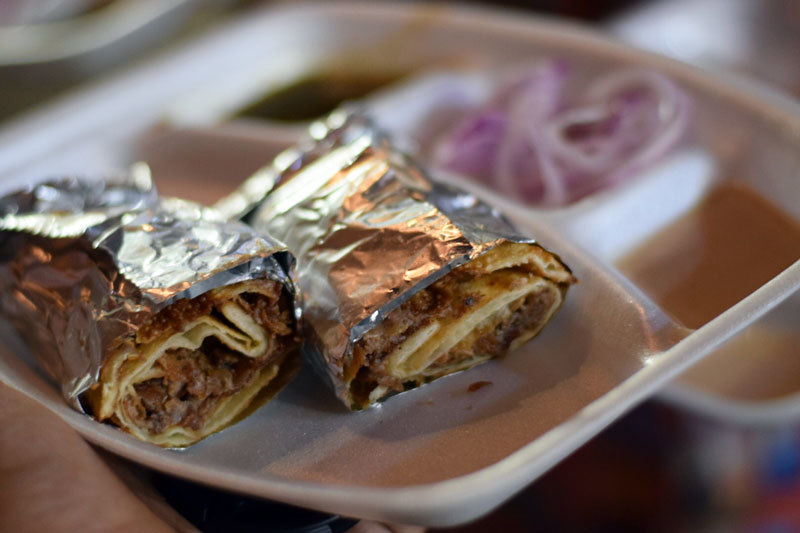 If there ever was a saving grace at this place, then it was probably their Galauti Kebab roll made using a warqi paratha. The paratha, a crispy fried version of our normal tawa parathas was superb with a hint of zaffran (saffron to the uninitiated!) emanating either from the soft succulent kebab or from the paratha. For those who love to try new things, this would be your best bet as no place comes close to serving this crispy a paratha.
Price | Rs 240
Masala Soya Chaap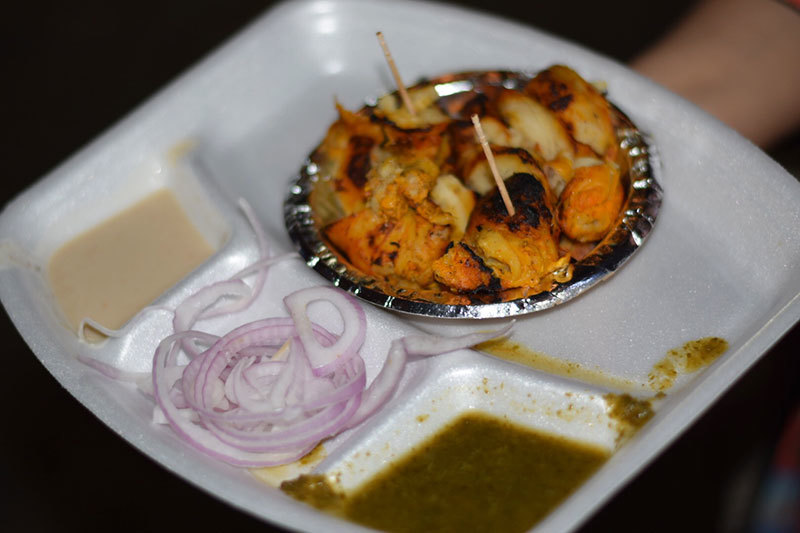 Just two words: biggest disappointment! This being 2017, where we've got a gazillion places doing a fine rendition of the second-most loved dish (the first being chicken, of course!), we can't understand how a food joint could possibly ruin an item as innocent as soya chaap. The chaap seemed too mild in terms of spiciness, and is only given a slight marination before exposing it to the heat of the charcoal. If you take our word, it was difficult even digesting the dry chaap!
Price | Rs 160
Mutton Kakori Kebab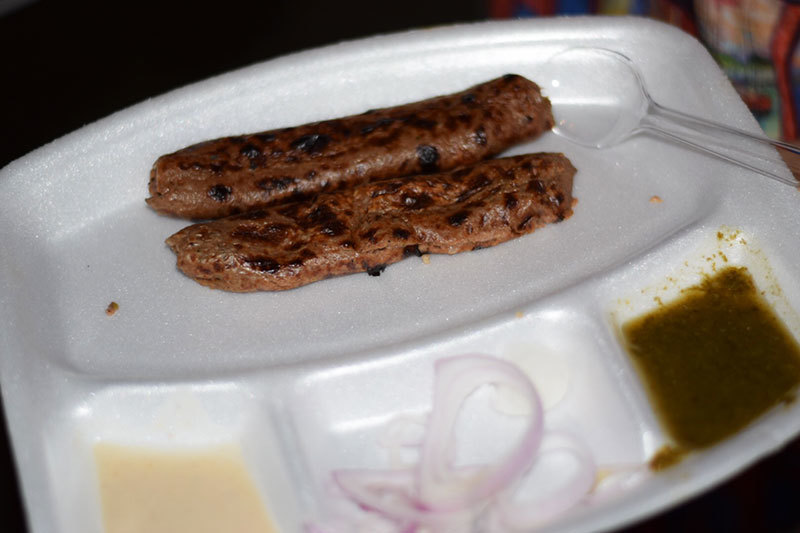 With many a great chefs fearing to tame the beast known as kakori kebab, the guys at Azam's Mughlai do a fairly good job of whipping up one of the most difficult to handle kebabs ever known to khansamas. The identification of a good kakori is the mincing of the meat which needs to be really fine to be able to be enjoyed. However, the meat might be extraordinary, but for us, the flavour lacked the authenticity except for the distinct taste of zaffran and maybe if we daresay, a hint of rose essence.
Price | Rs 190
With this we ended our food sojourn in Khan Market on a disappointing note with a thought that maybe, the richer and sophisticated a place is, the farther it moves away from the reality or the authenticity of it all. Although we still hope that many of you who do love that place continue to do so for times to come!
Location | Behind Big Chill Cakery, Khan Market