We Dropped by The Park & Happily Devoured Dishes Off The Fresh New Seasonal Menu at FIRE
A new season calls for a fresh new menu and The Park's award winning restaurant FIRE is happy to present a new seasonal menu which is over 50% organic, as they transition into a 100% earth-friendly version. The new menu is a union of the best of Indian ingredients from a growing list of suppliers and artisans who practice sustainable techniques to offer environmentally-conscious foods, and not just this, some of the products are grown inside the hotel, wherein waste bathtubs are converted into colorful planting containers. We love this effort taken by The Park to serve fresh, more nutritious and delicious food. Chef Abhishek Basu has composed a fine menu using fresh, organic food and produce.
We visited the place over lunch to sample the Special Gourmet Tasting Menu paired with an intriguing choice of wines, chosen well to blend seamlessly with the food. Read on!
Burrata, Arugula and Tomato salad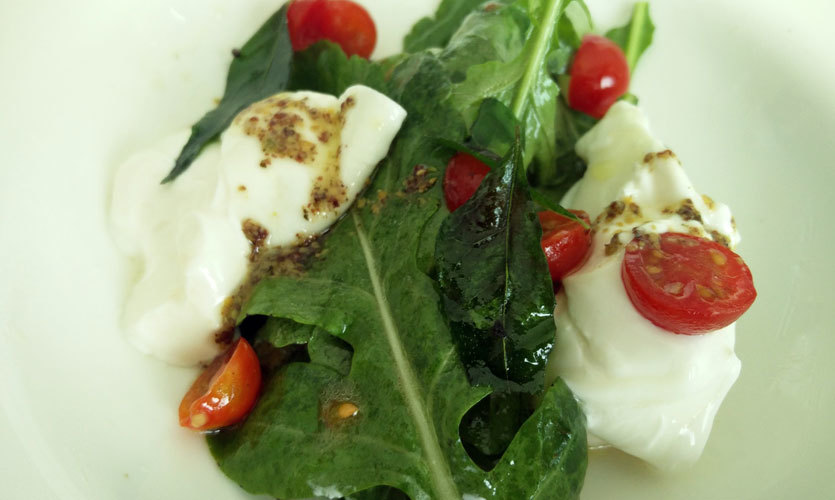 Father Michael's cheese, organic rocket leaves, baby tomatoes, crispy curry leaves and mustard seeds in a bowl were accompanied by Bottega vino dei poeti prosecco doc from Italy. The savory fresh flavor of wine with barely a hint of sweetness on the palate & flavours of green apple and citrus enhanced all the farm-fresh flavors of the green salad salad!
Yakhni Shorba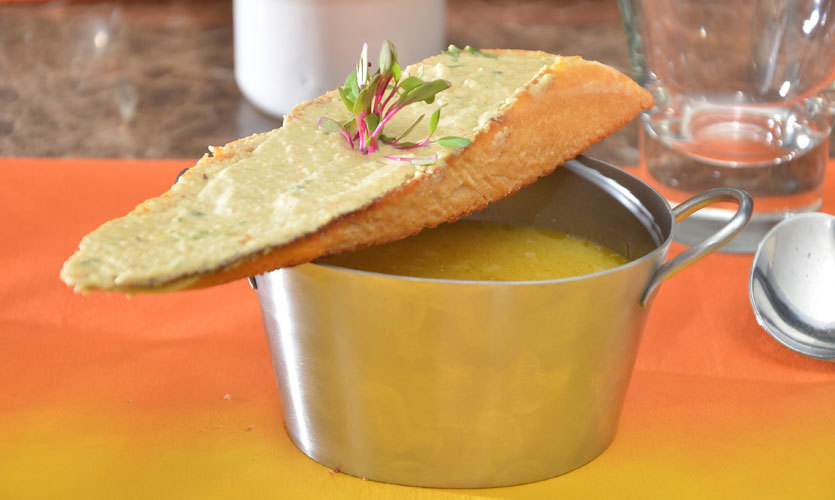 Mutton Shorba topped with bheja fry on multigrain toast with house-grown coriander microgreens. A traditional Kashmiri style broth, this dish is perfect for the new season. Rich, healthy and delightful; this one was an excellent addition to the menu and one you must try when here at FIRE.
FIRE Platter
A beautiful platter with even more adorable platting, it had Bhut Jolokia Prawn Stir Fry, Murg Malai Tikka and Broccoli Fennel Tikki.  Coming to the Bhut Jolokia Prawn Stir Fry, Tiger prawns from Gujarat were cooked with Assamese ghost pepper and the spice level of the dish was undoubtedly a little too high, however, so was the flavour level and we kept reaching for water, but couldn't stop ourselves from finishing the dish! 
Their Murgh Malai Tikka was as classic as it can get! Very mild spices, especially if you compare it to the previous dish, and we relished the flavours of this all-time favorite dish. The Broccoli Fennel Tikki served on a olive naan bruschetta, the dish was a satisfying treat without the meat! All this was paired with a Henri Bourgeois pouilly-fume, Loire valley France. A definite winner this one, it takes care of all your taste-bud fetishes!
Duck Mappas and Appam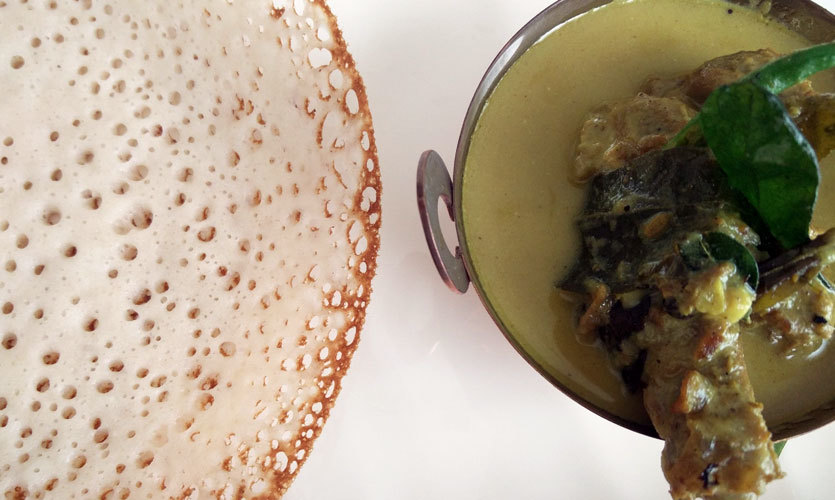 Duck curry cooked with coconut milk and served with Villa Maria Estate private bin Merlot – Cabernet Sauvignon, Hawke's bay, New Zealand. A typical Kerala dish with a creamy curry, the dish as an individual was definitely a winner.
Achari Risotto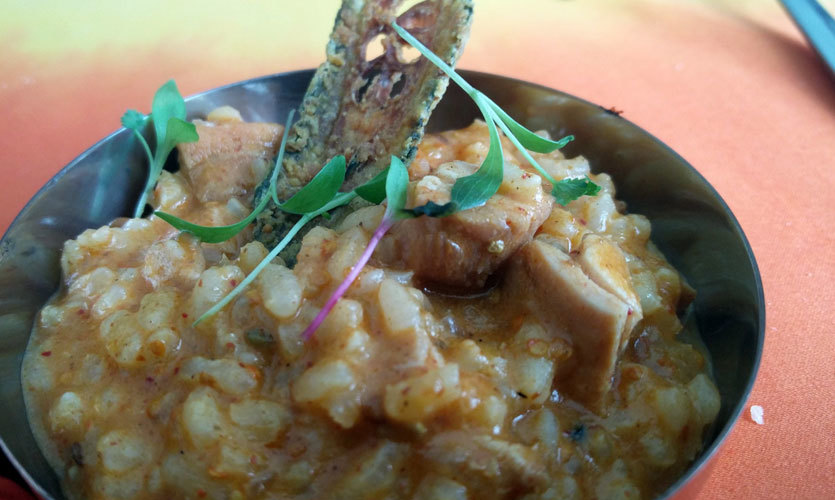 Arborio rice with seasonal farm-grown vegetables, organic chicken and desi cow ghee was served with a kurkuri karela. Mildly spicy, tangy and sour! The dish had the right amount of achari flavors which were very similar to a mango pickle and the kurkuri karela chip added suitable amount of crunch to the dish.
Desserts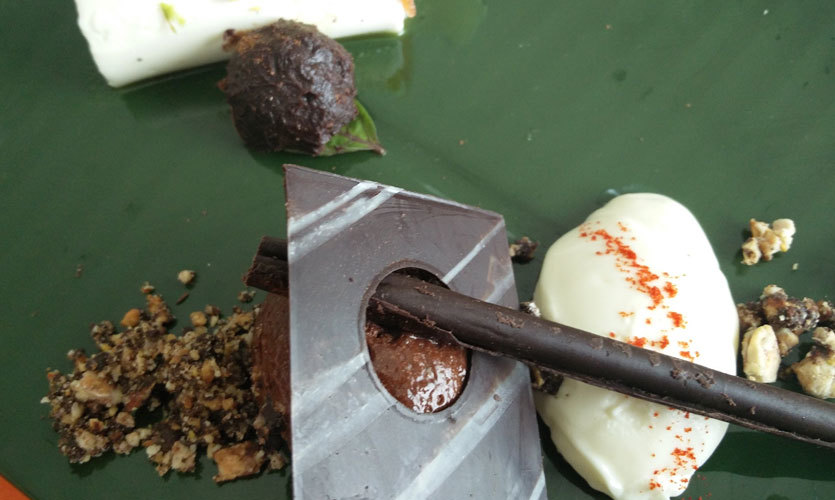 The dessert plate was beautifully presented to us with Mysore Cacao Chocolate Mousse, Chilli Mascarpone Quenelle with Florentine Crumble, Purple Basil and Thandai Panacotta and Kali Mirch Truffle. Now we were advised by the chef to try the Thandai Panacotta first, so that we are properly able to appreciate the beauty that this dessert was. It is incredible how the chef had incorporated basic Indian spices into these wonderful desserts. Paired with the Kali Mirch Tuffle, the dessert was an absolute delight! Coming on to the Mysore Cacao Chocolate Mousse and Chilli Mascarpone Quenelle with Florentine Crumble, the bitter-sweet savory paired with mascarpone cheese and nutty crumble was an absolute winner. 
FIRE has been known to present Indian food in a contemporary style, to reflect the way we in India eat now and the new menu is the precise reflection of that. Go try the new menu asap, available for both lunch and dinner!
Meal For Two | Rs 2,000 
Location | The Park, 15, Parliament Street, CP