We Dare You to Eat One | Check Out The Mightiest & Most Legendary Burgers in Delhi
If you've got an insatiable burger fetish, then we're here to happily assist in finding the most monstrous burgers in town. Let us be clear folks - these burgers ain't for the faint-hearted, these are only for the hungry monster in you - read on!
Mobar Burger @ Monkey Bar
Known for its peppy vibe, fruity cocktails and great food including Nachos, Butterfly Chicken etc, Monkey Bar has been making waves since it's inception. But very few know about Monkey Bar's delicious and equally gigantic array of burgers. The Mobar Burger will make you go weak in the knees. It's a wide, 300 gms beef patty stuffed with lettuce, cheese slices, tomatoes, onions, mayo, handfuls of bacon rashers and their famous bun which they make themselves!
Price | Rs 350
Locations | Plot No. 11, Commercial Complex, Pocket C 6 & 7, Vasant Kunj & P-3/90, Connaught Circus, CP
Legendary Burger @ Hard Rock Café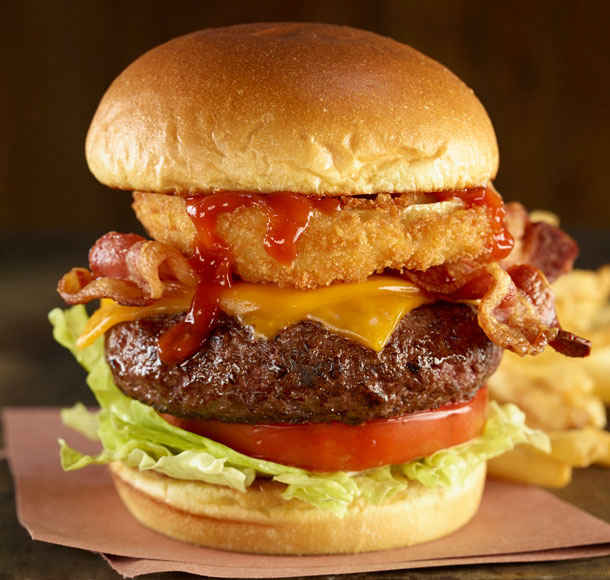 The much-adored international franchise, Hard Rock Cafe brings to Delhi the big, juicy burgers from the diners of America! But it's the Legendary Burger comprising a monstrous beef patty char grilled to your preference, loaded with cheddar cheese, veggies and epic amounts of yummy bacon that we're spotlighting. It's so big that they give you a steak knife to cut it, and oh boy, does it deliver on taste! 
Price | Rs 500
Locations | DLF Place, Saket, DLF Cyber Hub Gurgaon and Others Outlets
Fat Boy Burgers @ The Joint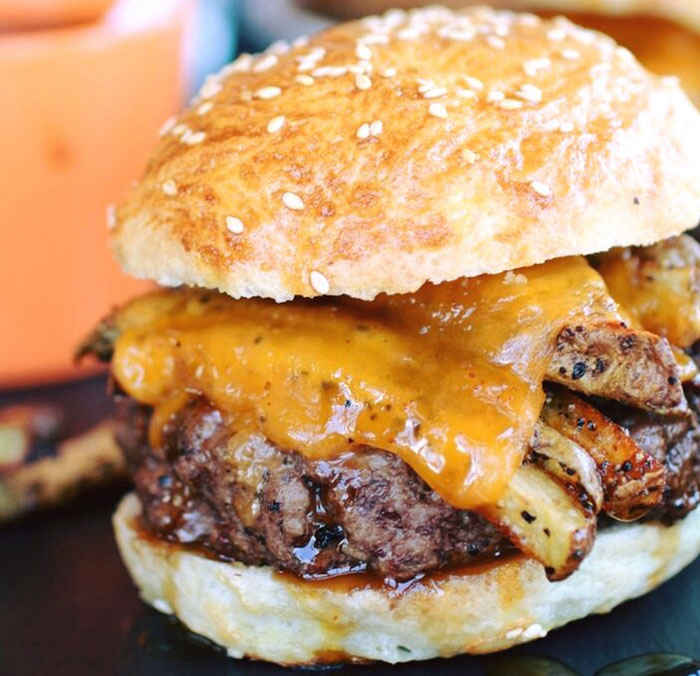 There are multitudes of reasons why The Joint is featured on our little big burger list. The main one being that it is the true 'Man vs. Food' experience! Their Holy Cow Burger is not meant for folks looking for a casual meal - it's meant for serious meat addicts. Entailing a juicy double beef patty with triple melted cheese, ham, bacon strips, deep fried pork, grilled mushrooms, onions and topped with a fried egg, this one will make you kneel before it!
Price | Rs 300
Location | 100, 1st Floor, DLF Galleria, DLF Phase IV, Gurgaon
Cajun Chicken Burger @ Chili's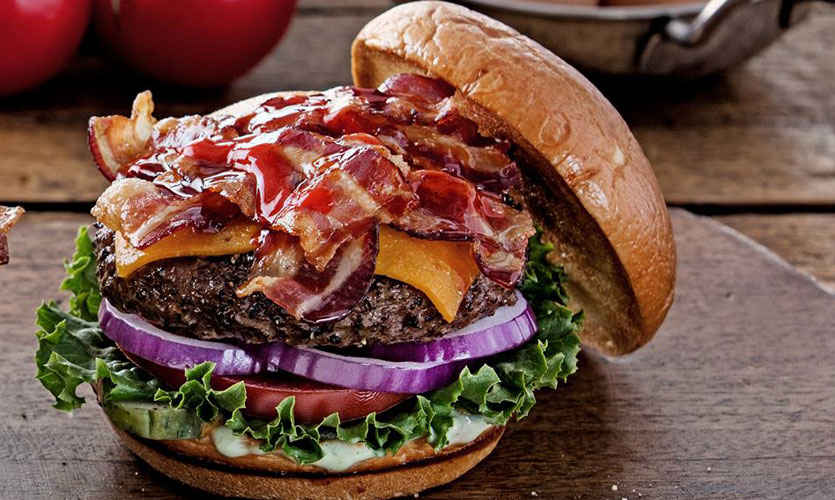 Did you know that the 'King of Mexican Food', Chili's serves some of the biggest burgers in town? Among a mind-boggling range of burgers, we absolutely adore their Cajun Chicken Burger which consists of a Cajun-style grilled chicken burger and southwest chicken patty with swiss cheese, lettuce, pickle and smoky ranch dressing. Trust us, if you want to go straight to foodie heaven, then this is the burger to devour!
Price | Rs 350
Locations | Ambience, Gurgaon, DLF Place, Saket & Other Outlets
Cooper Whopper Burger @ Cooper's Bar & Grill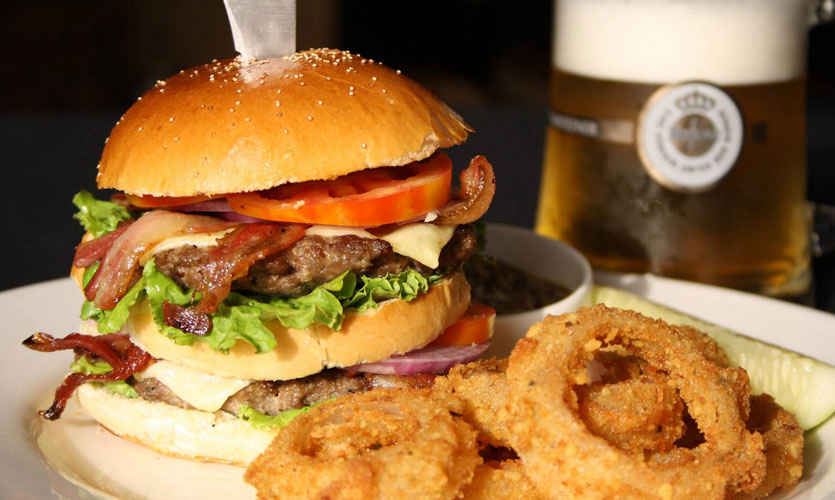 A peppy pub built in a classic restobar style, Cooper's Bar & Grill serves the yummiest & most delicious burgers along with a myriad of Italian & American dishes you'll adore. Seriously, believe us folks, it's a true foodie's den over here! Amongst a vast range of big burgers, we highly recommend their Cooper Whopper Burger and the Mushroom Whooper to delight your taste buds. Gorge away!.
Price | Rs 375
Location | 33-35, DLF Star Tower, Sector 30, Gurgaon
Fat Greek Burger @ Fatburger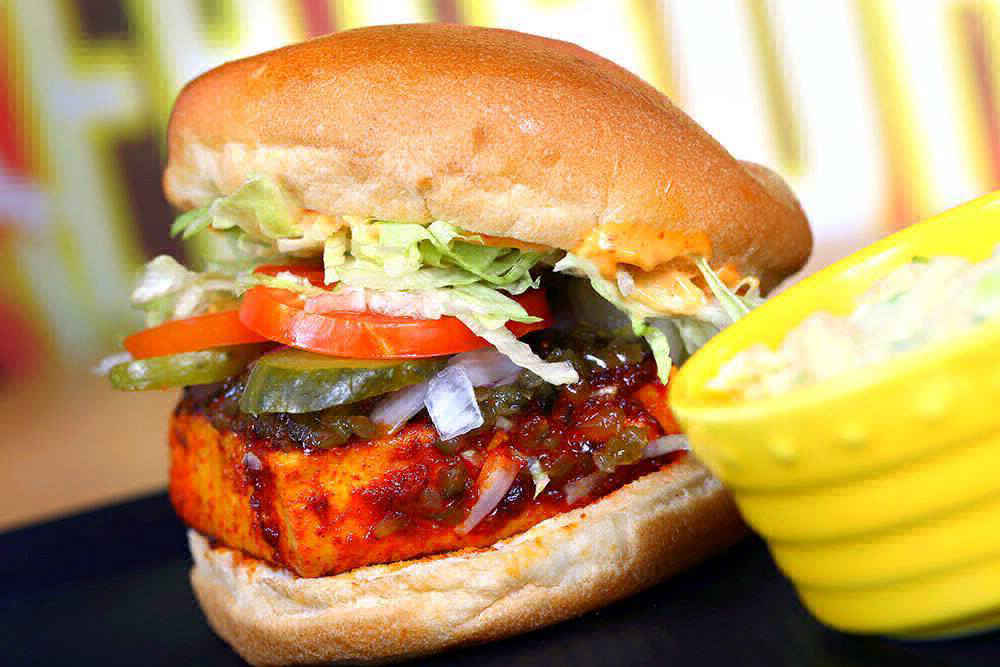 This burger joint is not for the faint-hearted. As the name suggests, Fatburger's burgers are for the hungry monster in you who is dying to devour as much as he can. We are absolutely doolally over their Fat Greek Burger, which is made up of a juicy tender lamb patty marinated in a unique blend of spices, herbs and homemade tzatziki sauce. To fulfill all your big burger fetishes, you've got to head here!
Price | Rs 500
Location | DLF Cyber Hub, Gurgaon
Divine Delhi Burger @ Johnny Rockets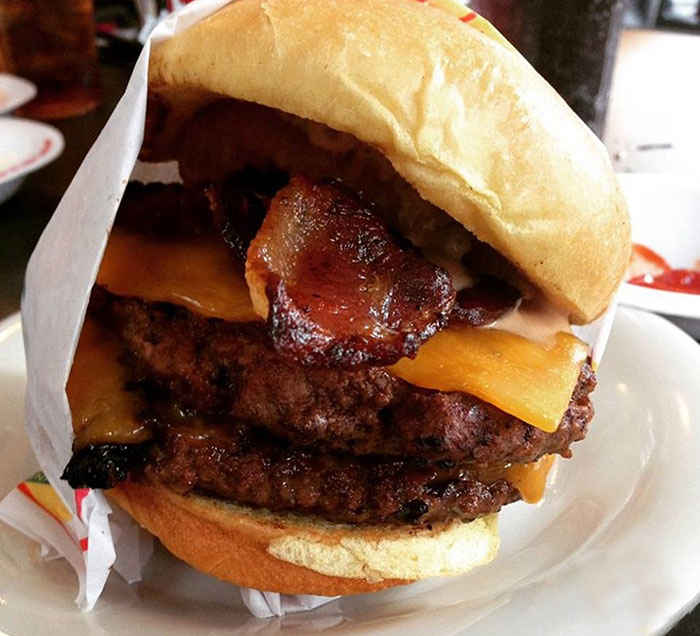 The king of hand-crafted burgers, Johnny Rockets has been blessing the burger maniacs with their giant and scrumptious concoctions ever since they set up shop in town. We highly recommend their Divine Delhi burger which comprises of grilled tandoori spiced chicken supreme, iceberg lettuce, tomato, onions, flavoured curd and masala mayonnaise. Slurp slurp!
Price | Rs 350
Locations | Select Citywalk, Saket, CP & Other Outlets
Kuzart Special Lamb Burger @ Kuzart Lane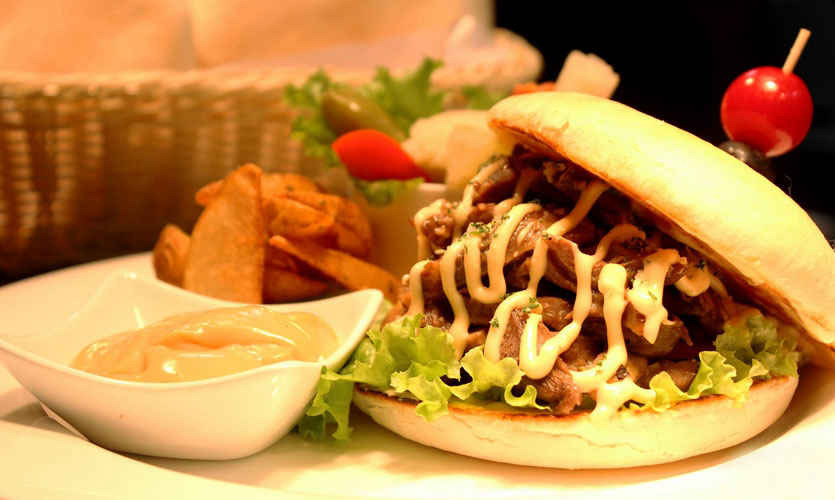 Kuzart Lane is a lesser-known joint, located in the narrow market of Adchini, however, nothing about this cafe is 'narrow' or 'little'! They do a variety of shakes, pastas, Tex-Mex & steaks, but the main attraction is their burgers. The buns are sliced thin (really thin) to make the inside of the burger the true hero & to absorb the delicious sauces which the patties are basted in. Their two biggest burgers are the BBQ Chicken Burger and the Kuzart Special Lamb Burger. Go try!
Price | Rs 425
Location | House No. 10, Sri Aurobindo Marg, Adchini