We Checked Out The Newest Chocolate Boutique in Town - Fabelle @ ITC Maurya
ITC Maurya recently let us in on their most recent addition called Fabelle, a luxury chocolate boutique that has entered the capital right in time for the festivities and so we sprinted over to the hotel for our rightful dose of a much-needed sugar rush!
Tucked in a corner inside the hotel, the Fabelle studio has a plush setting with a grand chandeliered entrance and a pretty pink touch to almost everything. The right half of the studio has cozy seats with a screen that continuously teases the senses with a high definition chocolate-dripping video. The other side of the studio is the working area, where master chocolatiers show-off their skills with dexterity and precision. The studio allows the patrons to build a connect with the chocolate artists at work. It is here that you can witness the skills and also indulge in some DIY chocolate making.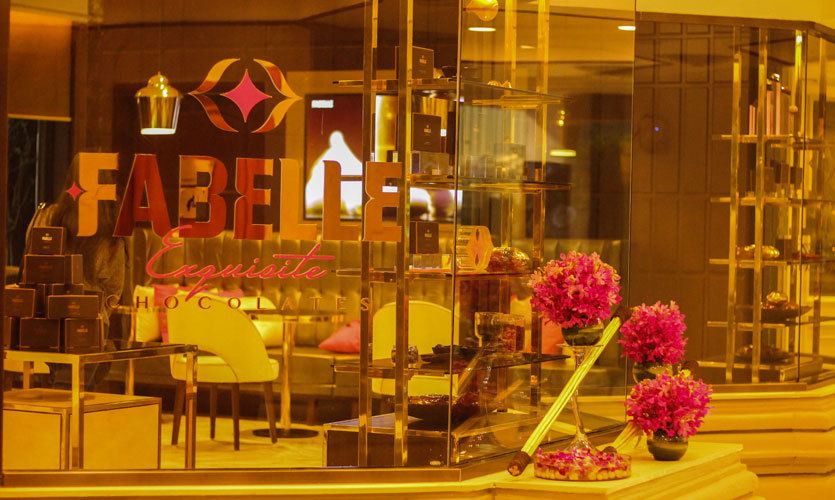 We came to know of some fun facts about Fabelle, such as that the chocolates are prepared at their chocolate factory in Bengaluru, where 4 international master chocolatiers, 14 master chocolatiers from the ITC group and more than 1,000 professionals they like to call artists, have come together to bring a fine range to the counter. Good going ITC!
Their ingredients include the best picks from the world: the master element cocoa is sourced from seven regions such as the Ivory Coast, Ghana, Madagascar, Venezuela and Saint Domingue; fiery Ancho chilli is used to spice up the chocolate; acacia nectar; French sea salt crystals and many more uniquely sourced ingredients! 
Here's a review of all the things that caught our attention:
Ganache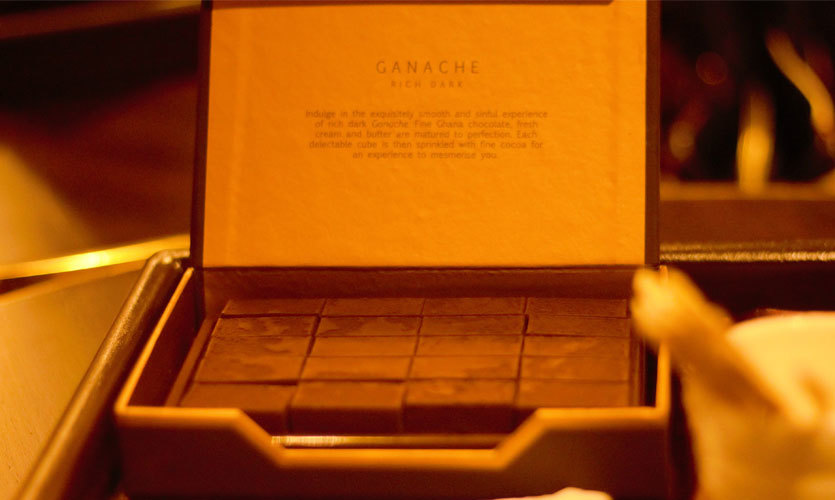 Their Ganache, available in two variants – rich dark made from Ghana cocoa, and creamy milk made with cocoa brought in from the Ivory Coast, is a work of art that has gone through 12 hours of conching and a stringent tempering process that allows it to be a melt-in-your-mouth experience. Ah, this is what bliss looks like guys!
Price | Rs 675 Per Box
Elements Handcrafted Pralines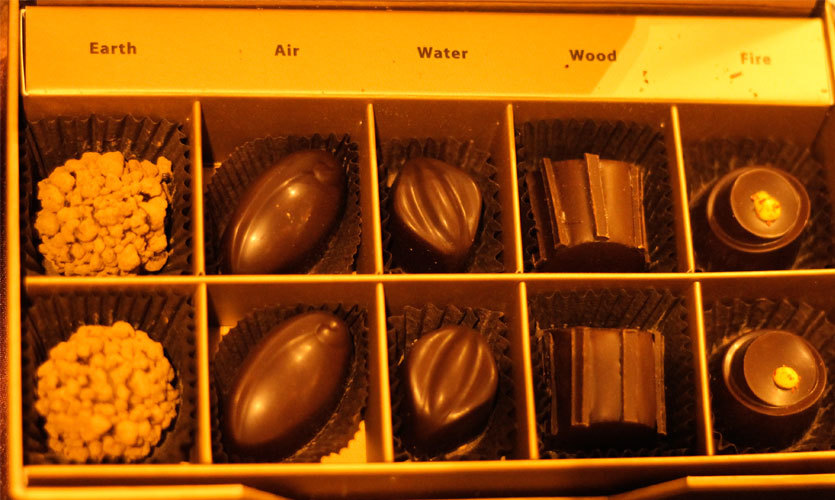 This has been conceptualised around the five elements of nature - earth, air, water, wood and fire. Each praline is designed to let your senses automatically know what it is experiencing. The Earth variant is a dark chocolate pod with dark mousse, the Air praline is filled with aerated mousse to offer a light melting experience, the Water version is filled with specially identified acacia nectar laced with French sea salt while the Wood one is shaped like little logs with cinnamon and coffee flavours to offer an earthy feel, and the Fire category has Ancho chillies which leaves a lingering fiery spicy feel on the palate. Woah!
Price | Rs 400 (Box of 5) & Rs 750 (Box of 10)
As You Like It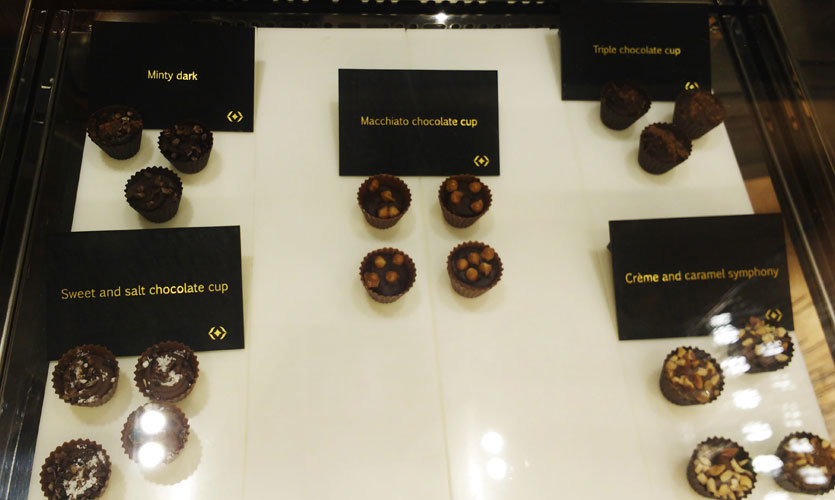 Fabelle believes in you. If you're confident about your sense of flavours and ingredients, Fabelle studio lets you create your own chocolate cup; your own DIY luxury chocolate! You can choose either a rich chocolate cup or a milk chocolate one and get going. The fillings available are milk and dark choco crème, white crème, dark almond choco crème, dark mint choco crème (we loved this one!), berry preserves made out of fresh berries and forever favourite - classic caramel.
You can choose to fill your cup with one or more types of filling and layer it with a host of toppings – choco curves, choco crust, almond slices, French sea salt crystals, Butterscotch nibs and loads more. Besides DIY, you can also pick from their pre-designed chocolate cups recommended by the master chocolatiers. Omg you just have to try these out peeps!
Price | Rs 100 Per Chocolate Cup, Rs 500 (Assortment of 6 Cups) & Rs 1,000 (Box of 12 Cups)
Black Forest Revisited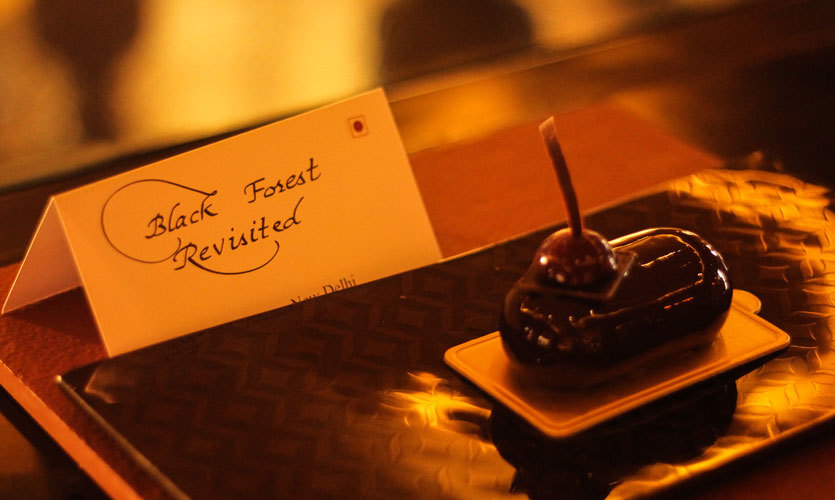 They announced a lil something called the Black Forest Revisited and instantly caught everyone's attention, for each patron was intrigued to figure out what the master chocolatiers had made out of this one. What came on the table was their own interpretation of the classic dessert. Made of 64% of dark chocolate with sour cherry confit and Madagascar vanilla bean crème, this one was a loaded biteful indeed!
Price | Rs 450
Ghana Milk Chocolate Mousse with Caramel & Banana Creme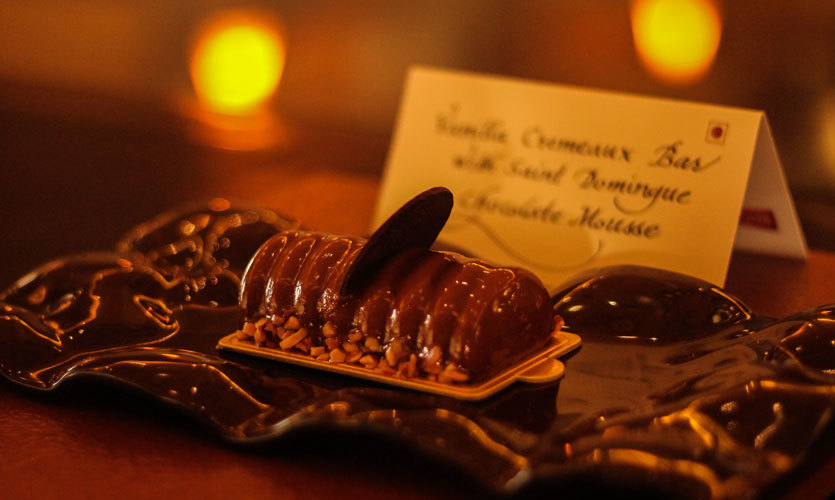 This irresistible dessert caught everyone's fancy almost immediately! This layered ensemble crafted to perfection is made of 33% milk chocolate, toffee, vanilla, coconut, caramel, velvety smooth banana crème all rested atop a thin hazelnut crisp (omg!). The apt balance between flavours and the suave presentation made it every bit awesome!
Price | Rs 450
Éclair Venezuela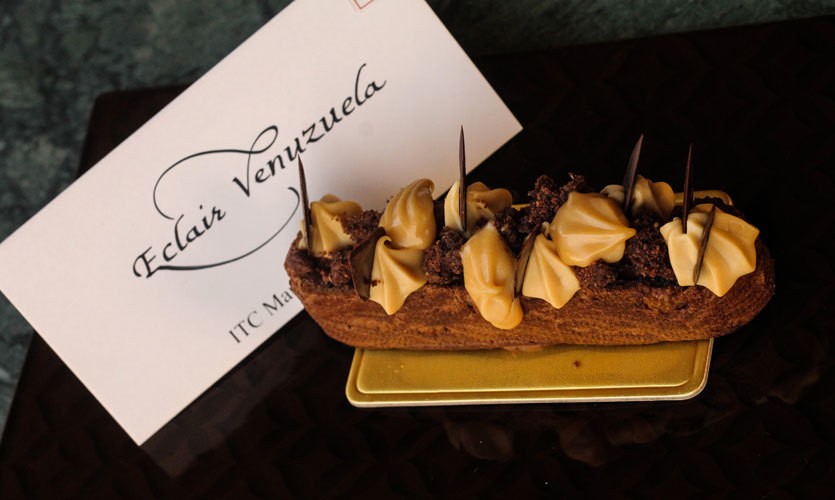 This is the kind of dessert you just wouldn't want to bite into and keep looking at its perfect look and inspiring presentation! Crafted with 72% single origin Venezuelan chocolate coupled with notes of caramel and dulcey cream topped with gold pepin, this one in particular is to die for. We stared and stared and finally went to town on this one - you'll want to too!
Price | Rs 525
Chocolate Flower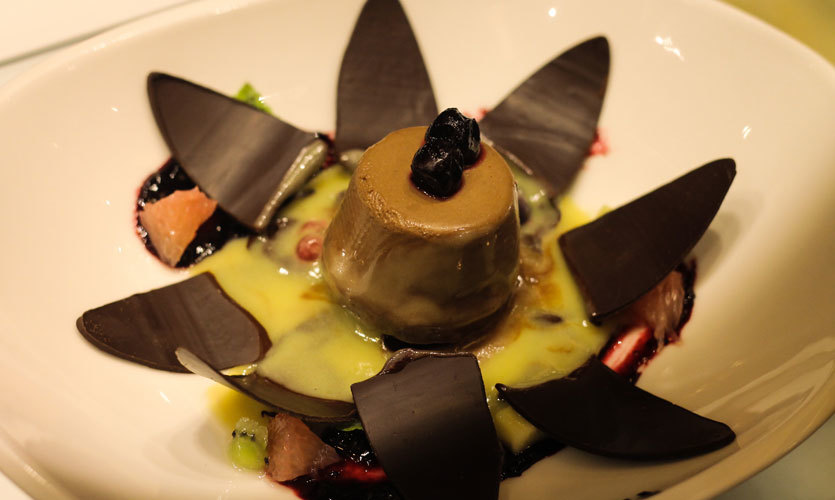 With a super dramatic presentation in tow, the chocolatiers took us on a blissful sojourn that satiated our sweets craving like nothing else! A neatly assembled chocolate flower with Turkish pistachio cream, shiny raspberry confit and mousse will unfold in front of your eyes like poetry in motion. Go take a meaty bite out of this folks - happy binging!
Price | Rs 525
Take out a stress-free day and visit ITC Maurya for an array of cocoa delicacies served to perfection!