We Checked Into World Art Dining at Punjabi Bagh Offering Up The World On a Plate
A tall three storey building right in the posh suburbs of Punjabi Bagh… First glance and one will end up tagging it as a stereotypical Punjabi extravagance but every floor will let you know that it is much more than that. 
With banquet spaces, a complete party and music zone and a beautiful restaurant, the place has brought foods from across the world and given them a twist before calling them World Art Dining's own. In a neighbourhood where only Indian foods used to fare best, it's amazing to watch a place like this come up and boldly define themselves.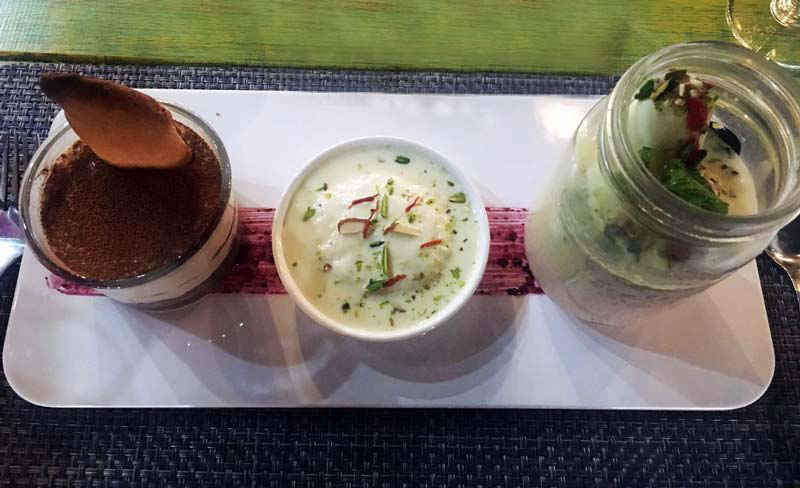 The interiors are a mish mash of diverse facets. From colourful chairs, specialized crockeries, discrete hanging bulbs, live kitchens to a parked out ATV, World Art Dining soothes your senses from the moment you walk in. With such changeable number of things to admire, we were ready to see what change their food brought in. 
Flames of the Forest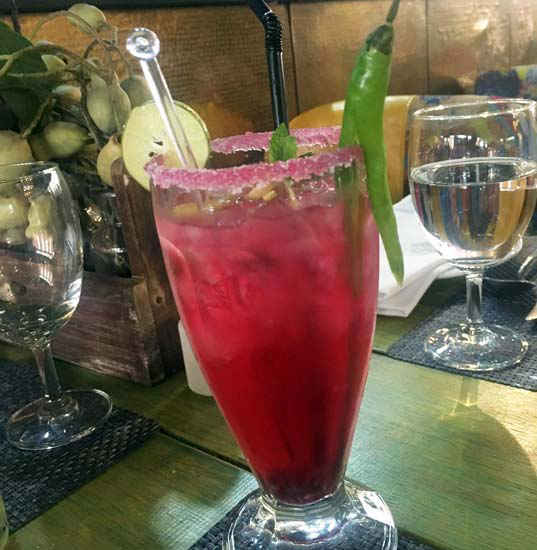 After a seemingly nice and innocuous drink, it was time to try something different and spicy. We picked the Flames of the Forest that had fiery green chillies in it. Although the first sip was sweet, the heat kicked in as it gushed down our throats. Something to surely try if you aren't scared of spice.
Pomegranate Basil Martini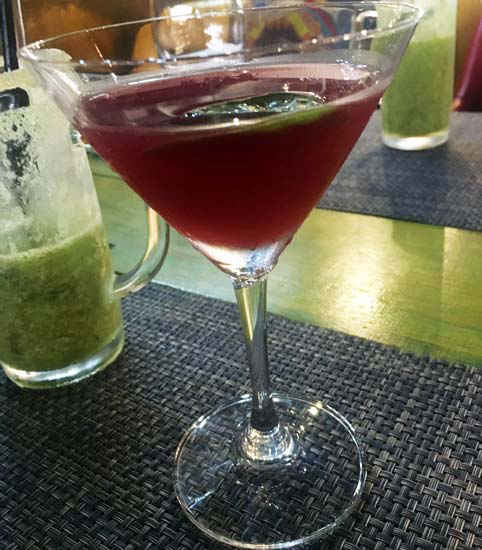 The last one was a vodka based Pomegranate Basil Martini. The pungency of the basil leaves mixed with sweet pomegranate juice and vodka is sure to be a crowd hit. 
Prawn Hargao and Chicken Crystal Dumplings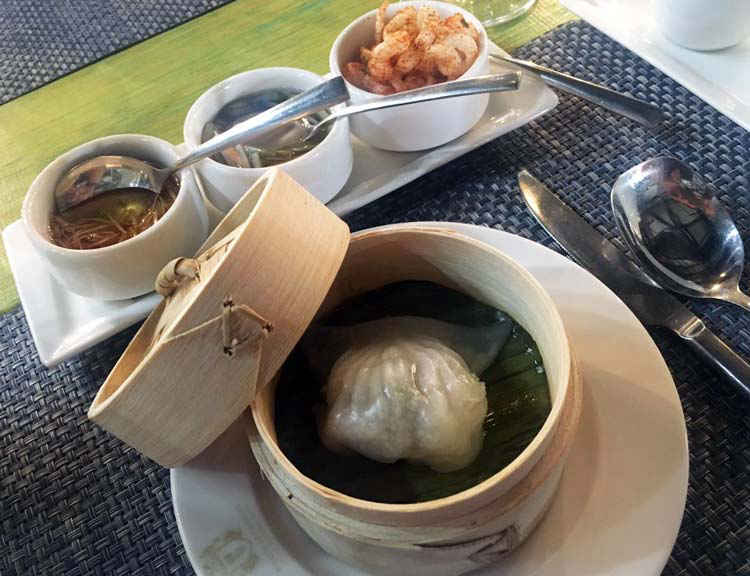 With our drinks entered an array of starters to suit the place's name. First one was an oriental favourite- Prawn Hargao. The prawn filling was unfortunately a little devoid of flavours. The Chicken Crystal Dumplings on a bed of crispy lamb, however, made up for it. They tasted like little pockets of heaven with their juicy chicken filling, crystal coat and spicy chutney. 
Loaded Jalapeno Nature Potato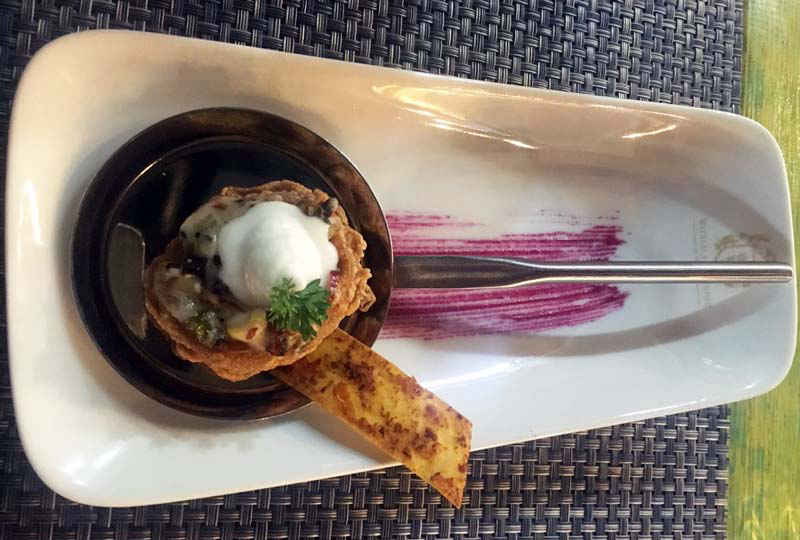 Stuffed in a crunchy potato jacket, this jalapeno and potato mash with a dollop of sour cream was food perfection! It all rested on blueberry coulis that gave the spicy ball of a goodness a sweet edge and a masala lavash. 
Zig Zag Chicken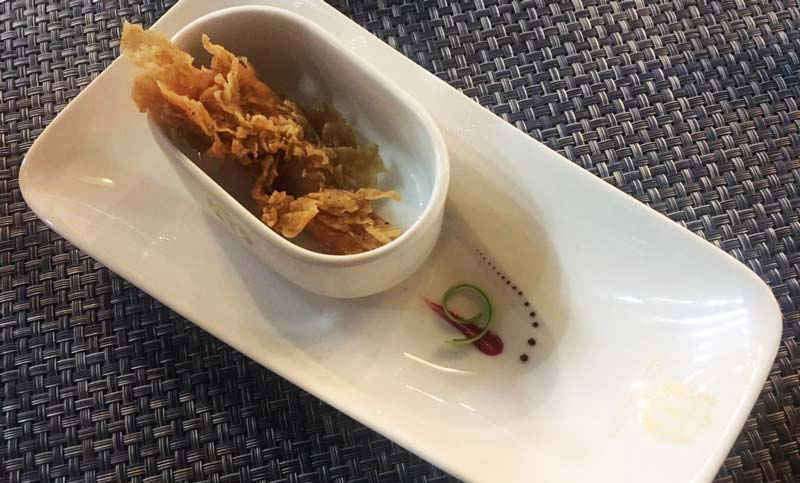 Another crispy and crunchy chicken dish. It may look like a regular KFC copy but do not judge a book by its cover. This one tastes like a chicken tikka, crumb coated and deep fried. If you are a crispy chicken lover, you are bound to love its desi counterpart. 
Fish Tikka and Malai Tikka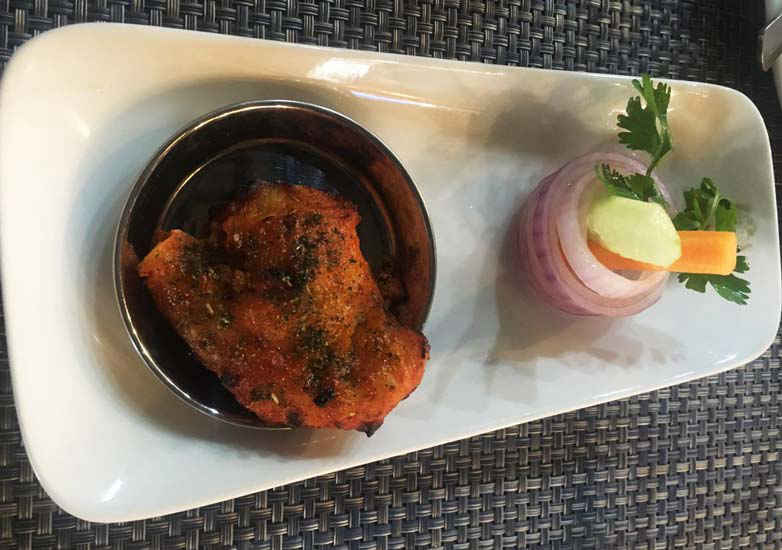 Fish rubbed with all sorts of Indian seasonings, grilled just for the right amount of time to keep it soft and packed with all its punch was comforting to our taste buds. The creamy chicken malai tikka too, was succulent however not as good as the fish tikka. 
Dahi Kebab
This dish was absolutely stellar in every sense. Creamy and gooey dahi and cottage cheese filling, crumb coated, and deep fried tasted like a vegetarian's dream. 
Vegetable Pho Broth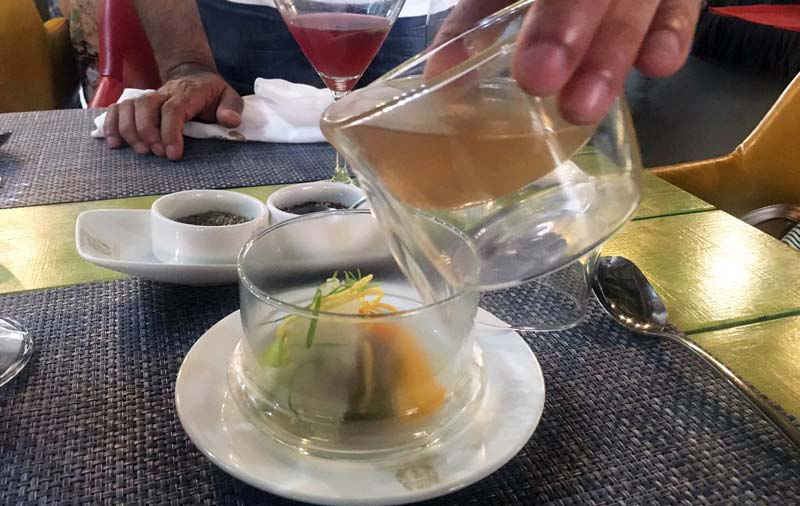 We were pleasantly shocked to see a Vietnamese dish in a restaurant in Punjabi Bagh let alone expect it to have its own little distinctive tale. Away from the plain Pho broth, WAD created a broth with vegetarian and non vegetarian dumplings and crunchy noodles. We tried the vegetarian one and it was worth more than one try! 
Napoli Pizza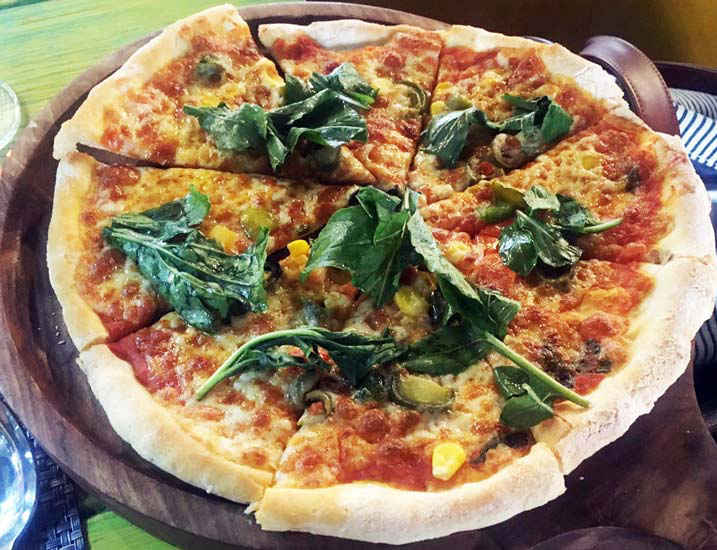 With a considerable amount of starters that had already filled us up, the place, its presentation and the insane variety of dishes made us hungry for more. We picked out an authentic Napoli pizza with mushroom and arugula leaves. Apart from its incredible taste, it was also a treat to watch it come out of the live brick oven landing straight into our plates. 
Balti Murgh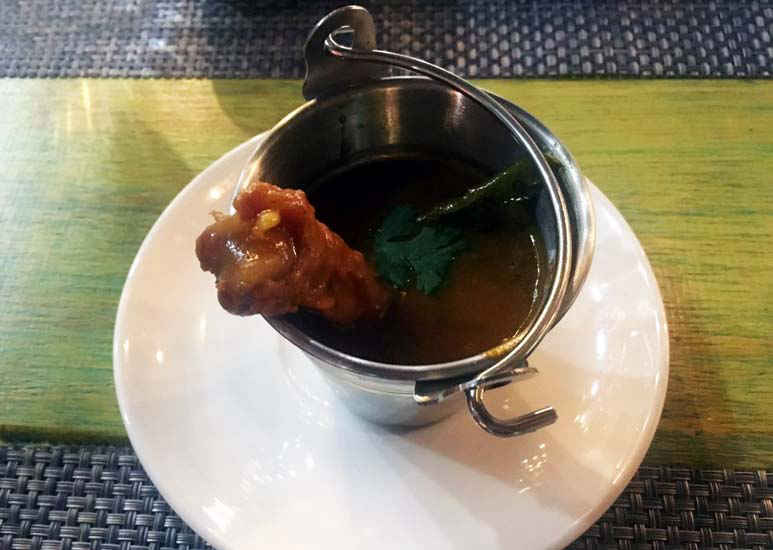 It was only just to try some of their marvelous Indian fare because when in Punjabi Bagh do as the Punjabis do. The Balti Murgh- a mildly spicy and delicately cooked chicken curry had us rolling in happiness. The chicken was cooked till it fell off the bones and the curry could be the boss of all curries.
Dal-e-Frontier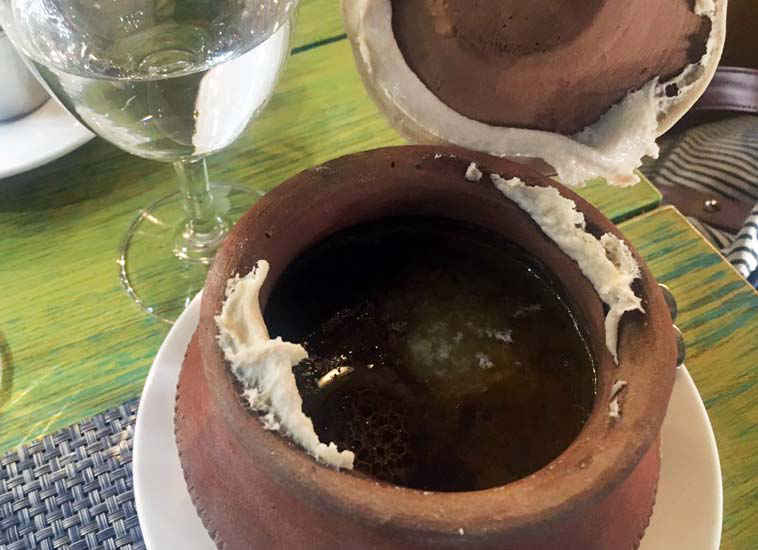 If you are a dal fan, fret not, this place serves the best dal you will ever come across. Their Dal-e-Frontier, that is cooked overnight and ofcourse is packed with oodles of goodness. It could compete with dals worldwide and still return a winner. We crammed it all up with Indian breads- Butter Naan and Lachha Paratha. 
Rasmalai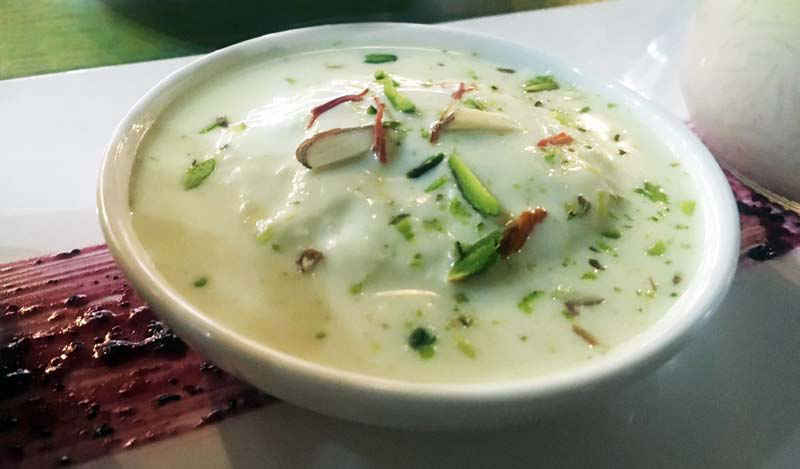 We never really thought that a humble rasmalai could be a dish that would ever blow our mind and yet it did so with admirable finesse. The rich and velvety dessert made in house was a treat to lust after for days. 
Kulfi Falooda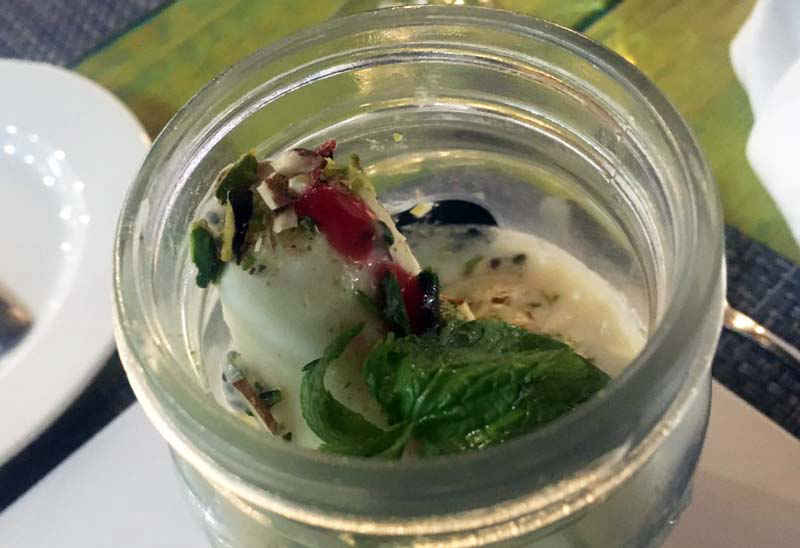 Again an in house specialty, this one came in a glass with roohahfza, falooda and a lush kulfi standing tall. The kulfi tasted like none other and tasted exactly like a frozen rabri stick. 
Tiramisu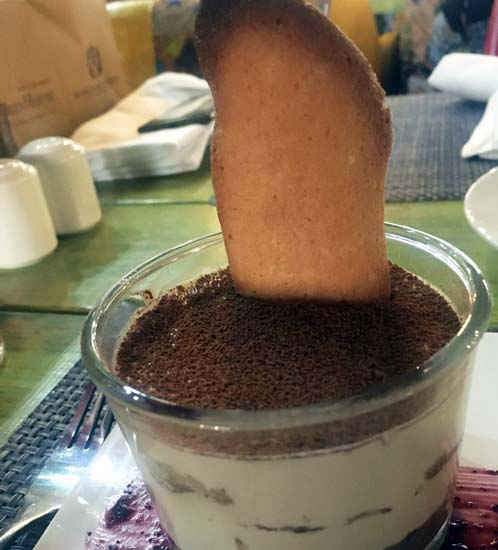 A dessert that we generally always end up loving did not feature in our favourites, such was the strength of their Indian desserts. Although a great one with the right amount of booze and all things nice- try it only if you aren't keen on trying other desserts. 
Mango Margarita Twist 
Our gastronomic journey began with a delicious Mango Margarita Twist that was sweet and tangy- just the right drink for Delhi's scorching summers! 
Their food is definitely a fresh change in west Delhi. The building serves as a one stop portal for all things related to food and entertainment. So stay there not just for their food but also the music and if you want a great place to host a party, you know which door to knock on. 
Location | 1 North West Avenue, Club Road, Punjabi Bagh
Meal for two | Rs 2000