Wallowing in The Astounding Flavours With #MichelinCheftAtTheLalit! Read on
Word around town (that's spread like wildfire) is that a hallowed duo - famed Chef Ollie Dabbous from the *gasp* Michelin-starred, ridiculously popular London restaurant Dabbous and star mixologist (not to mention co-owner) Oskar Kinberg are arriving at none other than the plush hotel, The Lalit! Keeping this juicy tidbit firmly under our belt, we were graciously presented with an invite to the glittery event and rubbing our hands gleefully and clutching our quivering pens and rumbling bellies, we made our way over!
About The Do
The evening was all about a phenomenal sit-down 4-course meal prepared exclusively for us *starry eyed* by none other than the maestro himself - Chef Dabbous at The Lalit's much-adored restaurant The Grill Room, plus a bonus extravaganza of some thoroughly original and novel cocktails that would be concocted by London's finest mixologist (nope, we kid you not!) Oskar Kinberg. Now that we've given you a tease, scroll through to find out exactly what happened next!
Boozy, Delicious & Punchy Cocktails
So since we had the famous Oskar Kinberg in our midst, the evening could hardly begin without us getting an eyeful (not to mention mouthful) of some totally crazy concoctions! Starting off with a wholly refreshing cocktail glass-ful, we were presented with a lil something called 'Dillusion'! Comprising Hendricks gin (omg!), dil, cucumber juice, elderflower and lemon, it was lip-smackingly delish.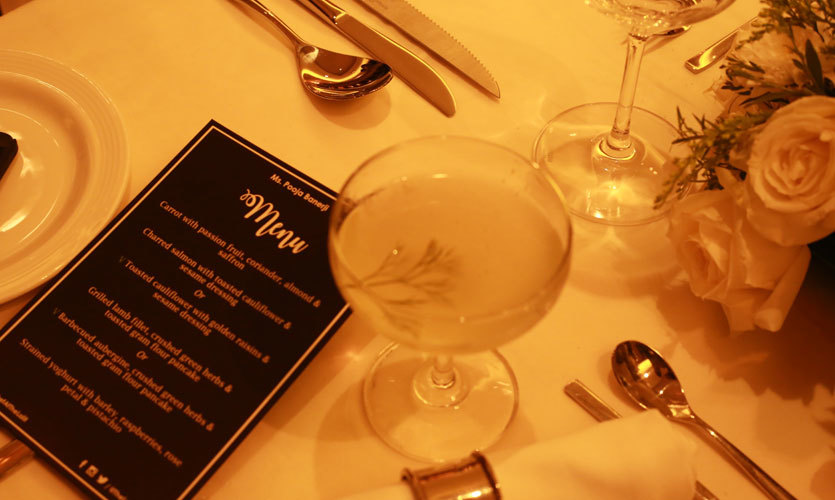 Moving on, we then sampled yet another novel cocktail called - get this - 'Whiskey Business'! A merry blend of Jim Beam (yay!), Cocchi di Torino (vermouth to you), Fino sherry, Gammel Dansk (Danish liqueur) and a twist of passion fruit floating on top, it packed quite a punch!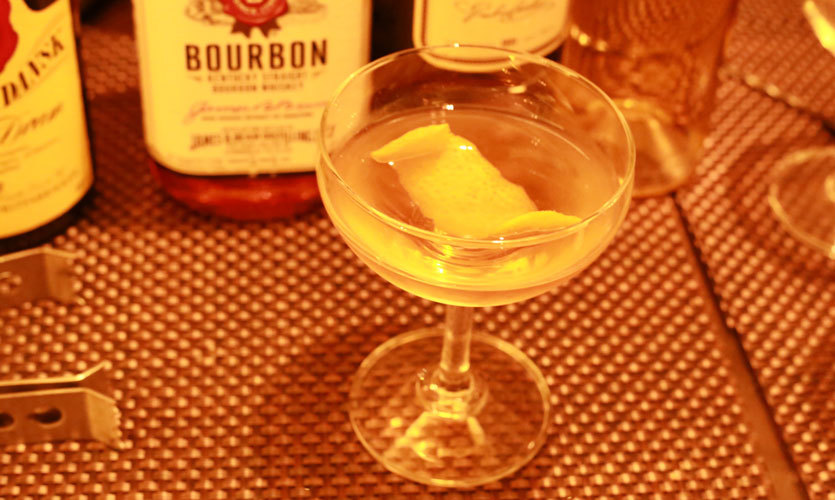 We then went on to the self-proclaimed favorite of master mixologist Oskar - 'Sorrel Seems To Be The Hardest Word' which was yet another refreshing cocktail composed of Hendricks gin, sauvignon blanc and green juice - yum yum!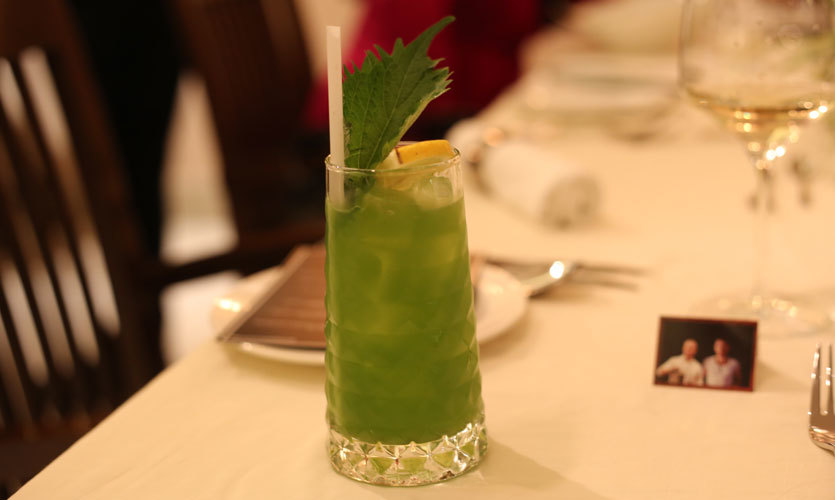 We then gracefully sat down at our tables where individually named menus sat next to perfectly gleaming glassware and waited expectantly for the feast to begin! Here's what we sampled:
Carrot with Passion Fruit, Coriander, Almond & Saffron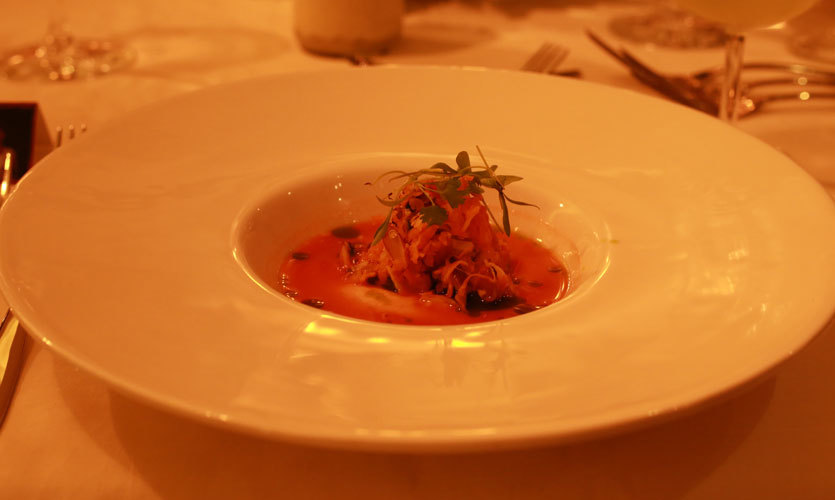 Swimming in a pool of gooey flavours simply warring for our culinary attention, we dipped our eager fork in, anticipating a virtual gastronomic orgasm! The taste was unlike anything we had ever laid eyes on! With a firmly nutty overlay of crunchy almonds, the entree comprised shredded carrot infused with passion fruit, hints of coriander and the sweet aftertaste of saffron. The dish would prove to be the forbear of a thoroughly European fiesta - read on!
Charred Salmon with Toasted Cauliflower & Sesame Dressing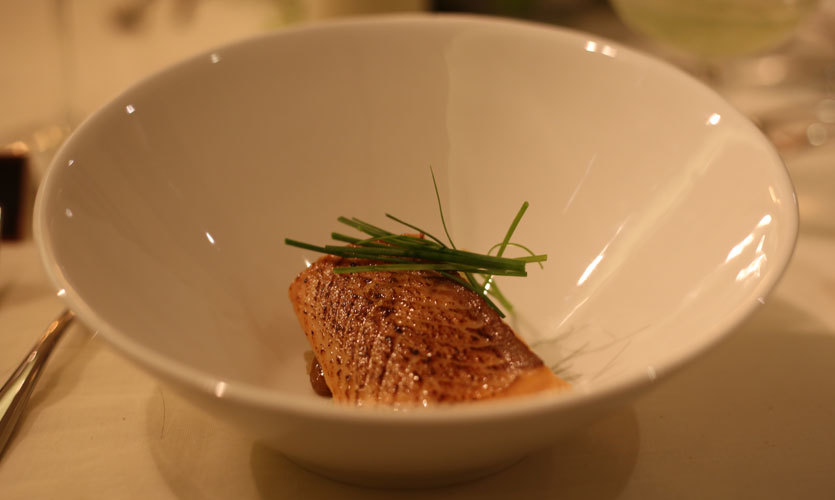 Skirted on all sides with the creamiest ever sauce, we happily took up our fork again, intending to gorge on some perfectly chargrilled salmon meat *meaty gleams on our eyes*! As could be expected from any acclaimed Michelin-starred chef, the salmon neatly broke apart at the slightest nudge, and accompanied by the afore-mentioned dressing, was a true delight to the palate! Scooping our fork through the toasted cauliflower, the salmon fillet disappeared in no time! *Happy, satisfied sighs*
Grilled Lamb Fillet, Crushed Green Herbs & Toasted Pancake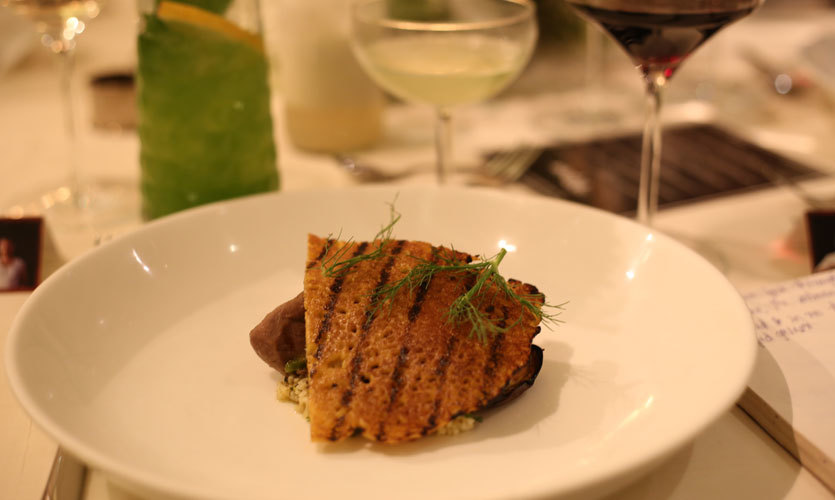 Now we come to the main course! The most succulent lamb fillet lay concealed behind a huge triangle of gram-flour pancake. Tearing off a hunk of the nice and warm pancake, we scooped up the juicy heart of the lamb! Tender hunks of lamb were surrounded by copious masses of crushed green herbs - the dish was tremendously juicy (we re-iterate) and an absolutely novel delight for the senses.
Strained Yoghurt with Barley, Raspberries, Rose Petals & Pistachios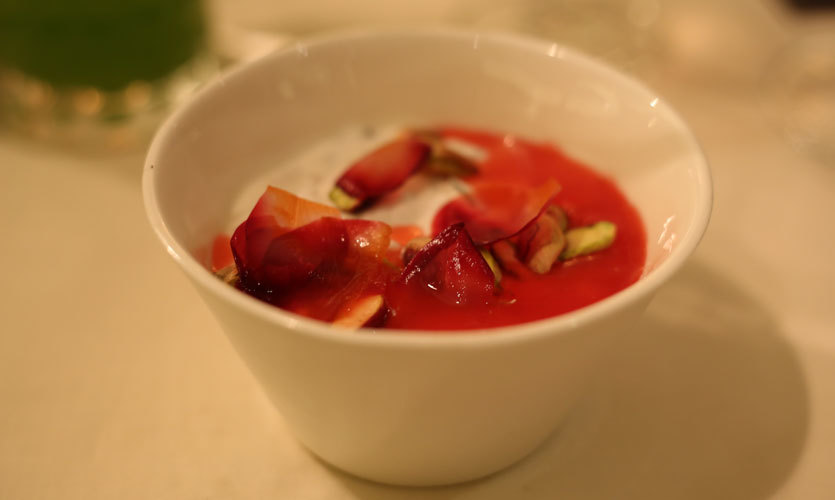 Nearing the close of our perfectly well-thought-out and prepared meal, we were presented with this unique gem of a dessert! The tangy acidity of the strained yoghurt acted as the perfect symphony to the ridiculously sweet taste of the raspberries and pistachios, and do you wanna know the best bit? The dessert bowl was garnished with actual, pretty rose petals - we were truly in foodie bliss!
Our verdict? The spectacular event organized by The Lalit was an unprecedented success and we can't wait to see further collaboration between this beloved Delhi hotel and the maestros hailing from the UK! 
Price Per Head | Rs 3,000
Location | The Lalit, Barakhamba Road, CP