Up For a Delectable And Classy Fine-Dining Chinese Experience? Make Your Way to Yauatcha!
Yauatcha is one of the biggest chains that's made a huge mark in India's restaurant scene which is getting hotter by the day. Located in Ambience Mall, Vasant Kunj amidst a lot of other great eateries, Yauatcha sure is the dark horse! Serving the non-sichuan Chinese cuisine, it stands out in terms of the fine-dining ambience as well as the distinctive menu. 
Presently, Yauatcha along with a few more restaurants is celebrating the 2,000-year-old traditional Dragon Boat Festival. The festival calls for pyramid shaped sticky rice dumplings, rice wine, wine sorbet and celebration with family and friends. What's a better way to celebrate than enjoying a beautiful meal with the family?
Choosing from the exclusive Dragon Boat Festival menu, that had a limited number of items, here's what set our gastronomic machinery in motion:
Citrus Spritz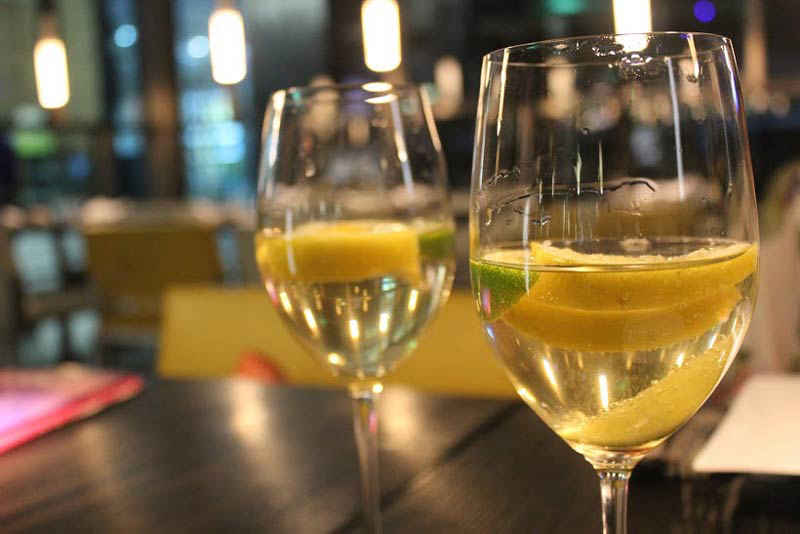 This cocktail is a combination of vodka, dry martini and chandon brut topped with lemon and lime chunks which give it the quintessential summer touch! Sipping on the drink you get acquainted with the flavours of lemon and lime slowly which become stronger towards the end. It complements the food perfectly and is surely something that you should start your night with!  
Sticky Rice in Lotus Leaf with Prawn and Chicken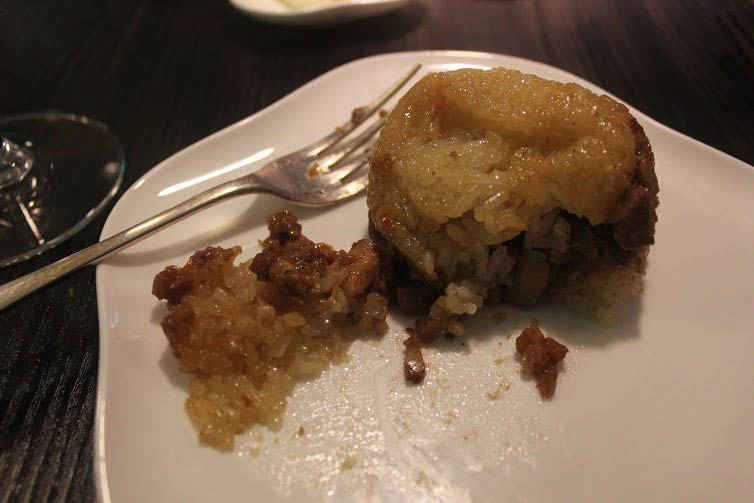 All items were presented in the traditional manner, wrapped in lotus leaves, and the mere sight of the food was enough to excite us. Once the dumpling is unwrapped from the lotus, it will surely leave you starry eyed! The flavoursome rice along with the chicken and prawn filling made for a perfectly balanced dish! The little prawn in the middle was our peek-a-boo moment! 
Sticky Rice in Lotus Leaf with Chicken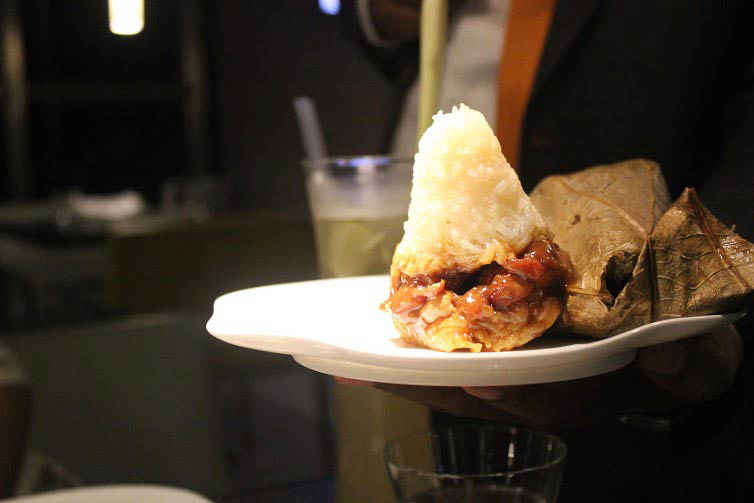 This one also came wrapped in the lotus leaf but in a pyramid shape and resembled a pan! The base of the dish was a tightly packed medley of chicken and cashew nuts topped with the pyramidical sticky rice. The cashew nuts added a slight crunch to the otherwise soft and chewy texture of the dish making it unique and delightful!
Sticky Rice in Lotus Leaf with Asparagus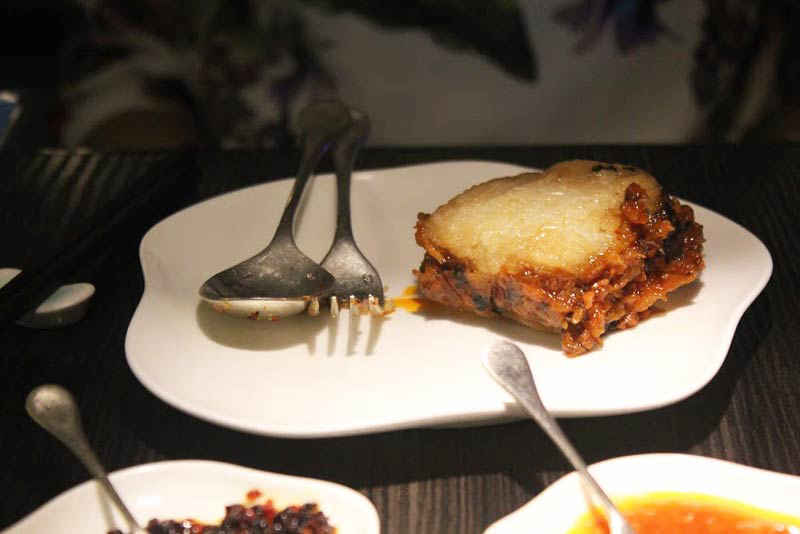 From the vegetarian offerings we ordered the asparagus sticky rice, which was also shaped like a dumpling in which the rice acted like a glove to the mushroom, asparagus and water chestnut filling. Being meat lovers, we were surprised to realize that we liked this particular dish the most! It was packed with flavours and the water chestnut's crunch along with the asparagus and mushrooms' softness blended perfectly with the glutinous rice! 
Wine Soaked Water-Chestnut with Mango Cake and Sauvignon sorbet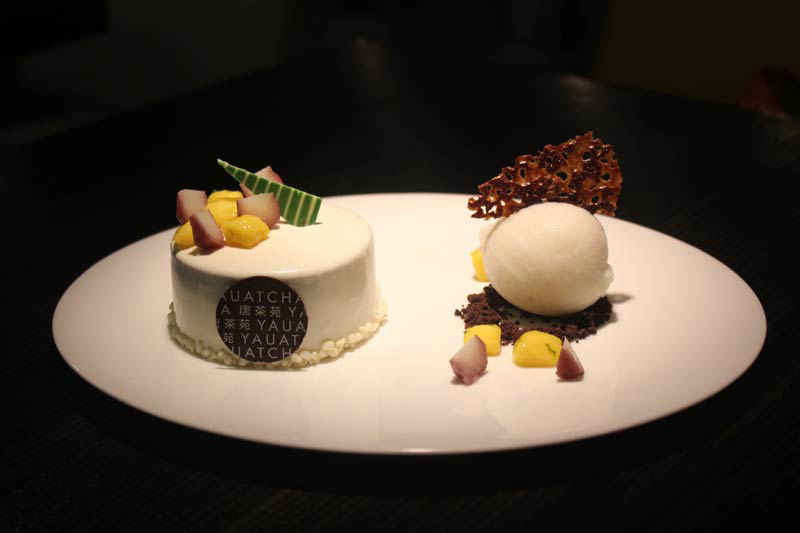 Believe us when we tell you, this is the highlight in the entire menu! Yauatcha is well known for its desserts and this one was simply heaven on a plate! Firstly, the presentation of the dish will leave you mesmerized and when the flavours start talking, you will reach your dreamland!
The panna cotta had a bitter chocolate base and was covered with white chocolate glaze topped with mangoes and wine soaked chestnuts, which was simply a class apart! It was accompanied with a wine base sorbet packed with aroma and the perfect texture, not too icy nor too creamy - simply perfect, melt-in-your-mouth texture! 
Overall the Dragon Boat Festival's menu is very unique and not something that's present in abundance in Delhi yet. So if you're up for trying something new, then book yourself a table soon because this festival will only last till the end of June! 
However, we couldn't leave Yauatcha without trying the two most talked about items on their menu. Here's what we tried from the regular menu: 
Lalu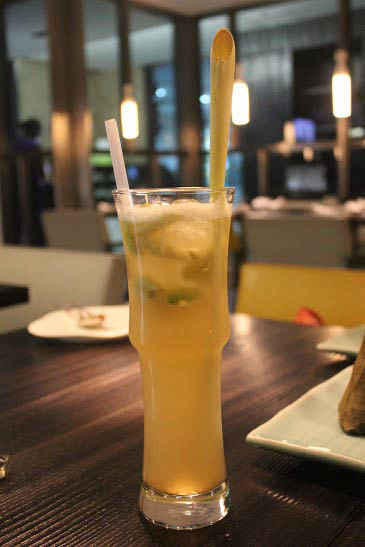 Lalu was our personal favourite drink! It was something that we had never tasted before - a perfect fusion of litchis, lemongrass, brown sugar, lemon juice and vodka. Very rarely would you ever get a lemongrass flavoured cocktail but this one hit the ball out of the court! It was sweet without overtly being so and was extremely refreshing. It's definitely a crowd pleaser! 
Spinach Roll Dim Sum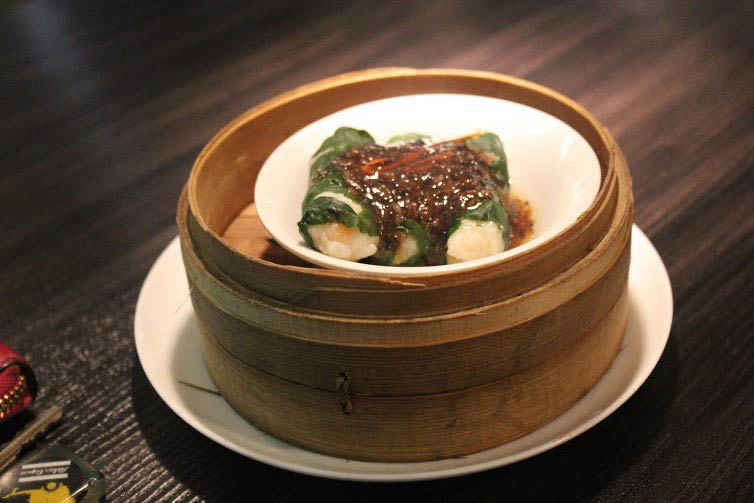 Imagine a perfectly cooked prawn with water chestnuts wrapped in a leaf of spinach topped with black bean sauce. Makes your palate do a little dance, doesn't it? This is exactly what we went through when we took the first bite. The dimsums were super soft and melt-in-your-mouth yummy. The prawn wasn't overly chewy and the black bean sauce added a punch of flavour which made the dish stand out!
Yauatcha will amaze you with its authentic flavours and elegant decor. The service was prompt and the staff was very attentive. One little advice, do try the chili oil that they serve with every dish. We Dilliwalas are used to our spicy food and you might look for a slight tinge of it here. Thus the chili oil is your superhero here! It might be slightly on the expensive side, but it's definitely worth a visit!
Cost for Two | Rs. 2500
Location | Ambience Mall, Vasant Kunj