Rohini is probably the most spacious and peaceful residential localities in Delhi where posh residential complexes are interspersed with acres of open public spaces. Now several malls, amusement parks and other attractions are coming up here, thus making it a complete family weekend destination. The Swarna Jayanti Park, which is also known as the Japanese Park is the biggest gem in the crown of Rohini and an alluring oasis for the tired and exhausted Delhiites. 
Expansive green cover

Amongst one of the biggest parks in Delhi the Swarna Jayanti Park covers 250 acres of land dotted with multiple lakes, gardens and playgrounds. All these spots are seamlessly connected through a network of jogging treks spread all over the area. The park is an excellent example of landscape design. There are small elevations made to look like little plateaus looming over the plains. The green layer of grass is maintained immaculately, but the characteristics of vegetation change every few yards. 
There is a stretch lined with deciduous trees where the branches with pale yellowish leaves form a surreal alley. Also found here are different plots with varied types of flowering shrubs and trees; Red, white, blue and purple dot the endless green carpet throughout the park.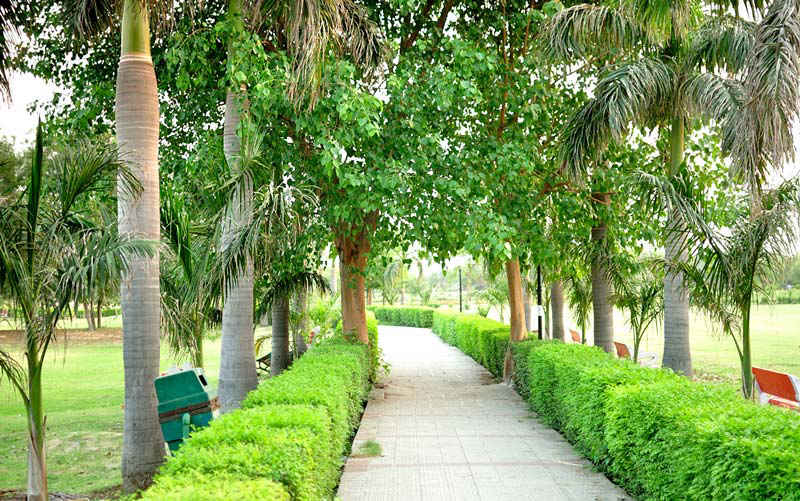 Lighting is also good in the park, making it feasible to hang out even after dark. There are enough culverts for everyone to sit back and relax but the best way to do so is to sit on the soft grass, bare feet. The water bodies that intersperse the landscape also attract various water birds; especially in the mornings and in the evenings you are likely to spot storks and egrets.
Other facilities

The Park is also a popular picnic spot for the people of west Delhi. The Delhi Development Authority (DDA) who is responsible for the management of the park has developed dedicated areas and facilities so that people can organize their picnics without hampering the movement of other visitors and without littering the spot. 
Another activity available here is boating. One of the many lakes inside the park supports boating facilities. Both pedal boats and shikaras (Kashmiri boats) are available. Charges vary according to the type of boats chosen. Children can indulge in sports in the spacious grounds and there is even a replica of an Indian Airforce Fighter Jet that may raise curiosity among them. 
It is also a good spot for photographers, especially for those who want to hone their landscape photography skills or need a scenic background for portraits.
Reaching the Swarna Jayanti Park

It is not difficult to locate this park as it is a very large and famous entity. It is  located at the north west corner of the Delhi Metro network. You can reach the Park by either getting off at Rithala, the last station on the Red Line or Rohini West, the penultimate one.