Truly Unwinding in The Plush, Intimate Confines of The Fabulous SET'Z Bar Lounge!
As we stepped into the opulent, lush confines of Delhi's most luxurious mall (ever), our tummies were rumbling and we had our best game face on! We then walked into the massive area occupied by one of the most exclusive restaurants in town - SET'Z. Much to our surprise, we were graciously led to a cute little pod just off the main SET'Z dining area, and voila! We had just gotten an eyeful of the SET'Z Lounge Bar.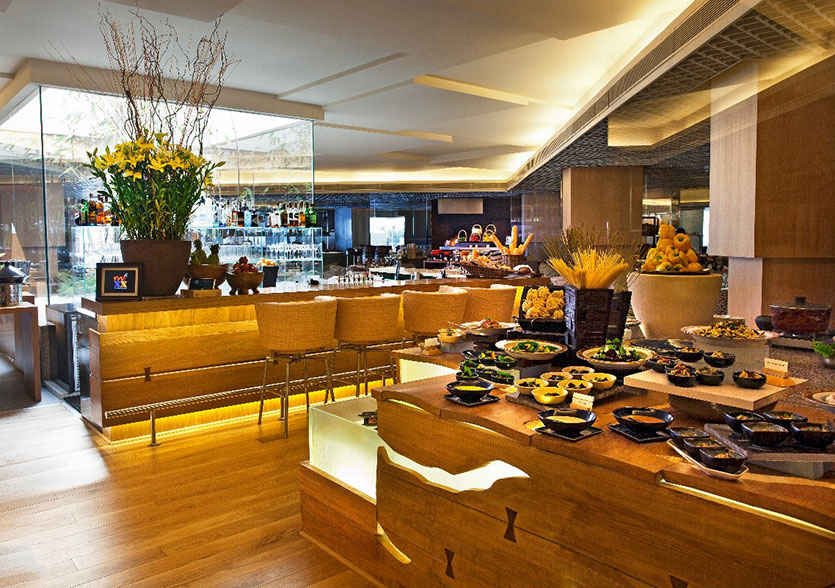 Intimate, with raw stone floors and a mind-bogglingly pretty, gleaming wet bar, the SET'Z Lounge is meant for white-collar corporate honchos to bring their associates, down some awesome boozy cocktails (they've revived the original Tiki Bitters here, folks) or just a glass of Scotch, and in a word - unwind! Happily introducing the concept of 'Unwinding Hours' here at SET'Z (4 - 9 PM), they've got a chill menu simply tailor-made for any boozy munchies you might want and then some! So here's what we tried and loved.
Mojito with a Twist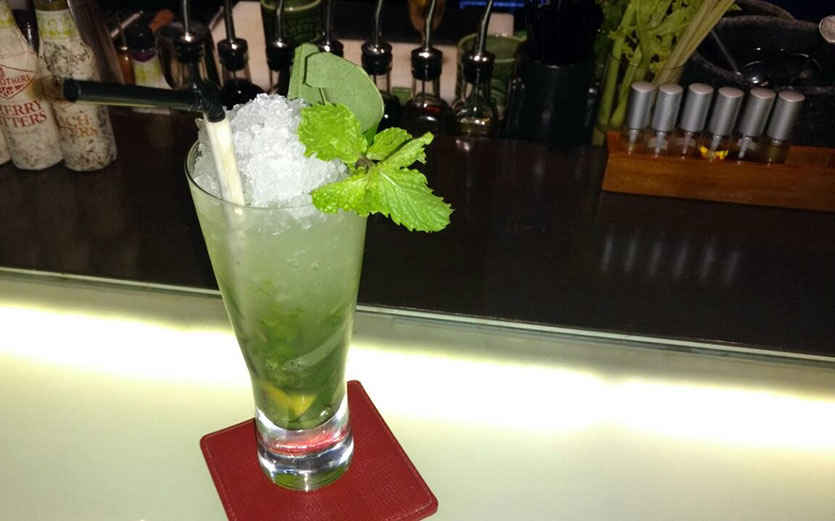 Tangy, surprisingly zesty and sour with a delightful overlay of your regular homespun Mojito, their Mojito with a Twist was topped with heaps of crushed ice! Composed of bitter, a splash of Bacardi, cut betel leaves and loads of lemon chunks sprinkled in, if you're looking for the perfect drink to perk you right up after a long day - then this is it!
Chicken Tikka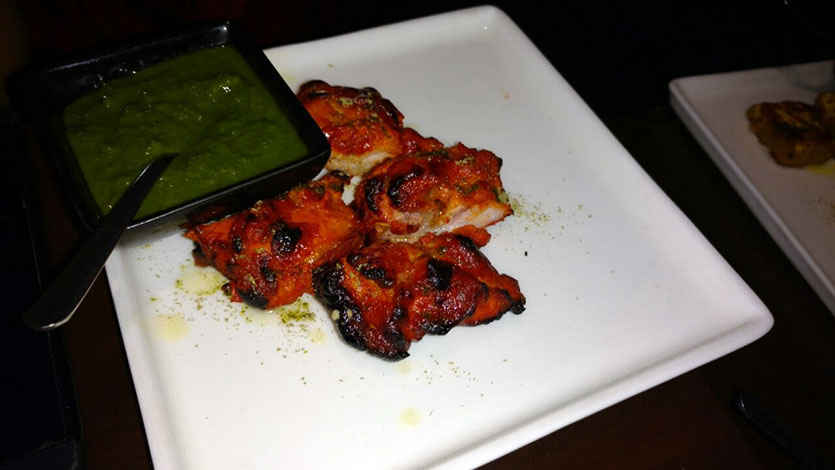 Immensely well-prepared with just the right amount of spicy and amply substantial, their tandoori Chicken Tikkas were charcoal-grilled to perfection, infused with sandalwood and served with fresh green chutney -  little chunks that simply scream out the perfect bar plateful of nibbles!
Machhi Rubayat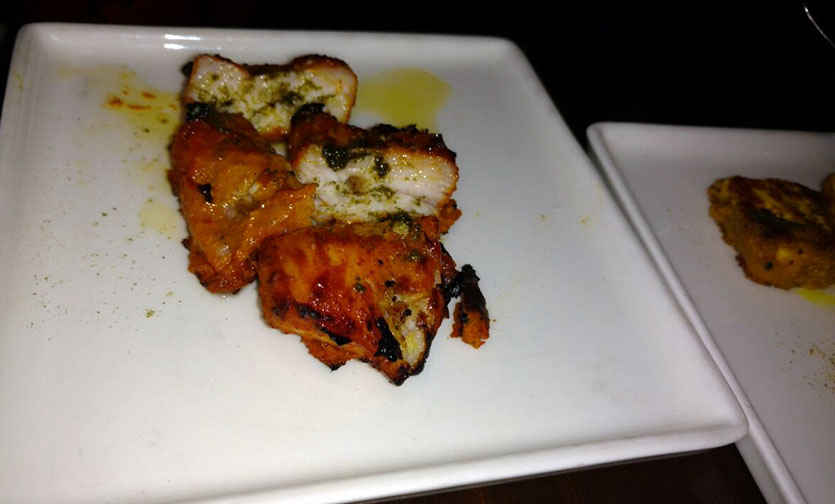 Whole, meaty hunks of sole fish that neatly broke apart at the slightest touch, were deliciously creamy, bursting with flavor and seriously incredibly tasty! You can really sample and distinguish all the different flavors as they war on your palate - nicely done, SET'Z!
Dark & Stormy Tiki Cocktail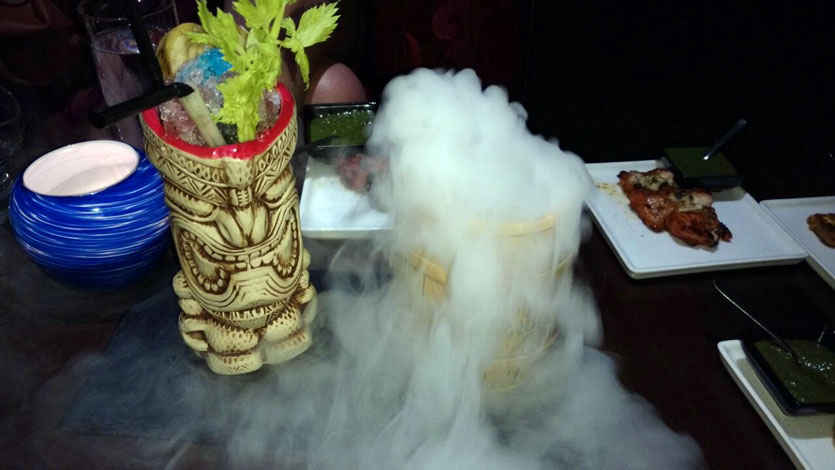 Heralding the revival of ages-old favorite Tiki bitter, a truly smashing cocktail - actually smoking FYI, was placed before us - they charmingly call it the Dark & Stormy Tiki cocktail, and so it was! Punchy, delicately sweet and laced with 3 kinds of rum - dark rum, spiced rum and 4-year-aged rum, this drink isn't something you'll forget in a hurry!
Navrattan Tikkis
Gorgeously petite little tikkis flawlessly crafted using 9 different (yes, really) fresh veggies all mashed together with generous dollops of desi spices to end up on our plates! Crunchy, soft and tender all at the same time, this piece de resistance was delicately sweet and thoroughly appetizing (to say the least!). Vegetarians - you need to come try this!
Corn & Water Chestnuts Dimsum with Shaolin Masterpiece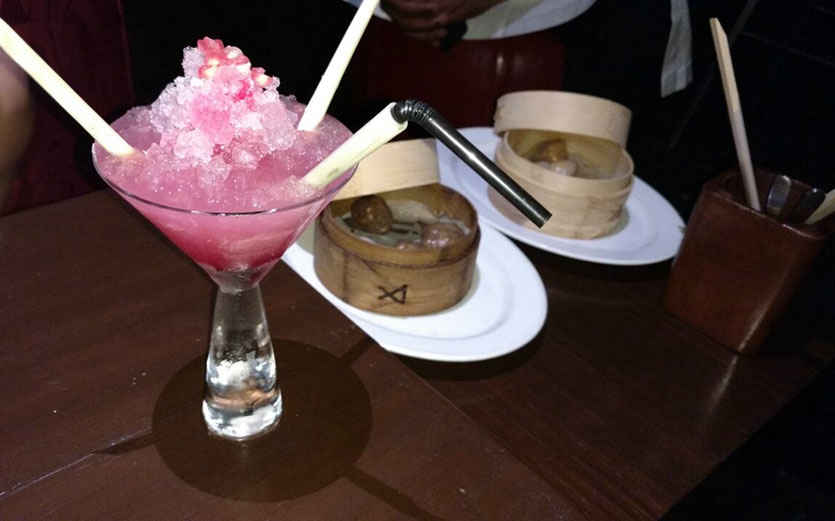 Now here we come to the best thing about SET'Z - catering to complete gourmands, every Pan-Asian dish comes with its own superior, mixologist-approved cocktail designed to bring out all the right flavors! So our steaming Corn & Water Chestnuts Dimsums came coupled with their Shaolin Masterpiece. Fair warning - we're about to pen a sonnet to this folks!
Their Corn & Water Chestnuts Dimsums were juicy, brimming with copious masses of fresh corn, lots and lots of water chestnuts and garnished liberally with loads of lotus powder. Coming to their Shaolin Masterpiece (and masterpiece it truly was), we simply went bananas over it. Mooning over the taste and the oh so cute candy-pink consistency, we can say with absolute certainty that this was the best cocktail we've ever tasted (yes, really!). Doused with tons of lemongrass-infused-vodka (yum!), fresh pomegranate pears and had crushed ice poured over - could not stop drinking this one!
Som Tum Roll & Horapa Blend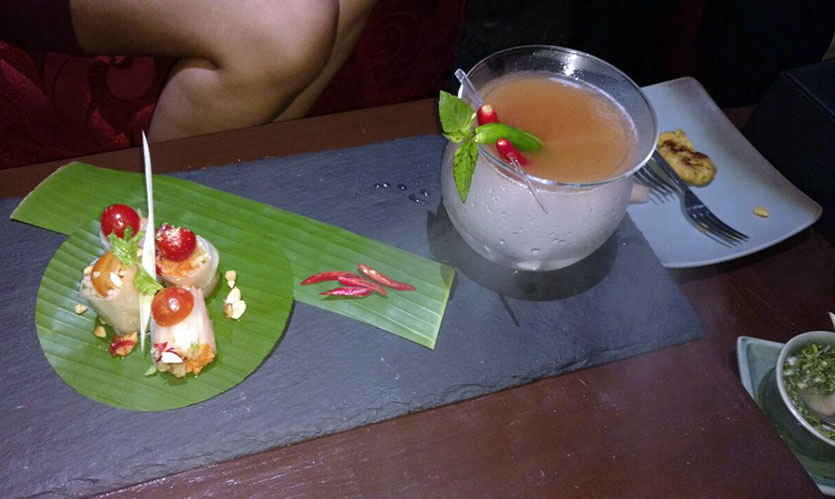 Simply bursting and oozing juice, their Som Tum Roll is nirvana for the taste buds! Bite into this dainty dish and your senses are assailed by sweetness and and then immediately after, you get sucker punched by the chili portion! You'll love the heavenly little nibbles bursting with cherry tomatoes, raw papaya, roasted peanuts and heaps of chili garlic. This dish was accompanied by their patent cocktail called Horapa Blend, which was composed of Thai basil, passion fruit and Thai chillies - it was spicy and sweet and all kinds of naughty!
Byadgi Prawns & Konkan Express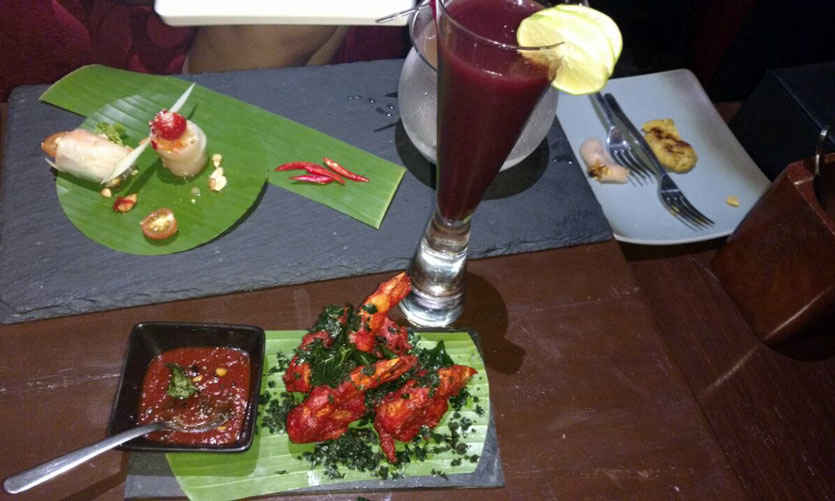 Now this one's the chef's pride and joy, and is sourced straight from the South with mounds of freshly-caught prawns that are liberally peppered with tons of rare and exclusive Byadgi chillies. Simply infused with tons of flavour and perfectly grilled, they simply blew us away with the undeniably delicious taste! This heavenly prawn-dish came with its own cute little cocktail called the Konkan Express (for obvious reasons, of course) and was punchy, zesty and perfectly brought out the flavors of their Byadgi Prawns.
Eat Your Drink Cocktail Popsicles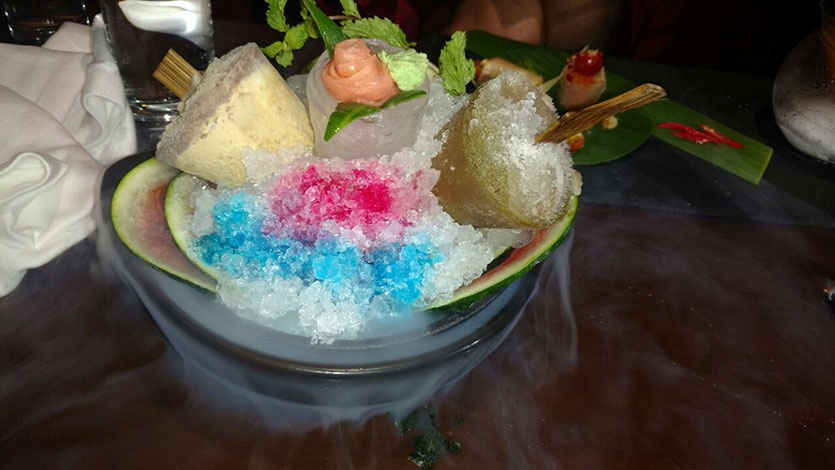 Rubbing our hands with glee and already bursting with yummy grub, we looked forward to gobbling up our cocktails! Nope, that's not a typo guys, SET'Z has curated and invented a host of frozen cocktail drinks that they fashion into cute little popsicles - ready to be demolished! We sampled their Tiramisu Popsicle, which was an absolutely luscious concoction that was as creamy as it was chilled. Made with liberal splashes of Bailey's Irish Cream, kahlua (omg!) and dark rum lacing the underlying tiramisu, this is one hell of a popsicle! They've also got a non-alcoholic variant of this that they call Kala Khatta, which is made up of a medley of pomegranate juice, guava, Indian spices and the best bit - fresh aam panna; seriously, go to SET'Z just for this!
Tandoori Tadka Paneer
Mouthwateringly tender and simply slathered with oodles of desi tadka, loads of ginger garlic paste and sprinkles of basil, one single bite and you will simply gape at the craving you'll experience. The paneer squares were perfectly marinated and incredibly soft, making this one foodgasm-worth bar munchy!
Unwilling to let go of our roller coaster ride through gourmet foodie land, we'll simply say this - SET'Z knows exactly how to make your evenings magical, and their Lounge is the perfect place when you need to wipe off the stress of the day and simply chill. Come on over, and you can thank us later!
Meal For Two | Rs 2,000
Location | DLF Emporio, Vasant Kunj